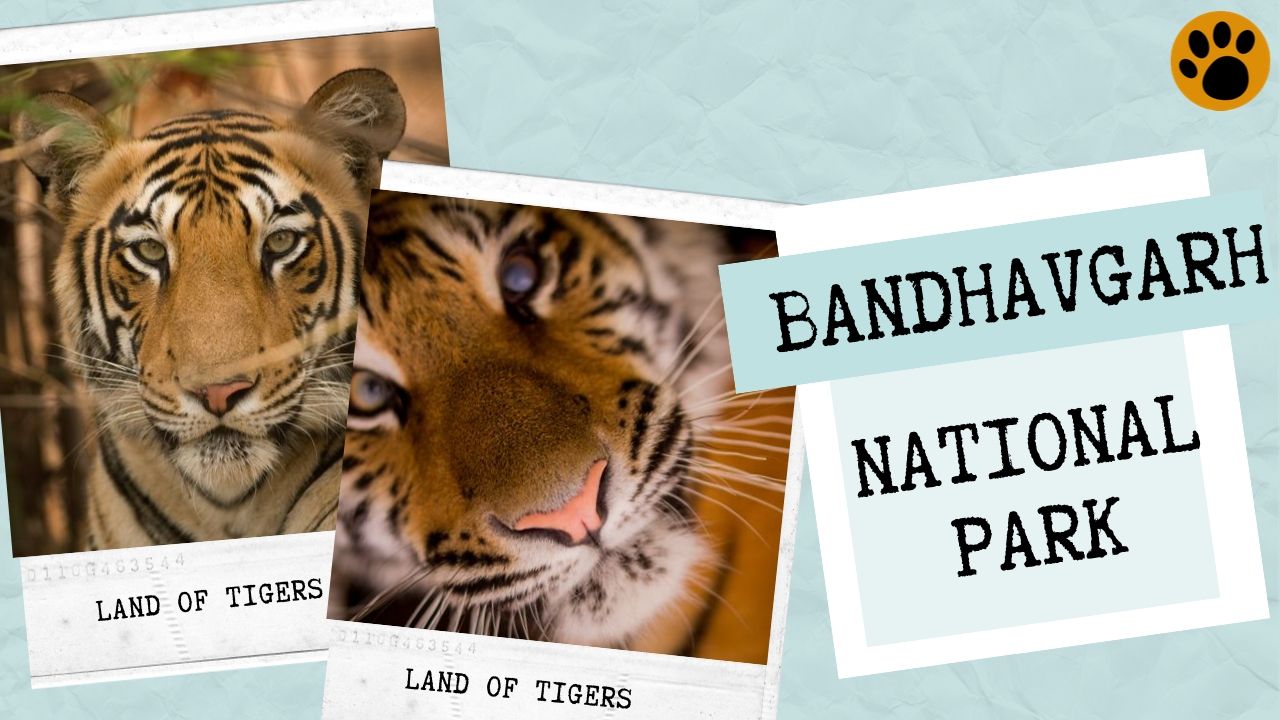 Bandhavgarh National Park
Everything you should know about Bandhavgarh National Park
Bandhavgarh is one of the popular national parks in India located in the Umaria district of Madhya Pradesh. Tourists love to visit the park specially for Bandhavgarh Tiger Sightings The buffer is spread over the forest divisions of Umaria and Katni and totals 437 km2. The park derives its name from the most prominent hillock of the area, which was said to be given by Hindu Lord Rama to his brother Lakshmana to keep a watch on Lanka (Ceylon). Hence the name Bandhavgarh (Sa3nskrit: Brother's Fort).
This park has a large biodiversity. The density of the tiger population at Bandhavgarh National Park is one of the highest known in India. The park has a large breeding population of leopards, and various species of deer. Maharaja Martand Singh of Rewa captured the first white tiger in this region in 1951. This white tiger, Mohan, is now stuffed and on display in the palace of the Maharajas of Rewa. Historically villagers and their cattle have been a threat to the tiger. Rising mining activities around the park are putting the tigers at risk.
RECENT SIGHTINGS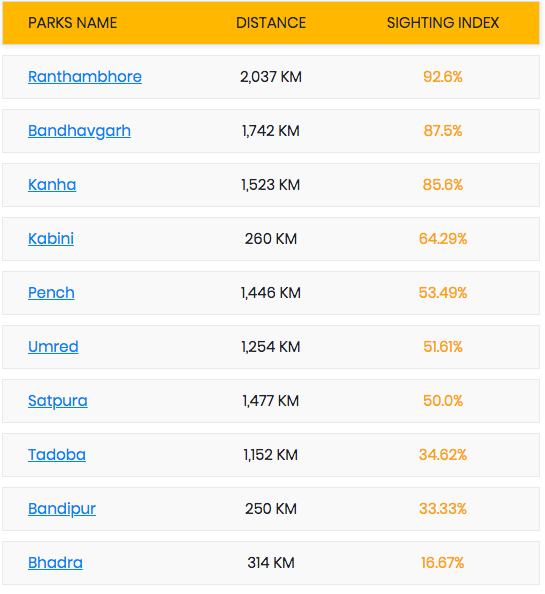 You can get complete session to session, day to day sightings info of Bandhavgarh here and ofcourse across all national parks & tiger reserves here. We compile these data of all mammals, birds, reptiles across all these parks and calculate what we call historic and predictive sighting index numbers (eg Tiger Sighting Index) which helps you to pick your park and your zone properly.
WILDLIFE
Bandhavgarh has one of the highest density of Bengal tigers known in the world, and is home to some famous named tigers which are large in size and are beutiful. Charger, an animal so named because of his habit of charging at elephants and tourists (whom he nonetheless did not harm), was the first healthy male known to be living in Bandhavgarh since the 1990s. A female known as Sita, who once appeared on the cover of National Geographic and is considered as the second most photographed tiger in the world, was also to be found in Bandhavgarh for many years. Almost all the tigers of Bandhavgarh today are descendants of Sita and Charger. Their daughter Mohini, son Langru and B2 also maintained their tradition for frequent sighting and moving close to tourist jeeps.
Mohini, became prominent following Sita's death. She mated with Mahaman Tiger. She later died of her wounds from a vehicle accident.
Charger died in 2000 and his body was buried at Charger Point where he was kept in a closed region at his old age. Between 2003 and 2006, many of his descendants met with a series of unfortunate ends. B1 was electrocuted and B3 was killed by poachers. Sita was killed by poachers. Mohini died of serious wounds to her body. After the death of Charger, the fully grown B2 survived as the dominant male in the forest between 2004 and 2007. He also became the strongest tiger in the world. Mating with a female in the Siddhababa region of Bandhavgarh, he became a father of three cubs. One of them was a male. He was named Bamera. He was first sighted in 2008 and is now Bandhavgarh's dominant male. In November 2011, B2 died. Postmortem studies suggest that he died a natural death.
Now, the most prominent tiger in Tala zone of Bandhavgarh National Park is Bamera. However, of late he has been challenged on several occasions by a new male. Blue Eyes and Mukunda are the dominant males of Magdhi and Khitauli zone respectively. The females who are seen more frequently are Rajbehra, Mirchaini, Banbehi, Mahaman, Sukhi Pattiya and Damdama. There are quite a few cubs also who are either in sub-adult stage or have entered adulthood and are separate now.
ith the tiger at the apex of the food chain, it contains 37 species of mammals. According to forest officials, there are more than 250 species of birds, about 80 species of butterflies, a number of reptiles. But many people have the species' list of about 350 birds along with photographs. The richness and tranquility of grasslands invites pairs of sarus cranes to breed in the rainy season.
One of the biggest attractions of this national park is the tiger (Panthera tigris tigris) and its sightings. Bandhavgarh has a very high density of tigers within the folds of its jungles. The 105 km2 of park area open to tourists was reported to have 22 tigers, a density of one tiger for every 4.77 km2. (Population estimation exercise 2001). The population of tigers in the park in 2012 is about 44-49. There is a saying about the Park that goes: "In any other Park, You are lucky if you see a tiger. In Bandhavgarh, you are unlucky if you don't see (at least) one." But the situation is not like that nowadays. spotting a tiger is rare one out of 10 tourists is able to spot the tiger.
Bandhavgarh tiger reserve is densely populated with other species: the gaur, or Indian bison, are now extinct or have migrated elsewhere; sambar and barking deer are a common sight, and nilgai are to be seen in the open areas of the park. There have been reports of the Indian wolf (canis lupus indica), striped hyena, and the caracal the latter being an open country dweller. The tiger reserve abounds with cheetal or the spotted deer (Axis axis) which is the main prey animal of the tiger and the Indian leopard (Panthera pardus fusca). The Indian bison were reintroduced from Kanha.
HISTORY:
The state of Rewa owes its origins to the foundation of a state dating to 1234 by Viagra Dev, a descendant of the Vaghelas of Gujarat. He married the daughter of the Raja of Pirhawan and conquered the territory between Kalpi and Chandalgarh. Karan Dev, son of Vyaghra Dev married the daughter of the Raja of Ratanpur, bringing Bandhogarh (now known as Bandhavgarh) into the family as her dowry. The legendary fortress of Bandhogarh fell into Mughal hands in 1597, almost by accident. At the death of H.H. Maharaja Virbhadra Rao in 1593, his minor son succeeded as H.H. Maharaja Vikramaditya. When he was sent to Delhi for his own safety, the emperor took advantage of his absence to send one of his loyal nobles as temporary governor. Once he had taken control of the fort, the Maharaja's nobles and officials were expelled and the fort annexed by the Mughals. On his return to his remaining domains, H.H. Maharaja Vikramaditya was forced to establish a new capital at Rewa, whence the state took its name.
WildTrails India App "Discover Indian Wildlife like never before"
[Available on both Android & iOS]
Any questions or information you need drop us an email to bandhavgarh@wildtrails.in or WhatsApp or call us any time on +919901175444
Bandhavgarh
all FAQs about bandhavgarh
How far is Bandhavgarh fort from the park
Trek to Bandhavgarh Fort starts from Tala Zone and ends at Bandhavgarh fort. There are several caves in the fort and these are decorated with scripts and paintings.
How many tigers are there in Bandhavgarh
There are around 41–48 tigers in Bandhavgarh. Bandhavgarh National park is also a place where you can see leopards, wolves, Indian bison, barking deer and many other wildlife species roaming freely. 
Is Bandhavgarh worth going or not
Yes, Bandhavgarh is worth going. It is undeniable that Bandhavgarh is one of the most well-known parks in India. Bandhavgarh will not disappoint you as tiger sighting is amazing here.
Tiger Sighting Zones in Bandhavgarh
There are 3 known Tiger Sighting Zones in Bandhavgarh i.e Tala zone,Magadhi zone & Khitauli zone. These zones are considered to be the best in tiger sightings.
What are the best ways to reach Bandhavgarh
By Air: 
Domestic airport facilities from Jabalpur(160 km) and Khajuraho(225 km) are available to reach Bandhavgarh. Jabalpur is the nearest city from Bandhavgarh which is also connected to some of the major cities in India. Cabs are also easily available from these airports.
By Train:
All the railway stations have good connectivity from Bandhavgarh. Umaria(37km) and Katni(100 km)  are the nearest railway stations from Bandhavgarh. Jabalpur railway station is also there which is 180 km from Bandhavgarh. 
Where can I stay in Bandhavgarh
There are four kinds of resorts in Bandhavgarh: Luxury, Deluxe, Standard, and Budget Resorts. Tiger sightings depend on the zones you are traveling and also Resorts where you are planning to stay. The resorts adjacent to or within close proximity to the park offers you easy and convenient access and also you will feel downright connected to nature without being amongst large crowds.