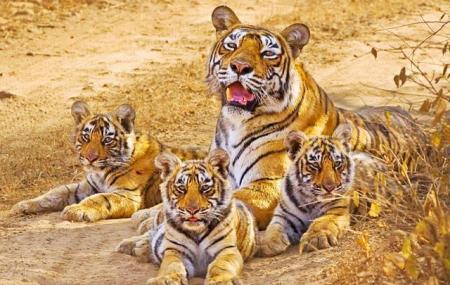 Sariska National Park : A Detailed Guide
Located approximately 100 kms from Pink City of India, Sariska National Park or Sariska Tiger Reserve is one of the famous places for tiger sightings in India. The park covers 800 square km area with scrub-thorn arid forests, dry deciduous forests, grasslands, and rocky hills and is in Alwar district of Rajasthan. It is the first reserve in the world with successfully relocated tigers.


History Of Sariska National Park

The wildlife reserve is popular since the times of Mahabharat as it is believed that these dense forest and tough terrain shielded Pandavas while during their exile. Pandupol, the most visited place in Sariska and is believed that this is the place where Bhima met hanuman as per the Hindu mythology. Sariska National Park was declared a wildlife in 1955. Given the status of a tiger reserve making it a part of India's Project Tiger in 1978, the wildlife sanctuary was declared a national park in 1990, with a total area of about 273.8 km


Flora and Fauna Of Sariska Tiger Reserve

The tiger (ST 1) was airlifted from Ranathambore in 2004 and now there are over 20 tigers in the park. The forest is most known for sighting of the Royal Bengal Tiger. Apart from the Bengal Tiger, Indian leopard, jungle cat, caracal, striped hyena, golden jackal, chital, sambar deer, nilgai, wild boar, small Indian civet, Javan mongoose, ruddy mongoose, honey badger, Rhesus macaque and Northern plains gray langur and Indian hare.
Sariska is also ethereal for bird watchers with some of the rarest feathered species like grey partridge, white-throated kingfisher, Indian peafowl, bush quail, sandgrouse, treepie, golden-backed woodpecker, crested serpent eagle and the Indian eagle-owl.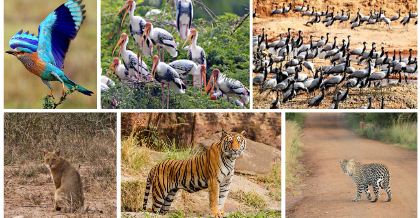 Facts and figures Of Sariska National Park:

Sariska Wildlife Reserve is small and less crowded when compared to other major parks and hence the sighting probability is better. The park is just a 4-hour drive from Delhi which is considered as a weekend getaway for corporates and other working class in NCR. The total number of tigers as of May 2020 was 20 out of which 11 are female, 5 male and the rest are cubs.


Gates and Zones Of Sariska Tiger Reserve-

Sariska National Park has 2 gates, the first and most popular being Sariska gate, which has 3 zones. These zones namely Zone 1, Zone 2 and Zone 3 are most preferred, and the tiger sightings are maximum. The other gate is named as Telha gate which is approximately 80 km from Sariska gate and Zone 4 is accessed from this gate. The sightings are rare here when compared to the Sariska gate.



Different Kinds Of Safaris At Sariska
Exclusive jeep safari. An open gypsy which can accommodate up to 6 passengers(no-sharing). An expert tiger tracker from WildTrails will be assigned to the customer who prefers to choose this option. Pickup and drop from the accommodation can be scheduled.

Shared jeep safari. An open gypsy which can accommodate up to 6 passengers, however, it will be shared among other tourists. There would be no expert tiger tracker, instead a guide shall be assigned by the forest department. There is no option to escort the customer from the accommodation.
How to Get Customised Sariska Tour Packages



Safari Timings Of Sariska :
Winter Timings:
Morning Safari: Entry Exit
6 : 30 hrs 10: 30 hrs
Evening Safari: 14 : 00 hrs 18: 00 hrs
Winter Timings:

Morning Safari: Entry Exit
6 : 30 hrs 10: 00 hrs
Evening Safari: 14 : 30 hrs 18: 30 hrs

The safari times at Sariska National Park may change slightly depending on the weather at different times of the year. Only previously approved vehicles can enter the National Park Sariska. Inside the Sariska wildlife reserve, all vehicles have to follow a fixed route and must leave the park in the evening by 6:30 p.m


Climatic Conditions Of Sariska Tiger Reserve:

The Best Time To Visit Sariska National Park is from October to May as the weather is expected to be dry during this duration. One can expect the temperature to be low and freezing between October to February and the sightings are comparatively lower. The best time to get the sighting view is from March to May since the weather is expected to be humid and dry with the best chance of sightings.
The park might be closed from June to September since it will be rainy season in Sariska during this time.
The Best Time To Visit Sariska National Park
Best time to visit Sariska is anytime between October and May. The best time to visit exclusively for tiger sighting is between March to May. Sariska Tiger Reserve is ideal for sightings because the forest is comparatively small.
Testimonials From One Of Our Customer



Nearby attractions around Sariska National park-

Bhangarh fort is approximately 30 km from Sariska National Park. Alwar City is known for several forts and lakes. Chand Baori Step Well is another major attraction located at around 50 km from Sariska.
How to Reach Sariska National Park

By Air: The nearest airport from Sariska National Park is at Jaipur.
By Rail: The nearest railhead is at Alwar at a distance of 37-kms.
By Road : Sariska Wildlife Sanctuary is situated on the Delhi-Jaipur highway near Jaipur and Delhi. Sariska is also well connected with Alwar.
Approximate distance between major cities:

Distance from Delhi: 200 km
Distance from Jaipur: 110 km
Distance from Agra: 200 km
Distance from Ajmer: 240 km
Another Raving Review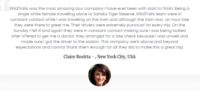 Total Page Visits: 3958 - Today Page Visits: 6
Buy Wildlife Fashion Accessories
Exclusive Online Store for wildlife products