Best Season to Visit Pench National Park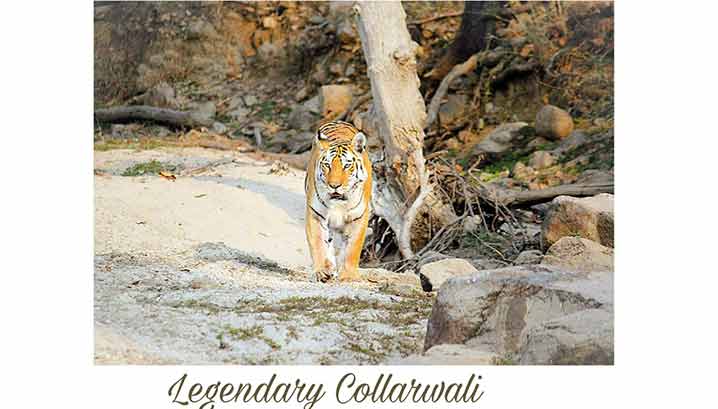 This article talks about the best season to visit Pench national park to increase your chances of sighting the tiger. Also talks about the best time to do birding as well as the best time to enjoy lush green forest per se (as we found out that not everyone is behind the big cat).
Best Season to Visit Pench for Tiger Sighting
Winter season [November to February] is probably the best time to visit Pench National Park. However, the best season to sight tigers would be the hotter months (March, April and May). You can check the TSI (Tiger Sighting Index ™) for various months in our app – WildTrails India App. Seems December & January also seems the best time if you go by the TSI.
There is a morning safari and there is a late-afternoon safari. We have been asked by numerous tourists on what is the right time to increase the chances of sighting a tiger and our answer is actually dawn and dusk – that's the time when the big cats go prowling and walking. That makes both morning and evening sessions very critical. So what about whole day safari then, is that a waste? Not really. That's when the crowd is gone and you have your own quiet peaceful time and can catch Tigers resting and in playful mood, especially when there are cubs. Also more importantly it is not the full-day that gives you better chance but because you have booked full-day safari, you get the opportunity to be inside the park first and to get out last and that additional 15-30 minute period gives you the best opportunity to sight tigers.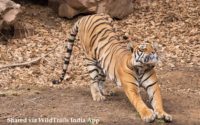 Also note there is apart from regular morning and evening & full-day safaris, there is also night safari in Pench [MP], and Tiger being a nocturnal animal, you can increase your chances of spotting a tiger. We feel it is ideal to book 4 regular safaris, atleast a full-day safari and one or two night safaris. If you need info on how to book full-day or night safari, contact us via email or Call us at +918033512427 or WhatsApp us at +919901175444
Best Season to Visit Pench for Birding
January to late April is the best time for Birding. Vegetation and insect life is at its best with the onset of rains in June.
Park Closure
We should mention that the fact that Pench [MP] like all other Madhya Pradesh sanctuaries, close during Rainy Season (i.e. from July 1 to 30th September every year). The park is also closed one day on Diwali and one day on Holi. Also, like all parks in Madhya Pradesh, it is closed on Wednesday evenings. Pench [MH] is open around the year.
Further Info:
For further info or booking assist please don't hesitate to contact us via email at pench@wildtrails.in or Call us at +918033512427 or WhatsApp us at +919901175444. You also get complete & detailed info on WildTrails India app.
Further Reads:
Key Tips for First Time Pench Visitors
Distance Between Pench Safari Gates
---
WildTrails (Tm) India App – "Discover Indian Wildlife Like Never Before"
PS: Please be a responsible wildlife tourist; No littering, No sounds, No feeding, no getting down from the safari jeep (when on safari), No phone calls. Remember that we are visiting their home and when we are there, let's follow their rules.
[The WildTrails India App is the best way to get all the details about Indian wildlife sanctuaries (best travel times, safari details, animal sightings, forest accommodations pairing, wildlife related activities, prices, etc). Learn more about WildTrails of India here. ios App is here. Android is here, and Web is on the way. Please do like us on our facebook page here.]
Total Page Visits: 2828 - Today Page Visits: 1
---
---
Play with WildTrails Intelligence Tools
1. How many times tiger is seen per month?
2. What's going on in Indian Forests today?
3. Interested in playing more with Tiger sighting graphs? Click
here?
---
Buy Wildlife Fashion Accessories
Exclusive Online Store for wildlife products
Packages
Packages Loading...
Recent Posts