Nagarhole National Park & Tiger Reserve Details along with TSI (Tiger Sighting Index) Data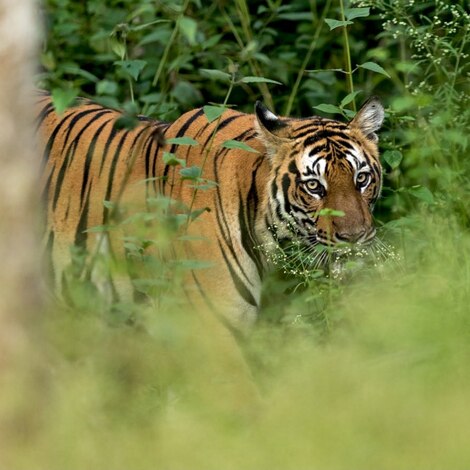 Nagarhole is named after Nagarahole (Cobra river in the local language, Kannada), a winding river that runs eastwards through its center. Situated in the two districts of Mysore and Kodagu in the state of Karnataka. It was originally constituted into a sanctuary in the year 1955 covering an area of 258 sq. Kms and subsequently enlarged to include the adjoining areas of Mysore district and now extends over an area of 643.39 sq. km which was given the status of a National Park in 1983. Nagarahole National Park & Tiger Reserve is home to the highest number of tigers in India among other animals. Nagarahole boasts of having the highest density of Bengal Tigers in the world. The teak forests of Nagarahole include some of the oldest plantations of the country dating back to the 1800s. India as a wildlife paradise to nature lovers, wildlife lovers, adventure lovers, offers the best sights of wild animals and birds at its natural habitat.
During the Nagarahole National Park safari, you can see the rich diversity of wild animals and birds which offer a unique experience Nagarhole is home to around 1000 Asian elephants, other animals found in Nagarhole are as follows Chital(Spotted Deer), Indian mouse deer, guar, stripe-necked and ruddy mongoose, grey langur, bonnet macaque, Asian dog, leopard, tiger & sloth bear.
Wildlife safaris are all about luck. But WildTrails will help you by reducing the luck factor by giving you the sightings data. 
WildTrails Sightings data for the Indian National Parks.

WildTrails helps you filter data based on the animals you like to see.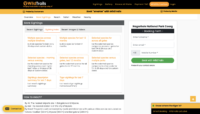 Why book with WildTrails?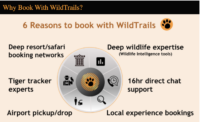 Total Page Visits: 4833 - Today Page Visits: 1
---
---
Play with WildTrails Intelligence Tools
1. How many times tiger is seen per month?
2. What's going on in Indian Forests today?
3. Interested in playing more with Tiger sighting graphs? Click
here?
---
Buy Wildlife Fashion Accessories
Exclusive Online Store for wildlife products
Packages
Packages Loading...
Recent Posts