Best Time To Visit Masai Mara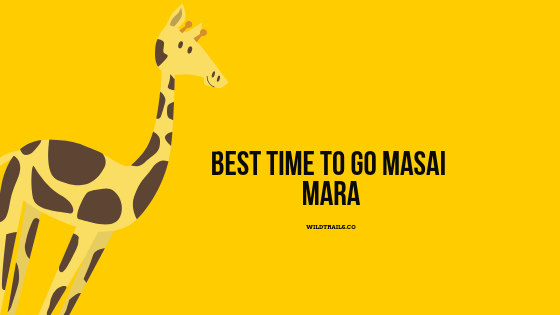 Masai Mara is a dream destination for every wildlife lover. Masai Mara has everything within a small distance-it gives superb wildlife-watching at any point of year. A place full of wildlife animals, endowed with a beautiful view and an open terrain that makes game view in Masai Mara more easy.

Question like When should I go? Or What is the best time to visit Masai Mara? is always on everyone's mind.The best time to visit Masai Mara depends on what you want to see?

The climate in Masai Mara is pleasantly warm, with cool nights, all year round. The Masai Mara is an excellent all year safari destination, providing travelers with reliable sightings of its resident wildlife. However, if you're planning a migration safari and if you want to witness the Mara River crossings then the best time to visit Masai Mara is July-October.

Reason to choose "Peak season" as the best time to visit Masai Mara

Wildebeests Migration are considered as the best time to visit Masai Mara from a wildlife perspective. The Mara is best known for the great wildebeest migration, which moves up from Serengeti. July-October is best time to visit Masai Mara if you want to catch the wildlife spectacle of over 1.5 million wildebeest moving in a circular direction in search of grasslands that have sprouted after the rain and are preyed upon by lions, hyenas, leopards and cheetahs, while crocodiles and hippos wait for them in rivers.

The phenomenal spectacle of Mara-river crossings and plains dotted with game as far as the horizon is certainly a major highlight. Wildlife viewing is the best during the Dry season from late July to October. Wildlife viewing is a good year-round, but it can differ for some parks.

The exact timing may change from year to year as it is a spontaneous event influenced by rainfall patterns and the subsequent grazing opportunities. The animals are constantly on the move all year-round. However, not all game migrates and so it is certainly worth considering the Mara outside of the peak seasons (when the human population also takes a dive).

Reason to choose "Low season" as the best time to visit Masai Mara

Late March to early July can be pretty wet and boggy with scattered wildlife, but you can find some cheaper deals if you're not bothered about the migration.

December–February is not the migration time and, So those who just wants to watch the local fauna, such as big cats in Masai Mara and other wild animals the best time to visit Masai Mara is December-February.

If you're looking to explore Masai Mara on a budget, you may want to avoid peak season altogether, because a slight compromise on weather or wildlife sightings usually means much cheaper rates for Masai Mara tour.

Total Page Visits: 3715 - Today Page Visits: 1
---
---
Play with WildTrails Intelligence Tools
1. How many times tiger is seen per month?
2. What's going on in Indian Forests today?
3. Interested in playing more with Tiger sighting graphs? Click
here?
---
Buy Wildlife Fashion Accessories
Exclusive Online Store for wildlife products
Packages
Packages Loading...
Recent Posts