Learn Pench via Maps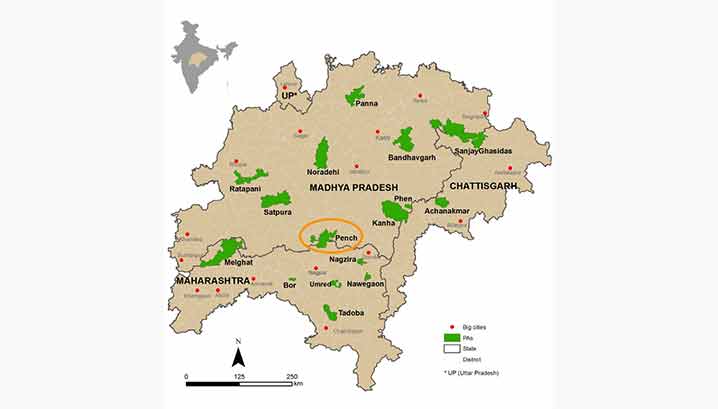 This article introduces Pench Tiger Reserve & National park, probably the only one which straddles across two states. Lets Learn Pench via Maps takes a new route of explaining where it is located, how Pench river divides the same and also lot more. Come lets read about it.
Lets Learn Pench via Maps
Pench National Park or Tiger Reserve is one of the top tiger reserves of India and the only one to straddle across two states – Madhya Pradesh and Maharashtra. On the Madhya Pradesh side, the Pench Tiger Reserve encompasses a core area of 411.33 km2, with a buffer of 768.3 km2., making for a total protected area of 1179.63 km2. On the Maharashtra side, the Pench Tiger Reserve has a core habitat area of 257.3 km2 along with a buffer/peripheral area of 483.96 km2, making for a total protected area 741.2 km2. Spanning over a total protected region of over 1920 km2.,  this area is considered as one of the most prime and critical tiger habitat remaining in central India.
It derives its name from its life line-the River Pench. Inside the park, the river flows from North to South before going on to join the Kanhan River, while splitting the Park into two, and forming the boundary of Seoni District and Chhindwara District districts of Madhya Pradesh. The Meghdoot dam built across Pench River at Totladoh has created a large water body of 72 km2 out of which 54 km2 falls in M.P. and rest in Maharashtra. The Pench River which emerges from Mahadeo Hills of Satpuda Ranges and the various nallas and streams which drain into it, all flow through the forests of Protected Area. The Satpuda ranges which bear the forests of the Protected Area act as an excellent watershed area for the Totladoh as well as lower Pench Reservoirs.
The Pench River bisects the original Pench core reserve into two nearly equal parts; the 147.61 km² of the Western Block which falls in the Gumtara Range of the Chhindwara Forest Division and the 145.24 km² of the Eastern Block in the Karmajhiri Range of the Seoni Forest Division.
Locate, Learn Pench via Maps
The first thing you should probably do before even booking the safari tickets is to understand Pench and what is not the best way to start but learning its topology first, learning it via Maps!!
This Map shows where Pench is located in India and the river Pench divides the forest into two parts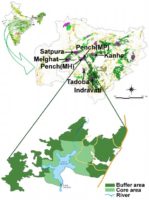 The map below shows all central indian jungles and also Pench with relative to all other jungles
The map below shows the Pench jungle along with the safari gates and the river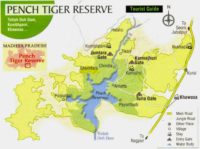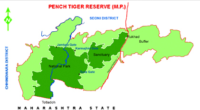 Tidbits of Pench:
Rudyard Kipling's The Jungle Book is thought to have been set in Pench National Park.
BBC's three-part special Tiger: Spy in the Jungle was filmed in Pench National Park, and was based on the maturing of four Tigers in Pench.
Further Info:
For further info or booking assist please don't hesitate to contact us via email at pench@wildtrails.in or Call us at +918033512427 or WhatsApp us at +919901175444. You also get complete & detailed info on WildTrails India app.
Further Reads:
–
---
WildTrails (Tm) India App – "Discover Indian Wildlife Like Never Before"
PS: Please be a responsible wildlife tourist; No littering, No sounds, No feeding, no getting down from the safari jeep (when on safari), No phone calls. Remember that we are visiting their home and when we are there, let's follow their rules.
[The WildTrails India App is the best way to get all the details about Indian wildlife sanctuaries (best travel times, safari details, animal sightings, forest accommodations pairing, wildlife related activities, prices, etc). Learn more about WildTrails of India here. ios App is here. Android is here, and Web is on the way. Please do like us on our facebook page here.]
Total Page Visits: 2196 - Today Page Visits: 2
---
---
Play with WildTrails Intelligence Tools
1. How many times tiger is seen per month?
2. What's going on in Indian Forests today?
3. Interested in playing more with Tiger sighting graphs? Click
here?
---
Buy Wildlife Fashion Accessories
Exclusive Online Store for wildlife products
Packages
Packages Loading...
Recent Posts