Pench Safari Entry Gates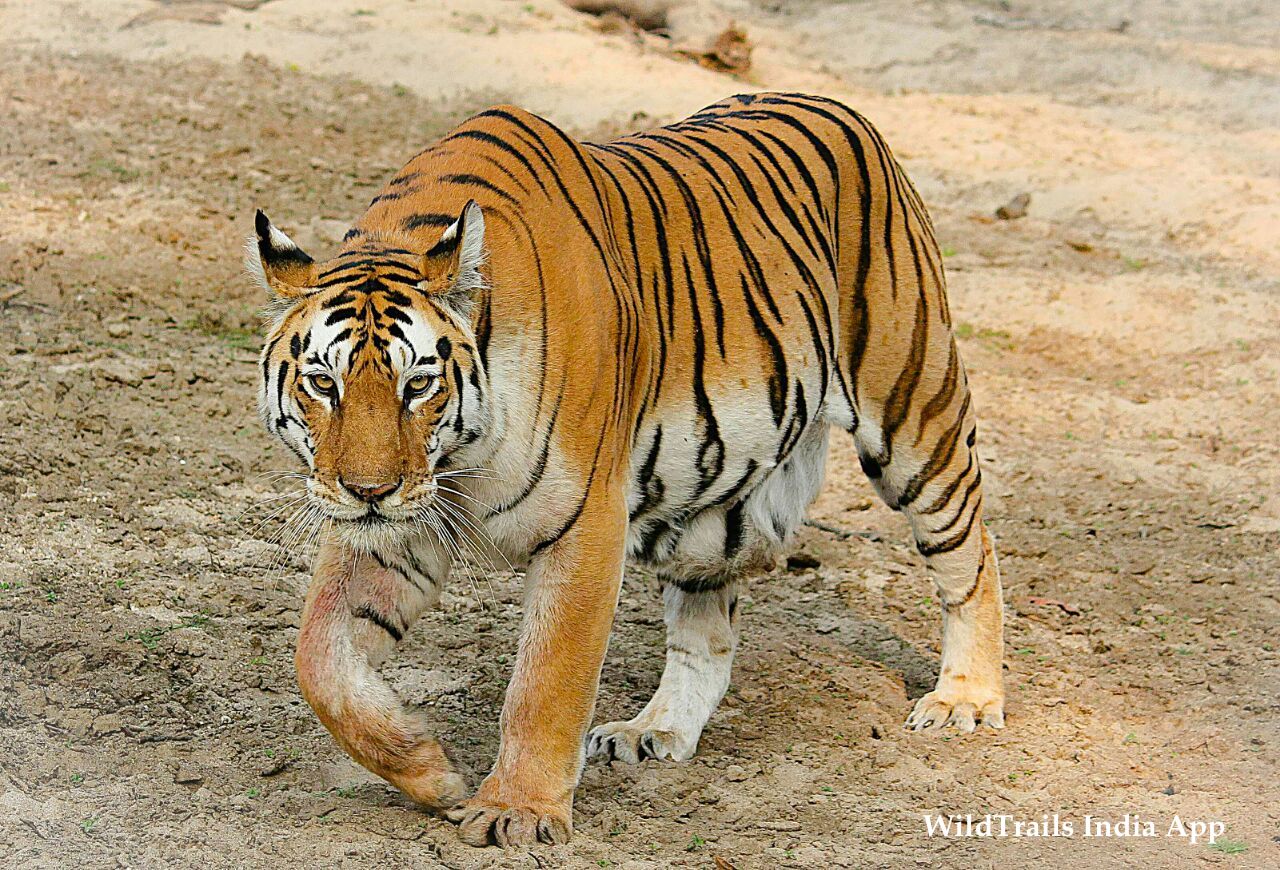 The article talks in detail about all Pench Safari Entry Gates. It has 5 gates in Madhya Pradesh and 6 gates in Maharastra, a total of eleven (11) safari gates. Each gate each is separated from the other by 20 kms to approx. 80 kms. It's the only national park that straddles across two states.
Pench Safari Entry Gates
The FIVE Pench Safari Entry Gates in Madhya Pradesh are Touria, Karmajhiri, Jhamtara, the buffer gate at Rukhad, the Night Safari gate and the SIX safari gates on the Maharastra side are SILARI, CHORBAHULI, KHURSAPAR, Kolitmaara, Khubada (Saleghat), Surewani (Nagalwadi).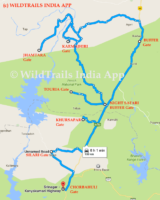 Among all the gates the most popular gates are Touria & Silari but offlately we are seeing a lot of sightings across many  other gates too [to know exact sightings summary, download WildTrails India app.]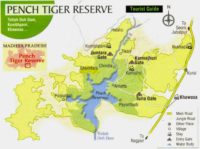 Your gate becomes critical when you book Safari which is "Single Seat Permit" as opposed to "Full Vehicle Permit". Also it becomes critical when you are looking to book the accommodation.
Pench Safari Booking via Pench Safari Entry Gates:
There is no zoning per say in Pench (unlike Kanha) but there is state-zoning which means if you enter the jungle from MP side, you cannot enter the MH part and vice versa. Selecting a gate to book the safari becomes very paramount. Selecting the most popular gate is not always the right way of doing it but rather do it by seeing how the sighting is going on is prudent. There was a day when no such data was available and everything was a here say but thankfully a complete data and its analysis is available on the app.
Single Seat Permit versus Full Vehicle Permit:
When you are booking Safari, you have to pick the whole Gypsy option when you are booking on the Maharastra side but when you do on the Madhya Pradesh side, you have the option of booking the entire Gypsy (you need select Vehicle Type as full vehicle permit)  or as many seats as you want (1 to 5) (you need select Vehicle Type a Single Seat permit). In single seat permit you choose to not book the whole Gypsy but a few seats and you are ok to share the Gypsy with some others and also you get to share the Gypsy cost too and hence will work out cheaper. In the full vehicle permit, you book the Gypsy entirely for you and hence no one will be sharing your Gypsy nor the Gypsy charges. Max number of people allowed is 6 but just one or two or any number less than equal to 6 can book the entire Gypsy (but the cost remains the same)
Pench Safari Entry Gates distance from major towns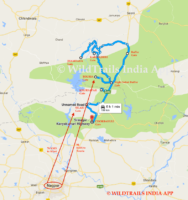 Further Info:
For further info or booking assist please don't hesitate to contact us via email at pench@wildtrails.in or Call us at +918033512427 or WhatsApp us at +919901175444. You also get complete & detailed info on WildTrails India app.
Further Reads:
Key Tips for First Time Pench Visitors
---
WildTrails (Tm) India App – "Discover Indian Wildlife Like Never Before"
PS: Please be a responsible wildlife tourist; No littering, No sounds, No feeding, no getting down from the safari jeep (when on safari), No phone calls. Remember that we are visiting their home and when we are there, let's follow their rules.
[The WildTrails India App is the best way to get all the details about Indian wildlife sanctuaries (best travel times, safari details, animal sightings, forest accommodations pairing, wildlife related activities, prices, etc). Learn more about WildTrails of India here. ios App is here. Android is here, and Web is on the way. Please do like us on our facebook page here.]
Total Page Visits: 5134 - Today Page Visits: 1
---
---
Play with WildTrails Intelligence Tools
1. How many times tiger is seen per month?
2. What's going on in Indian Forests today?
3. Interested in playing more with Tiger sighting graphs? Click
here?
---
Buy Wildlife Fashion Accessories
Exclusive Online Store for wildlife products
Packages
Packages Loading...
Recent Posts