How to Plan Ranthambore Tiger Reserve Rajasthan from London, UK
In this article I will explain how to go about to plan Ranthambore Tiger Reserve Rajasthan from London, UK (United Kingdom), how to select the best package which inclues the expert tiger tracker (as it makes all the difference between sighting the tiger in the wild or not), very good resort, the perfect gate for that season (using Tiger Sighting Index ™), and ofcourse the best Resort that is close to that gate, and the flight from London to Jaipur and back, the complete itinerary in a clear step-by-step process and in the rigth order too.
Plan Ranthambore Tiger Reserve Rajasthan from London – How to plan one and How to pick the right one?
Ranthambore Tiger Reserve & National Park is a national park, wildlife sanctuary & a tiger reserve in the Sawai Madhopur District of the state of Rajasthan, around 160 kms from Jaipur, 375 kms from Delhi, & approx. 7 kms from Sawai Madhopur Railway Station.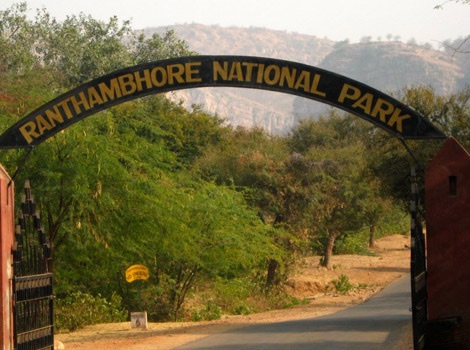 There are 10 safari gates/zones all across the park and are separated by approx. 20kms to 80 kms between the gates. You could hire a gypsy from all of these gates or you could get into a canter (22-seater mini-bus) (not all gates has canter facility) but you need an advance online reservation for the same.
Step by step procedure to plan Ranthambore Tiger Reserve Rajasthan from London
Step 1: Download WildTrails India App, get a feel for the national park and the gates/zones, their location and most importantly how the sightings are going on. Get a feel of Tiger Sighting Index (TSI) (R) across all gates. The app is free and available for both Android and iOS.
Step 2:  To plan Ranthambore tiger reserve Rajasthan from London, first and foremost, fix your dates & duration. Ideally, you should do 100 days before your proposed visit to Ranthambore. If you are doing it within less than 100 days, set at least 3 or 4 possible set of days as possible options so that at least one set of dates will have the safari openings for the premium zones. Please note usually all tickets get sold out 100 days in advance and hence the prior planning. There is "Tatkal" or "in time" premium safari booking but will cost 4 times the regular rate. BTW the app even suggests the best time to visit too. Let me repeat here, best times for sightings are from Oct to May and best times for you considering the temperature soars in summer, will be Oct to Feb but if you are ok bearing the hot sun, as that's when you get amazing sightings, Mar to May will be perfect.
Step 3:  Either book/inquire the Ranthambore package for the fixed days or set of fixed days as the case may be, via WildTrails India App or drop us an email via Web or email to find the rates, availability (& costing) of both great resorts and premium safari zones. We will do all the hard work of picking and reserving the right gate for safari (using TSI or Tiger Sighting Index (R)), pick the right resort based on your choice (Std, Budget or Luxury) and also pick the right mode of transport from Jaipur/Delhi (Cab or Flight) including assigning an expert tiger tracker. [Please note that all the crew attached to you will be very fluent in English & Hindi]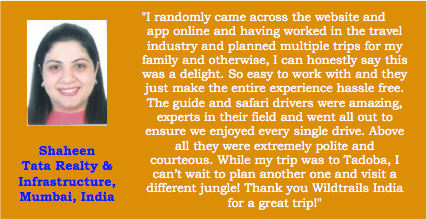 Step 4: Along with Ranthambore you can also do Jaipur/Udaipur, Agra, Delhi etc – if interested, please do plan for extra days (go back to Step1) and also inform us about your additional days for sightseeing (Step 3)
Step 5. Once you get confirmation from Step 3, get to book the Air tickets form London and ideally to Jaipur as it is the closest international airport to Ranthambore (approx. 160 kms and 3 hrs of travel in an AC cab and roads are very good). if you are booking other airports say Delhi, please do inform us. BTW these airlines do flights from London to Jaipur (direct or one stop)  – Air India, British Airways, Jet Airways, Oman, Etihad, KLM and a few more. Jet Airways times suits the best we feel but if you have points with British Airways or KLM, they are fine too.
Step 6: We will send you out a detailed itinerary for "plan Ranthambore tiger reserve Rajasthan from London" which includes everything you need to carry, dos & dont's for international travelers to India/Ranthambore, a briefing via video or teleconference before you leave the UK, a Whatsapp/telephone support number which works 24X7 and assign a coordinator who will be in touch with you from the day of booking until you are back to your country and of course a hotline.
Step 7: Just relax and enjoy and look forward to the trip and we will be posting for the special group that we would have created in the app, all the details, weather conditions, sightings happening and lot more to keep you updated and as well build up the excitement too!! You will love the experience. See what our UK and other customers say about the Unique WildTrails Experience
Additional Useful Information for 
plan Ranthambore Tiger Reserve Rajasthan from London
Ranthambore Safari Zones Gates Locations:
Gates for Zone 1 to 5 are same entry and for Zone 6 is just a few Kms from the entry gate of Zone 1 to Zone 5 but Zone 7 to Zone are pretty far from the [40 to 70 kms] entry point. So be careful on where you book the Safari (Game drive) and where you book your resort. The Exact geo locations of all these gates/zones are mentioned in the WildTrails India App.
Plan Ranthambore Tiger Reserve Rajasthan from London,

Packages – how to select one?
Of all the tiger reserves in India, Ranthambore is one of the most popular one and also most sought after too. Below are some of the steps you could follow to pick the right package.
Step 1 : Book Early – can't say enough. Earlier the better as you get the best zones else you will end up going to zones where there are no tigers or no sightings are happening
Step 2: Checkout how the park is doing w.r.t sightings. Do download our app and checkout the sightings and the TSI (Tiger Sighting Index ™) for the Park and for each of the gate and insist on those gates
Step 3: Usually gate1 to gate6 are sought after. Even in that find out what gates are doing good (see Step 2) 
Step 4: Also ask whether it's exclusive Gypsy or Shared Gypsy or in a Canter (min-bus) before you book
Step 5: Ideally go over the testimonials of the one you offers the packages
Step 6: At the end you need to take a package that gives you that experience you are seeking for and not myriad of issues
Step 7: Real the Blog :  How to increase odds of sighting Tigers in India in the wild? as timing also matters
Download WildTrails India App to know the exact location of the sanctuary, exact location of all gates, exact timings and also a way to book the safari of your liking gate and of your liking session (morning or evening or both) and also a stay closer to the gate you have chosen.
Ranthambore Jungle Safari Package Booking: If you are looking for a hassle-free high-quality Ranthambore package, please download the app and book over there or  click here – Design My Ranthambore Package. OR drop us an email at ranthambore@wildtrails.in or WhatsApp us at +919901175444
---
Further Info:
If you need further info on ranthambore or need further help to plan a visit to ranthambore, and need further info or you want us to help you book safaris and/or stay with, contact us any time via an email to ranthambore@wildtrails.in  or WhatsApp us @ +919901175444. Also please do install WildTrails India App or read the below related blogs.
---
Related Useful Posts :
Ranthambore Hotels, Ranthambore Resorts – a List to peruse before you book
Top 10 Things to do in Ranthambore Tiger Reserve in Rajasthan
How to increase odds of sighting Tigers in India in the wild?
---
WildTrails (Tm) India App – "Come Experience Indian Wildlife Like Never Before". The Only "Wildlife Focused" company that uses Technology to enhance your wildlife experience. A one-stop destination for all your wildlife travel needs.
PS: Please be a responsible wildlife tourist; No littering, No sounds, No feeding, no getting down from the safari jeep (when on safari), No phone calls. Remember that we are visiting their home and when we are there, let's follow their rules.
[The WildTrails India App is the best way to get all the details about Indian wildlife sanctuaries (best travel times, safari details, animal sightings, forest accommodations pairing, wildlife related activities, prices, etc). Learn more about WildTrails of India here. ios App is here. Android is here, and Web is on the way. Please do like us on our facebook page here.]
[The WildTrails India App is the best way to get all the details about Indian wildlife sanctuaries (best travel times, safari details, animal sightings, forest accommodations pairing, wildlife related activities, prices, etc). Learn more about WildTrails of India here. ios App is here. Android is here, and Web is on the way. Please do like us on our facebook page here.]