Want To Do A Safari Trip In India, But Don't Know Where To Start? Here Are The Tips To Get Organized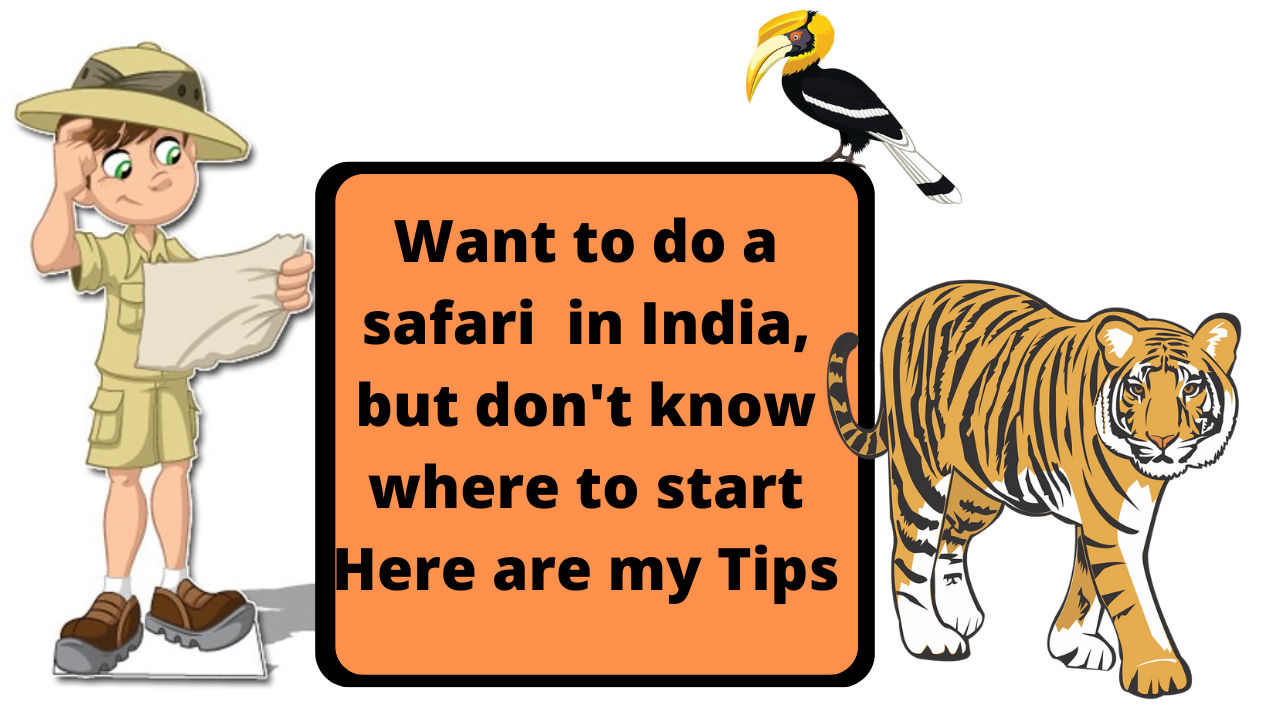 India! – The subcontinent is known for its rich cultural heritage, history, diverse landscapes, and cuisine. The tourist attractions in India are beyond the Taj Mahal, the Amber Fort, the Hawa Mahal, the Lotus Temple, the Red Fort, the Qutub Minar, the Golden Temple, and the beaches of Goa. Besides, there is a vast scope for adventures like trekking, rafting, and skiing in the Himalayas. India is home to numerous national parks and wildlife sanctuaries, where visitors can observe rare species of animals and birds.
The options to explore in India are so vast that being born and raised here, I am still yet to cover more than 90% of the tourist attractions. Safari is one such venture that I would love to do here over and again. I might not be a beginner anymore, but I did start my safari as a beginner. These are my tips to explore Indian jungles in an organized manner.
Shape your budget and travel dates
First things first. The national parks in India have dynamic entry fees and other charges, so the very first step is to determine the budget and dates. This will help sort out the options and to decide which place to visit.
Select the destination

Choose the place based on the budget. Note that every forest reserve offers a unique wildlife experience. Kabini is known for its backwaters and unique sighting. Ranthambore is one of the most sought-after wildlife reserves for safari. Jim Corbett is known for having resorts within the forest. So, go ahead and choose the destination based on your budget and interest in wildlife. Reach out to our experts to know more about each forest reserve.

Choose the right tour operators

A lot of tour operators who can plan and schedule your next wildlife holiday can be found online. However, the ones who can help you plan, and schedule effectively are limited. Things have been easy for now thanks to regulating the optimization of online search engines. Check out the customer's reviews and compare the prices to find what fits within your budget.

4. Plan your itinerary

Your safari vacation can be beautified if you have some room to add on places that can be visited on the way. For example, you can visit the heritage city of Mysuru if you plan to explore Kabini. However, I would recommend planning them well in advance.

5. Book your accommodations

There are different accommodation types and ranges from budget to comfort. Some travel packages have the accommodations included, while others have them as an add-on option.

Travel documents

Visa and vaccination certificates are the most important documents to take care of. Check out the required vaccination details at https://wwwnc.cdc.gov/travel/destinations/traveler/none/india

Pack smart

Less luggage more comfort always holds good. But pack right – Make sure you carry the required gear for the safari. Sunglasses, sunscreen, hats, and mosquito repellent are some of them to be carried.

Stay informed

Familiarize yourself with the place you visit. India is one such country with a lot of diversity. So, every place you travel to differs in terms of customs and laws. Check out the health and safety concerns of the place you visit before heading out.

And last, enjoy every moment. The first time happens only once. Make the most of it.
Booking your next safari is just a few steps-
Step 1: Head over to https://packages.wildtrails.in/
Step 2: Select your favorite National Park. Fill in the Check-in and Checkout dates along with your group size.

Step 3: Choose the type of accommodation. It can be anything as per your budget. Click on 'Details'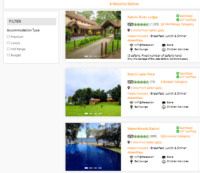 Step 4: Select the number of safari drives and the type of safari you wish to choose.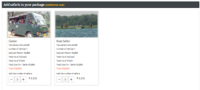 Step 5: Select add-on options if you wish to have them to your itinerary. Click on Send Enquiry.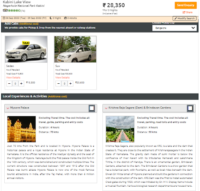 Step 6: Fill out the form-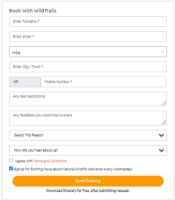 Reasons to book your holiday with WildTrails–
1) Dedicated platform for a wildlife holiday.
2) No travel agent commission is involved. Direct price from the resorts, hence, the best price in the market.
3) No middlemen, no additional commissions, no unnecessary markups, the best competitive rates you can ever get, and the best part is you connect directly with the Resorts/Hotels. Further, your booking amount shall benefit the locals and hence will help improve their economic condition which in a way is critical for better conservation of the flora and fauna in the park.
To know more and to get a full list of jungle/nature resorts, please click https://wildtrails.in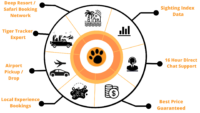 Total Page Visits: 711 - Today Page Visits: 1
---
---
Play with WildTrails Intelligence Tools
1. How many times tiger is seen per month?
2. What's going on in Indian Forests today?
3. Interested in playing more with Tiger sighting graphs? Click
here?
---
Buy Wildlife Fashion Accessories
Exclusive Online Store for wildlife products
Packages
Packages Loading...
Recent Posts