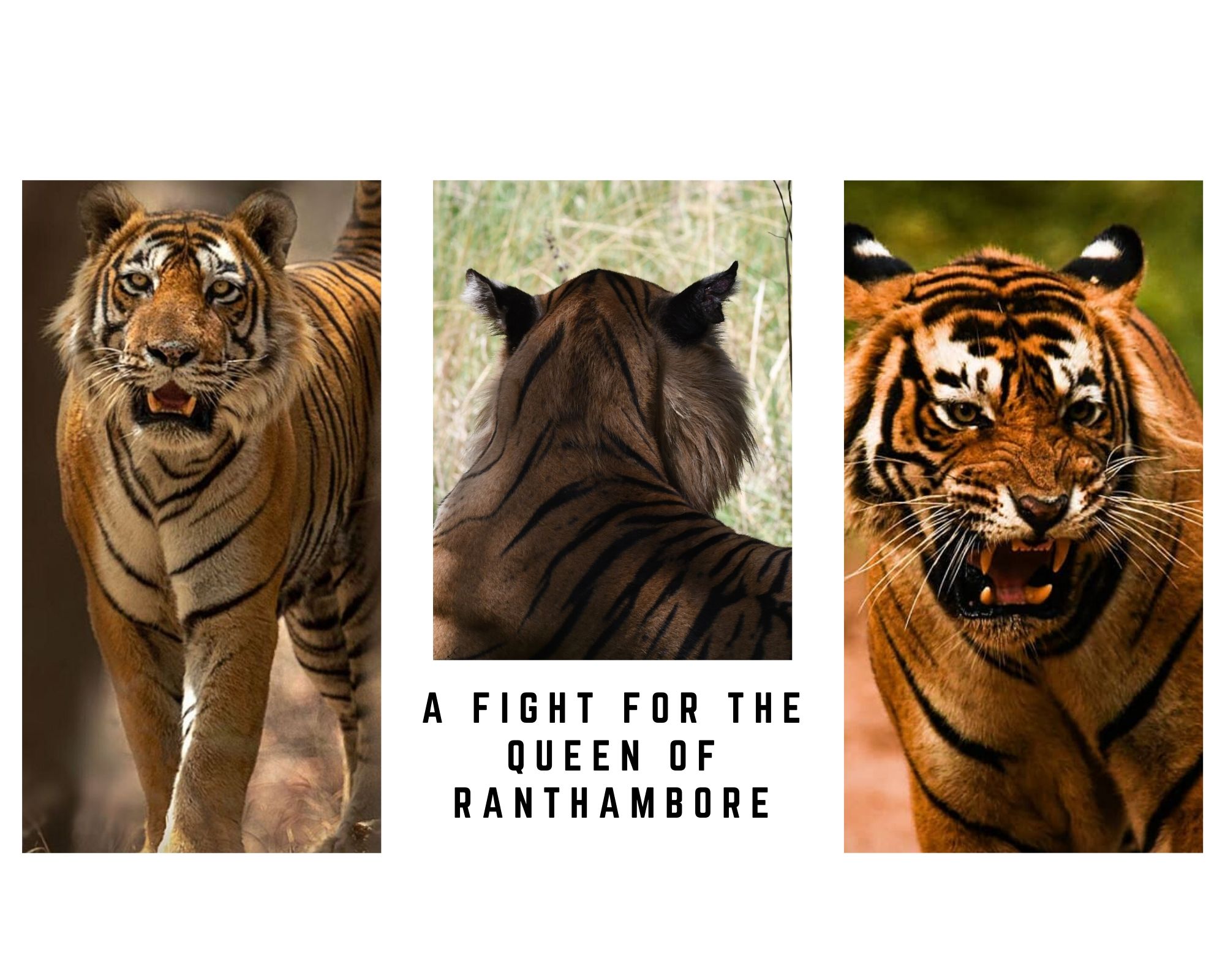 Clash Between Tigers For The Queen Of Ranthambore
A FIGHT FOR
(NOOR)
A dominant tigress of Ranthambore National Park. She is the "Second Family" of Ranthambore, having descended from the sister of the great Machli, born to T-13.
A FIGHT BETWEEN
(T-57 AND T-58)
The two tigers who have struggled over Noor are both brothers. T57 is a tiger named Singhsth, while T58 is a tiger named Rocky are the children of Sharmili.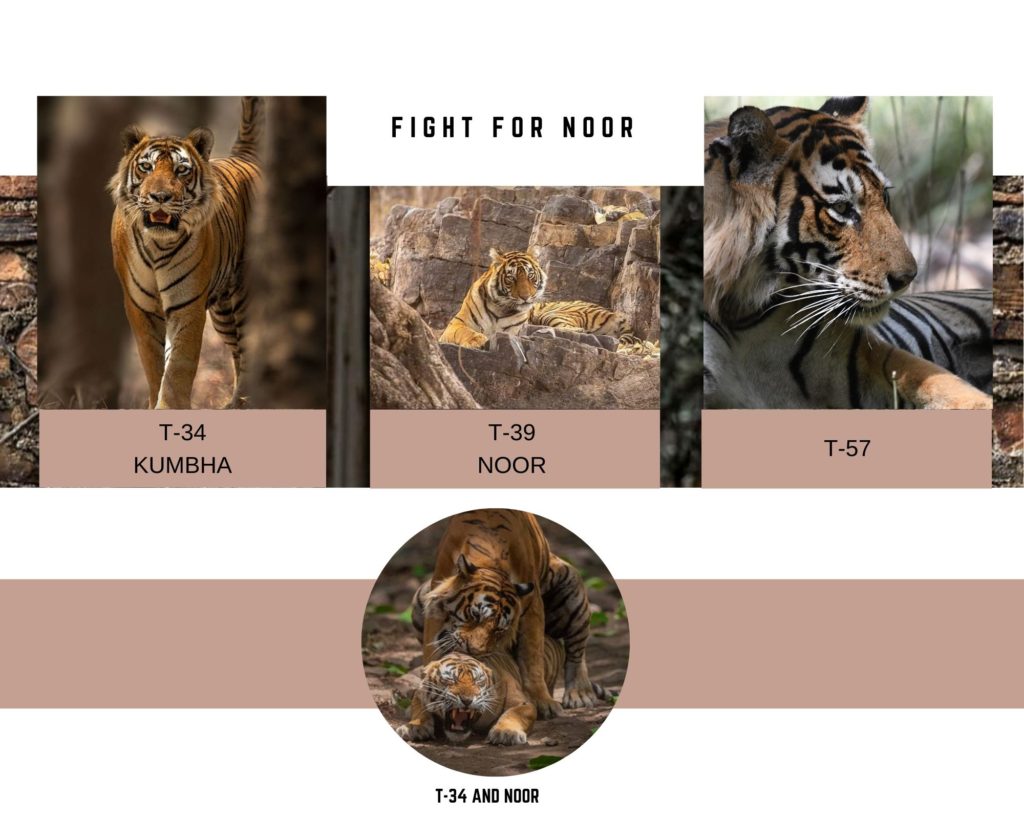 The FAMOUS FIGHT BETWEEN TWO BROTHERS FOR NOOR
(IN RANTHAMBORE)
On Tuesday, 15 October 2019, there was a clash between two tigers T57 and T58 for tigress T 39 Noor in the Kundal area of ​​Zone 6 of Ranthambore National Park.Noor was seen lying comfortably with the T57 tiger when his brother T58 walked upon them! Then the deadly fight ensued.

While the brothers were fighting brutally, the tigress T 39 (Noor) escaped from there and reached another area. In the evening, the tigress left both tigers and moved to Zone 1 of Ranthambore, where she was spotted with the third tiger T-34 (Kumbh).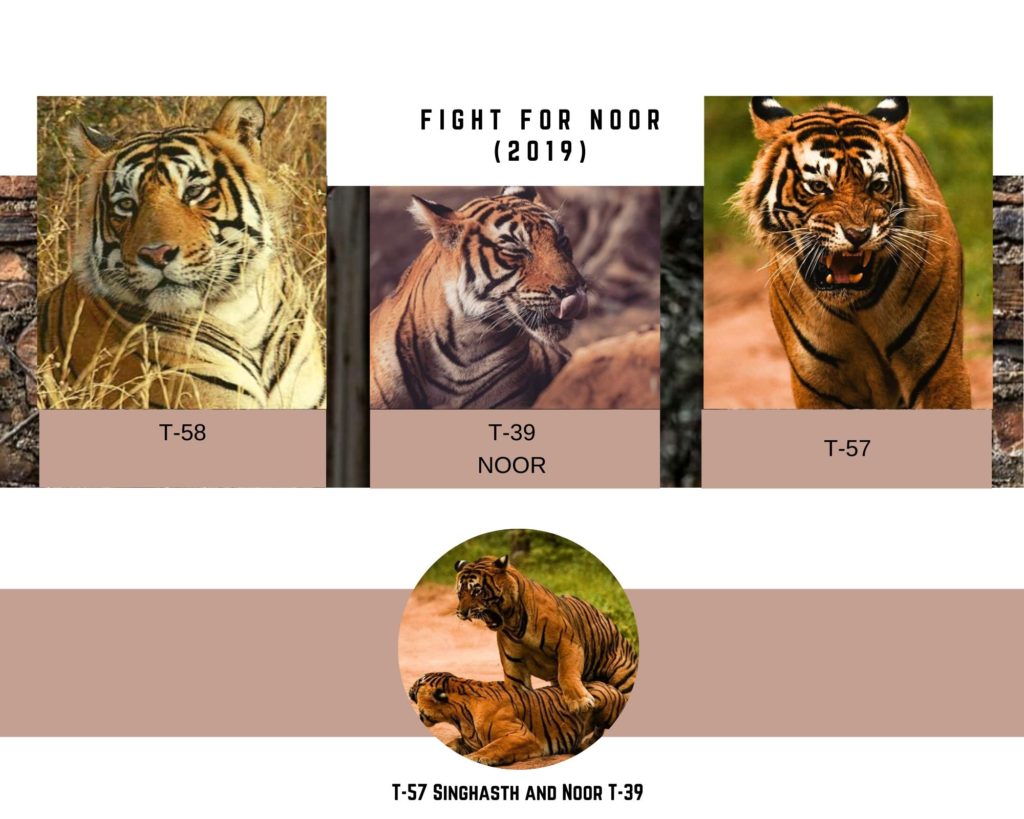 This is not the first time that two tigers have clashed for Noor. Earlier, there was a clash between tiger-34(Kumbha) & T-57 over tigress Noor. T-34 was injured in it & later tranquilized and treated by the Forest Department.
Contact our wildlife experts to experience this love saga of Ranthambore
Experts@WildTrails.Co or Call Us OR WhatsApp at  +919901175444
With 4 years of Sightings data + Extensive expert tracker network in jungles, our customers had the best wildlife experiences.
Get "smart" Quote, with WildTrails
Get "Smart" Quote, with WildTrails
Recent Posts