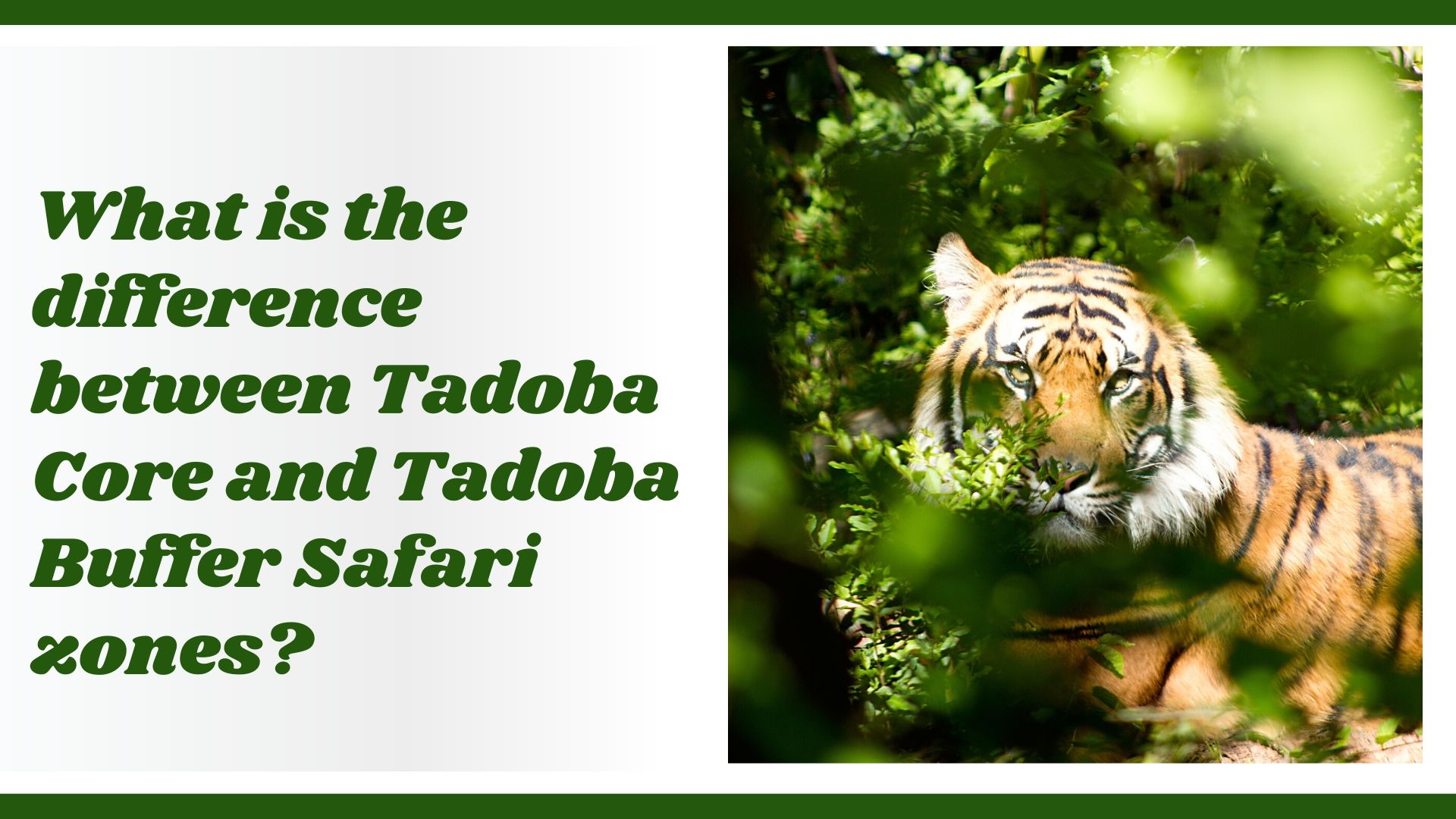 What is the difference between Tadoba Core and Tadoba Buffer Safari zones?
This article talks about the difference between Tadoba Core and Tadoba Buffer Safari zones/gates and hence will help you choose the gate that is right for you.
Core Gates of Tadoba are where Safari starts are:
Buffer gates of Tadoba where Safari starts are:
Tadoba park is divided into three safari ZONES:
---
Tadoba Zone/Range (via Kolara & Navegaon gates)
Moharli Zone/Range (via Moharli & Khutwanda Gates)
Kolsa Zone/Range (via Zari & Pangadi gates)
If you see these gates online, where you get to book safari for the core and the buffer, this is how it looks
---
Difference between Tadoba Core and Tadoba Buffer Safari zones
The difference between Tadoba Core and Tadoba Buffer Safari zones is that generally "Core" area is where the actual forest exists and there are no villages inside this core zone (even if there are, they will be slowly shifted out by the forest department – now as of Feb 2017, there are 2.5 villages in the Core Area) and "Buffer" area is where you will see a  interplay of villages and the forest area, this is where both villagers and animals (mainly tigers) co-exist.
There are 79 villages in the buffer area. The best way to protect these animals in the buffer area (the animals which are spill over from the core area due to territorial issues) is to reduce conflict between villagers over there and the animals and one of the best ways is to create tourism over in these buffer areas and find a way for locals to get a share in this tourism revenue. Keeping all these, buffer areas was created and tourism was enabled here. The Forest Dept. hailed the move as a step in right direction.=, "Unless the money from tourism flows to the locals they won't come forward to save tigers," says the department.
In April 2012, due to poor protection, two tigers were trapped by poachers in Gondmohadi in Palasgaon range adjoining Tadoba. "Had these areas been patrolled by the field staff, such incidents could have been avoided. Allowing tourists in buffer is one way of patrolling the forests," said young naturalist from Tadoba.
Buffer areas are beautiful with dense tree canopy and there are good movements of tigers and wild animals from Tadoba in this patch as there are natural water sources. Plans are afoot to construct artificial water sources too in these areas. Another advantage of buffer is that, the forest entry tickets rates are 40% cheaper than the core tickets (while the Gypsy & the Guide charges remain the same) and another huge advantage is that while core is always online booking, you can buy tickets at the gate (spot-booking) for buffer (until they are completely sold out of course)
Also, one of the advantages of promoting tourism in buffer areas is  that to ease congestion in Tadoba core regions in future. The plan may be part of the well-planned strategy to do away with tourism in core area of tiger reserves as per Supreme Court order in October 2012.
Tourism in the buffer area will be run by eco-development committees (EDCs) set up in the buffer villages with tickets being issued by the EDC members and the tourism revenue would be shared between EDCs and Tadoba Conservation Foundation (TCF) in the ratio of 80:20.  Forest department also has trained 20-25 guides (who are locals) who will accompany tourists on the route. These new routes (in the buffer) will also help forest patrolling in a way says tadoba chief.
[Forest department in a notification said that the 79 villages in the buffer zone would not be relocated and their rights over forest resources would remain intact. The Centre would release funds for developing the villages, said officials – all these lead to creation of buffer zones and handing over the reins in a way to these locals who now enjoy the fruits of the revenue and also work hard to ensure protection of tigers/animals in these areas]
Difference between Tadoba Core and Tadoba Buffer Safari zones for a Safari Goer
Many Zones or Buffers are having very good sightings (see sightings under WildTrails India App) but in general buffer has less number of tigers and hence less number of sightings compared to Core Zones and hence first preference always have to be given to Core. But if you are a first timer and sighting Tiger (as opposed to Maya, Matkasur, Choti Tara, Sita etc) than choose any buffer where sightings are good and you will get to see a Tiger. Also if you are nearby and just crashed into Tadoba, buffer gate tickets are available on the Spot. Also in peak season, most buffer gate tickets are all sold out and hence you have no option but Buffer.
---
You can check the Current tiger sighting of Tadoba here. The recent tiger sightings data is on the basis of weekly, monthly and yearly as well. You can compare the sightings before any trip to Tadoba.
Further Info:
To get complete sighting details of Tadoba – be it core or buffer, download WildTrails India App – it also has complete step by step procedure to book the safari as well as the accommodation but if you need help, as always drop us an email to tadoba@wildtrails.in  or call us on +91-80-33512427 or Whats'App us to +919901175444
---
Why WildTrails ?
WildTrails is the world's first and only company to bring Sightings Data and analytics into planning Wildlife holidays. With all the sightings info (4 years data) we create a predictive metric called the "sighting index" that helps our customers spot where the animal is. As a traveller, you have an advantage if you book with us, as we use our "sighting index" metric to improve your Safari sightings. 
Other WildTrails benefits: 
Extensive resort/safari booking networks in India, Kenya & Tanzania

Pickup/drops from local airports

Local experience bookings

16-hr support via direct chat (WhatsApp) with our world-class support staff

Best tiger tracker experts associated with the particular zone of the park
With 4 years of Sightings data + Extensive expert tracker network in jungles, our customers had the best wildlife experiences.
Get "smart" Quote, with WildTrails
Recent Posts