Jungle Safari in Pench and Tadoba National Park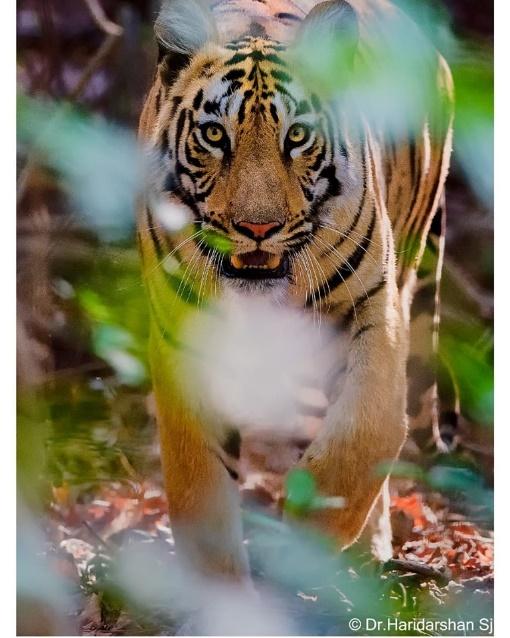 Tadoba is in Chandrapur district of Nagpur and is known for the mercury soaring to as high as 50 degrees in the months of April and May. It is named after the god "Tadoba" who is worshipped by the local tribes, and Andhari is the river meandering through the forest. Pench National Park is also located in Maharashtra and is named after the river Pence which flows through the park. For those of us who are ardent fans of "The Jungle Book", this is the ideal place to spot Akela (the Indian Wolf), Baloo (the bear), and Sher Khan (the Royal Bengal Tiger).
PENCH JUNGLE SAFARI
Jungle safari in Pench and Tadoba was always on the top of my wildlife holidays list. Being nature and wildlife enthusiasts, my wife and I constantly look out for jungle reserves in India for thrilling wildlife sightings to satiate our love for wildlife and photography. Having visited the forests of Bandipur and Nagarahole in Karnataka, Ranthambhore in Rajasthan and Bandhavgarh in Madhya Pradesh, our next destination was Tadoba Andhari Tiger Reserve and Pench National Park in Maharashtra as they are very well known for having an extremely high population of the wild cats.
A group of 5 TIGER enthusiasts led by a well-trained and well-versed wildlife enthusiast who was also the mastermind behind the planning and the execution of the trip, all of us firmly believed in being secluded from the bustling city life and getting up close with wildlife to delight the wildlife lover in each one of us. So, there we were, in the sweltering heat of Nagpur sipping on buttermilk and cold water waiting for our dream sighting in the forests of Pench, to begin with. The first safari was unfortunately uneventful, and we were a tad bit disappointed, but like I always believe "Let your mind go still, absorb the sounds of the jungle and let the silence envelope you like a blanket." Our hearts pounding in our chest, this is what we came for and for sure, this time our luck transformed, and we spotted not one but three cubs together!!!!
Can you imagine our happiness?? This was at the end of our morning safari, so we were extremely excited to spot the same in the same location in the evening safari… AND WE DID!!!
Three cubs playing and cooling off their heels in the water with their mother and this time, closer to us. I always seem mesmerized by the jungle and the amalgamation of eerie silence in a few spots and the cacophony of birds and chatter of langurs in another. These wild calls of nature guide us to the tigers and leopards. Isn't it intriguing how much we learn just by observing animals? Unfortunately, most of us are blind to watch and understand.
We were also lucky to spot jackals with a fresh fawn kill( see picture) and a couple of wild dogs other than sloth bears, owls, nilgai, sambhar deer, spotted deer and a huge variety of birds.
TADOBA JUNGLE SAFARI
The next day we headed off to Tadoba which was a 4-hour drive with our spirits running high.
Tadoba National park is a shelter to the Royal Bengal Tiger and hence is also known to be an excellent conservation national parks in India. The forest is a good blend of deciduous forest and rolling hills which makes the safari ride quite exciting. We were told the mercury was at 49.5 degrees but that did not deter us from being over excited and enthusiastic as we had heard so much about the forests of Tadoba and the beautiful sights it has to offer. About half an hour into our safari and our naturalist told us he could spot one of the tigresses sleeping under the bush. We waited for about 10 minutes and suddenly she emerged head on towards our jeep which was less than 200 meters away!!! Mayuri, the charismatic 4-year-old lady walked towards us and then turned and walked away in style (don't miss her looks in the pic enclosed).
I can never forget her piercing eyes and the tenacity in her walk, an encounter very close to my heart. Having left her territory, we went on to try our luck at spotting one of the male cubs who is supposed to have mated with Mayuri a couple of weeks ago. Imagine our happiness when we spotted him too cooling himself off in a water hole.
I couldn't wrap my mind around his massive size and knowing very well that he tends to charge at safari jeeps if instigated, peppered some more excitement. Just as we thanked our stars for having given us such brilliant sightings, we heard a sambhar deer call and backed our jeep to spot another female, Rani walking towards the male. It felt like an overdose of good luck, happiness, and excitement which made us oblivious to the soaring temperatures. We went back contented only to come back the next day and sight another male cub: Jharnabai male along with a couple of sloth bears.
There is nothing more satisfying than going back home with dozens of stories to narrate about each sighting. This trip will undoubtedly be one of the most cherished ones. In my travel experience, I feel, there is no other country or region which has such diversity in terms of its culture, wildlife and vegetation like India. And when you combine your love for wildlife with photography, that sure is a treat, isn't it? I'm eagerly waiting to plan my next trip either to the mountains or into the deep jungles of India to further explore beauty combined with culture. And then of course, to come back and write about it!!!
The blog is written by: Dr. SJ HARIDARSHAN
Edited by: WildTrails
A weekend wildlife safari tour is always the best way to get close to the wildlife in their all-natural environment.
People who are interested in witnessing Wildlife in their natural habitat can choose one of the wildlife safari packages from WildTrails. The carefully designed itineraries by WildTrails will help you to explore the maximum wildlife.
[faq group=pench]
For info on wildlife Jungle Safari in India, feel free to drop a mail at [email protected], or leave a message on +919901175444

Total Page Visits: 1567 - Today Page Visits: 1
---
---
Play with WildTrails Intelligence Tools
1. How many times tiger is seen per month?
2. What's going on in Indian Forests today?
3. Interested in playing more with Tiger sighting graphs? Click
here?
---
Buy Wildlife Fashion Accessories
Exclusive Online Store for wildlife products
Packages
Packages Loading...
Recent Posts