How to book a Kabini Safari? – Here's a detailed guide including booking URL!
Kabini is an amazing jungle to go on a safari. It's probably the best jungle to visit in the south and the best from Bengaluru. Kabini is actually the southern part of Nagarhole National Park & Tiger Reserve, which is on the banks of river Kapila (aka Kabini) but actually it's on the banks of backwaters of Kabini (nearby Kabini dam was built and these are the backwaters). This Kabini river divides Kabini jungle from the Bandipur jungle. Because it's on the banks of the river, you will have amazing sightings round the year. Kabini is approx. 70 kms south of Mysore and approx. 220 kms south of Bengaluru (Bangalore). It takes approx. 5 hours from Bangalore airport and roads are good and there are many very nice restaurants on the way.
I have met a lot of people in Bengaluru who want to visit Kabini but they get extremely confused on how to get a safari there. A visit to Kabini without a safari is like going to Paris and not going to the Eiffel tower or visiting New York City without visiting the Statue of Liberty. But unfortunately it's not as easy as visiting either. There is not enough documentation to explain how it works nor how to book the tickets and most end up booking a resort over there and coming back without a safari and then regret – wish I had spoken to you before. This is the article for all of you to read, understand and better plan Kabini before booking it.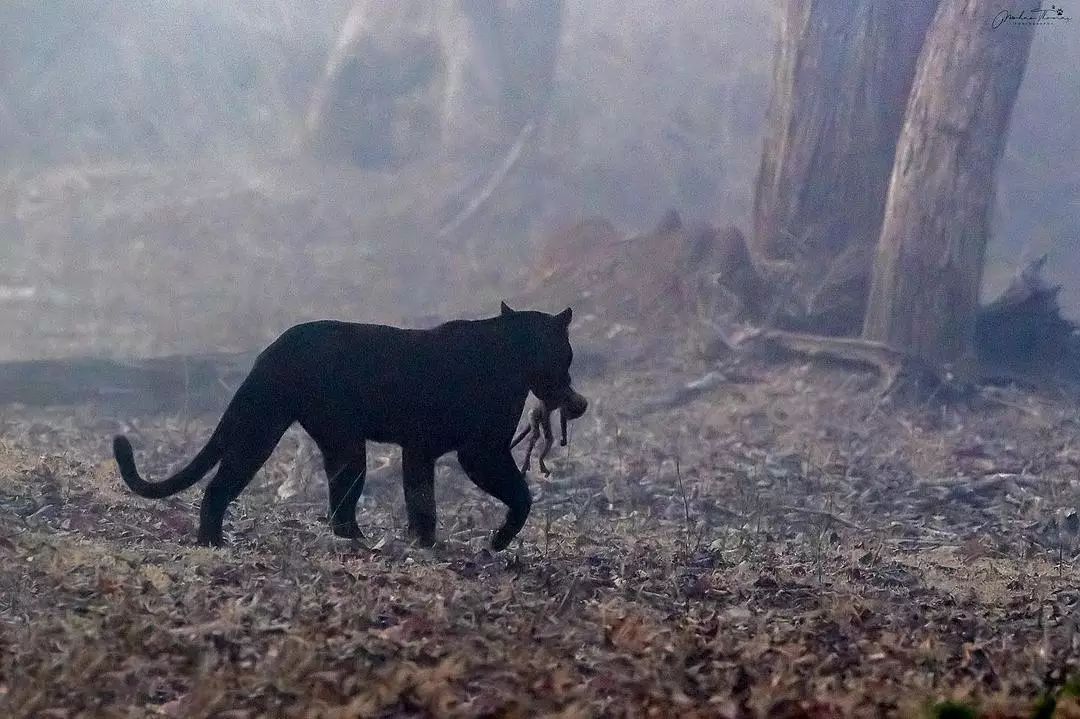 There are two kinds of Safari over there  – one mainly for day visitors who can go to the safari point in Antharsanthe village (google coordinates 12.014191117355328, 76.2573761415398  – just plug this numbers in the google map and you will get the exact location of the safari point. This point is also called Damannakatte) on the borders of Kabini Jungle, stand in a line, get those safari tickets, [there was an inline option to book but unfortunately it's down eternally. Update: try Nagarahole Tiger Reserve – Karnataka Forest Dept. should work now hopefully], enjoy the safari ride and then come back to your place, be it Mysore or Bengaluru or any nearby town or even nearby resort. The safari happens every one hour in a forest dept van in the morning starting from 6am usually until the last ride which generally starts by 9am. Then again it starts at 3pm in the afternoon and again every one hour with the last ride at 5pm. This is the cheapest option to do Safari in Kabini and you can stay in nearby budget lodges. These lodges are cheap but they won't help you to procure the safari tickets on your own.
Then there is a second option. This option is possible only for those who stay in one of those kabini resorts and it is reserved only for the guests of these affiliated resorts only. This safari is conducted by another govt dept which belongs to the hospitality dept rather than to the forest dept. Most of the affiliated resorts are luxury resorts which are on the banks of the river Kabini and without saying, are very expensive. If you want to book the stay in any of these affiliated resorts please go to https://packages.wildtrails.in and can book them. They will assure you the best of the service and guaranteed safari tickets. Some of the affiliated resorts are Kabini river lodges, Serai, Evolve Back, Waterwoods, Kaav, Bison, to name a few. Please note that safari ticket prices are extra on top of the resort prices. Also when booking with resorts, always make sure you book all meal plans else you don't get food anywhere in the jungle and the on-site prices are super expensive. Also make sure you book safari tickets ahead (WildTrails will do that for you) as the number of safari tickets are limited and there is a quota per resort and during weekends and holidays, they have more guests than the quota and hence many will miss out for not booking in advance.
[Video Courtesy Sameer Kote]
Hope this helps. BTW I am Ashwin, one of the clients of WildTrails and was totally confused on how to do Safari and thanks to WildTrails my dream was realised and lucky me, I saw Tiger and Black Panther in the same safari.
Good Luck!!
Total Page Visits: 5754 - Today Page Visits: 1
---
---
Play with WildTrails Intelligence Tools
1. How many times tiger is seen per month?
2. What's going on in Indian Forests today?
3. Interested in playing more with Tiger sighting graphs? Click
here?
---
Buy Wildlife Fashion Accessories
Exclusive Online Store for wildlife products
Packages
Packages Loading...
Recent Posts