Kenya Safari Tour Packages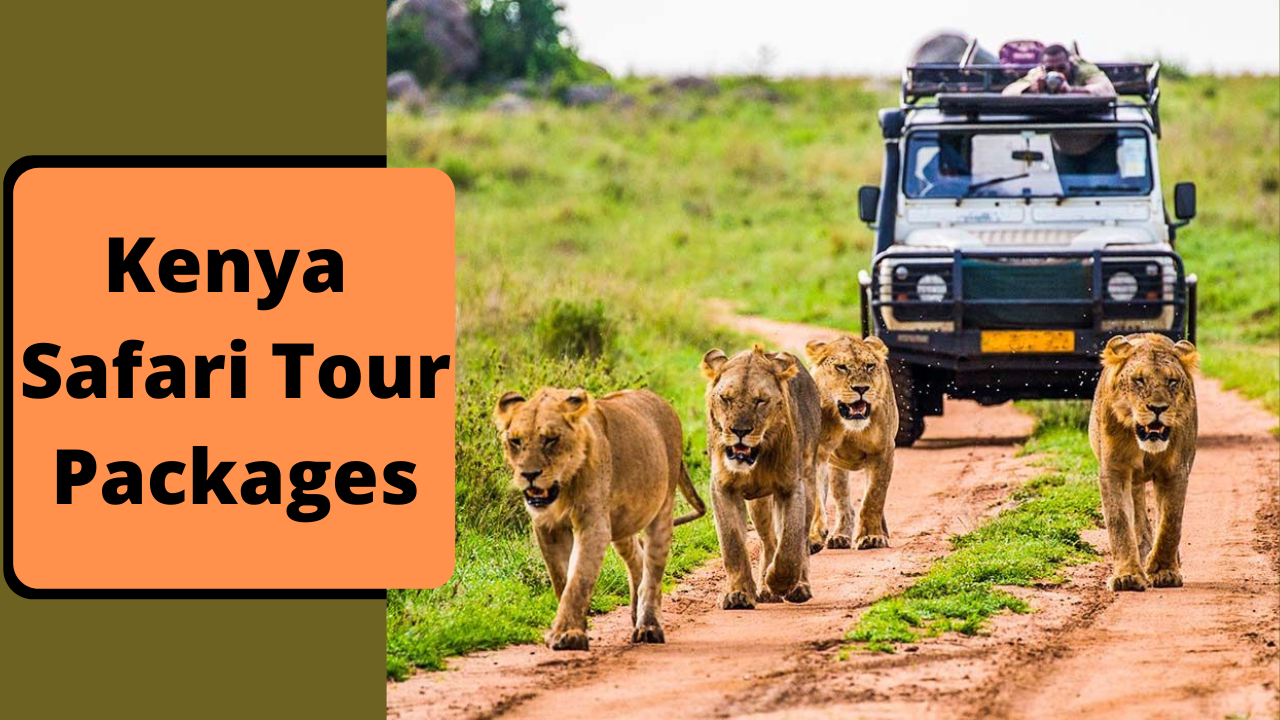 East Africa is something the entire world craves to explore. There seems to be something eye-catching if there are people from all over the globe. Stats say that even the pandemic did not stop the travel explorers from visiting the savannas of the dark continent. Kenya is one such place where there are quite a several National Parks for dauntless safari drives. We, at WildTrails, help you choose the right national park and the correlated safari.
About Kenya
Kenya is a part of East African Countries(EAC) and always comes up with long-term visions when it comes to tourism. Tourism is one of the major factors in generating revenue here, thanks to the seamless attention of tourists around the world. The question is – What is there in Kenya to explore? No doubt it is National Parks. The savannas and the wildlife around, each have a unique background. There are quite a few mountains like Mount Machu Pichu and Mount Kenya to name a few. These are the mountains where you can trek, the difficulty level ranging from beginner to intermediate level.
How to Reach Kenya?
By Flight
There is a good number of airports in Kenya. However, it is Jomo Kenyatta International Airport, Nairobi where you can see a lot of connecting flights from around the world arriving here.
Visa
There are Visa on arrival and e-visa options for tourists arriving from most countries. More details about visas and to apply for an e-visa if you are eligible in the official link – https://evisa.go.ke/evisa.html
National Parks in Kenya
Masai Mara National Park
The 1,510 square km (583 square miles) of southwest Kenya is a land of breathtaking vistas of the Masai Mara National Reserve with abundant wildlife and endless plains.
The exorbitant Masai Mara safari delivers many attractions, as the reserve is home to an excellent year-round concentration of game, including the more than two million wildebeest, zebras, and other antelopes that make up the famous Great Migration.
The reserve is a photographer's and naturalist's paradise, with an abundant amount of wildlife that includes elephants, buffalo, giraffes, lions, and cheetah alongside the migratory wildebeest and zebra. Leopards are frequently encountered; endangered black rhinos are seen hidden in the dense thickets and large rafts of hippos and enormous crocodiles are found in the Mara River. The park is also home to over 450 bird species.
Check Masai Mara Packages From India
Distance from Nairobi City: 250 km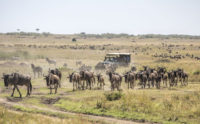 Amboseli National Park
Amboseli National Park is in the Rift Valley Province of Kenya. The reserve has an endless underground water supply filtered through thousands of feet of volcanic rock from Kilimanjaro's ice cap, which funnels into two clear water springs in the heart of the park.
If you are fortunate enough, you can view the beautiful landscape view of Mount Kilimanjaro in the background. It is usually covered by the fog and takes some luck to get this amazing sight.
The park is famous for its elephants, but most big safari animals can be spotted here. The black rhino has become extinct, but the other four of the Big Five are present.
Distance from Nairobi City: 215 km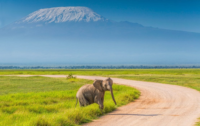 Nairobi National Park
Nairobi National Park is Kenya's most accessible yet incongruous safari experience. Set on the city's southern outskirts, Nairobi National Park is spread across 117 sq km and is possibly one of Africa's smallest forest reserves. However, the wildlife here is abundant wildlife. The forest reserve is seen against a backdrop of city skyscrapers and planes coming into land – it's one of the only national parks on earth bordering a capital city.
Distance from Nairobi City: 13 km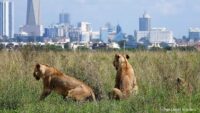 Tsavo East National Park
Tsavo East is home to most of the bigger mammals, vast herds of dust –red elephant, Rhino, buffalo, lion, leopard, pods of hippo, crocodile, waterbucks, Lesser Kudu, Gerenuk and Hirola.
Distance from Nairobi City: 422 km
Tsavo West National Park
Tsavo West National Park is in south-eastern Kenya and a little southeast of Tsavo East National Park. The national park encompasses an area of 3,500 square miles (9,065 sq km) making it smaller than its sister park.
Tsavo West National Park is more mountainous and more diverse in its landscape.
Distance from Nairobi City: 265 km
Lake Nakuru National Park
Lake Nakuru, a lake in west-central Kenya. It is one of the saline lakes of the lake system in the Great Rift Valley of eastern Africa. Primarily known for its many species of birds, including vast numbers of pink flamingos, Lake Nakuru also has waterbucks, impalas, and hippopotamus.
Distance from Nairobi City: 155 km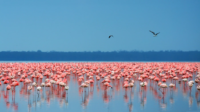 Lake Naivasha National Park
Lake Naivasha is a part of the Great Rift Valley is one of the truly astonishing examples of aquatic beauty. One of the most famous freshwater lakes in Kenya for its amazing jaw-droppingly gorgeous scenery.
Distance from Nairobi City: 102 km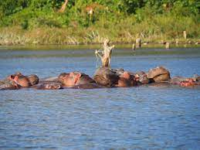 Safari timings-
Safari can be scheduled throughout the day; however, the operator needs to abide by the guidelines set by the park authorities and most of the parks operate between 6:00 AM and 6:00 PM.
Best time to visit – The safari parks are open throughout the year; however, the best time would be from June to October and from December to March.
Why choose Wildtrails for your next safari to Africa?
We, at WildTrails are pioneers in quite a few parameters when it comes to safari. India and Africa are the places where wildlife enthusiasts around the world crave to visit for. However, productive planning for a safari vacation is what you need to, do for effective sighting, be it in India or in Africa. This is where we make our grand entry. Your safari adventure is on us, no matter how complicated you feel to plan for safari.
Booking your next safari at Masai Mara is just a few steps-
Step 1: Head over to https://packages.wildtrails.in/
Step 2: Select Park Name as Kenya Safari Package under African Wildlife. Fill in the Check-in and Check-out dates along with your group size.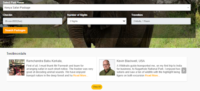 Step 3: Select the option that suits best your plan. Click on 'Details'.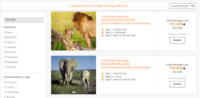 Step 4: Select the number of safaris drives and the type of safari you wish to choose. Click on Send Enquiry.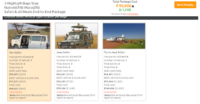 Step 5: Fill out the form-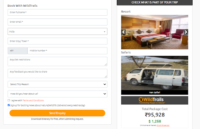 That's it. Your job is done. Now sit back and relax until our experts reach out to you.
Plan your trip based on the sightings. At Wildtrails, we help plan your trip based on the sighting algorithm, a unique way to have the highest chances of sightings. For details on which zone and gate to choose for, head over to WildTrails Sighting Index
Reasons to book your holiday with WildTrails–
1)  Dedicated platform for a wildlife holiday.
2)  No travel agent commission involved. Direct price from the resorts, hence, the best price in the market.
3)  No middlemen, no additional commissions, no unnecessary markups, the best competitive rates you can ever get, and the best part is you connect directly with the Resorts/Hotels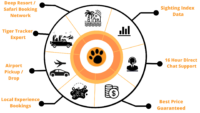 Kenya is one such place in Africa where the safari game drives are abundant at a reasonable cost. Head over to our website to check out the best safari packages for the safari in Kenya.
Total Page Visits: 458 - Today Page Visits: 1
---
---
Play with WildTrails Intelligence Tools
1. How many times tiger is seen per month?
2. What's going on in Indian Forests today?
3. Interested in playing more with Tiger sighting graphs? Click
here?
---
Buy Wildlife Fashion Accessories
Exclusive Online Store for wildlife products
Packages
Packages Loading...
Recent Posts