Masai Mara Packages From India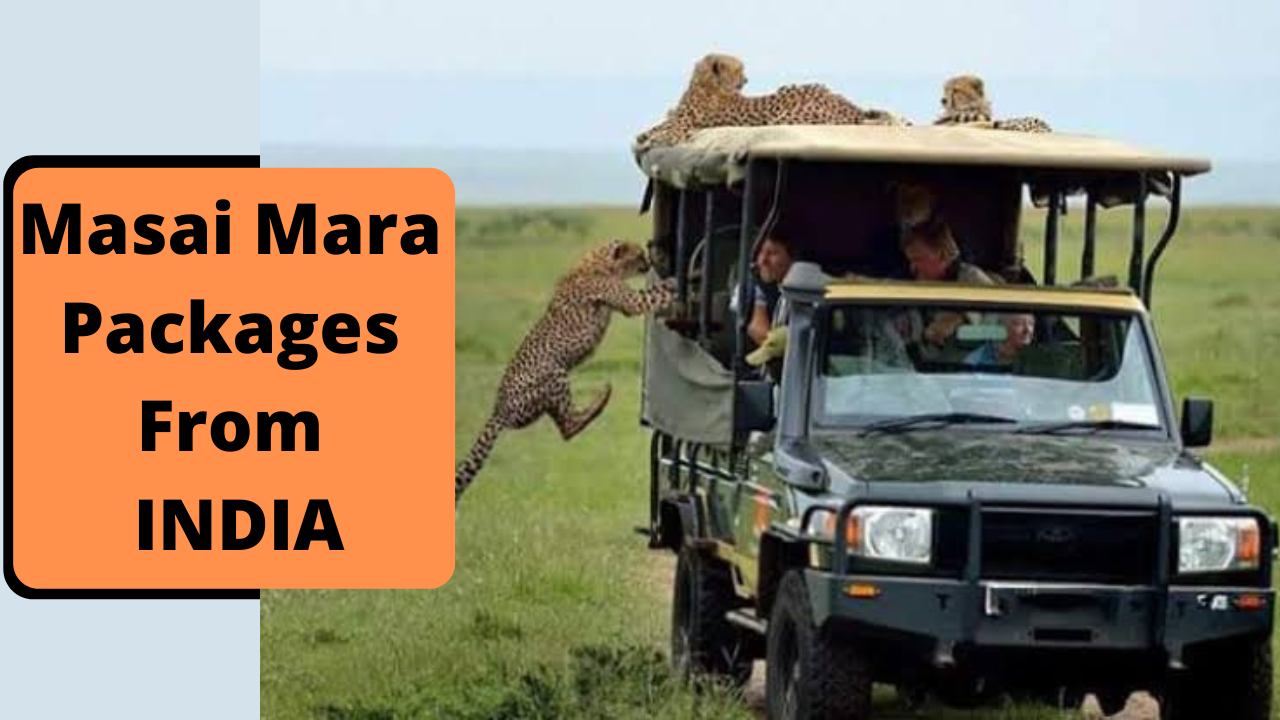 Masai! The name you are familiar with if you often switch on to NGC or Animal Planet. The wildebeest running across the Mara river is all everyone craves to see, and this experience is more than what is seen on the television. Being there at the right time and right duration of time is all you need to make your safari a lifetime to remember. In this blog, we help you choose the best packages for a safari in Masai Mara if you plan to travel from India.
Safari overall in Africa is completely different than what it is in India. Moreover, if you have already been for a safari in any of the national parks in India, you would indeed have a more flexible feel while you are in any of the parks in the dark continent. Yes, the savannas are vast and more explored with fewer restrictions compared to the parks here in India. And if you are on safari for the very first time, feel blessed because you just decided to level up your explorations.
About Masai Mara
Masai Mara belongs to Kenya, a vast area of Savannah grasslands. One of the best grasslands on the globe where you get to see the brighter part of Africa. Masai Mara along with Serengeti National Park of Tanzania forms a field for migration for the wildebeest, zebra, and other wildlife crossing the Mara River. Mara River is one of the streams between Masai and Serengeti where the chance of witnessing the migration is at its peak. Keeping Serengeti aside for a while, Masai is one such place to visit from India. The major factor is the cost and the number of days for a migration safari.
What else do you see in Masai Mara? Is it only the migration which is a natural phenomenon that cannot be guaranteed by us? Not at all! There is a lot more. In fact, a drive through the grasslands is bliss! Not to forget the big-5 sightings. In the end, a 5-hour game drive would be more than a lifetime experience.
Flora and Fauna Of Masai Mara
The 5,600-kilometer fault line stretches from Ethiopia's Red Sea and on through Kenya, Malawi, Tanzania, and Mozambique. Mara is one such place that offers four unique and beautiful types of terrain to the tourists. There are the Ngama Hills to the east which feature leafy bushes and sandy soil. To the west, it is the Olooloo Escarpment, a towering sheer cliff rock wall. Along the Mara River lies the Mara Triangle with its lush grasslands and acacia-filled woodlands, the home to a wide variety of wildlife among which the migrating wildebeest. Last, but not least, the rolling grasslands are scattered with boulders, termite mounds, and an occasional bush, the Mara plains.
The fauna part is interesting! The great Wildebeest migration can be witnessed in some months of the year. The Wildebeest is not the only herd. Zebra, Grant's gazelle, Thompson's gazelle, elands, and impalas are some of the accompanying the migration.
Lion, leopard, black rhinoceros, African bush elephant, and the African buffalo – the big 5 where you would want to adjust the lenses for better capture. Shoot them right!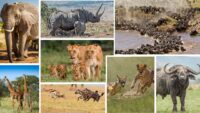 How to Reach Masai Mara
Nearest airport – Jomo Kenyatta International Airport, Nairobi. You can find a lot of connecting flights arriving here in Nairobi, Kenya.
Masai Mara is a 5-hour drive from Nairobi. Most of the tour operators have their offices in Nairobi, so the pick-up and drop are usually taken care of and shall be included in the package. Generally, the first day of your itinerary would involve more travel, hence it is recommended to start a little early on day 1.
The Migration Index
Ideally, you can visit Masai any time of the year, there are no restrictions. The right time would be from June to October and from December to mid-March since this would usually be the time when the rains are not around.
If you are particularly looking for migration, then it would be anytime between August and October, sometimes in November if you are fortunate enough. Another time would be during January-March. As said earlier, the migration view can never be guaranteed. It is a natural phenomenon and can be forecasted based on yesteryear's data. The best you can utilize is the migration index for effective planning of the ventures. A little to leave it for the fortune for migration sighting.
Know About The Great Migration of Wildebeest in the Masai Mara -Month by Month Migration Data Analysis
Why choose Wildtrails for your next safari to Africa?
We, at WildTrails, are pioneers in quite a few parameters when it comes to safari. India and Africa are the places where wildlife enthusiasts around the world crave to visit for. However, productive planning for a safari vacation is what you need to, do for effective sighting, be it in India or in Africa. This is where we make our grand entry. Your safari adventure is on us, no matter how complicated you feel to plan for safari.
Booking your next safari at Masai Mara is just a few steps-
Step 1: Head over to https://packages.wildtrails.in/
Step 2: Select Park Name as Kenya Safari Package under African Wildlife. Fill in the Check-in and Check-out dates along with your group size.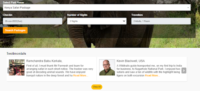 Step 3: Select the second option since it has Masai Mara included. Click on 'Details'.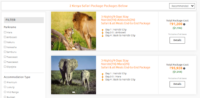 Step 4: Select the number of safaris drives and the type of safari you wish to choose. Click on Send Enquiry.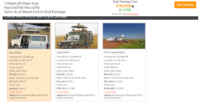 Step 5: Fill Out the form-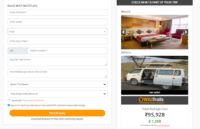 That's it. Your job is done. Now sit back and relax until our experts reach out to you.
Plan your trip based on the sightings. At Wildtrails, we help plan your trip based on the sighting algorithm, a unique way to have the highest chances of sightings. For details on which zone and gate to choose for, head over to WildTrails Sighting Index
Reasons to book your holiday with WildTrails–
1)  Dedicated platform for a wildlife holiday.
2)  No travel agent commission involved. Direct price from the resorts, hence, the best price in the market.
3)  No middlemen, no additional commissions, no unnecessary markups, the best competitive rates you can ever get, and the best part is you connect directly with the Resorts/Hotels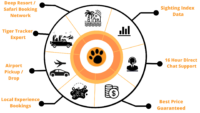 Masai Mara is one of the most explored gems in the world. The best way to plan your safari is to head over to our portal and book your safari.
Total Page Visits: 581 - Today Page Visits: 1
---
---
Play with WildTrails Intelligence Tools
1. How many times tiger is seen per month?
2. What's going on in Indian Forests today?
3. Interested in playing more with Tiger sighting graphs? Click
here?
---
Buy Wildlife Fashion Accessories
Exclusive Online Store for wildlife products
Packages
Packages Loading...
Recent Posts