Prince Prince Burning Bright in the Forests of Bandipur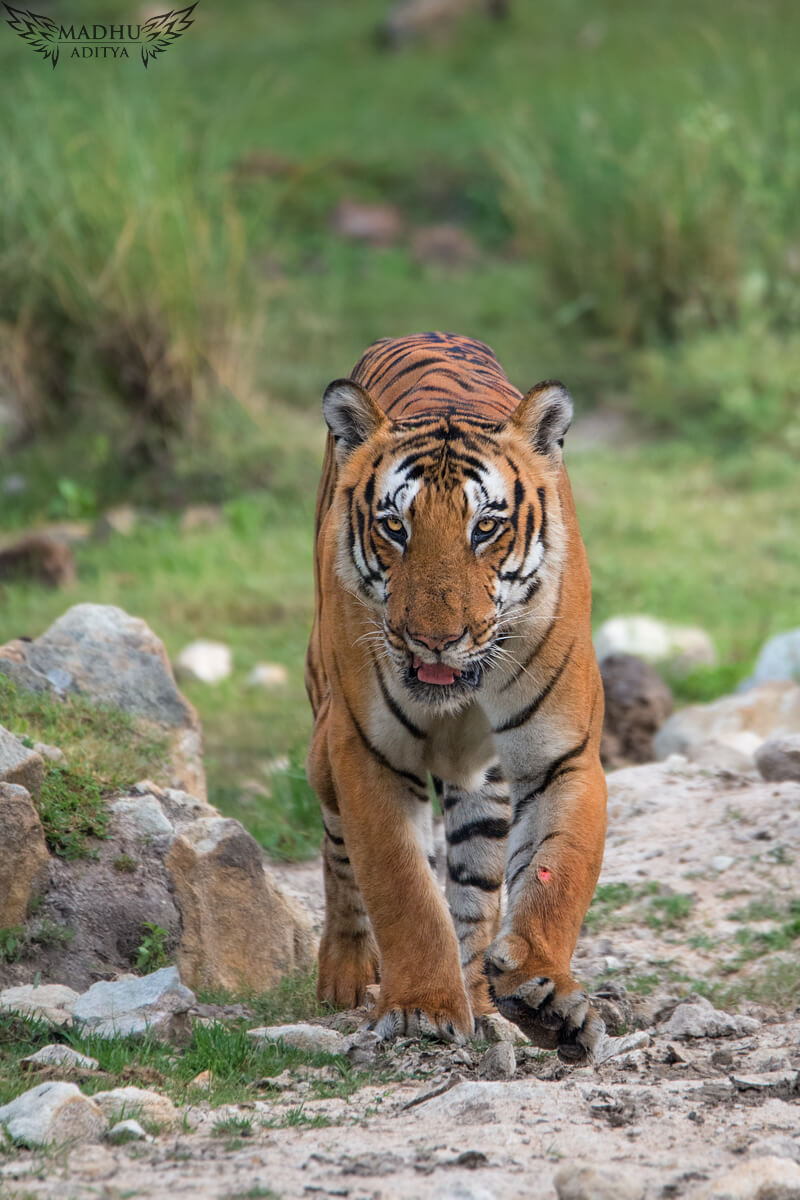 Prince Prince Burning Bright in the Forests of Bandipur – The Prince of Bandipur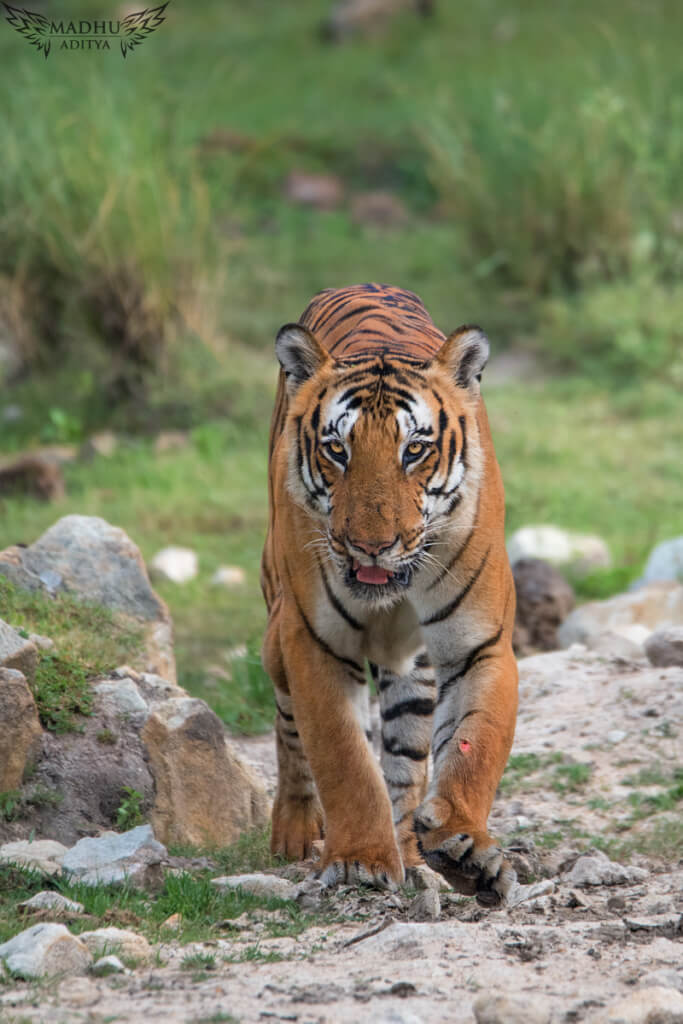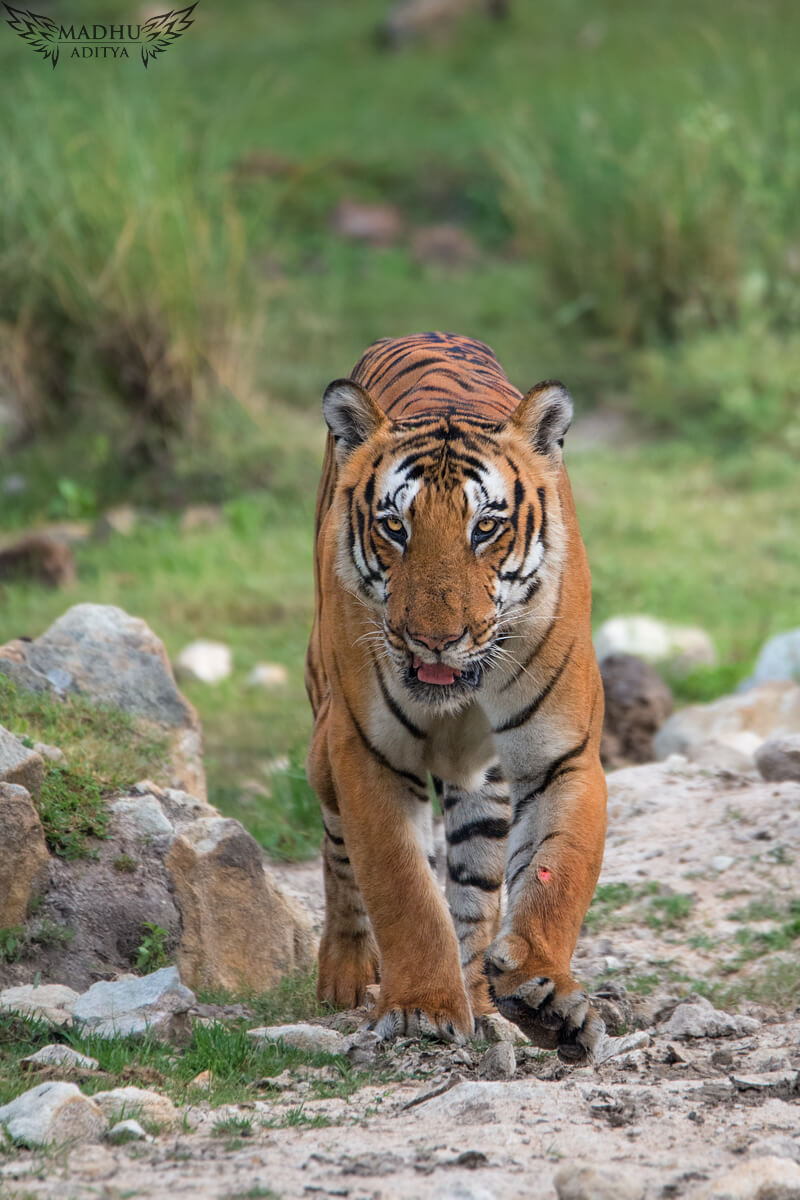 In 2009, on his usual Safari to Bandipur, Praveen Siddannavar spotted this young and handsome adult and goes on record on his blog (dated july 2011) saying, "I recognized this tiger; he is Agastya's son (one of the oldest male tigers of Bandipur ~ aged 15-16 years old). This guy (Agastya's son) could be aged about 4 years; I have seen him before as well at bettada katte. I consider him to be the very bold, handsome tiger and surely he is "The Prince of Bandipur" who will rule this forest in the days to come" and he was not wrong in any aspects of it. Now it is 2016, 7 years have gone by and he has taken over that complete territory and has been ruling that area ever since – the King now but still very popular by the name our Praveen kept it then – "The Prince of Bandipur" – the bold, the beautiful and the most photographed Tiger in the south undoubtedly.
"Normally, wild tigers are shy and scared of humans, but Prince does not mind them at all. He is a very popular sight in the tourism zone. But now, he is getting old and is a cause for worry," BTR ex-director BB Mallesh told media. He has been seen marking his territory regularly. There are instances where he has been spotted strolling on the safari road and vehicles are forced to stop and wait till he walks away.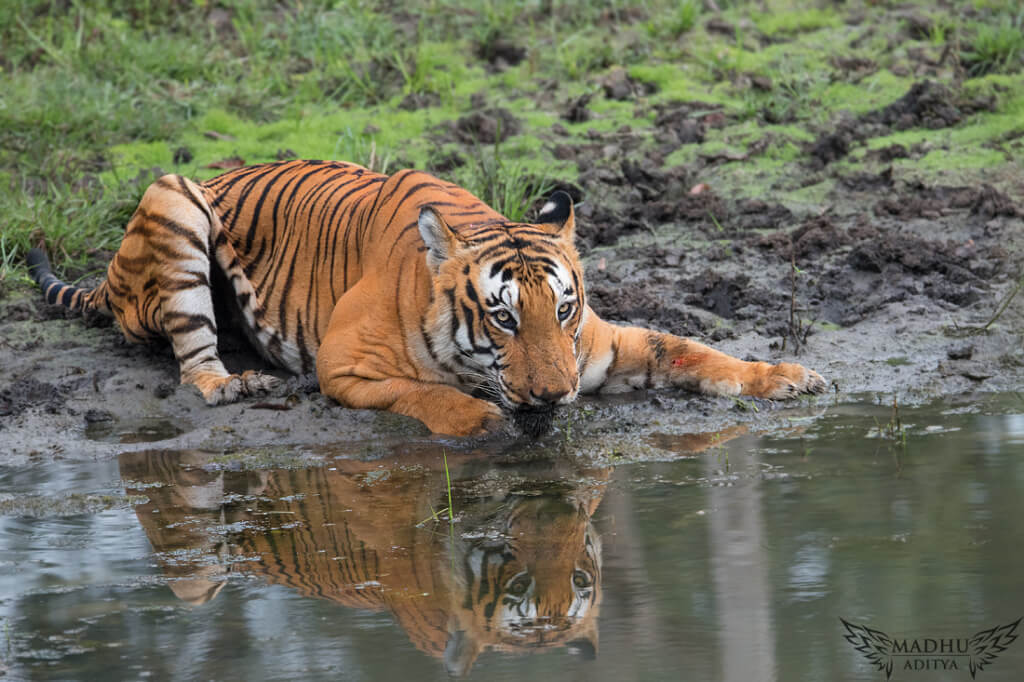 In forest department and National Tiger Conservation Authority records, he is identified as T222. Prince's mother Gowri (named by JLR) was very popular too. She was not scared of people. Around a decade ago, she used to be regularly sighted by tourists in the tourism zone, near safari road sides, walking or resting, with her three cubs (two females and one male). Prince has inherited this trait from Gowri, say many forest officials. His Father late Agastya, who was the most famous male of this park in Karnataka and was considered the 'King of Bandipur'.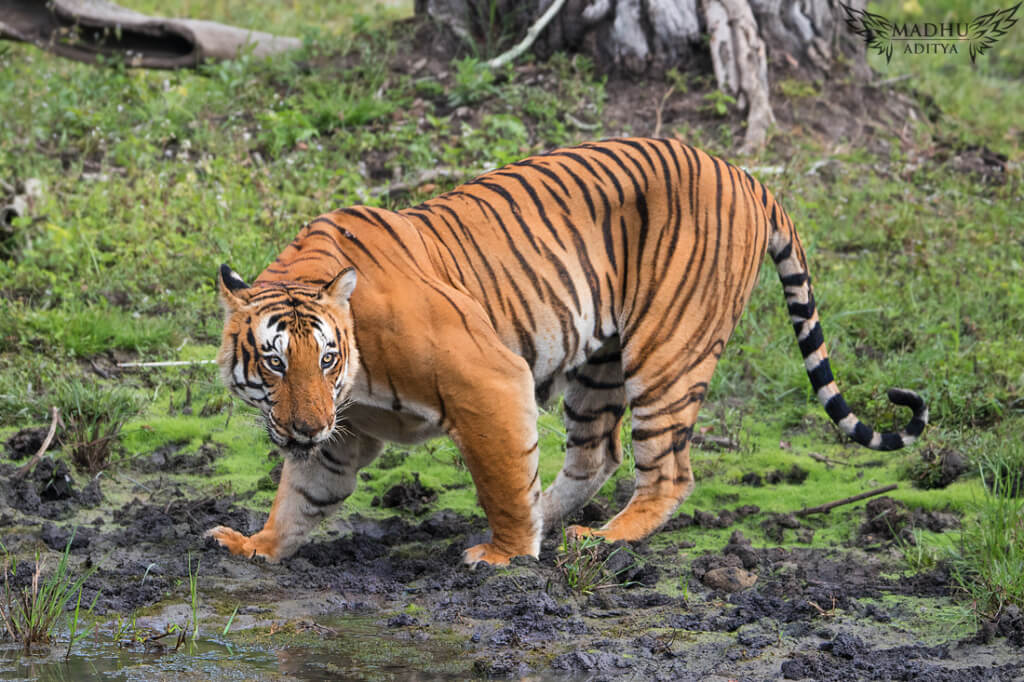 Wildlifers who saw Prince's aggression at age four were convinced he would continue his father's legacy. Now at 10, he is one of Bandipur's most dominant males and roams around freely in his area of 80 sq km; an average male tiger's territory is 30 sq km. This means there's always a possibility of spotting him at Bandipur, which has about 137 tigers, of which 17 (including him) are in the tourism zone. In fact, he has been such a crowd puller that photographers compare Prince with Bandhavgarh's iconic tiger, Charger, known to attract tourists in throngs. But unlike Charger, who got his name because of a tendency to charge at vehicles and wild animals, Prince is to Bandipur is calm and he has no history of attacking humans, even when they are in his domain.
Majestic Gait of The Prince of Bandipur – Sept 11 2016 – Bandipur National Park:
Prince has grown to be a legend of Bandipur. A few years ago, when wildlife conservationists studying tiger ecology in Bandipur Tiger Reserve accidentally sighted a tiger, they were wonderstruck. The adult tiger, sleeping near a water source, didn't slink away at the sight of humans in its territory, neither did he try to attack them in panic. Instead, he slipped back into sleep when he realized they were retreating from the spot.

(picture by Vineet Waghdhare)
Prince, much discussed on social networking sites, the most photographed Tiger of the south, the most daring and the most handsome, has lived up to his character.
Tiger watchers are making a beeline to Bandipur, spread over 880 sqkm across Mysuru and Chamarajanagar districts, and which has one of the highest densities of tiger population in India. Big cats, especially tigers, are by nature shy and avoid humans. But not Prince. He goes about his life even when there are visitors, field staff or conservationists studying his habitat. He behaves as if we don't exist at all.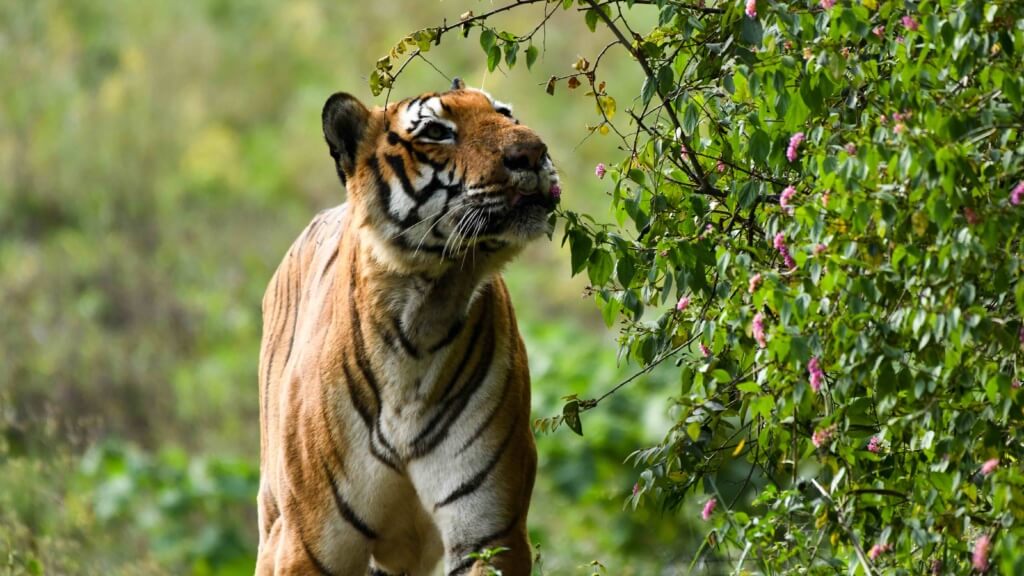 Part of the reason for his celebrity status is his vast territory in the core of the eco-tourism zone, which he is believed to have marked in 2009. Dominating the range, couple of years back he killed a tiger which tried to edge into his turf. That he has successfully retained the core area speaks of his fighting skills. Though in recent times, his son, Basannakatte Male has taken over some part of his area.
In our recent trip to Bandipur (Sept 2016), organized by BWP (Bangalore Wildlife Photographers) and incidentally headed by the same Praveen Siddannavar who named the prince as "the prince of Bandipur", got the opportunity to see him not just his majestic gait but also his unsuccessful hunt of a gaur (but later he did hunt a sambar) and then we saw him the usual "I am full, let me take a stroll" walk to the water hole and resting near the katte with least regard to anyone around him. That's the prince we know.
But sadly these sights would not last forever. He is old, has injuries on his left hind leg and is limping. He is finding it difficult to hunt too, report some forest department officials. Though death is natural and 12 years indicates a full life, the fear of poaching lingers. Tiger parts fetch a huge price in the international illegal wildlife trade. Thus, the department is contemplating keeping a watch on Prince, so that soon after his death, his body is picked up for post-mortem before poachers lay their hands on it, Mallesh added. This will be the first time the department will be keeping a close watch on the animal for its safety. Despite his age and his injury, Prince is still ruling two tiger territories with his hunting skills.
3 cheers for the Prince – you live long!!!
Why WildTrails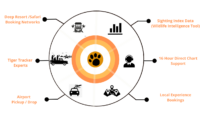 Worth remembering William Blake's celebrated poem, The Tyger, with a twist:
Prince, Prince, burning bright
In the Bandipur forests of the night,
What immortal hand or eye
Could frame thy fearful symmetry?
————————————–
WildTrails of India – "One Stop Destination for all Indian Wildlife Enthusiasts"
PS: Please be a responsible wildlife tourist; No littering, No sounds, No feeding, no getting down from the safari jeep (when on safari), No phone calls. Remember that we are visiting their home and when we are there, let's follow their rules.
[The WildTrails of India is the best way to get all the details about Indian wildlife sanctuaries (best travel times, safari details, animal sightings, forest accommodations pairing, wildlife related activities, prices, etc). Learn more about WildTrails of India here. ios App is here. Android is here, and Web is on the way. Please do like us on our facebook page here.
————————————–
Total Page Visits: 2834 - Today Page Visits: 1
---
---
Play with WildTrails Intelligence Tools
1. How many times tiger is seen per month?
2. What's going on in Indian Forests today?
3. Interested in playing more with Tiger sighting graphs? Click
here?
---
Buy Wildlife Fashion Accessories
Exclusive Online Store for wildlife products
Packages
Packages Loading...
Recent Posts