The Beautiful Bewitching Bandipur!!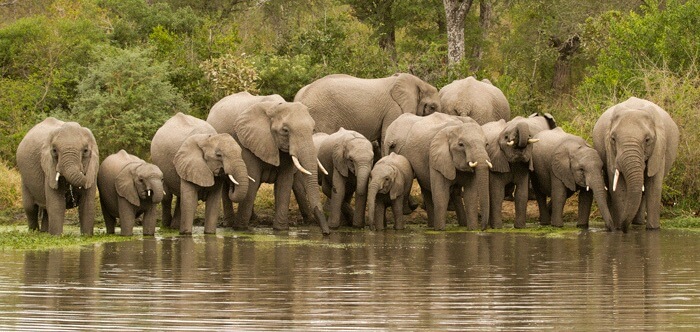 Welcome to Bandipur National Park, Chamarajanagar District, Karnataka.
The Maharaja of the Kingdom of Mysore created a sanctuary of 90 km2 (35 sq mi) in 1931 and named it the Venugopala Wildlife Park. The Bandipur Tiger Reserve was established under Project Tiger in 1973 by adding nearly 800 km2 (310 sq mi) to the Venugopala Wildlife park.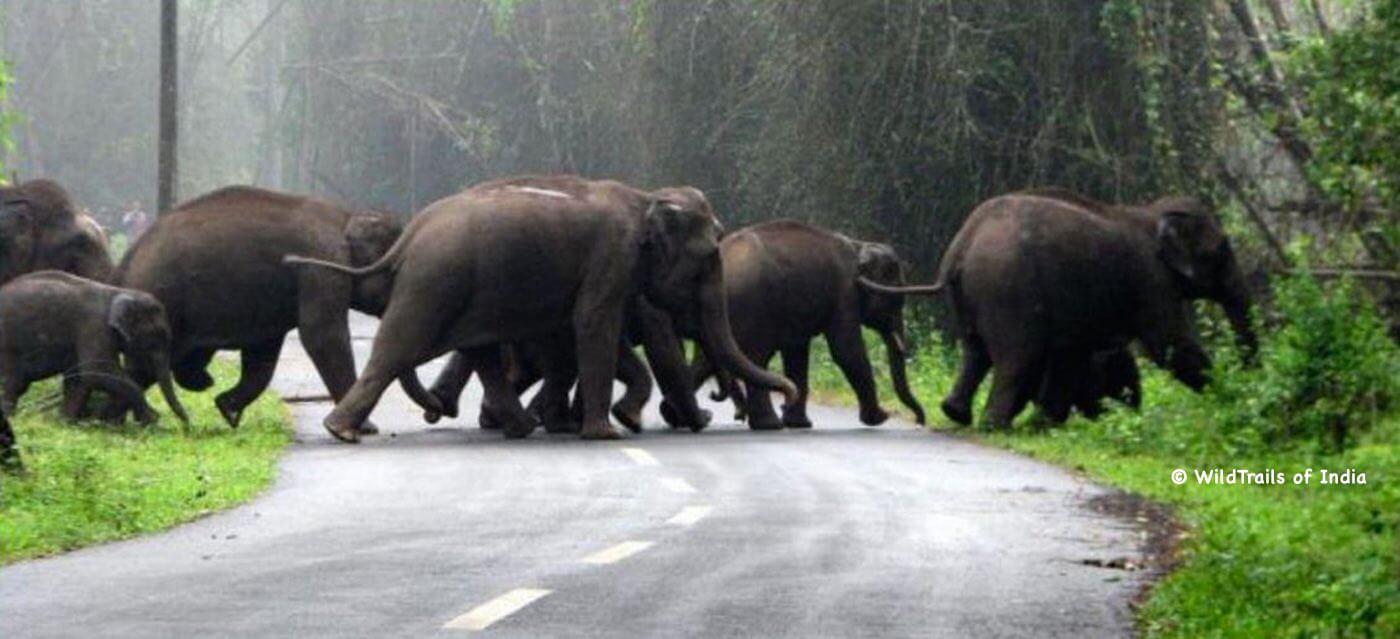 Bandipur National Park located  where the Deccan Plateau meets the Western Ghats and the altitude of the park ranges from 680 meters (2,230 ft) to 1,454 meters (4,770 ft). As a result, the park has a variety of biomes including dry deciduous forests, moist deciduous forests and shrublands. The wide range of habitats help support a diverse range of organisms. The park is flanked by the Kabini river in the north and the Moyar river in the south. The Nugu river runs through the park. The highest point in the park is on a hill called Himavad Gopalaswamy Betta, where there is a Hindu temple at the summit. Bandipur has typical tropical climate with distinct wet and dry seasons. The dry and hot period usually begins in early March and can last till the arrival of the monsoon rains in June.

Bandipur is located in Gundlupet taluk of Chamarajanagar district. It is about 80 kilometers (50 mi) from the city of Mysore on the route to a major tourist destination of Ooty. As a result, Bandipur sees a lot of tourist traffic and there are many wildlife fatalities caused by speeding vehicles that are reported each year.There is a ban on traffic from 9 pm to 6 am of dusk to dawn to help bring down the death rate of wildlife. (there is a proposal in front of the government to ban traffic completely)
Bandipur is part of the Nilgiri Biosphere Reserve which is an international biosphere reserve in the Western Ghats and Nilgiri Hills ranges of South India. It is around 5000 sq. kms and was constituted and declared as UNESCO world heritage site in 2012. This biospehere encompasses Bandipur national park, Mudumalai national park in Tamilnadu, Mukkurthi wildlife sanctuary and the Wayanad wildlife sanctuary in Kerala.
(In the ensuing blogs, will be covering Mudumalai & Wayanad soon including Dos & don't there)
Some of the animals and birds you get to see there are
Animals: Indian elephants, gaurs, tigers, sloth bears, muggers, leopards, four-horned antelopes, jackals, dholes,  chital, gray langurs, Indian giant squirrel
Birds: grey junglefowl, crows, drongos, honey buzzards, red-headed vultures, Indian vultures, flowerpeckers, hoopoes, Indian rollers, brown fish owls, crested serpent eagles, changeable hawk-eagles, bee-eaters, kingfishers, Ospreyss
Reptiles: spectacled cobra, Indian rock python, vipers, rat snake, muggers, monitor lizards, Indian chameleon, Indian pond terrapin, agamids, flying lizards.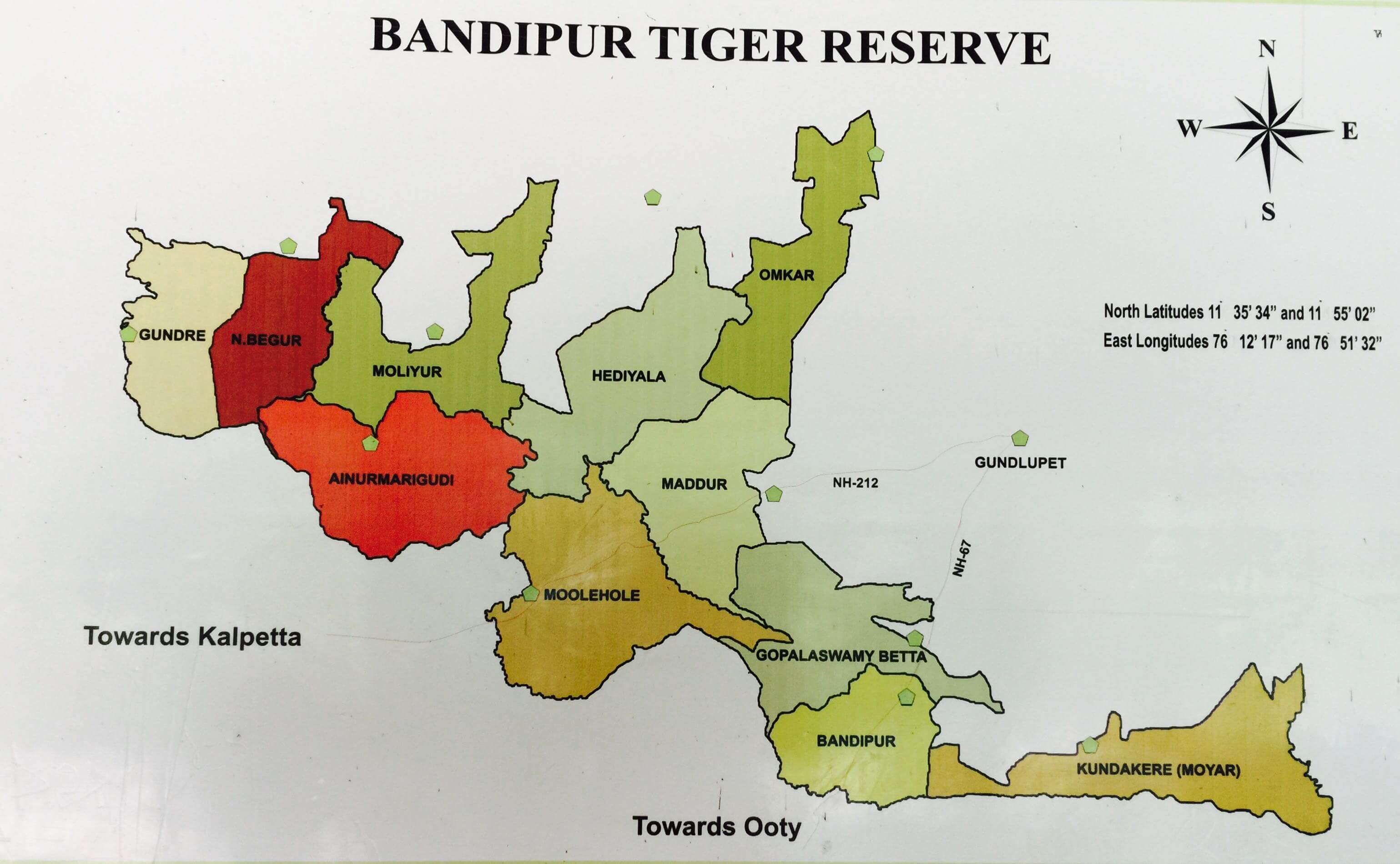 Zones and Gates Of Bandipur National Park
Animal Densities:
Area in sq.Kms

 

Tiger Count

Tiger Density

Leopard Count

Leopard Density

Elephant Count

Elephant Density

874.2
120
13.73
88
10.07
3471
397.05
Best Season to visit the Park: October to May
Open : round the year
Safari Details: Forest Dept. conducts Safari (Jeep/Cantor) Morning 6.00 a.m to 8.00 a.m; Evening 3.00 p.m to 5.00 p.m. Duration approx 1 hr. JLR & associated resorts also conduct Jeep/Canter Safaris for and duration is approx 2.5 hrs but limited to only guests of those resorts. See attached resorts for further details.
To get complete details of Safari, timings, location, cost and info related to booking please download our app Or Contact Us:
Park Status: National Park, Tiger Reserve, Elephant Reserve, Wildlife Sanctuary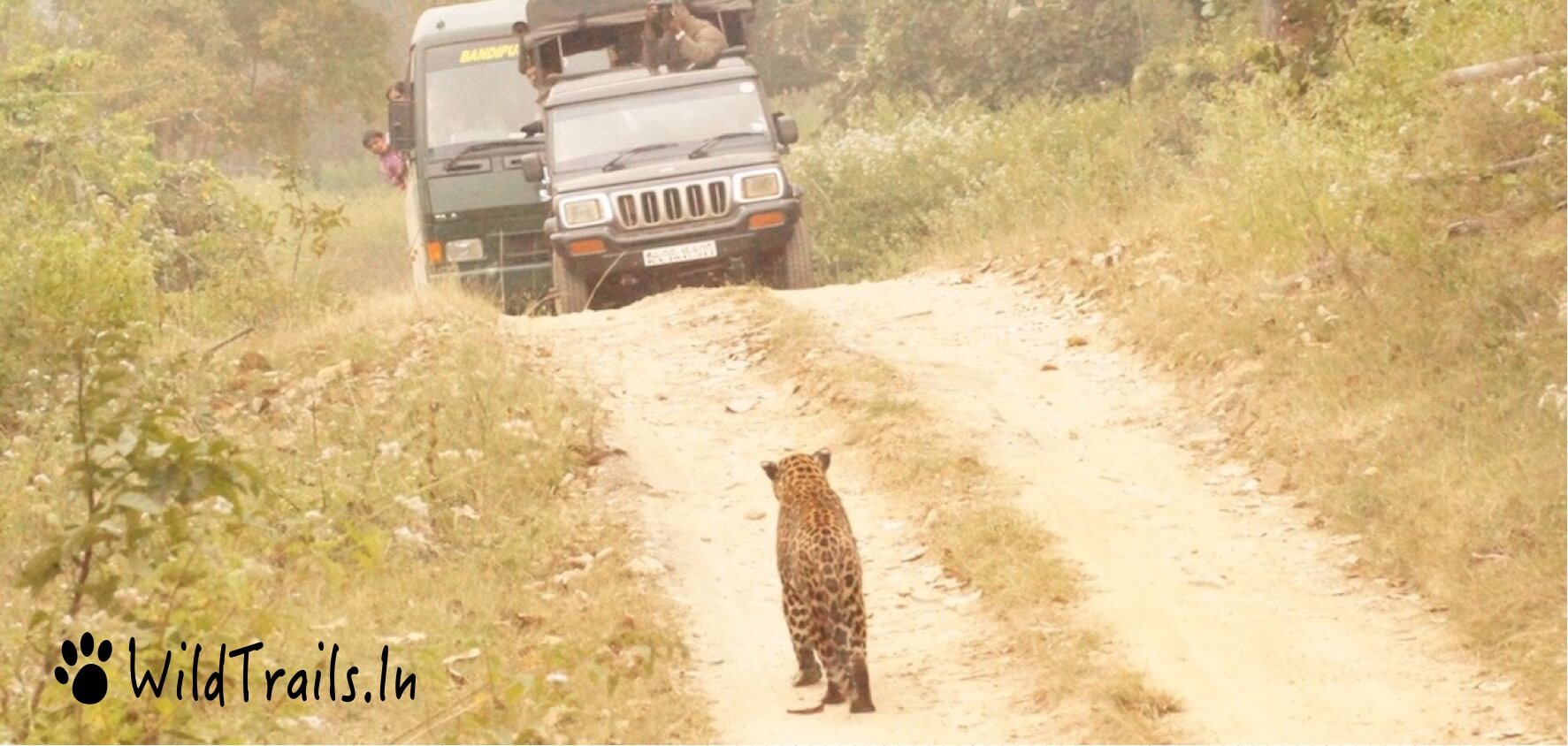 Attached Resorts:
MC Resorts, Windflower Tusker Trails, The Serai Bandipur, Dhole's Den, Bandipur Safari Lodges by JLR, Tiger Ranch, Ambuja Farms, Vana Vihar, Nijaguna Residency, Khushi Resorts, and Country Club. Best Resorts And HomeStays In Bandipur National Park
Please note that not all resorts conduct the Safari and many want you to go to Forest Department conducted Safari.
"I was coming back from this ***** resort and saw a jeep full of people getting into the forest and I felt that was the right way to do Safari and we totally chose the wrong resort and the wrong safari :-("
                             – Aggrieved Traveler and an executive of a hospitality business
How to Reach there:
By Air: The nearest airports are in Bangalore and Mysore.
By Rail: The nearest station is in the city of Mysore.
By Road: It is about 80 kilometers (50 mi) from the city of Mysore and approx. 240 kms from Bangalore and on the route to a major tourist destination of Ooty
Nearby places: Mudumalai national park, Theppakadu Elephant Camp, Ooty
Why To Book With WildTrails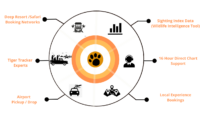 Related Further Reading:
The most inexpensive way to stay in the midst of Bandipur!
What you must know about Jeep Safari in Bandipur & Nagarhole (Kabini & Coorg)?
TOP 10 Wilderness Resorts of Kabini Nagarhole & Bandipur
Total Page Visits: 1963 - Today Page Visits: 1
---
---
Play with WildTrails Intelligence Tools
1. How many times tiger is seen per month?
2. What's going on in Indian Forests today?
3. Interested in playing more with Tiger sighting graphs? Click
here?
---
Buy Wildlife Fashion Accessories
Exclusive Online Store for wildlife products
Packages
Packages Loading...
Recent Posts