The Perfect Ranthambore Itinerary: All Must See And Do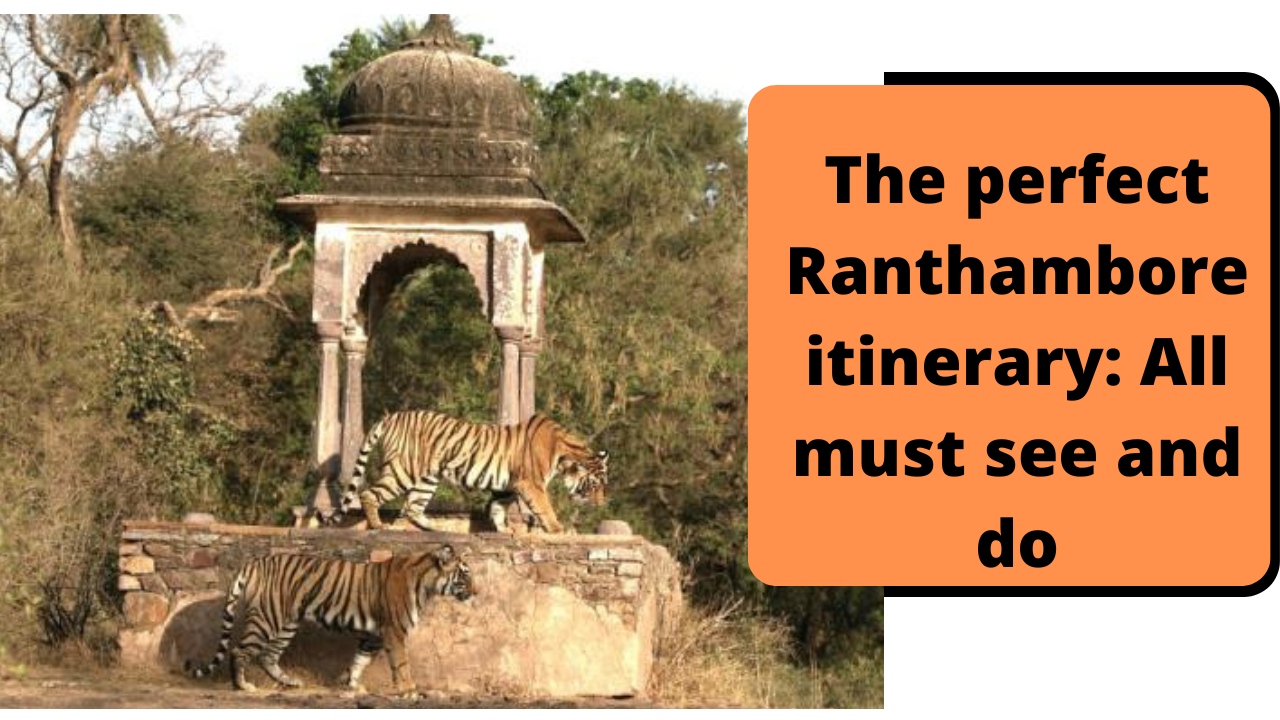 Ranthambore National Park is vast, wild, and demanding. The forest reserve is split into 10 zones and every zone here is different. Covering all these zones might seem tiresome and highly not recommended. We believe every individual deserves a smooth wildlife holiday and not a jam-packed itinerary. We are more than happy to help you over the must-visit places in your itinerary for the next vacation to Ranthambore.
It is always good to know about the place as much as possible before heading toward it. Even if you have visited Ranthambore before, things do change drastically in this fast-growing world. One such instance would be technology. You might have faced connecting with the outer world. Located in the Indian state of Rajasthan, Ranthambore is known for its population of Bengal tigers, as well as other species such as leopards, sloth bears, and sambar deer. The park covers an area of approximately 1,334 square kilometers and is considered one of the best places in India to see tigers in their natural habitat.
Ranthambore is also known for its unique geology apart from the rich wildlife, which includes rocky outcroppings, lakes, and caves. These geological features provide important habitats for many species of birds, reptiles, and insects
The zones to look out for
Ranthambore National park is vast enough to have it divided into 10 zones-
Zone 1 (Sultanpur)

Zone 2 (Unt-ka-Baas)

Zone 3 (Ghat ka Patta)

Zone 4 (Phuta Kot)

Zone 5 (Kundal)

Zone 6 (Balas)

Zone 7 (Anantpura)

Zone 8 (Berda)

Zone 9 (Kherai)

Zone 10
Every Zone is unique in fauna and flora. However, it is good to plan in advance as which zone you would love to explore for your safari. Reach out to our experts to know more of the zones.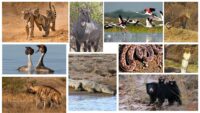 Why Ranthambore?
One of the best sightings – The Bengal tiger population is vast here, hence better chances of wildlife. Apart from leopards, sloth bears, and samba deers.

Half-day and full-day safari options – Improve your safari sightings with these safari options. One of the rarest places to offer such safari options.

Historical structures – The 10th-century

Ranthambore fort is one of the many historical structures. Forts like these surrounded by lush green forests offer breathtaking landscapes.

Cultural experiences – The forest reserve is surrounded by several villages and towns, offering visitors a chance to experience traditional Rajasthani culture.
Different Types Of Safari types
Exclusive Jeep safari
A high-powered 4×4 Gypsy that can creep into the woods is the choice of most visitors. It can get into every aperture of the woods. You are in complete control of the safari ride which is a major advantage. You can start a little late, get back a little early if you wish to do so, and decide for how long you would like to stay at a particular spot (you never know, you might get the best glimpse of a sighting and would want to spend more time there)
With WildTrails, you get a skilled driver who can drive through the toughest terrains for amazing sightings. Not to forget the expert tiger tracker who knows the right time and zone for the sighting you are craving for. We pick you up from the hotel for the safari and drop you back.
Shared Jeep safari –
Shared jeep safari might be less compromising in this era. No doubt, it is a great bang for the buck! You need to be ready to share the cost with others. You will be booking one of the 6 seats and bear the cost for the same, while the remaining seats shall be occupied by the other visitors.
Check out the best stays in and around Ranthambore, and all about a safari in Ranthambore at https://wildtrails.in/ranthambore/ 
Canter safari –
A bus that can seat up to 20 persons, Canter safari is preferred more by solo travelers. The budget-friendly safari option is here. There are exclusive and shared options for canter. If you are a bigger group, with family or colleagues, then the canter option is the best.
The height of the canter is a major advantage for better sightings. The budget-friendly category is another advantage.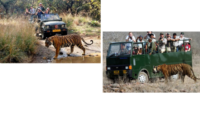 Half-day safari –
Exclusive half-day safari is one of a kind in Ranthambore where you can access the jungle for about 6 hours in a Gypsy. There are no restrictions on the zones in this type of safari, unlike the regular safari.
The half-day safari operates by a private jeep that can accommodate up to 5 tourists. You can start a little late and finish a little early and moreover, there are no restrictions over the zones.
Full-day safari

–
A 12-hour ride in and out of the park is a luxurious way to explore the jungle. You have the privilege to visit any zone you like. Take all possible angles of the park and boost your chances of a sighting. You can return to your hotel for breakfast, lunch, or whenever you want to take a break. Full-day safari option here at Ranthambore is one of a kind in India.
The full-day safari operates by a private jeep that can accommodate up to 5 tourists. Since it is an exclusive option, you can start a little late and finish a little early at your convenience.
Day 1 – Arrive at Sawai Madhopur before 1 PM and transfer to your hotel.
Head out for the first jungle safari by 3 PM. Return to the hotel before 7 PM for dinner and overnight stay.
Day 2 – Wake up by 6 AM for the morning safari. Return to the hotel for breakfast and relax.
In the afternoon, visit the Ranthambore Fort, Jogi Mahal and other nearby historical sites.
Head out for another jungle safari in the evening*. Return to the hotel for dinner and overnight stay
Note: Evening safari on day 2 can be optional if you feel it is more tiring. You can have some leisure at the hotel instead.
Day 3 – Wake up by 6 AM for the morning safari. Return to the hotel for breakfast before checking out with loads of memories.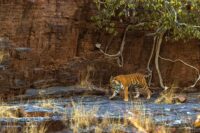 How To Get There?
Nearest airport – is Indira Gandhi International Airport Delhi

Nearest Railway Station – is Sawai Madhopur

By road – Ranthambore is well connected by road and is easily accessible from cities like Delhi, Jaipur, and Agra. There are taxi services and bus services, or you can even drive to Ranthambore from these cities.
Taxi services are available at the airport and railway stations to reach Ranthambore.
Booking your next safari is just a few steps-
Step 1: Head over to https://packages.wildtrails.in/
Step 2: Select your favorite National Park. Fill in the Check-in and Checkout dates along with your group size.

Step 3: Choose the type of accommodation. It can be anything as per your budget. Click on 'Details'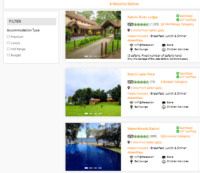 Step 4: Select the number of safari drives and the type of safari you wish to choose.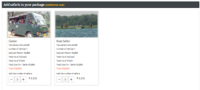 Step 5: Select add-on options if you wish to have them to your itinerary. Click on Send Enquiry.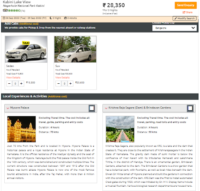 Step 6: Fill out the form-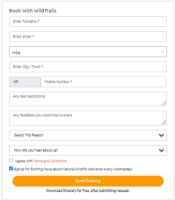 Reasons to book your holiday with WildTrails–
1)  Dedicated platform for a wildlife holiday.
2)  No travel agent commission is involved. Direct price from the resorts, hence, the best price in the market.
3)  No middlemen, no additional commissions, no unnecessary markups, the best competitive rates you can ever get, and the best part is you connect directly with the Resorts/Hotels. Further, your booking amount shall benefit the locals and hence will help improve their economic condition which in a way is critical for better conservation of the flora and fauna in the park.
To know more and to get a full list of jungle/nature resorts, please click https://wildtrails.in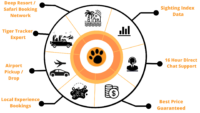 To conclude, Ranthambore National Park comes under the must-visit destination for wildlife enthusiasts, adventure lovers, nature groovers and someone who loves to explore different cultures.
Total Page Visits: 626 - Today Page Visits: 1
---
---
Play with WildTrails Intelligence Tools
1. How many times tiger is seen per month?
2. What's going on in Indian Forests today?
3. Interested in playing more with Tiger sighting graphs? Click
here?
---
Buy Wildlife Fashion Accessories
Exclusive Online Store for wildlife products
Packages
Packages Loading...
Recent Posts