7 things I wish I knew before going on a safari in Ranthambore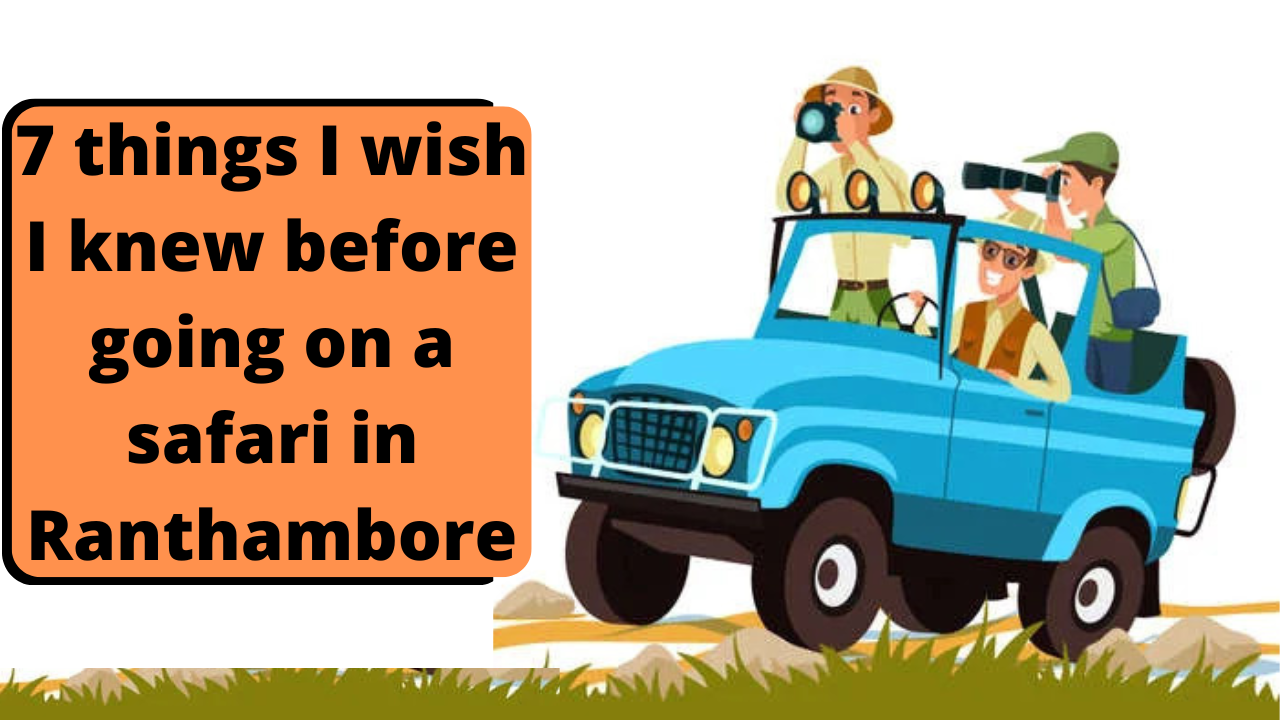 Regrets are good, but not for the great. Disappointments might not be long-lasting, but you can avoid some of them with the right strategies. Moreover, planning a safari trip at a place like Ranthambore is one such venture that needs more organization for a satisfactory wildlife holiday. We at Wildtrails are known to hear some of the regrets from travel enthusiasts as to why they need us to plan their next safari holiday. We list out 7 things they wished they knew before heading to a safari in Ranthambore.
Rajasthan is known for its rich heritage and culture; tourism is a major contributor to its revenue. You know the state is vast enough if you get a chance to witness one end of it with heaps of sand, while the other end is covered with lush green woods. At the junction of the Aravali and Vindhya hill ranges lies Ranthambore National Park. One of the finest places to witness wildlife. The 10 gates to enter and exit, Ranthambore National Park is one of the biggest renowned national parks in India. There are many options to explore the forest reserve. Unsurprisingly, all these options are in huge demand. Over and above that, getting a permit is a gamble and requires some effort to plan a venture.
The Bengal tiger dominates in terms of the most preferred big cat in the jungle. There are Indian leopard, nilgai, wild boar, sambar, striped hyena, sloth bear, southern plains gray langur, rhesus macaque, mugger crocodile chital, and a lot more. The jungle is home to a wide variety of trees, plants, birds, and reptiles.
The abundant availability of water supports a variety of flora and fauna. Around 300 plant species in the Ranthambore National Park is what the stats portray. This region receives very scanty rainfalls and so the vegetation in the park mainly comprises of the dry deciduous type. Banyan trees and peepal trees are more common here.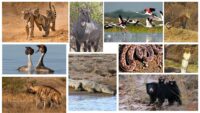 7 things that you wish not to do while you plan your trip to Ranthambore
This is a very less area compared to the total size of the forest but big enough for effective sighting of the tigers. Hence, it is something you need to be aware of every moment until you finish the bookings.
WildTrails pro tip – Book your accommodations first and then, book the safari at gates corresponding to the property booked. You regret spending a lot of time traveling and exhaustive rather than spending time in sighting.
2. Booking permits well in advance
Did we mention before that the demand for a safari in Ranthambore is always high, throughout the year? And it is higher than before since post-pandemic. However, the permits for each day are limited and we strongly recommend booking in advance. Be it sharing or exclusive, regular, half day, or full day, the demand and cost are always high.
WildTrails pro-tip: Book the permits in advance. The best part here is, that, unlike other popular national parks, you can get the permits online.
There is an option of tatkal booking for permits, however, there might be no guarantee of the availability for a particular date due to high demand and the cost would be comparatively higher.
3. You might end up with no sighting for the entire trip
Wildlife sightings are unpredictable and no one in the universe can guarantee them. The naturalists strive to offer the best possible sighting while you are on safari, however, at times, they might go helpless. The best way is to improve the chances of the sighting, and this can be done with effective planning. We, at WildTrails, are proud pioneers in some of the aspects of wildlife. The sighting index is one such parameter. We tend to get the sighting directly from the forest officials and hence plan the safari accordingly.
Wildlife pro tip: Reach out to our experts to plan your trip to Ranthambore for effective sighting.
4. Scheduling too many or too less safari drives to your itinerary
Desperate enough for wildlife sighting? Scheduling too many safari drives is never a great move. Neither having too less safari drives will help. The number of safari drives you want to schedule depends on the total number of days you wish to spend time at Ranthambore. A practical example of the plan is to stay in Ranthambore for 2 nights. You can plan to schedule 3 regular safari drives in this itinerary.
Why Full Day Safaris Matters In Ranthambore
5. Accommodating an expert tiger tracker
Naturalists are those who help you schedule the safari in the woods. An expert tiger tracker is one such individual who knows in and out of the jungle. They can help sight better than anyone in the jungle. Having them along with your safari boosts your chances of a sighting.
6. Planning your safari in the right season
The park might get closed during monsoons. July to October is usually the rain Gods show mercy upon the jungle. November to June is when the parks are wide open for tourists. The summer season would be ideal to plan for better sightings.
Know When is the Best Time To Visit Ranthambore National Park
7. Staying quiet while in the park
Wildlife is very sensitive. A minute piece of sound triggers them, and you might miss out on the best sighting. Cellphones on silent mode, please. Enjoy the silence of the jungle for a few hours.
Booking your next safari at Ranthambore National Park is just a few steps-
Step 1: Head over to https://packages.wildtrails.in/
Step 2: Select Park Name as Ranthambore National Park. Fill in the Check-in and Check-out dates along with your group size.

Step 3: Choose the type of accommodation. It can be anything as per your budget. Click on 'Details'.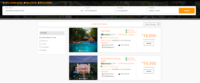 Step 4: Select the number of safaris drives and the type of safari you wish to choose.
Step 5: Select add-on options if you wish to have them to your itinerary. Click on Send Enquiry.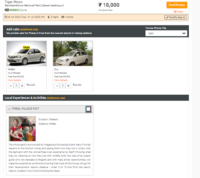 Step 6: Fill out the form-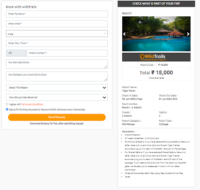 That's it. Your job is done. Now sit back and relax until our experts reach out to you.
Reasons to book your holiday with WildTrails–
1)  Dedicated platform for a wildlife holiday.
2)  No travel agent commission is involved. Direct price from the resorts, hence, the best price in the market.
3)  No middlemen, no additional commissions, no unnecessary markups, the best competitive rates you can ever get, and the best part is you connect directly with the Resorts/Hotels. Further, your booking amount shall benefit the locals and hence will help improve their economic condition which in a way is critical for better conservation of the flora and fauna in the park.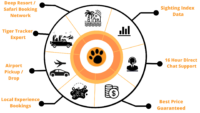 It is always better to be safe rather than to be sorry. These are the 7 main points to be noted before planning your next safari to Ranthambore National Park
Total Page Visits: 533 - Today Page Visits: 1
---
---
Play with WildTrails Intelligence Tools
1. How many times tiger is seen per month?
2. What's going on in Indian Forests today?
3. Interested in playing more with Tiger sighting graphs? Click
here?
---
Buy Wildlife Fashion Accessories
Exclusive Online Store for wildlife products
Packages
Packages Loading...
Recent Posts