8 Best Jungle Camps in India for That Long Weekend Amid Nature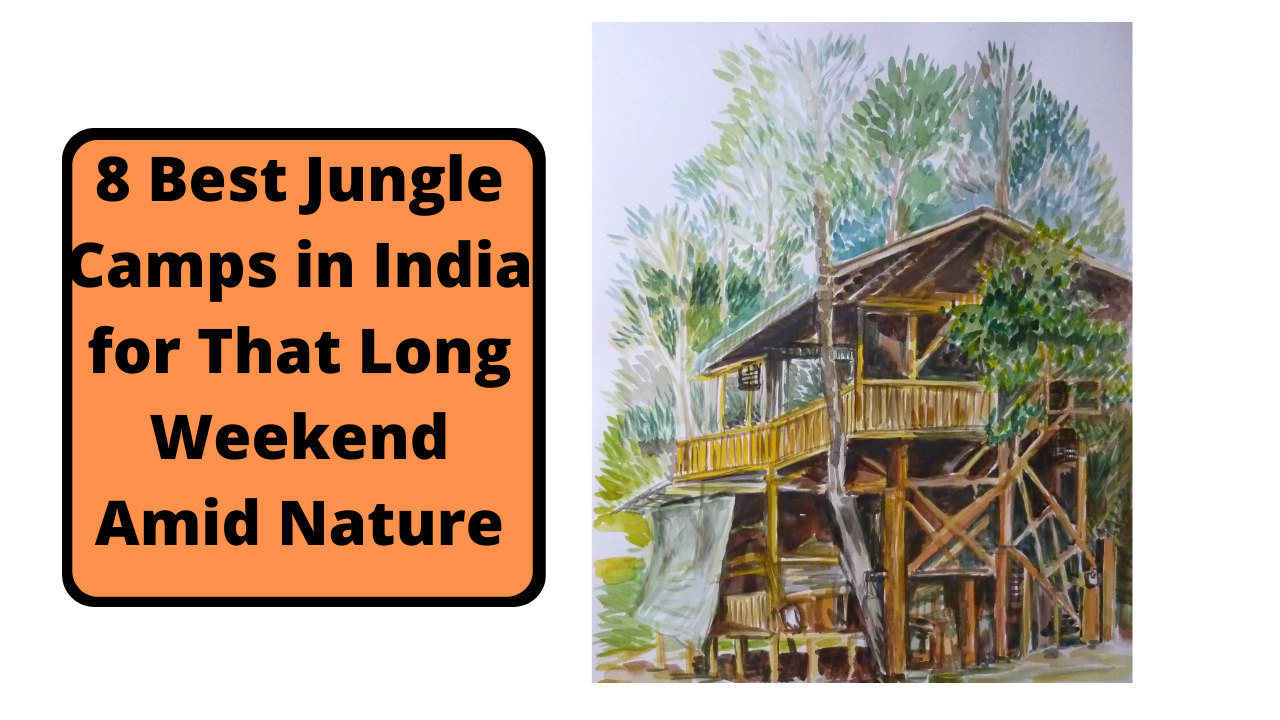 The holiday season is around the corner and the southwest monsoon winds have deaccelerated for the year. A series of long weekends are about to occur on your calendar. It is the right time to step out of your home and explore nature. Perhaps the rains would have healed a lot of places outshining better than before. Ever thought of a stay in a jungle camp for your holiday? We list out the best jungle camps to stay at for your long weekend.
 Why Jungle camps?
Best opportunity to experience the essence of wildlife and nature.

Major escape from the urban mesh and traffic mess.

Adventures that are exclusively at these locations.

Better privacy. Stay away from the crowd.
Check out these 8 best jungle camps in India where you can spend your next long weekend
1. Kabini River Lodge – Kabini, Karnataka
Kabini River Lodge is one such place that is open throughout the year. Witness the wild rousing from its slumber for a true wilderness experience. The forests of the Nagarahole National Park (Rajiv Gandhi National Park) abound in herds of elephant, sambar deer, spotted deer, wild boar, sloth bear, gaur and the majestic tiger and panther. The place has a rich history as it was once the Maharaja's favourite hunting ground.
Nearest city – Mysuru(71 km)
Nearest airport – Mysuru airport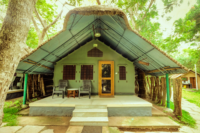 2. Dubare Camp – Coorg, Karnataka
The Scotland of India – Coorg offers a wide range of places to have a solitary experience of the entire vegetation. Dubare Camp is one of these properties. Dubare is the place where the elephants that participate in the world-famous Mysuru Dasara are trained and nurtured.
The Camp is wide open throughout the year. Monsoons (July to mid-September) are heavy, but the swollen river makes it attractive, and the surrounding foliage is alive and vibrant. The post-monsoon months (mid-Sept to the beginning of March) offer the best weather which offers the perfect time to visit. Summers are pleasant since the camp is in a sylvan setting.
 Nearest city – Mysuru(103 km)
Nearest airport – Mysuru airport
5-weekend safari getaways from Bangalore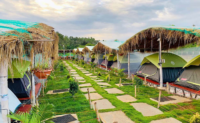 3. Bheemeshwari Jungle Lodge – Mandya, Karnataka
A wonderful mix of delightful nature and wild adventure, this camp is close enough for easy access and far enough to cut yourself off from the everyday humdrum. Bheemeshwari Jungle Lodge is one such place to have an action-packed adventure or just get closer to nature.
Zipline, rope walking, and kayaking is some of the activities that are worth a try at this resort. Wildlife is another venture that cannot be missed.
Nearest city – Mandya (30 km)
Nearest airport – Mysuru airport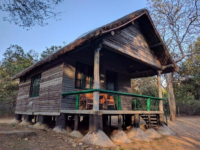 4. Bundela Safari Lodge-Kanha, Madhya Pradesh
Sprawled across 8 acres of natural beauty, Bundela Safari Lodge is located close to one of the popular gates of Kanha National Park. The place has a perfect blend of luxury & wilderness & here luxury rubs shoulders with wilderness.
The park has numerous small and large lakes, which serve as important sources of water for various creatures. In addition to these ponds, a number of rivers drain the region, the most significant of all being the Banjar River.
Nearest city: Jabalpur(160 km)
Nearest airport: Jabalpur airport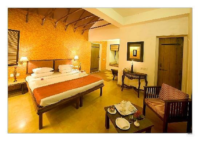 5. Eco Camp, Nameri National Park, Assam
Nameri National Park located in the foothills of the Eastern Himalayas is a perfect place to spend your long weekend. It is a destination for bird-watching enthusiasts and home to more than 370 species of birds.
At Eco Camp, enjoy birding while rafting through the Jia Bhoroli river or trekking through the forest accompanied by experienced forest guides.
Nearest city: Tezpur(35 km)
Nearest airport: Tezpur airport
10 Best Safaris in India for travelers on a budget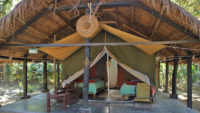 6. KGudi Wilderness Camp – Chamarajanagar, Karnataka
The Kyathadevara Gudi Wilderness Camp opens an opportunity for you to get up close and personal with nature. As the name suggests, it's everything you can expect out of a camp.
You can opt for a campfire or watch a wildlife movie in the audio-visual room and unwind. Situated at an altitude of 1800 ft. to 6000 ft., the sanctuary benefits from a pleasant climate across the year.
Nearest city – Chamarajanagar(28 km)
Nearest airport – Mysuru airport(80 km)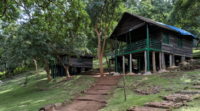 7. Jungle Livinn, Chail, Himachal Pradesh
Every cottage here at Jungle Livinn is equipped with its own unique view of the valley, natural light from dawn to dusk, wooden ceiling. Climb high on a rock or rappel down a mountain, cross the Burma bridge, or tackle the army obstacle, Take the aerial route or be on foot. This place offers wide and unique options for adventure.
Nearest city: Shimla(80 km)
Nearest airport: Shimla Airport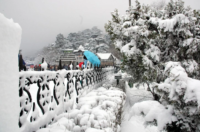 8. Camp Potter Hill – Shimla, Himachal Pradesh
A camp resort in Shimla where you wake up to nature. A place that is known in the entire Shimla for adventure activities along with witnessing its flora and fauna. While you are at Camp Potters, you might come across some potters making their stuff. Indian Handmade Pottery is famous worldwide and this place supports them so that their art is recognized by everyone.
Nearest city: Shimla
Nearest airport: Shimla airport(16 km)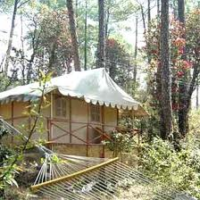 Booking your next safari is just a few steps-
Step 1: Head over to https://packages.wildtrails.in/
Step 2: Select your favorite National Park. Fill in the Check-in and Checkout dates along with your group size.

Step 3: Choose the type of accommodation. It can be anything as per your budget. Click on 'Details'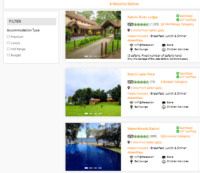 Step 4: Select the number of safari drives and the type of safari you wish to choose.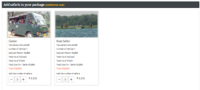 Step 5: Select add-on options if you wish to have them to your itinerary. Click on Send Enquiry.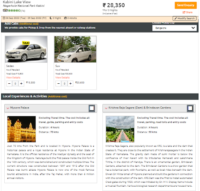 Step 6: Fill out the form-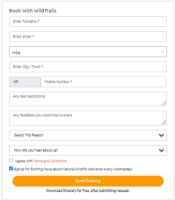 Reasons to book your holiday with WildTrails–
1)  Dedicated platform for a wildlife holiday.
2)  No travel agent commission is involved. Direct price from the resorts, hence, the best price in the market.
3)  No middlemen, no additional commissions, no unnecessary markups, the best competitive rates you can ever get, and the best part is you connect directly with the Resorts/Hotels. Further, your booking amount shall benefit the locals and hence will help improve their economic condition which in a way is critical for better conservation of the flora and fauna in the park.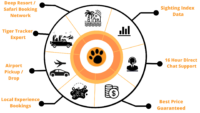 Time to end the year on high note. Check out these 8 jungle camps and choose the best you feel to have for the next long weekend.
Total Page Visits: 742 - Today Page Visits: 1
---
---
Play with WildTrails Intelligence Tools
1. How many times tiger is seen per month?
2. What's going on in Indian Forests today?
3. Interested in playing more with Tiger sighting graphs? Click
here?
---
Buy Wildlife Fashion Accessories
Exclusive Online Store for wildlife products
Packages
Packages Loading...
Recent Posts