5 Weekend Safari Getaways From Bangalore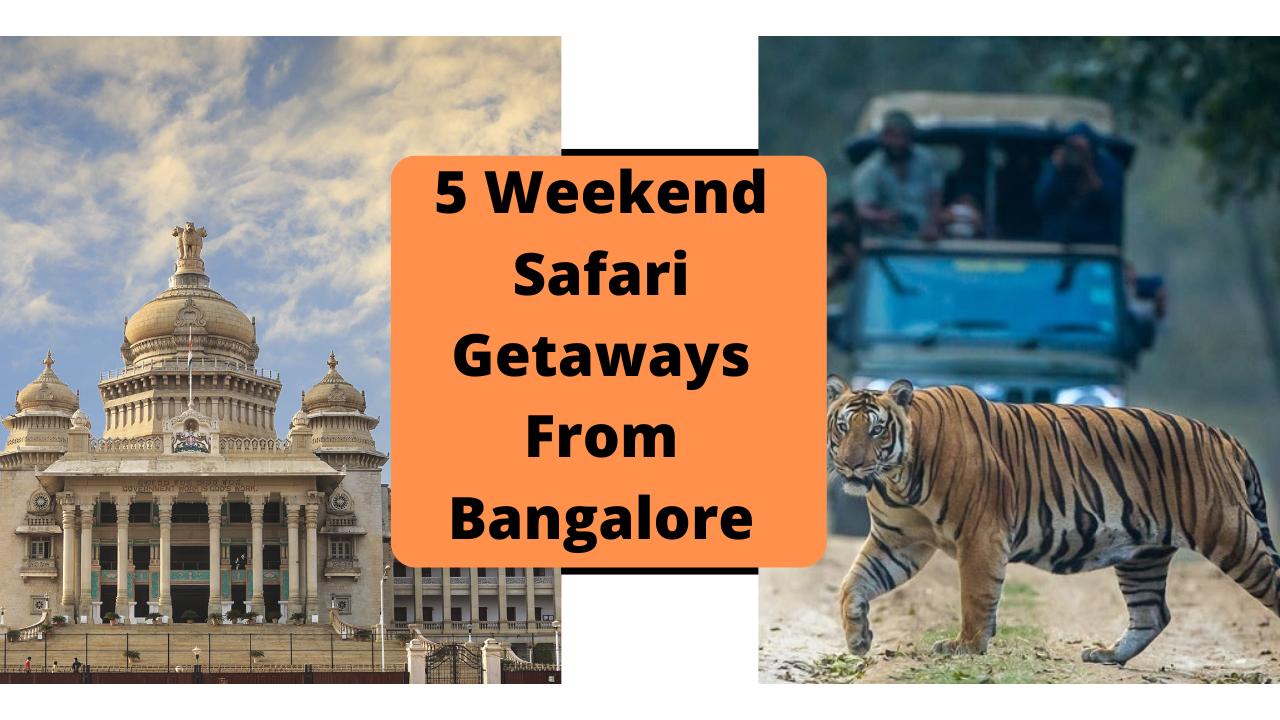 Bengaluru is one of the fast-growing cities in India. The name and popularity received by the city in due time from Garden city to silicon city says how fast the city is evolving. The tourist attractions are no less in number here in Bangalore. A major part of the greens and lakes are reserved and well-conserved. Blessed are the wildlife venturers who have made Bangalore home because a short drive outside the city, and you get the best wildlife in the country. Escaping from the monotonous routine and exploring the woods is divine. There are a lot of options around Bengaluru for a weekend safari getaway. We have shortlisted the 5 Weekend Safari Getaways From Bangalore.
Why Wildlife?
The IT hub of India is gifted with professionals with high brains whose mental gears are in motion from Monday to Friday. The traffic and dynamic weather add woes to their already stressed routine. They deserve a good break from their mundane work life and the weekends are the best to do so. A few hours' drive from their home, they can get a chance to hear the squeaks in the woods. A safari getaway is indeed a great option.
Kabini Wildlife Sanctuary
On the southern fringes of Nagarhole Tiger reserve, Kabini is a hotspot for sighting wildlife. One of the best and more demanding forest reserves for safari, Kabini offers jeep and boat-type safari to groove into the woods. Moreover, there is quite a good luxurious place to stay to make your vacation a hassle-free venture. 
Distance from Bengaluru: 230 km
How to Reach Kabini? 
Bangalore to Mysore Ring Road, Take a right onto Ring Road and take the Manatvadi Road exit (towards HD Kote), to HD Kote handpost to Antharasanthe to Karapura.
Drive time: 5 hours
Location: https://maps.app.goo.gl/uwHnT8JZpUixvWLw8
 Nearby Places: Mysore, Ooty, Waynad, Coorg
Checkout The Kabini Safari Packages
Bandipur National Park
Bandipur National Park is the part of Nilgiri Biosphere Reserve making it the largest protected area in Southern India and the largest habitat of Wild Elephants in South Asia. Over 200 species of birds and a diversity of flora add to its attraction. Bandipur also supports a wide range of timber trees including teak, rosewood, sandalwood, Indian-laurel, Indian Kino tree, giant clumping bamboo, etc.
Personally, a ride from any corner of Bengaluru to Bandipur is one of the best routes via road.
Distance from Bengaluru: 210 km
How to Reach Bandipur? 
Bangalore to Mysore Ring Road, Take a right onto Ring Road and take the Nanjungud exit, to Gundlupet, and to Bandipur NP.
Drive time: 4.5 hours
Location: https://maps.app.goo.gl/yxUxpSUxpoaBQ4D16
Nearby places: Mysore, Ooty, Waynad, Malai Mahadeshwara Hills, Himavad Gopalaswamy temple
 Checkout Best Bandipur Safari Packages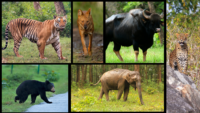 Biligiri Ranga Temple Tiger Reserve (BRT) :
Biligirirangana Hills is commonly called BR Hills and was declared a Tiger Reserve in 2011. The place derives its name Biligiri from the rocky white cliff on the top of which is a temple of Lord Vishnu locally known as Rangaswamy. The Tiger reserve is in Chamarajanagar district of Karnataka state. It covers Chamarajanagar, Yelandur, and parts of Kollegal Taluks.
BR hills are considered a unique bio-geographical entity since it is situated in the middle of the bridge between the Western Ghats and the Eastern Ghats in South India and were constituted as a Wildlife Sanctuary in 1974.
BR Tiger Reserve along with KGudi Wildlife reserve is indeed bliss, with a drive through quite a few hairpins bends along the destination.
Distance from Bengaluru: 185 km
How to Reach BRT Tiger Reserve?
Take the Bangalore – Mysore highway, and drive till Maddur. Turn left after leaving Maddur and drive till you reach Malavalli. Continue driving past Malavalli and get to Kollegal town and then to Yelandur and then to BR Hills (BR Hills is another 30 minutes drive from Kollegal)
Drive time: 4.5 hours
Location: https://maps.app.goo.gl/CZ4osyXwbArdG3L16
Nearby Places: Mysore, Biligiri Rangaswamy Temple, Dodda Sampige Mara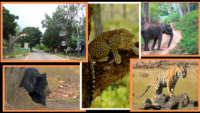 Bhadra Wildlife Sanctuary
Bhadra Wildlife Sanctuary was more popularly known as Muthodi Wildlife Sanctuary. After the village on its periphery, it was declared a Project Tiger reserve. But apart from the tiger, it is a great place to sight and observe other mammals, reptiles, and more than 250 species of birds, many of which are endemic to the Western Ghats.
Covering a vast area of over 490 square km, the Bhadra Wildlife Sanctuary is spread over the districts of Shimoga and Chikmagalur, 38 km west of the Chikmagalur town in Karnataka.
Distance from Bengaluru: 285 km
How to reach Bhadra Wildlife Sanctuary?
Take the Bangalore – Tumkur highway, and drive till Nelamangala and take Mangalore Highway Exit on the left and continue on the Mangalore highway until you hit Channaraya Patna and after you cross take a right turn towards  Arsikere and keep going to Arsikere to Kadur to Tarikere. 
Drive time: 5.5 hours
Location: https://maps.app.goo.gl/DYd79hporicGGMJ58
Nearby Places: Mullayanagiri, Hebbe Falls, Jhari Waterfalls, Sringeri Mutt, Z Point, Baba Budangiri, Hirekolale Lake, Sri Veeranarayana Temple.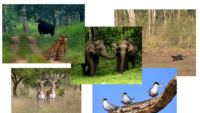 Nagarhole is indeed one of the most sought-after tourist destinations in India. The forest reserve is one such place where you can see the mighty Tiger, roaming fearlessly through the dense woods. A place where you can relax and unwind amid the pristine natural beauty since there are quite a good number of resorts around the forest. It's a place where you can admire the lush green flora. It's a place that allows you to uncover a variety of lush forests.
Nagarahole Tiger Reserve is in the Kodagu and Mysore districts of Karnataka. The wildlife reserve, also known as the Rajiv Gandhi National Park, is one of the most popular wildlife habitats in India that provides a home to an abundant variety of flora and fauna.
Distance from Bengaluru: 240 km
How to Reach Nagarhole?
Reach Coorg via Srirangapatana. Take a right turn at Srirangapatana towards KRS dam to join Hunsur road.
Drive time: 5.5 hours
Location: https://maps.app.goo.gl/pqN5z6e3s6S29Eba7
Nearby places: Coorg, Irrupu falls, Dubare Elephant Camp, Talacauvery.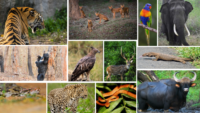 Booking your next safari is just a few steps-
Step 1: Head over to https://packages.wildtrails.in/
Step 2: Select your favorite National Park. Fill in the Check-in and Checkout dates along with your group size.

Step 3: Choose the type of accommodation. It can be anything as per your budget. Click on 'Details'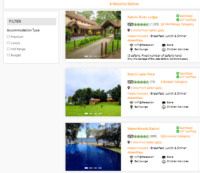 Step 4: Select the number of safari drives and the type of safari you wish to choose.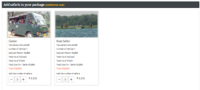 Step 5: Select add-on options if you wish to have them to your itinerary. Click on Send Enquiry.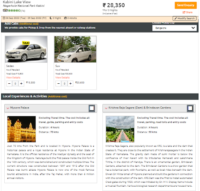 Step 6: Fill out the form-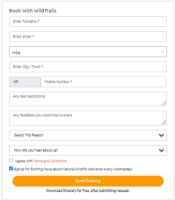 Reasons to book your holiday with WildTrails–
1)  Dedicated platform for a wildlife holiday.
2)  No travel agent commission is involved. Direct price from the resorts, hence, the best price in the market.
3)  No middlemen, no additional commissions, no unnecessary markups, the best competitive rates you can ever get, and the best part is you connect directly with the Resorts/Hotels. Further, your booking amount shall benefit the locals and hence will help improve their economic condition which in a way is critical for better conservation of the flora and fauna in the park.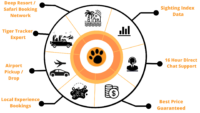 To know more and to get a full list of jungle/nature resorts, please click https://wildtrails.in
You just explored about the best weekend safari getaways from Bengaluru. Head over to our website to book your next holiday at your favorite national park.
Total Page Visits: 1472 - Today Page Visits: 1
---
---
Play with WildTrails Intelligence Tools
1. How many times tiger is seen per month?
2. What's going on in Indian Forests today?
3. Interested in playing more with Tiger sighting graphs? Click
here?
---
Buy Wildlife Fashion Accessories
Exclusive Online Store for wildlife products
Packages
Packages Loading...
Recent Posts