Bandipur Safari Packages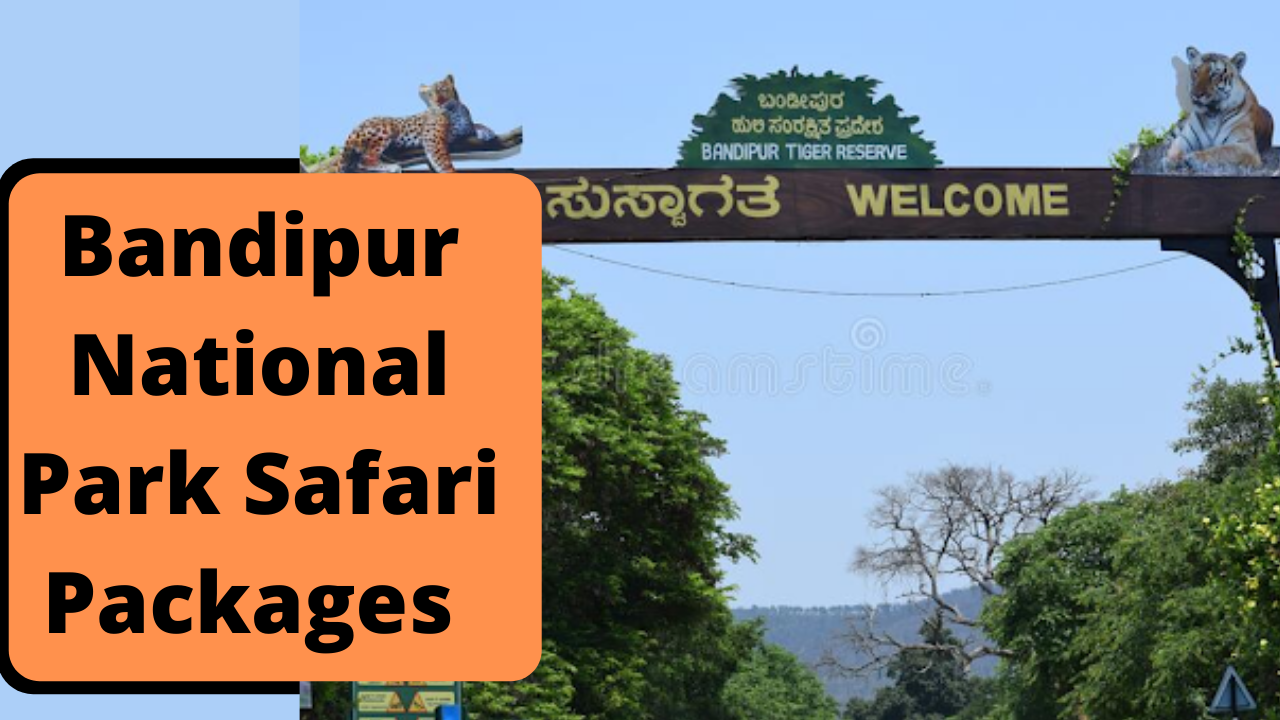 Bandipur National Park is a part of the popular Nilgiri Biosphere Reserve and is famous for more than just one reason. One of them for having the second-highest tiger population in India. Another is the largest habitat of Wild Elephants in South Asia. There is much more here in Bandipur which needs to be witnessed than expressed.
Nilgiri Biosphere Reserve formed in the western ghats of India is the largest protected forest area in the country. Bandipur along with Mudhumalai and Nagarhole National Parks constitute a major part of this biosphere.
Flora and Fauna Of Bandipur National Park
Bandipur Forest reserve has a broad range of timber trees that include teak, rose, sandal. Besides, Indian kino tree, Indian laurel, giant clumping bamboo, clumping bamboo are the other popular trees found here.
Fruit bearing trees include kadam tree, gooseberry tree, black cutch, indigo berry, black myrobalan, golden shower tree is seen in the jungle.
Bandipur is known for conserving few of the endangered species. Indian elephants, gaurs, tigers, sloth bears, muggers, Indian rock pythons, four-horned antelopes, jackals, and dholes are few of them in the endangered list that can be sighted here.
Chital, grey langurs, Indian giant squirrels and elephants are few of the wildlife charms that can be seen wandering on the national highway NH-766 that passes through the forest.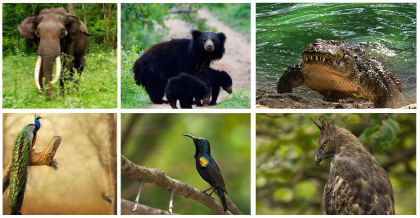 Bandipur National Park is open for safari throughout the year. The possibility of the forest reserve getting closed for safari is very less. It can be during natural calamities like floods or forest fires, the safari might be put to halt.
The ideal time for safari here would be between October and May. March to May is the summertime here at Bandipur and is a great time for sightings as the wild animals step out of their zones in quest of water.
Safari in Bandipur Tiger Reserve
Safari in Bandipur is one of the tedious tasks to be planned and scheduled. There is no option to book a safari online here at Bandipur. Most tourism lodges do help book your safari tickets when you decide to book accommodation with them.
With Wildtrails, you get a skilled driver who can drive through the toughest but right terrains for amazing sightings. An expert tiger tracker who knows the right time and zone for the sighting you are craving. We pick you up from the hotel for the safari and drop you back.
Check out the Best National Parks And Wildlife Sanctuaries Near Bangalore.
Shared Jeep safari
Travelers' choice – This is what we define jeep safari. A high-powered Bolero that can bust into the woods is the choice of most visitors. A shared jeep safari is a great bang for the buck for those who are ready to share the cost with others. You will be booking one of the 6 seats and bear the cost for the same, while the remaining seats shall be occupied by the other visitors. Every Jeep safari lasts for 2-2.5 hours.
There is no exclusive option for a Jeep safari here at Bandipur.
Check out the best stays in and around Bandipur.
 Canter Safari
A canter in the form of a minivan that can accommodate up to 20 persons per trip. Canter safari is preferred more by solo travellers. The budget-friendly safari option here. There is only a shared option for canter. Canter safari can be for 1.5-2 hours per drive.
The elevated height in the canter is a major advantage for better sightings. The budget-friendly category is another advantage. The canter safari booking is based on a first come first serve basis.
Just like jeep safari, there is no exclusive option for canter safari. The demand for canter safari is again at a higher end. However, we shall help you schedule the safari here.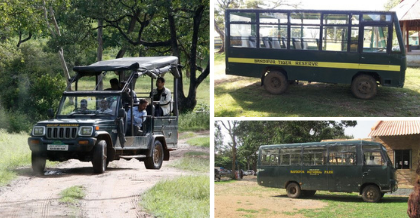 Booking a safari in Bandipur
You do not have the privilege to book a safari online here at Bandipur. The best option is to book accommodations with those who can help you schedule safari. An alternate way to book a safari is offline. You need to be at the gate to try your luck on the day you wish to do a safari. Safari Map Of Bandipur
Booking your next safari at Bandipur is just a few steps-
Step 1: Head over to WildTrails Website
Step 2: Select Park Name as Bandipur National Park. Fill the Check-in and Check-out dates along with your group size.

Step 3: Choose the type of accommodation. It can be anything as per your budget. Click on 'Details'.

Step 4: Select the number of safaris drives and the type of safari you wish to choose.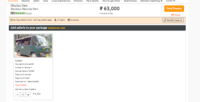 Step 5: 
Select add-on options if you wish to have them to your itinerary. Click on Send Enquiry.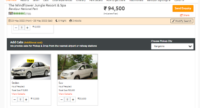 Step 6: Fill out the form-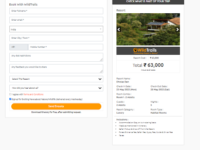 That's it. Your job is done. Now sit back and relax until our experts reach out to you.
Plan your trip based on the sightings. At Wildtrails, we help plan your trip based on the sighting algorithm, a unique way to have the highest chances of sightings. For details on which zone and gate to choose for, head over to WildTrails Sighting Index.
Reasons to book your holiday with WildTrails-
Dedicated platform for a wildlife holiday.

No travel agent commission is involved. Direct price from the resorts, hence, the best price in the market.

No middlemen, no additional commissions, no unnecessary markups, the best competitive rates you can ever get, and the best part is you connect directly with the Resorts/Hotels

To know more and to get a full list of jungle/nature resorts.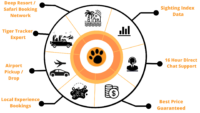 Total Page Visits: 776 - Today Page Visits: 1
---
---
Play with WildTrails Intelligence Tools
1. How many times tiger is seen per month?
2. What's going on in Indian Forests today?
3. Interested in playing more with Tiger sighting graphs? Click
here?
---
Buy Wildlife Fashion Accessories
Exclusive Online Store for wildlife products
Packages
Packages Loading...
Recent Posts