10 Best Safaris in India For Travelers On A Budget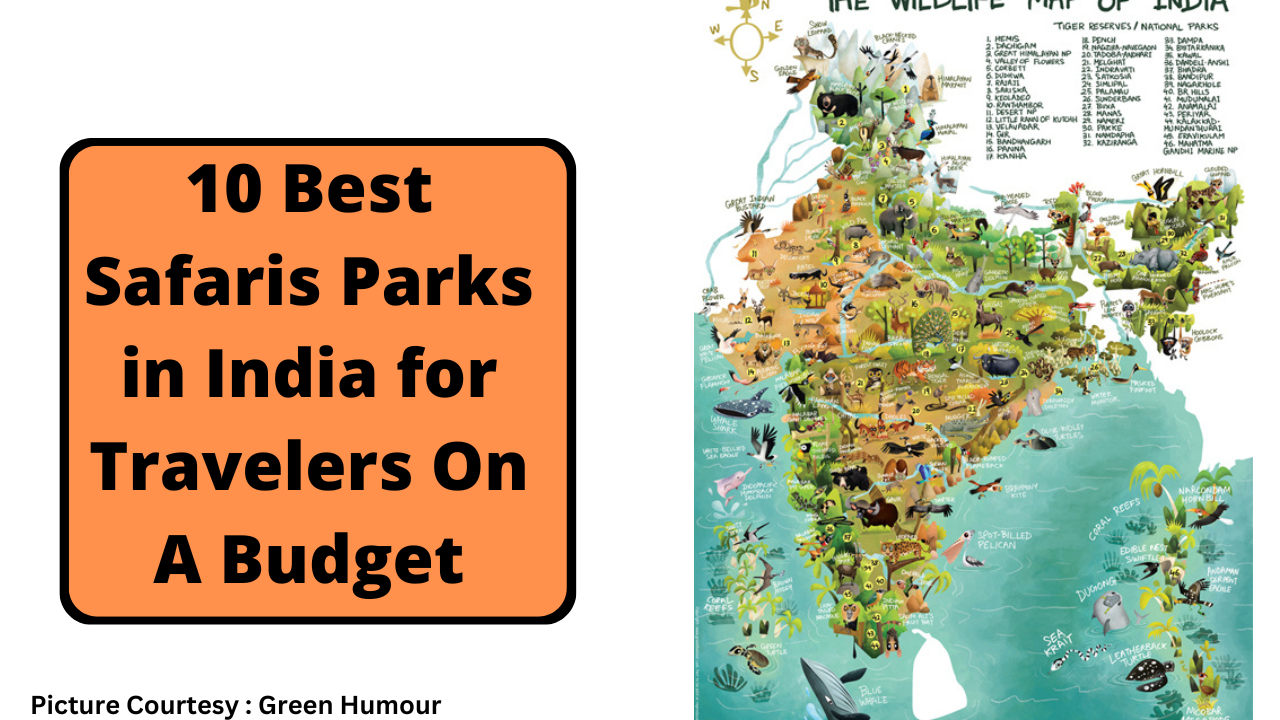 About 25% of the land in India is covered by green which is more than what you need to explore wildlife. Exploring these tropical woods across the country by planning a wildlife holiday is something you wish to have now. The fact being there is a lot of wildlife reserves in every state of India, and the explorations are not just limited to the popular ones. A lot of them are less explored or even unexplored. We share the list of 10 best safari drives in India that are the best bang for your buck.
Choosing a wildlife destination in India and planning a holiday there involves small hassles. The major challenge here is a finite number of permits for a particular safari schedule. Most of the places have made it online, while other national parks issue them offline and on a first come first serve basis. We, at WildTrails, stand out in scheduling and organizing a wildlife holiday at the topmost national parks. However, we make sure the package fits your budget without compromising on the quality of services. The permit fees vary from park to park and moreover, it is fixed based on demand and popularity. Here are the wildlife reserves in India that can be planned based on budget-
Bhadra Wildlife Reserve
Over 120 species of flora are spread across the Wildlife reserve. The sanctuary is home to tigers, gaur, elephant, wild boar, sloth bear, black leopard, jungle cat, jackal, and others. The Forest department organizes Jeep Safari inside Bhadra Tiger Reserve.
Forest Safari in Bhadra has a high probability of tiger and leopard sightings as over 30 tigers and 20 leopards are based in Bhadra Wildlife Sanctuary. The sanctuary is also home to the Jagara Giant, the largest teak tree in the state which has a girth of 5.1 meters with a height of 32 meters and is said to be around 400 years old.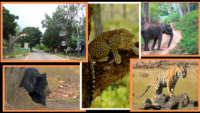 KGudi Wilderness Camp
The Kyathadevara Gudi Wilderness Camp opens an opportunity for you to get up close and personal with nature. The forests are teeming with over 250 species of birds, including the velvet-fronted nuthatch, gold-fronted chlorosis, blossom-headed parakeet, and the Malabar whistling thrush – so it's highly unlikely you'll ever get enough of this place. Jeep rides into the forests with naturalists as a part of the venture only make it better.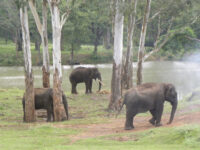 Tipeshwar Tiger Sanctuary
Tipeshwar wildlife sanctuary is situated in Yavatmal, the place that is an isolated national park in Maharashtra. Tipeshwar wildlife sanctuary provides every visitor a tremendous opportunity every visitor to travel around a wide range of wildlife species.
This sanctuary has numerous other widespread wildlife reserves such as Nagzira National Forest, Tadoba-Andhari Tiger Reserve, Bhamragarh Wildlife Reserve, Chaprala Wildlife Sanctuary, Navegaon National Park, Pench National Park, Bor Wildlife Sanctuary, and Painganga National Park. Thus, tigers from these reserves generally live in the Tipeshwar Wildlife Forest.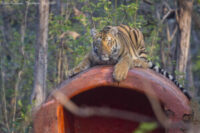 One of the most sought-after wildlife holiday destinations in India, Kaziranga National park's 430 square kilometer area sprinkled with elephant-grass meadows, swampy lagoons, and dense forests is home to more than 2200 Indian one-horned rhinoceros, approximately two-thirds of their total world population.
Kaziranga National Park is known for its pretty good conservation of animals however, it is more popular for its wildlife conservation initiatives that take place in the park are more popular. With its amazing wildlife conservation activities, the park has successfully managed to grow the population of the Greater one-horned rhinoceros.
The vast expanse of tall elephant grass, marshland, and dense tropical moist broadleaf forests undoubtedly make the park look beautiful but it's the presence of the Brahmaputra River, which makes it look enigmatic.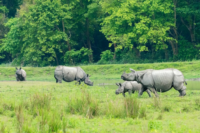 Umred Karhandla Wildlife Sanctuary
A biodiversity hotspot, and a treat to wildlife enthusiasts in and around Umred, this place is about 58 km from Nagpur. The peak season starts from mid-October and can get the best sightings till the end of June.
Check Out Travel Bucketlist: 5 Unforgettable safari experiences in South India
Gir National Park is the only place in the world outside Africa where a lion can be seen in its natural habitat. It is a 1412-square kilometers sanctuary most of which is hilly. A safari drives through the thick, undisturbed forests is a joy –adding the excitement of spotting lions, other wildlife, and myriad bird species.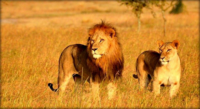 Nagzira Wildlife Sanctuary
Nagzira Gondia popularly known as Nagzira Wildlife Sanctuary lies between the 2 districts of Maharashtra Bhandara and Gondia. This is one of the oldest national parks in the state known for having a true sense of serenity, tranquility, and wilderness.
Dudhwa National Park
Dudhwa national park is a lesser-known gem of the Terai region located on the India-Nepal border. The forest is filled with deciduous trees. The wetlands of the forest reserve are a bird watcher's paradise and over 400 species of birds are seen here during winters. Head over to Dudhwa National Park between October and December for the best sightings.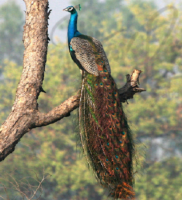 Silent Valley National Park
Western ghats keep rising in altitude as you go from north to south, eventually reaching the height of 2695 m at Anamudi in Kerala. Silent Valley National Park is one such hidden forest in the valleys of Western ghats. The park receives around 7000-9000 mm rainfall every monsoon. Silent valley national park is one of the most preserved rainforests in south India.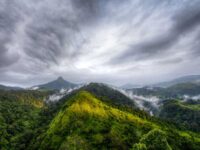 Hemis National Park
Hemis National Park is home to some of the exotic and rare flora-fauna species. An abode of birds like a great grey shrike, red mantled rose finch, black-throated thrush, the robin acceptor, spotted flycatcher, Himalayan whistling thrush, white-rumped shama, etc. The best way to see this place is by jeep safaris and the best time to visit is from May to October.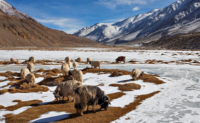 Booking your next safari is just a few steps-
Step 1: Head over to https://packages.wildtrails.in/
Step 2: Select your favorite National Park. Fill in the Check-in and Checkout dates along with your group size.

Step 3: Choose the type of accommodation. It can be anything as per your budget. Click on 'Details'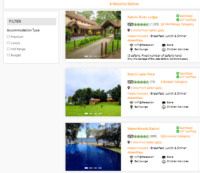 Step 4: Select the number of safari drives and the type of safari you wish to choose.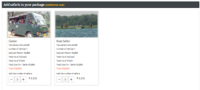 Step 5: Select add-on options if you wish to have them to your itinerary. Click on Send Enquiry.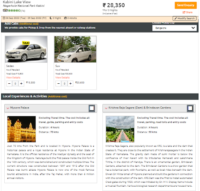 Step 6: Fill out the form-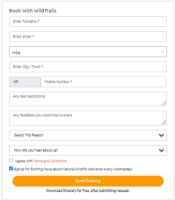 Reasons to book your holiday with WildTrails–
1)  Dedicated platform for a wildlife holiday.
2)  No travel agent commission is involved. Direct price from the resorts, hence, the best price in the market.
3)  No middlemen, no additional commissions, no unnecessary markups, the best competitive rates you can ever get, and the best part is you connect directly with the Resorts/Hotels. Further, your booking amount shall benefit the locals and hence will help improve their economic condition which in a way is critical for better conservation of the flora and fauna in the park.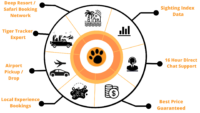 Total Page Visits: 623 - Today Page Visits: 1
---
---
Play with WildTrails Intelligence Tools
1. How many times tiger is seen per month?
2. What's going on in Indian Forests today?
3. Interested in playing more with Tiger sighting graphs? Click
here?
---
Buy Wildlife Fashion Accessories
Exclusive Online Store for wildlife products
Packages
Packages Loading...
Recent Posts