Complete Travel Guide To Pench National Park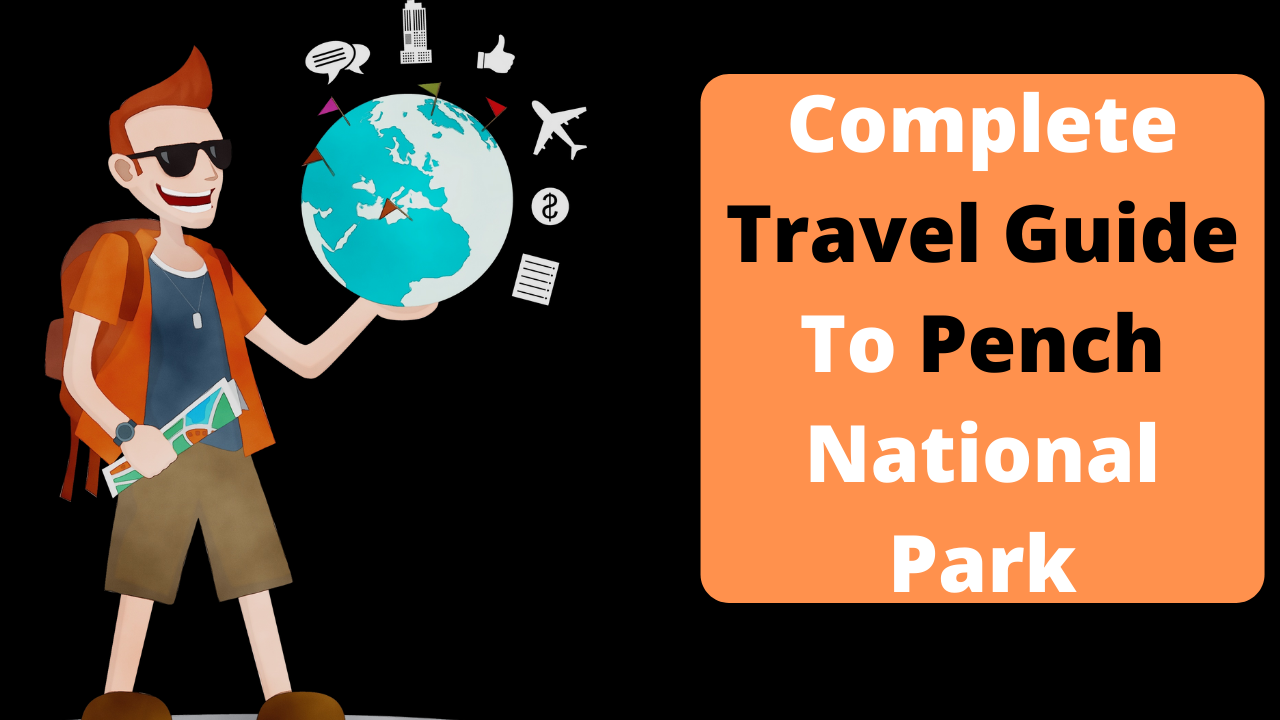 Introduction to Pench:
The central part of India has got almost everything to offer when it comes to travel explorations. Wildlife is one of them. Maharashtra, Chhattisgarh and Madhya Pradesh are the states with lush green forests and are explored by the wildlife enthusiasts. Pench National Park is one of the wildlife reserves that deserves to be explored for the way it is conserved. We, at WildTrails, help you out with the complete travel guide to explore Pench National Park. Located in 2 districts of Madhya Pradesh, Seoni and Chhindwara, Pench National Park is spread across 758 square kilometres.
History of Pench National Park :
In 1984, the popular author Rudyard Kipling went on to mention Pench National Park in his famous work – Jungle Book This is when the name of the jungle rose to fame. Since then, Pench National Park is known to have one of the best conservations in the country. The name is derived after the river Pench that divides the national park to east and west.
The Park was established in the year 1975 and Pench Tiger Reserve is a part of the establishment. However, the place was declared a wildlife sanctuary back in 1965.
Flora and Fauna Of Pench National Park :
Over 40 Bengal tigers wander here across the woods. Besides the key predators, there are different species of mammals. Popular ones include leopard, wild dog, wolf, cheetal, gaur, wild pig, wolf, sloth bear, jackal, fox, jungle cat, hyena, nilgai and many more.
Mahua tree, Palash tree, Tek tree and neem tree are the most popular here. Other trees like moyan, mahua, mokha, skiras, tendu, bija, achar, garari, aonla, ghont, baranga, aonla, khair, bhirra, palas,skiras and kihamali are commonly sighted here. There is a small population of bamboo in some valleys and near the water banks. Fruit trees like Black plum, and custard apple are also found.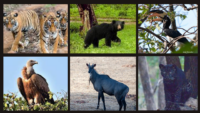 Gates and zones of Pench National Park
The core zone of Pench has 3 gates-
Turia gate

Karmajheri gate

Jamtara gate
The forest has 3 buffer zones where the wildlife sightings are frequent-
Rukhad buffer

Khawasa buffer

Teliya buffer
Plan your trip based on the sightings. At WildTrails, we help plan your trip based on the sighting algorithm, a unique way to have the highest chances of sightings. Pench national park booking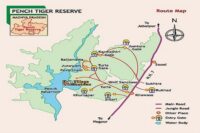 Types Of Safaris:
Gypsy safari :
A 6-seater Gypsy is scheduled at Pench National Park in 2 shifts. While most of the jeeps are exclusively available, there are a few vehicles that can be booked on a shared basis. The per-head cost in this scenario is split among the total number of people who wish to go on safari. The safari drives can be booked online.
Tatkal booking :
The cost of tatkal based safari shall be higher than the normal safari. However, the availability depends on last minute cancellations of booked safaris. The tatkal window will be open 24 hours before the actual date.
Premium Safari :
Full day safari that can be availed to explore all the major zones. The safari drives are expensive and can be booked offline only.
       

Morning safari – 6 AM to 11 AM

       

Evening safari – 3 PM to 6 PM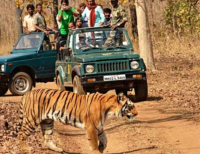 Best Season To Visit Pench National Park :
October to June is undoubtedly the Best time to explore Pench National Park. July to October would not be a good time due to monsoon weather.
The temperature between October and February would be extreme cold, particularly during morning safari. It is strongly recommended to plan your attire accordingly, particularly for morning safari.
The weather during March to June is expected to be dry and humid. Carrying drinking water is of the top-most priority in the to-be-carried list.
How To Reach Pench National Park ?
By Road :
The national highway NH 44 passes through Pench National Park. Hence, the forest reserve is accessible from the major cities of the country through roads.
The nearest city is Nagpur and there are buses at regular intervals that ply from Nagpur bus stand to Pench.
By Flight :
The nearest airport is Nagpur and there are flights that fly from all major cities to here.
By Rail :
The nearest railway station to check out for to reach Pench National Park is Seoni Railway station. Pench National Park is only 30 kilometers from here. Alternatively, Nagpur railway station is also recommended where the transfer to Pench is possible.
Where is Pench National Park Located
Type of Accommodations At Pench 
Pench offers a wide range of accommodations near it's entry gates. At Wildtrails, we suggest the wildlife enthusiasts choose the gate first to explore the jungle, book them and then proceed with choosing the accommodations. More details on choosing the best accommodations at https://wildtrails.in/
We at WildTrails have 3 types of accommodations namely, budget, mid-range, and luxury. The safari package cost varies depending on the type of accommodation you look out for. However, the properties listed on our portal are of top level, ensuring every buck you spend is worth it.
Budget Category : 
It has all the basic-level facilities at the lodge and the prices are lower when compared to other types. The comfort level can be expected on the lower end.
Mid-Range Category :
It has little higher amenities when compared to the budget level lodges. While the budget level accommodation can be compared with features of a hatchback car, the services in mid-range accommodation can be compared with that of a sedan.
Luxury Category :
It consists of top-level facilities and amenities where the priority is given to the comfort level and top-notch quality of service. The services in the mid-range accommodation can be compared to commuting in a basic sedan car, while the services in the luxury type accommodation can be compared with commuting in a luxury car like Mercedes.
Top Resorts In Pench National Park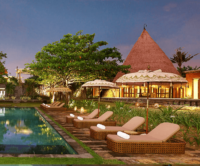 Nearby Attractions At Pench National Park-
Kohka Lake –
One of the best sunset views can be witnessed here apart from bird watching. It is located around 40 kilometres from Pench National Park.
Kamthikhairy dam –
Popularly known as Pench dam, is a treat to the eyes. The lake offers motorboat rides to the tourists.
Chhindimatta
–
Existence of a village that was relocated to build the dam.
Sanch
–
Sanchi is located around 400 kilometres from Pench. The place has an age-old history with the famous stupa being the highlight. Udayagiri caves is another major attraction in Sanchi.
Flagship Species At Pench National Park :
Sighting a royal Bengal Tiger is indeed a striving but worth the effort. There are over 40 such bigcats scattered over. The most famous tigress here is T15, named as Collarwali. She got the title 'Supermom' and rose to fame when she gave birth to over 26 cubs in 15 years. Collarwali is in the list of the wildlife enthusiasts who are keen to explore more wildlife. They don't mind going to the next level to explore the jungle to find her, such is the popularity level of Collarwali.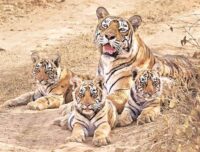 Reasons To Book Your Holiday With WildTrails-
1)      Dedicated platform for wildlife holiday.
2)      No travel agent commission involved. Direct price from the resorts, hence, the best price in the market.
3)      No middlemen, no additional commissions, no unnecessary markups, the best competitive rates you can ever get and the best part is you connect directly with the Resorts/Hotels
To know more and to get a full list of jungle/nature resorts, please click https://wildtrails.in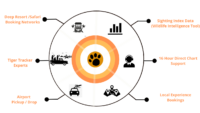 Now you have the complete travel guide to explore Pench National Park, head over to our website to book your trip and have the best itinerary and packages for your adventure.
Key Tips For First Time National Park Visitors
Total Page Visits: 674 - Today Page Visits: 1
---
---
Play with WildTrails Intelligence Tools
1. How many times tiger is seen per month?
2. What's going on in Indian Forests today?
3. Interested in playing more with Tiger sighting graphs? Click
here?
---
Buy Wildlife Fashion Accessories
Exclusive Online Store for wildlife products
Packages
Packages Loading...
Recent Posts