Complete Travel Guide To Tadoba National Park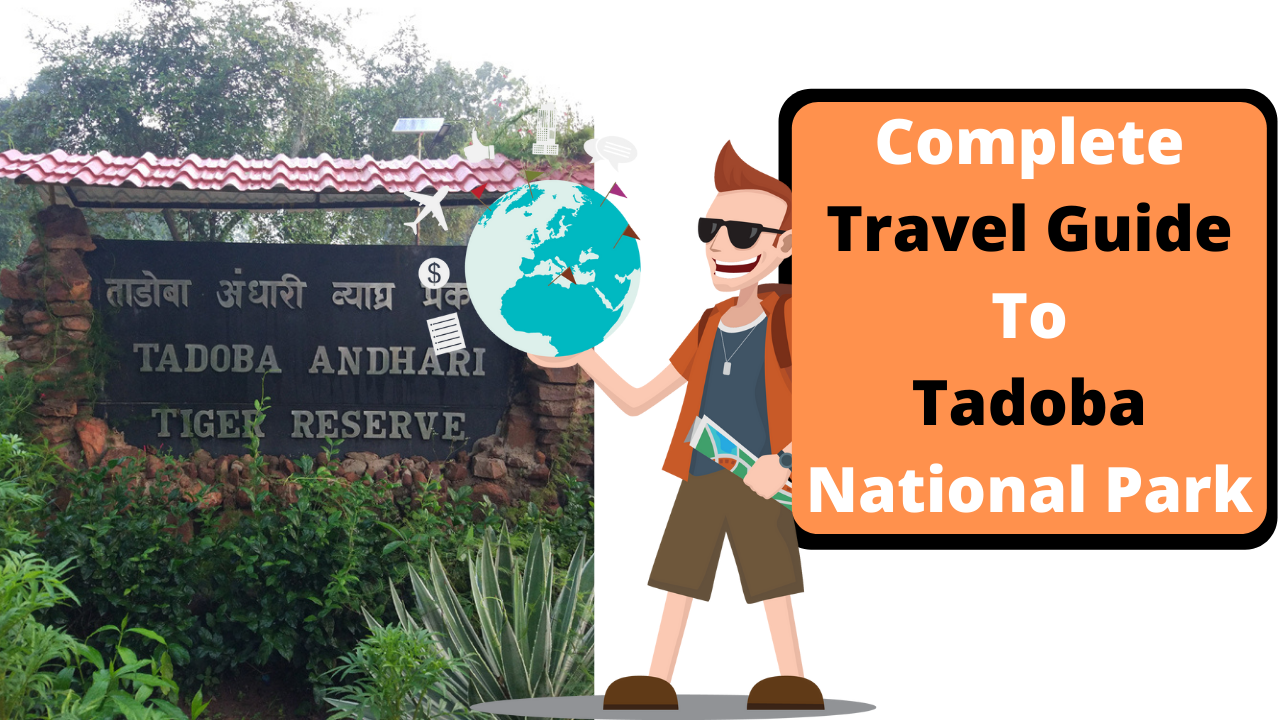 About Tadoba
Nagpur is often called the tiger capital of India because it is accessible to most of the Tiger reserves. Tadoba National Park is one of the reserves, moreover, it is the largest national park in Maharashtra. It is in the Chandrapur district, the place which is also known for its super thermal station. The forest is spread across 645 square kilometres and has more than 10 zones to plan for safari posing a complexity to plan for an effective safari trip. Hence, we came up with the complete travel guide to Tadoba National Park.
History of Tadoba National Park :
Tadoba National Park was established in 1935, however, it got the status of National Park in 1955. The national park is now a part of Tadoba-Andhari Tiger reserve that was formed in 1995.
'Tadoba' comes from the name of the God 'Tadoba' or 'Taru' and the local tribes of the Andhari and Tadoba region used to worship 'Taru'. The local tribes believe that 'Taru', the chief of the village was killed in a legendary encounter with a Tiger. The local tribal, then made a shrine and dedicated that shrine as 'Taru' God which is existing on the bank of the Tadoba Lake beneath a huge tree. So local people of that area used to worship Taru as God.
 

Flora and Fauna at Tadoba National Park :
Tadoba National Park is abundant in flora and fauna. Notable trees that are found here, that are a common sight in every dry deciduous forest. Teak, Bija, Hald, Salai, Semal, Tendu, Beheda, Hirda, Karaya gum, Mahua Madhuca, Arjun, Ain, Bamboo, Bheria, Black Plum, Dhauda are few to be named.
When it comes to fauna, the major attraction is always the Royal Bengal Tiger. The current reports from the forest department state that there are 109 in the core and buffer areas of the forest reserve. Besides tigers, one can spot leopards, sloth bears, gaur, nilgai, dhole, striped hyena, small Indian civet, jungle cats, sambar, spotted deer, barking deer, chital, marsh crocodile, Indian python, Indian cobra, grey-headed fish eagle, crested serpent eagle, peacock, jewel beetles, wolf spiders and many more.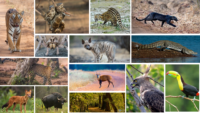 Zones and Gates Of Tadoba National Park :
There are approximately 15 gates in Tadoba National Park.
Moharli gate

Khutwanda gate

Navegaon gate

Kolara gate

Kolsa – Zari gate

Pangdi gate

Buffer gates:

Alizanza zone

Devada Adegaon gates

Agarzari gates

Junona gates

Kolara Buffer gate

Ramdegi Buffer gate
Tadoba park is divided into 3 safari zones:
Tadoba zone

Moharli zone

Kolsa zone
Get to know more of the zones and gates of Tadoba and which gate to choose for your nest safari.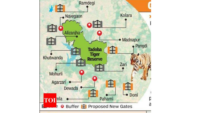 Types of safaris in Tadoba-
Jeep Safari At Tadoba :
Shared or exclusive jeep to choose for. This safari type is with a 4×4 Gypsy that can accommodate up to 6 tourists. Further, exclusive option has 2 types; restricted (3 hours) to one zone and full day safari where you can explore the entire forest irrespective of the zone.
Canter Safari At Tadoba :
A single canter can accommodate up to 20 tourists. Shared option is available under canter safari option and is the most economical option to explore the woods. 
Safari Timings Of Tadoba National Park
Morning safari – 6 AM to 9 AM
Evening safari – 3 PM to 6 PM
Types of Accommodations At Tadoba-
With around 12 zones to the forest reserve, Tadoba offers a wide range of accommodations near its entry gates. At Wildtrails, we suggest you choose the gate first to explore the jungle, book them and then proceed with choosing the accommodations. More details on choosing the best accommodations at https://wildtrails.in/
We at Wildtrails have 3 types of accommodations. The safari package cost varies depending on the type of accommodation you look out for. However, the properties listed on our portal are of top level, ensuring every buck you spend is worth it.
Budget category :
It has all the basic-level facilities at the lodge and the prices are lower when compared to other types. The comfort level can be expected on the lower end. Budget Ranged Resorts In Tadoba
Mid-Range Category :
It has little higher amenities when compared to the budget level lodges. While the budget level accommodation can be compared with features of a hatchback car, the services in mid-range accommodation can be compared with that of a sedan. Get The Complete List Of Mid Range Resorts Of Tadoba National Park
Luxury Category :
Luxury Range Resorts Of Tadoba National Park consists of top-level facilities and amenities where the priority is given to the comfort level and top-notch quality of service. The services in the mid-range accommodation can be compared to commuting in a basic sedan car, while the services in the luxury type accommodation can be compared with commuting in a luxury car like Mercedes.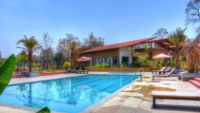 Nearby Attractions At Tadoba National Park :
Erai dam :
Known as an earthfill and gravity dam on Irai River, Erai Dam is located next to Chandrapur and Tadoba Andhari Tiger Reserve. It is of 1620 meters in length.
Tadoba lake :
Tadoba lake has more than 200 species of birds to look out for. It is ideal for the bird lovers to head over here particularly in the morning or late evening.
Flagship Species :
The big 5 of Tadoba – Bengal tiger, Indian leopard, sloth bear, gaur and dhole are the ones to look out for while on safari. Having a better expert tracker would mean better sightings of these.
Reasons To Book Your Holiday With WildTrails-
1)  Dedicated platform for wildlife holiday.
2)  No travel agent commission involved. Direct price from the resorts, hence, the best price in the market.
3)  No middlemen, no additional commissions, no unnecessary markups, the best competitive rates you can ever get, and the best part is you connect directly with the Resorts/Hotels
To know more and to get a full list of jungle/nature resorts, please click https://wildtrails.in
Now you have the complete travel guide to explore Tadoba National Park, head over to our website to book your trip and have the best itinerary and packages for your adventure.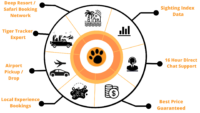 Frequently Asked Questions about Tadoba-
How to reach Tadoba?
By flight
Nearest airport to reach Tadoba is Dr. Babasaheb Ambedkar International Airport, Nagpur. There are flights that fly here from the major tier 1, tier 2 and tier 3 cities. Tadoba National Park is around 150 km from here and there are private taxi services from the airport.
By road
The roads are well connected from all the major cities. There are public transport from cities like Nagpur, Chandrapur and Chimur.
By train
The nearest railway station is Chandrapur which is around 45 km from the park.
There is no gate that is termed as the best. An expert tiger tracker along with you can help you better the chance of wildlife sightings. Check out more details of the gates and which gate to choose for at https://wildtrails.in
3. Which river flows in Tadoba National Park?
A river flows across the Andhari region and so this river is known as Andhari river.
4.  How many Tigers are there in Tadoba National Park?
The buffer and the core areas of Tadoba National Park is estimated to have 115 tigers and 151 leopards. This is as per the latest report on 'Status of Tigers, co-predators and prey in TATR'.
The best time to visit Tadoba for safari would be from October to June. July to September would not be a good time due to rains.
Weather from October to February is expected to be extremely cold, particularly during morning safari. It is strongly recommended to plan your attire accordingly.
The weather during March to June is expected to be dry and humid.
6. What are the things that need to be carried while on a safari in Tadoba?
Lot of things are to be carried for the safari. The topmost thing to be carried out would be drinking water. The safari would either be in the morning or during afternoon and you can expect the humidity to be high. Sunscreen lotion, hat, sunglasses are the necessities. Never carry liquor or tobacco while on safari.
Do not forget to carry your camera because you don't want to miss out the rarest sighting.
7. What to wear while on safari in Tadoba
Wear light-coloured clothes while on safari. Carry rain jackets since the rains are unpredictable here. We recommend you carry gloves, sweaters, warm caps, mufflers during winter.
Total Page Visits: 595 - Today Page Visits: 2
---
---
Play with WildTrails Intelligence Tools
1. How many times tiger is seen per month?
2. What's going on in Indian Forests today?
3. Interested in playing more with Tiger sighting graphs? Click
here?
---
Buy Wildlife Fashion Accessories
Exclusive Online Store for wildlife products
Packages
Packages Loading...
Recent Posts