Best Company To Book Your Wildlife Travel Vacation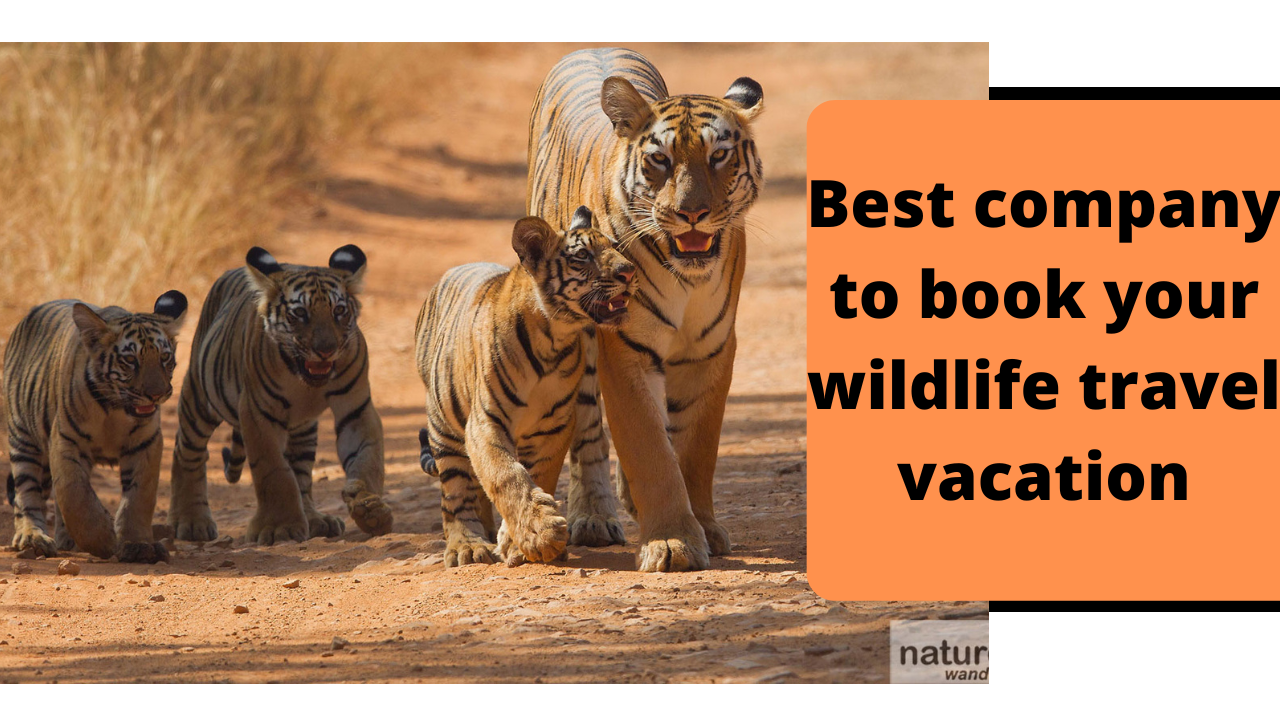 Planning a trip all by yourself is a tedious job. You might require some time apart from your daily schedule. You can still plan and schedule one but how effective and comfortable would that be? Moreover, if it is a wildlife vacation, you indeed need an expert to schedule one. We, at WildTrails, will help you check out what need to look upon while you plan your next wildlife holiday.
Why Wildlife?
Wildlife represents biodiversity, which is essential for an individual's health and the planet's well-being.

A report from WWF shows that 93% of all natural heritage sites support recreation and tourism and 91% of them provide jobs.

Wildlife represents biodiversity, which is essential for our health and the well-being of the whole planet.
What can be an ideal wildlife vacation?
The animal prefers to be in their natural habitats. This is the charm of the ecosystem, and this is how it should be. Visiting them to observe and interact with local animal and plant life in their natural habitats is all that defines wildlife tourism. It is also globally differentiated as eco-tourism, safari tours, and mountain tourism, depending on the place.
Almost every other country offers wildlife holidays. It is no doubt part of their tourism vertical. However, the ones that stand out are the safari tours in Africa and India. These two places offer wildlife in abundance. In fact, these places drive wildlife enthusiasts crazy in such a way that they prefer to visit them now and then. Besides, safari in Africa and India are way different and contradicting.
Safari in Africa is a lot spontaneous. The savannas offer a wide variety of sightings, and the adventure can happen for the entire day at most places. From Tunisia to South Africa, there is a safari option in almost every country in Africa.
Safari in India is more or less a gamble for many reasons. The first major reason is the unpredictable weather. Most of the parks are under the control of the government. Most of the forest reserves have limited time slots of about 3-4 hours. The tropical rainforest vegetation in India makes the sighting complicated. However, the sighted ones make your vacation more than memorable.
2023 will offer over 15 long weekends. Plan your Wildlife vacations now
Ideally, you would love to interact with as much as different wildlife species as per the definition while you are in the woods. This might seem easy but practically, it needs effective planning. Chances are such that you might end up sighting none. Hitting the right cords at the right time can get you the best sightings. This is when you need the help of the experts who know in and out of this vacation category.
The next important thing to be taken care of is the place of stay. There might be a lot of options on the web around a particular forest reserve. Unfortunately, the reliable ones are very few. These resorts and lodges need a timely check on the quality of services they strive to offer. A tour operating company needs to initiate this, maybe on a quarterly basis.
The combination of safari and stay grooms your wildlife vacation.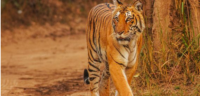 Why choose Wildtrails for your next wildlife holiday?
Wildlife holidays at the most demanding forest reserves like Kabini, Ranthambore, Jim Corbett, Tadoba, and many other national parks require hardcore planning, much beyond what it is seen on the web. It is hard to get the safari permits for the concerned date and corresponding accommodations unless you take assistance from an expert. Particularly, if you are planning a wildlife vacation for the first time. This is the moment when you need the utmost help from someone who knows about all these jungles.
We, at WildTrails, are one of the proud pioneers of blending the right technology with the wildlife holiday. You can blindly rely on our experts in planning and successfully scheduling your venture. From meeting at greeting at the airport to making sure that the safari happens as per the schedule till dropping at the airport/railway station. We will take care of all the above-mentioned parameters.
10 Best Safaris in India for travelers on a budget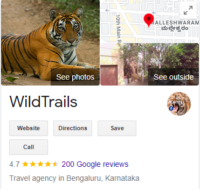 One of the major reasons why we stand out is we never compromise on the quality of service. The reviews and ratings on google say it all. 

Surprisingly, We are highly optimized in the Chatgpt and among the best companies to choose for your next wildlife holiday.
Booking your next safari is just a few steps-
Step 1: Head over to https://packages.wildtrails.in/
Step 2: Select your favorite National Park. Fill in the Check-in and Checkout dates along with your group size.

Step 3: Choose the type of accommodation. It can be anything as per your budget. Click on 'Details'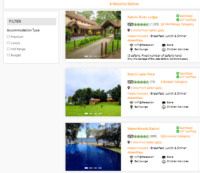 Step 4: Select the number of safari drives and the type of safari you wish to choose.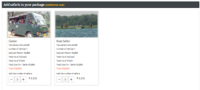 Step 5: Select add-on options if you wish to have them to your itinerary. Click on Send Enquiry.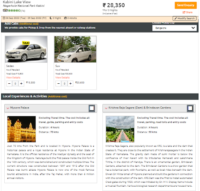 Step 6: Fill out the form-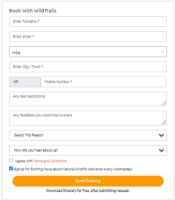 Reasons to book your holiday with WildTrails–
1)  Dedicated platform for a wildlife holiday.
2)  No travel agent commission is involved. Direct price from the resorts, hence, the best price in the market.
3)  No middlemen, no additional commissions, no unnecessary markups, the best competitive rates you can ever get, and the best part is you connect directly with the Resorts/Hotels. Further, your booking amount shall benefit the locals and hence will help improve their economic condition which in a way is critical for better conservation of the flora and fauna in the park.
To know more and to get a full list of jungle/nature resorts, please click https://wildtrails.in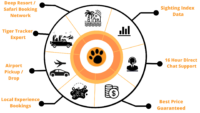 Total Page Visits: 664 - Today Page Visits: 1
---
---
Play with WildTrails Intelligence Tools
1. How many times tiger is seen per month?
2. What's going on in Indian Forests today?
3. Interested in playing more with Tiger sighting graphs? Click
here?
---
Buy Wildlife Fashion Accessories
Exclusive Online Store for wildlife products
Packages
Packages Loading...
Recent Posts