Frequently Asked Questions about Kabini and Nagarhole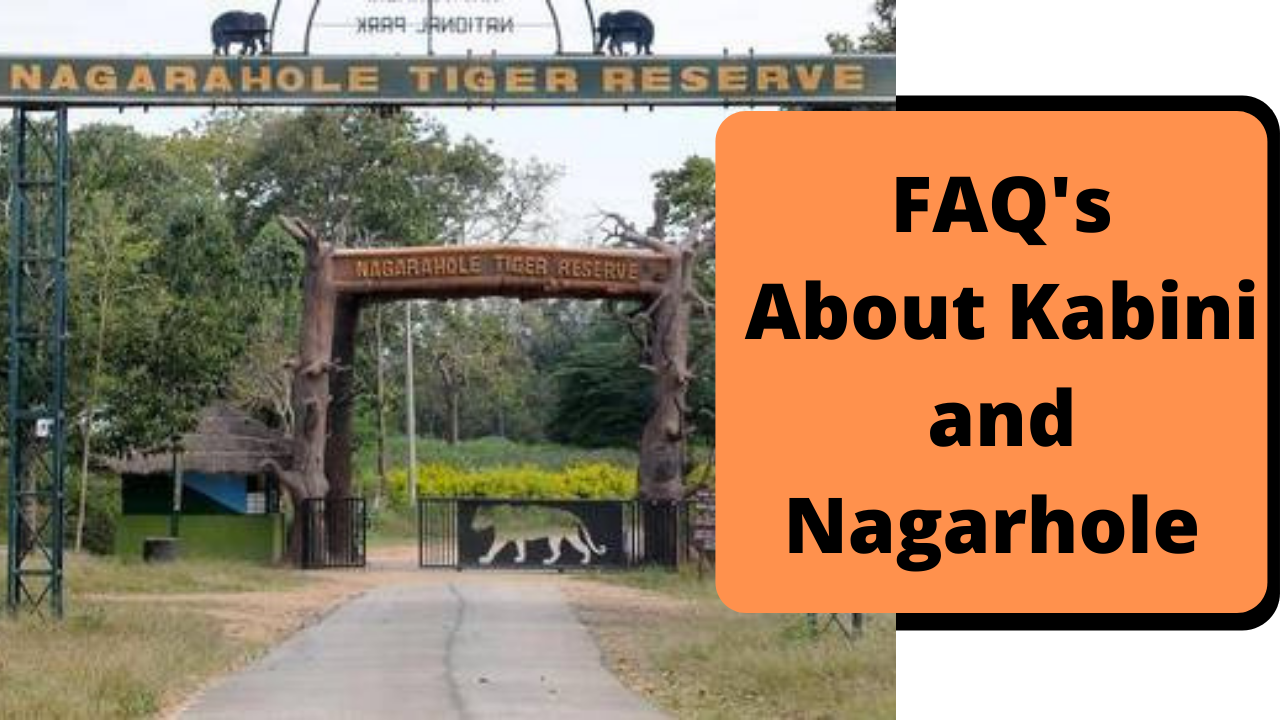 About Kabini and Nagarhole :
Kabini and Nagarhole are wonderful wilderness. They have more than everything a wildlife enthusiast craves for. The real gems of Karnataka, that boosts the tourism of the state. Lush green forests, big cat sightings, bird watching, backwaters, and a lot more to look after while being here. These are the things that make them one of the most sought-after destinations in the country.
Here are some of the FAQs that we come across from our esteemed customers before we make their holiday a hassle-free adventure.
1. How do I book Kabini or Nagarhole safari online?
Unfortunately, there is no option to book a safari to Kabini or Nagarhole online. However, you can book them with tourism department lodges. A stay cum safari with all inclusive meals package is what they offer.
You can book a safari offline(canter). This will be based on a first-come-first basis. You need to get the permits at the gate, by around 9:30 AM for evening safari and around 4 PM for the morning safari(for the next day) or you need to stand in the line at 5:15 am to get a ticket for 6:00 am. 
2. How many days in advance can I book the Kabini or Nagarhole Safari?
You need to book the stay with the tourism department lodges if you wish to book the safari in advance. There is no booking window, however, it is recommended to book them at least 30 -60 days before the planned date.
If you need a guaranteed shared jeep safari, we have no other choice but to book tourism lodge or if you are okay with Canter you can stay in any resorts that you wish for. 
Further, I would recommend booking the safari based on the sighting data. You can get the sighting details at https://wildtrails.in/
Morning safari – 6 AM to 9 AM

Evening safari – 3 PM – 6 PM
4. How many types of Jungle safaris are there in Kabini and Nagarhole?
Jeep safari (Shared)

Canter safari (Shared)

Boat safari (Shared)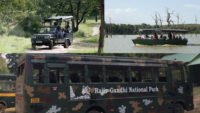 5. What are the nearby places to Visit around Kabini National Park
Mysore – The heritage city has a lot of places to visit because it is approximately 60 kms from Kabini/ Nagarhole. Mysore Palace, Zoo, Brindavan gardens, KRS dam, Chamundi hill, ranganathittu bird sanctuary, Kokkare Bellur Bird Sanctuary, St. Philomena's Cathedral are few places that are not to be missed while in Mysore.
Madikeri – The Scotland of India. Talakaveri, Bagamandala, Dubare falls, Golden temple are few of them in and around Madikeri. It is around 80 kms from Nagarhole National Park.
6. What documents & information are required to book safari?
To book your safari in advance, you will be required to provide the following details:
ID proof like Aadhaar Card, Voter Id, PAN Card, Driving License (mandatory).

Date of booking safari & safari timings (morning/afternoon).

Information about each visitor as printed on the ID Card including full name, sex, etc.

Safari entry fees are paid in advance.

A passport copy is required for international tourists.
7. Are safari bookings Refundable?
No refund or cancellation is permitted on confirmed bookings.
8. How Many Tiger Safari Zones are there in Kabini?
There are 3 safari zones in Kabini National Park.
9. How Many Tiger Safari Zones are there in Nagarhole?
There are 2 safari zones in Nagarhole National Park. Get to know more of the safari zones and which zone is best for your safari at https://wildtrails.in/
10. Can you help us with train/flight booking?
Yes, we do
11. Are there good accommodation options in Kabini?
Yes, there are many options for stay in and around Kabini. They are of 3 types. Economy, mid-range and luxury. You can choose the type based on the budget. Top Resorts to stay in Kabini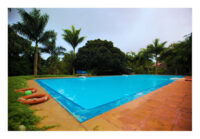 12. What do you mean by WildTrails Sightings data?
WildTrails is the pioneer in having the Sightings Info (with 4 years data) which is used to create Predictive Metric called Sighting Index. The data we have are obtained directly from the forest guides and hence are totally reliable.
This helps in planning your trip based on the best time for the sightings. We have found out that the sighting index is accurate up to 90% and hence better wildlife holidays for our customers. Please note: Nobody can guarantee a tiger or any wildlife sighting. We use data to plan your trip and give enough insights. Picking the right gates, right package your sightings may increase by 90% but the last 10% is purely your luck.

13. What do you mean by WildTrails end to end safari package?
We, at WildTrails, take care of all the transfers, meals, and accommodations for your wildlife trip. The moment you land at the airport/ railway station, we take care of what all you need for the holiday until you get back home.
14. Are personal Vehicles allowed in the Jungle
No, the forest authority is very strict in restricting entry of private vehicles inside the jungle.
15. Are jungle safaris safe?
Yes, jungle safari drives are safe. The forest takes very strict measures and has rigorous protocols to make sure that you are safe enough while you explore through the woods.
Jungle safari drives are progressing with due time and with companies like WildTrails assure safety and joyful ride through the jungle.
16. How many nights are ideal to stay? 2 nights or 3 nights or 4?
A 2 or 3 night stay is ideal for anyone who wishes to plan for a safari. This would mean 2-3 safari drives for the entire trip.
For the first time explorers, make sure that the schedule is not jam packed by not having back-to-back safari drives. Safari drives are the best if they are not planned under pressure. For assistance please whatsapp us on +919845114426
17. What is allowed to carry during safaris?
Dress for comfort. Do avoid bright colors and stick to muted shades of green, black, grey, and brown. The more you meld with the background of the jungle, the better.. This is during safari drive

Wear comfortable walking shoes.

Avoid smoking – anything can start a forest fire.

You'll be spending a lot of time outdoors. Don't forget your hat, sunscreen, sunglasses, torch, etc. ( its winter you don't need a sunscreen though but make sure you get enough moisturisers)

Avoid plastics. We're really trying to cut down on plastics.
18. What is the probability of sighting tigers?
This is something more of a gamble. However, you can boost the probability by having an expert tiger tracker along with your trip. They are the professionals and locals who are familiar with in and around the jungles for years. Hence, they are highly reliable for tiger sightings. WildTrails has its own network of Expert Tiger/Lion Trackers in India.
Sighting data and expert tiger trackers boost your chances up to 90%, while there is a luck factor of 10% involved in this.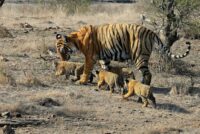 Reasons to book your holiday with WildTrails-
Dedicated platform for wildlife holiday.

We are pioneers in Wildlife. We don't do holidays other than wildlife. 

We have our own network of Expert Tiger Trackers

It's a complete package and has no hidden cost.

We give breakup of the cost to maintain transparency.

WildTrails customer support on booking with us.

We give Sightings Data and insights.

We value your vacations.

On booking a wildlife vacation with us, we immediately create a whatsapp group and the group remains active and we share sightings data, invoices, recommend what to carry, keep our customers updates about the weather report or local news, make sure the jeep and the expert trackers reach the resort/hotel on time, make sure your food is taken care by the resort/hotels, and this group remains active until your trip is done and we drop you back to airport/railway station.

We book safari unlike other OTAs. No Wildlife vacation is complete without a safari. It's an experience not a room booking game.

Trust and safety.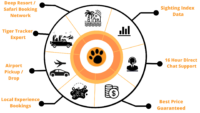 To know more and to get a full list of jungle/nature resorts, please click https://wildtrails.in
You have enough knowledge to plan for a safari trip to Kabini or Nagarhole. Reach out to our experts, head over to our portal to book your next safari trip.
Total Page Visits: 930 - Today Page Visits: 2
---
---
Play with WildTrails Intelligence Tools
1. How many times tiger is seen per month?
2. What's going on in Indian Forests today?
3. Interested in playing more with Tiger sighting graphs? Click
here?
---
Buy Wildlife Fashion Accessories
Exclusive Online Store for wildlife products
Packages
Packages Loading...
Recent Posts