Top Luxury Resorts of Bandipur National Park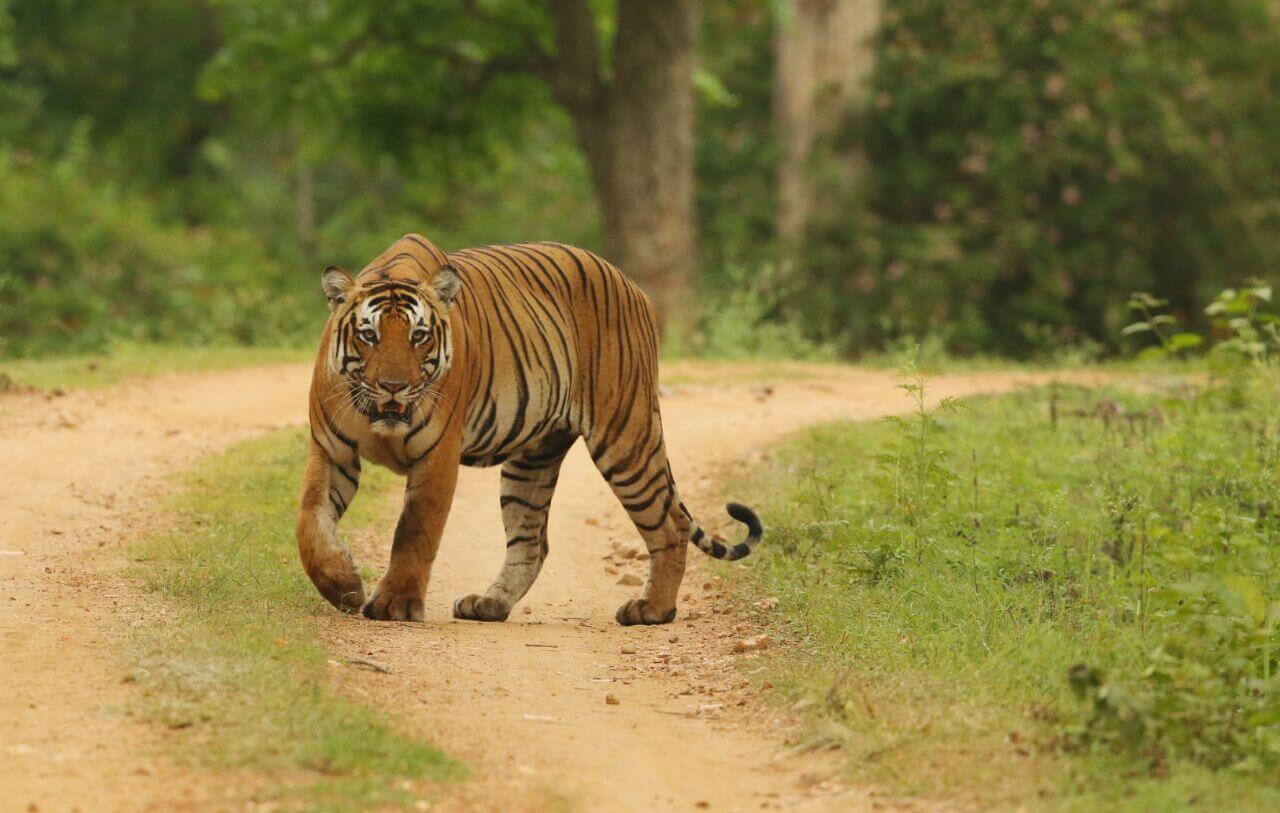 Bandipur National Park/Bandipur Tiger Reserve is approx. 240kms from Bangalore and can be easily reached under 5 hours. It is where the Deccan Plateau meets the Western Ghats and the altitude of the park ranges from 680 meters (2,230 ft) to 1,454 meters (4,770 ft). As a result, the park has a variety of biomes including dry deciduous forests, moist deciduous forests and shrublands. The wide range of habitats help support a diverse range of organisms. The park is flanked by the Kabini river in the north and the Moyar river in the south. The Nugu river runs through the park. The highest point in the park is on a hill called Himavad Gopalaswamy Betta, where there is a Hindu temple at the summit.
Bandipur has the highest number of tigers in all of south India and stands second at national level and also has the second highest tiger density across the country.
You can get more details of the animals/birds present there including number of various animals, their densities, detailed info about the jeep/canter safari and lot more info by downloading our WildTrails of India app (links are mentioned in the signature)
In this article I will mention as well as discussing some of the Best Resorts In Bandipur National Park which are nestled in the forests of Bandipur and that are driving distance from Bangalore.
Serai Bandipur
TripAdvisor Rating: 4.5 out of 178 Reviews, 117 (66%) – Excellent. 47 (26%) – Very Good.  5 (3%)  Average.  5 (3%) – Poor 4 (2%) – Terrible.**
** 5 stars – Excellent, 4 stars – Very Good, 3 stars – Average, 2 stars – Poor, 1 star – Terrible
In the middle of the forest, Serai Bandipur is a very nice property with rooms are awesome with glass roof bathrooms and  with their own private balconies. Very Well maintained. Rooms are very spacious, Conference hall very elegant. Log huts are nice. Great Staff, superb service. Food is amazing and so is the view from the restaurant, the Bar and the pool.  The landscaping of the resort is praiseworthy and their spa is amazing and truly relaxing. Offers Safari and hence no sweat there.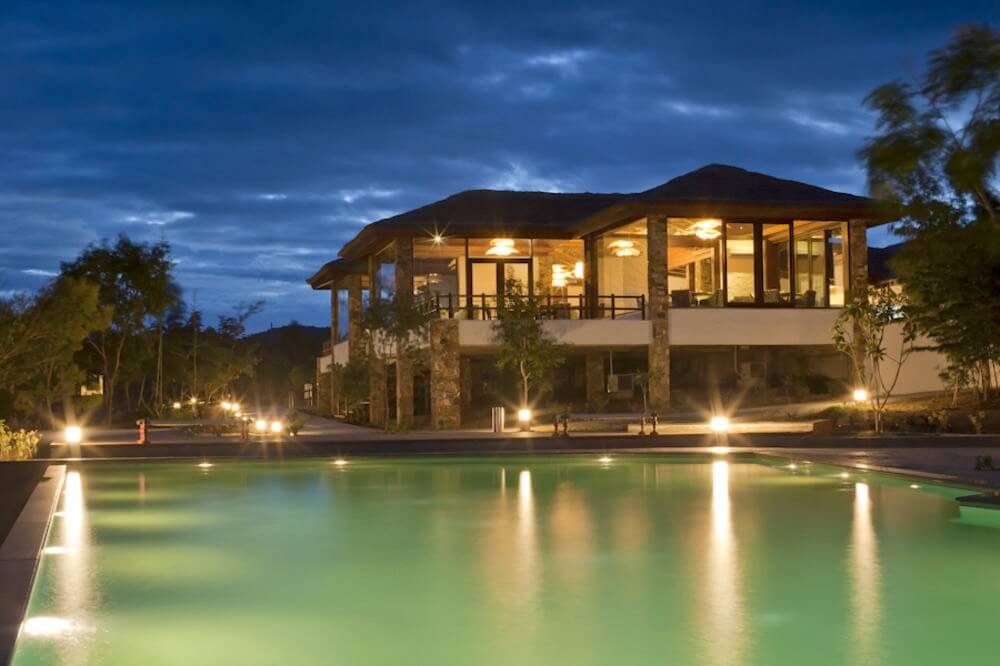 The restaurant is just a place where you can keep staring at the "blue mountain" and the cloud top for hours together. The place also has some outdoor games such as Badminton, bow and arrow and some indoor games as well. You can lay your hands on them to kill that time in afternoon after heavy lunch and a morning Safari (until the evening Safari). Thanks to the nature and greenery within the property and forest adjoining, you get to see some amazing birds and also get to see a few deers & other animals from the property itself.
Windflower Tusker Trails
TripAdvisor Rating: 4.0 out of 375 Reviews, 174 (46%) – Excellent. 147 (39%) – Very Good.  37 (10%)  Average.  6 (2%) – Poor. 11 (3%) – Terrible.**
** 5 stars – Excellent, 4 stars – Very Good, 3 stars – Average, 2 stars – Poor, 1 star – Terrible
It is a very nice resort right in the middle of the bandipur forest. The facilities are basic but with neat huge clean rooms that are maintained very well. The pool is also nice. The buffet spread is good. Service is warm and friendly. Great Staff and are extremely cordial. Since it is located very close to the forest, you will have a pleasant stay. The place is quite, serene and peaceful.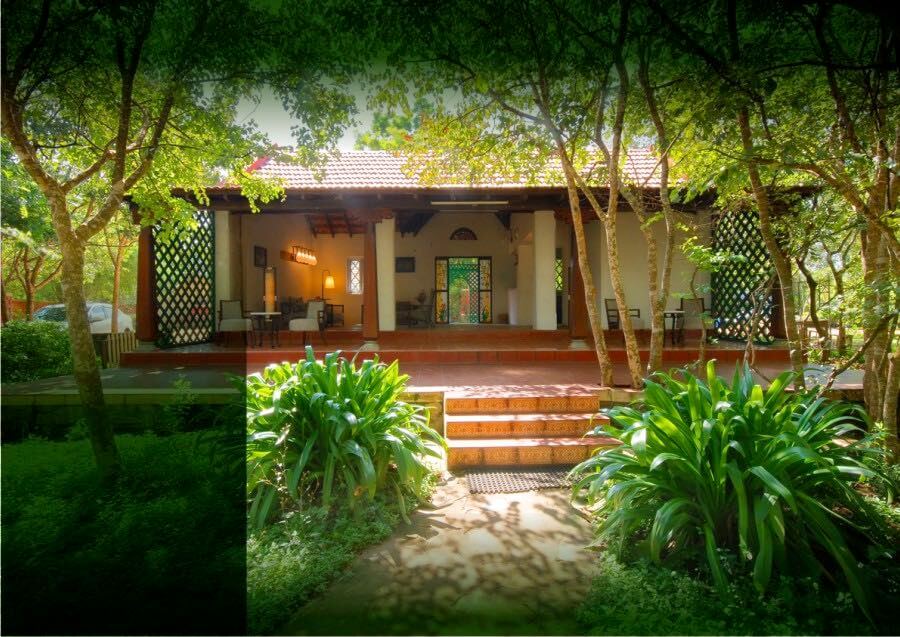 The best part (or the worst part, depends on you) of the hotel was that there is no Tv or access to mobile network. Guests are advised to not step out of their rooms between 10 pm and 6 am to avoid close encounters with animals as it is located in the middle of the jungle
Dhole's Den
TripAdvisor Rating: 4.5 out of 149 Reviews, 103 (69%) – Excellent. 35 (23%) – Very Good.  6 (4%)  Average.  3 (2%) – Poor. 2 (2%) – Terrible.**
** 5 stars – Excellent, 4 stars – Very Good, 3 stars – Average, 2 stars – Poor, 1 star – Terrible
A fabulous wildlife getaway with a difference, the owner and his wife actually stay there which is a nice experience but a great place with an excellent ambience. The food is outstanding and feels very home-cooked, and very courteous & friendly staff who will ensure your stay is pleasant. The staff will surprise you with their deep knowledge of the nature around them with almost complete knowledge  about the animals and birds.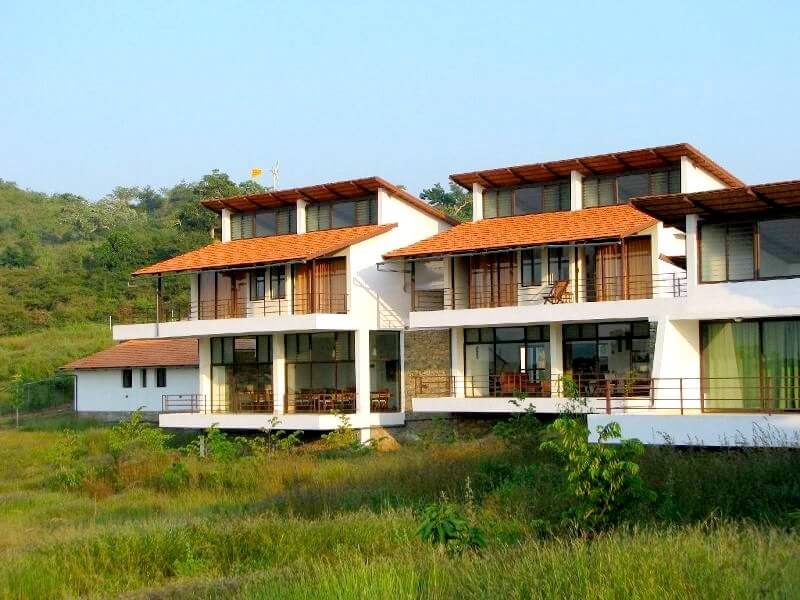 You will get a splendid view of the mountains from this resort. Also the owner is really trying to make a difference to the environment by using renewable energy wherever possible, so although there is no swimming pool or spa, there will be plenty of time on your hands to admire nature, watch the stars and of course the safari. Safari is organized and you don't have to worry about it. No TV, No AC but You absolutely don't need one as you would be engrossed in the view, the nature and the safaris.
To get the detailed info of the place, best season & time to visit, how to get there, safari details / boating/ trekking details, list of animals/birds you can expect to see there , entry/camera fees, and of course all of the accommodations nearby, please download the app or send us an inquiry:
Why To Book With WildTrails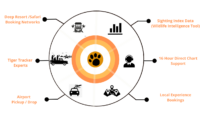 ————————————–
WildTrails of India – "One Stop Destination for all Indian Wildlife Enthusiasts"
PS: Please be a responsible wildlife tourist; No littering, No sounds, No feeding, no getting down from the safari jeep (when on safari), No phone calls. Remember that we are visiting their home and when we are there, let's follow their rules.
Total Page Visits: 3607 - Today Page Visits: 1
---
---
Play with WildTrails Intelligence Tools
1. How many times tiger is seen per month?
2. What's going on in Indian Forests today?
3. Interested in playing more with Tiger sighting graphs? Click
here?
---
Buy Wildlife Fashion Accessories
Exclusive Online Store for wildlife products
Packages
Packages Loading...
Recent Posts