Wildlife Sightings in Ranthambore National Park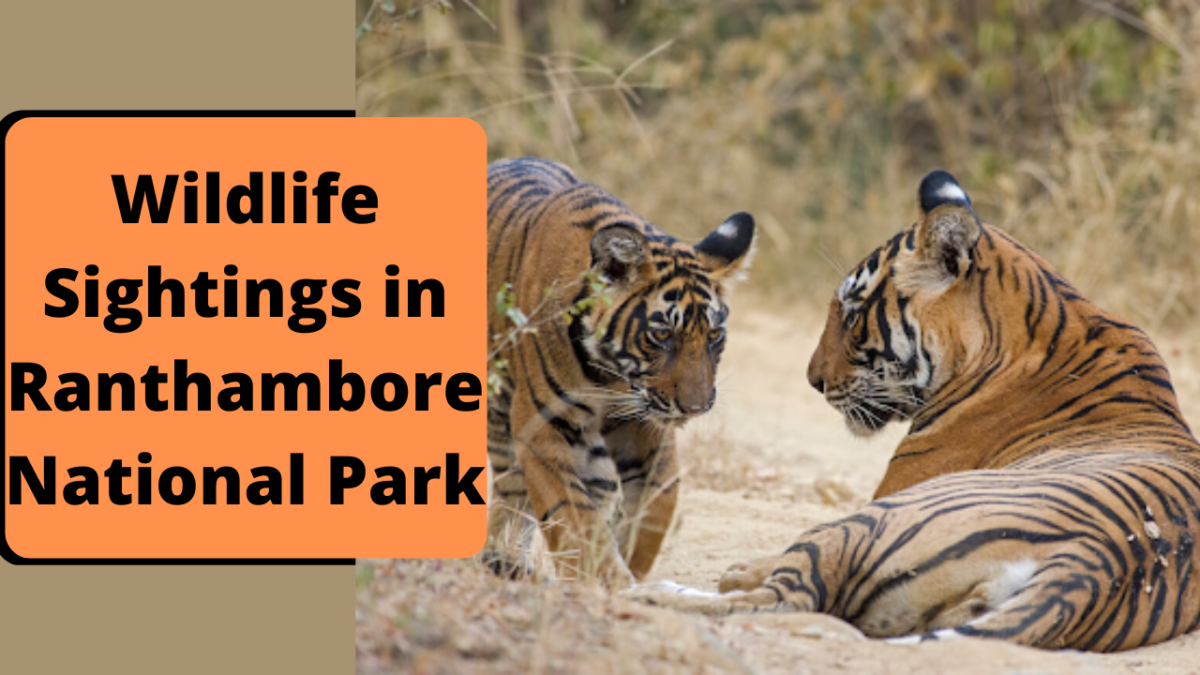 Rajasthan – the incredible state of India. The state is known for its rich heritage and culture and its tourism sector is one of the major contributions to the state revenue, boosting its economy. The state is vast. One end of Rajasthan is with heaps of sand, while the other end is covered with lush green woods. Ranthambore National Park is at the junction of the Aravali and Vindhya hill ranges. It is one of the finest places to witness wildlife. These wildlife sightings are bliss to witness while in Ranthambore. We, at WildTrails, are excited to help you know all about the wildlife sightings in Ranthambore.
What do you need to know about Ranthambore?
There are over 10 gates to enter, Ranthambore National Park is one of the biggest renowned national parks in India. There are many options to explore the forest reserve. Not surprisingly, all these options are of high demand. Furthermore, getting a permit is a gamble and requires some effort to plan a venture.
The forest is spread across over 392 square kilometers area in the Sawai Madhopur district, in the eastern part of Rajasthan. Ranthambore National Park is one of the forest reserves where you have the option of choosing a half-day safari or full-day safari which is recommended for photography professionals and wildlife enthusiasts.
What to sight in Ranthambore?
The Bengal tiger takes pride as the most preferred big cat in the jungle. Besides, Indian leopard, nilgai, wild boar, sambar, striped hyena, sloth bear, southern plains gray langur, rhesus macaque, mugger crocodile chital, and many others to look out for through the woods. The jungle is home to a wide variety of trees, plants, birds, and reptiles.
There is plenty of water available to support a variety of flora and fauna in the forest reserve. Around 300 plant species in the Ranthambore National Park are discovered here. This region receives very scanty rainfalls and so the vegetation in the park mainly comprises of the dry deciduous type. Banyan trees and peepal trees are more common here.
Popular tigers and tigress at Ranthambore
T-84 -Arrowhead

T-57

T- 39 – Noor

T-42 – Fateh
Romeo(T-6) and Laila(T-41) do share good chemistry, attracting tourists within their territory. Other popular big cats here are T-24 (Ustad), T-39 (Mala), T-41 (Junglee), Bina One, Bina Two & T-28 (Sitara).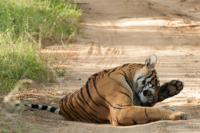 Safari Zones At Ranthambore National Park
Ranthambore National Park is big enough to be sectored into 10 zones. Zone 1 to zone 6 is considered core zones and zone 7 to zone 10 are considered buffer zones. Head over to know the best zone to experience the best wildlife adventure.
The sightings in the jungle are more of a gamble. Tiger sightings can never be guaranteed. However, you can only improve the chances. We, at WildTrails, are pioneers in scheduling a safari tour based on the sighting index. It is the data of the wildlife received directly from the forest.
The Advantage Of the Sighting Index 
One of the biggest issues in Indian safaris unlike the African counterpart is that there are zones in the safari park and you need to buy a safari ticket very specific to that Zone and sightings are many times good in few zones compared to others and picking the right zone for the right season/time is very tough unless you have the past data. The same is true for various tiger parks too. Some parks have more sightings for a given time frame/season than others and picking the right park for the given/selected dates, past sightings will be of great help.
We at WidlTrails collect such raw sightings data and convert them into meaningful insights that will help the traveler to plan better in picking the right tiger park as well as the right zone. We are the only one who does this.
The sighting at a particular Indian National Park can be less guaranteed as no one exactly knows the right places of the big paws. The quench for survival makes them wander all through the jungle. One safari session can, however, be made better with the available sources. We, at WildTrails, take pride in being pioneers for blending the AI along with the data we acquire directly from the jungle known as the sighting index. This boosts the sighting chances up to 90%. The sighting index along with an expert tiger tracker is more than enough for a safari worth remembering.
When to visit Ranthambore for effective sighting?
October to June is the time of the year when the park is filled with tourists. You can expect the park to be closed from July to September due to excess rainfall. Sightings can be more during summer, from March till June.
October to February is the time when the mornings get extreme cold here. March to June can be hot and humid. Carrying drinking water for the safari is suggested. Further, we recommend dressing according to the weather conditions. Be prepared for unscheduled rains at any point of time.
Best Time To Visit Ranthambore National Park
Booking your next safari at Ranthambore National Park is just a few steps-
Step 1: Head over to https://packages.wildtrails.in/
Step 2: Select Park Name as Ranthambore National Park. Fill in the Check-in and Check-out dates along with your group size.

Step 3: Choose the type of accommodation. It can be anything as per your budget. Click on 'Details'.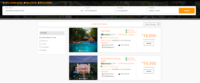 Step 4: Select the number of safaris drives and the type of safari you wish to choose.
Step 5: Select add-on options if you wish to have them to your itinerary. Click on Send Enquiry.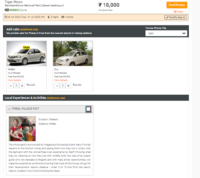 Step 6: Fill out the form-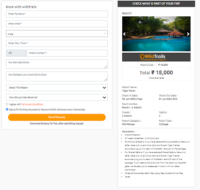 That's it. Your job is done. Now sit back and relax until our experts reach out to you.
Reasons to book your holiday with WildTrails–
1)  Dedicated platform for a wildlife holiday.
2)  No travel agent commission involved. Direct price from the resorts, hence, the best price in the market.
3)  No middlemen, no additional commissions, no unnecessary markups, the best competitive rates you can ever get, and the best part is you connect directly with the Resorts/Hotels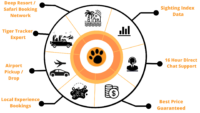 With the right knowledge of wildlife sightings, we are now sure that you would now know when to plan your next safari to Ranthambore. Choose the best time to visit Ranthambore and head over to our website to book your next holiday to Ranthambore National Park.
Total Page Visits: 1765 - Today Page Visits: 1
---
---
Play with WildTrails Intelligence Tools
1. How many times tiger is seen per month?
2. What's going on in Indian Forests today?
3. Interested in playing more with Tiger sighting graphs? Click
here?
---
Buy Wildlife Fashion Accessories
Exclusive Online Store for wildlife products
Packages
Packages Loading...
Recent Posts