Which Zone Is Best In Ranthambore. To Have Better Sightings Avoid These Mistakes.
This is one of the most interesting topic to discuss while many of our customers also wanted to know Which Zone Is Best In Ranthambore, what time is best for sightings big cats that is Tiger, Leopard & other wildlife.
Everybody who enters jungles have their own perceptive on what exactly they like to spot. Also, many customers ask "Which zone is best in Ranthambore." Many customers want to see a Tiger & they ask for 100% assurity. While we started to educate and thankfully many are aware that, nobody can guarantee 100% wildlife sightings as you are entering a jungle & not a zoo. But what we do in WildTrails is, help our customers by increasing their chances of sightings by booking the zones that have more visibility for sightings. We have a rule that is Indian Wildlife Safari Experience. It's the "60-30-10" rule
And honestly, if you follow these rules your chances certainly increase for sure. What we say is we will help to increase your luck factor by 90% by booking the correct gates/zones(based on availability) & by booking the expert tiger trackers, we also say is that the last mile is, 10% is purely a luck factor. Safari Zones At Ranthambore National Park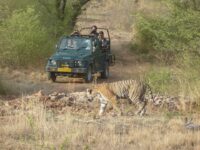 Also, through this blog what we want to educate is that, please do not consider Wildlife booking as your other adventure bookings where hotel always comes first. When it comes to Wildlife package bookings these are a few important factors that one has to consider.
Ranthambore Safaris ticket bookings have to be given 1st priority. 

You should never book a Ranthambore Safaris ticket last minute. You should also book 6 months in advance

Expert tiger trackers are a must. We have our own hand-picked Ranthambore tiger trackers who are extremely professional & are experts in understanding the alarm calls of the jungles & they are the best storytellers too.

Last comes the hotel/resorts bookings. 
How To Book Online Tickets For Ranthambore Safari
Unfortunately, what we have noticed is that people always do the reverse that is hotel & then safaris, and hence they end up with no sightings or the entire vacation goes for a toss. Also please note that, when you are booking a Ranthambore wildlife vacation, no hotels will tell you where are they situated and how far or close they are to the safaris gates, Few resorts are closer to the safari gates while other resorts could be 30 to 40 km away from the Ranthambore safari gate.  When you arrive in Ranthambore your time will go away in traveling from one safari gate to another. 
Always, you may ask, if the resort is closer to the safari gate can I book that hotel Answer is no, you have to understand that does that gate has sightings? 
Reasons To Book Your Holiday With WildTrails–
1)  Dedicated platform for wildlife holiday.
2)  No travel agent commission involved. Direct price from the resorts, hence, the best price in the market.
3)  No middlemen, no additional commissions, no unnecessary markups, the best competitive rates you can ever get, and the best part is you connect directly with the Resorts/Hotels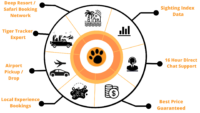 FAQs‌ ‌About‌ ‌Ranthambore‌ ‌ National Park
Total Page Visits: 398 - Today Page Visits: 1
---
---
Play with WildTrails Intelligence Tools
1. How many times tiger is seen per month?
2. What's going on in Indian Forests today?
3. Interested in playing more with Tiger sighting graphs? Click
here?
---
Buy Wildlife Fashion Accessories
Exclusive Online Store for wildlife products
Packages
Packages Loading...
Recent Posts