10 Of the Best Luxury Safari Lodges To See Big Cats In India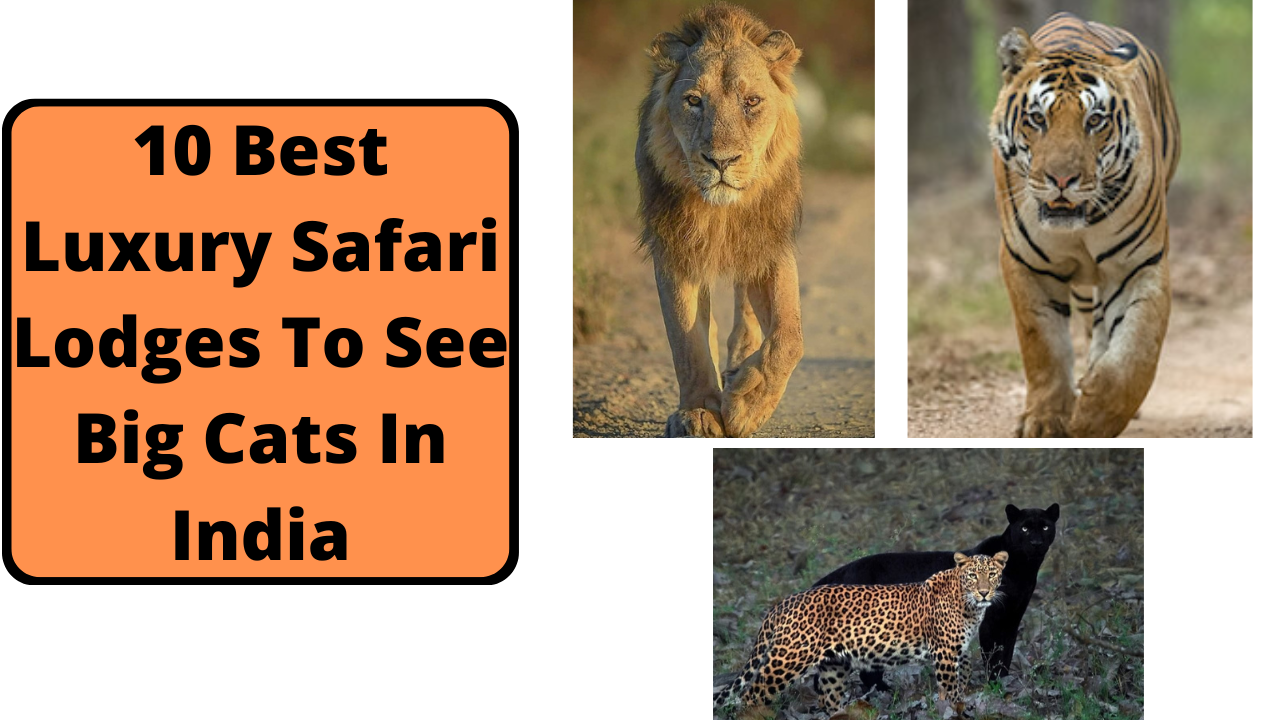 India takes pride in conserving over 80% of the tigers in the world. Thanks to the campaigns like Project Tiger, there are a reasonable amount of big cats in most of the woods. Not just tigers, there are different species of leopards and even Asiatic lions that are been well conserved. Brownie points to the properties that strive to offer the best wildlife experience to wildlife enthusiasts. We share the best 10 luxury safari hotels to sight big cats all over India.
Here are the 10 Best Luxury Safari Lodges To See Big Cats In India
Sujan Jawai
Location: Rajasthan
The name is derived from the river Jawai which seasonally flows through the property. Jawai experience offers some of the most thrilling, authentic, and unique ways to encounter the wilderness and wildlife and immerse in the local culture of the region. The interiors are carefully matched to include a splash of scarlet red – inspired by the color of the Rabari turban – set against the monochrome white and black.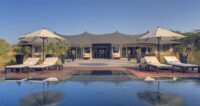 2.  Sujan Sher Bagh
Location: Ranthambore, Rajasthan
Sher Bagh evokes nostalgic sensibilities of life on safari during the heydays of an era celebrated for its art de Vivre, living elegantly under canvas, whilst on safari. With crackling campfires under starlit skies, sumptuous Anglo-Indian repasts using homegrown organic produce, coupled with old-world service, the camp epitomizes life on safari as it ought to be lived.
Ranthambhore National Park is the world's finest place to observe tigers in the wild, and SUJÁN Sher Bagh is the ideal base from which to explore this billion-year-old forest, with the mighty citadel that lends its name to the reserve rising majestically at the heart of it. With ruins of palaces, cenotaphs, and follies dotted around the jungle, now inhabited by its wild denizens, with the tiger at the apex, it is spectacular wildlife heaven.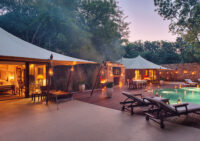 3. Bori Safari Lodge
Location: Madhya Pradesh
Tucked amidst the lush and rustic locale of Dhapada village, Bori Safari Lodge is a charming resort in Madhya Pradesh that offers the perfect escape from the hustle and bustle of everyday life. Soak in the raw beauty of nature as you stay in this village lodge located near the Bori Wildlife Sanctuary, nestled amidst a 7.5-acre farmland estate.
Bori Safari Lodge offers a complete experience of village life while keeping in mind the comfort of a contemporary traveler. There are 8 well-appointed ensuite rooms, beautiful dining spaces, a spa, a plunge pool, and a library at the lodge. The resort features high-speed Wi-Fi that makes it the ideal spot for senior management personnel to work amidst nature. This exclusive resort is located just 15 kilometers from the Bhopal-Nagpur highway and offers exclusive safaris to the guests who stay at our hotel.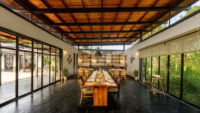 4. Pugdundee Safaris Treehouse Hideaway
Location: Bandhavgarh, Madhya Pradesh
Tree House Hideaway – On and among the trees in our five tree houses there is a route to hide away from fantasies. In the 21 acres area of forest rests an option of experiencing the snug life inside the rooms or venturing out into the tiger-infested wild.
The property has its resident species of birds, reptiles, and animals residing around the forest trees, and over time the area has now become a small secure park for them. You can spend your time unseen and undisturbed in the intimacy of your room or choose to go looking for wild animals & birds in Bandhavgarh Tiger Reserve.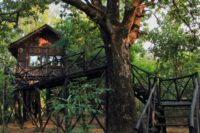 5. Evolve Back Kuruba Safari Lodge
Location: Kabini Wildlife, Karnataka
Evolve Back's Spirit of the land philosophy finds its most intimate expression at Kabini, where you are drawn into the vibrant social tapestry of the local Kadu Kuruba tribe. While you discover a vernacular dimension to luxury that's truly liberating, the resort gives you a wildlife experience like no other. Inspired in design by the Hadis or tribal villages, this picturesque resort of sweeping panoramic vistas, is bordered on two sides by the Kabini River.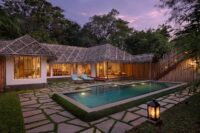 6. Taj Safaris
Locations: Central India
India's largest, most successful, and most reliable hospitality brand has its presence across the jungles of Central India with pride. Exclusive properties by IHCL in the form of Taj Safaris in Pench, Kanha, Bandhavgarh, and Panna national parks as well as in Kathmandu – Nepal is open to welcome guests in the lap of luxury.

7. Samode Safari Lodge
Location: Bandhavgarh, Madhya Pradesh
The inspiration is the colorful vernacular architecture of the region, the decor and setting are distinctly Indian. Return to unmatched hospitality and luxury. Stay in one of the 12 independent villas spread across the property. Tranquil, luxurious, and spacious, your villa will house you in comfort during your adventure in the Bandhavgarh forests.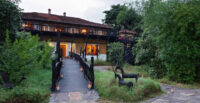 8. Aahana Resort
Location: Jim Corbett, Uttarakhand
Welcome the first rays of the rising sun – Aahana (in Sanskrit) – from the finest hospitality provider in Corbett: Aahana – The Corbett Wilderness. With sustainability as its heart, and warmth as its soul, Aahana is a highly rated uber-luxury resort, spread over a sprawling 13.5 acres at the southern edge of Jim Corbett Tiger Reserve, Uttarakhand. Ideally placed between the dense jungles of the reserve and a local farming village, Aahana brings your classic hospitality in a grand setting. A club that with our eco initiatives that have earned us accolades, and you have a winning cocktail where luxury meets responsibility.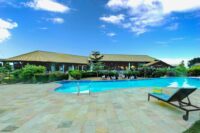 9. Woods At Sasan
Location: Sasan Girs, Gujarat
Experience a unique stay, immersed in nature, within 8 acres of a lush mango orchard on the fringes of the Sasan Gir forest. Woods at Sasan offers luxurious, independent living spaces, each with its own private garden; open skies, and surrounded by acres of gently waving grass and thickets of trees.
With excellent dining options, bespoke Ayurveda, Yoga and Wellness programs, exciting local Experiences and a host of on-site Nature activities, Woods at Sasan is an ideal break from city life – a time to relax, unwind and discover joy.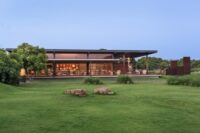 10. Red Earth
Location: Kabini, Karnataka
Among this amalgamation of waterways and forests lies Red Earth Kabini. An unpretentious resort located on the backwaters of the Kabini Dam, Red Earth Kabini encapsulates what Kabini is all about and promises to leave you with an experience of diversity and well-being that is unparalleled.
Whether it's the chorus walk in the early hours of the day, the flagship safaris at Nagarhole National Park or the idyllic coracle ride on the backwaters, every experience at Red Earth Kabini promises to leave you with an everlasting memory of the wild, and an itch to return for more.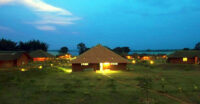 Booking your next safari is just a few steps-
Step 1: Head over to https://packages.wildtrails.in/
Step 2: Select your favorite National Park. Fill in the Check-in and Checkout dates along with your group size.

Step 3: Choose the type of accommodation. It can be anything as per your budget. Click on 'Details'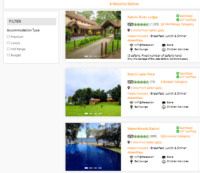 Step 4: Select the number of safari drives and the type of safari you wish to choose.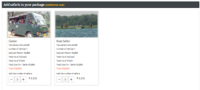 Step 5: Select add-on options if you wish to have them to your itinerary. Click on Send Enquiry.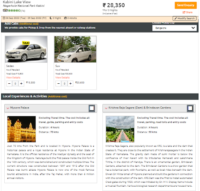 Step 6: Fill out the form-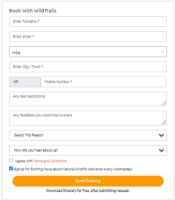 Reasons to book your holiday with WildTrails–
1)  Dedicated platform for a wildlife holiday.
2)  No travel agent commission is involved. Direct price from the resorts, hence, the best price in the market.
3)  No middlemen, no additional commissions, no unnecessary markups, the best competitive rates you can ever get, and the best part is you connect directly with the Resorts/Hotels. Further, your booking amount shall benefit the locals and hence will help improve their economic condition which in a way is critical for better conservation of the flora and fauna in the park.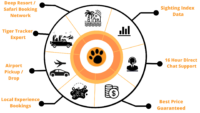 Explore the lush green woods by staying at these top-class properties. Head over to our website to book your next wildlife holiday at your favorite national park.
Total Page Visits: 1301 - Today Page Visits: 1
---
---
Play with WildTrails Intelligence Tools
1. How many times tiger is seen per month?
2. What's going on in Indian Forests today?
3. Interested in playing more with Tiger sighting graphs? Click
here?
---
Buy Wildlife Fashion Accessories
Exclusive Online Store for wildlife products
Packages
Packages Loading...
Recent Posts