Complete Travel Guide To Bandhavgarh National Park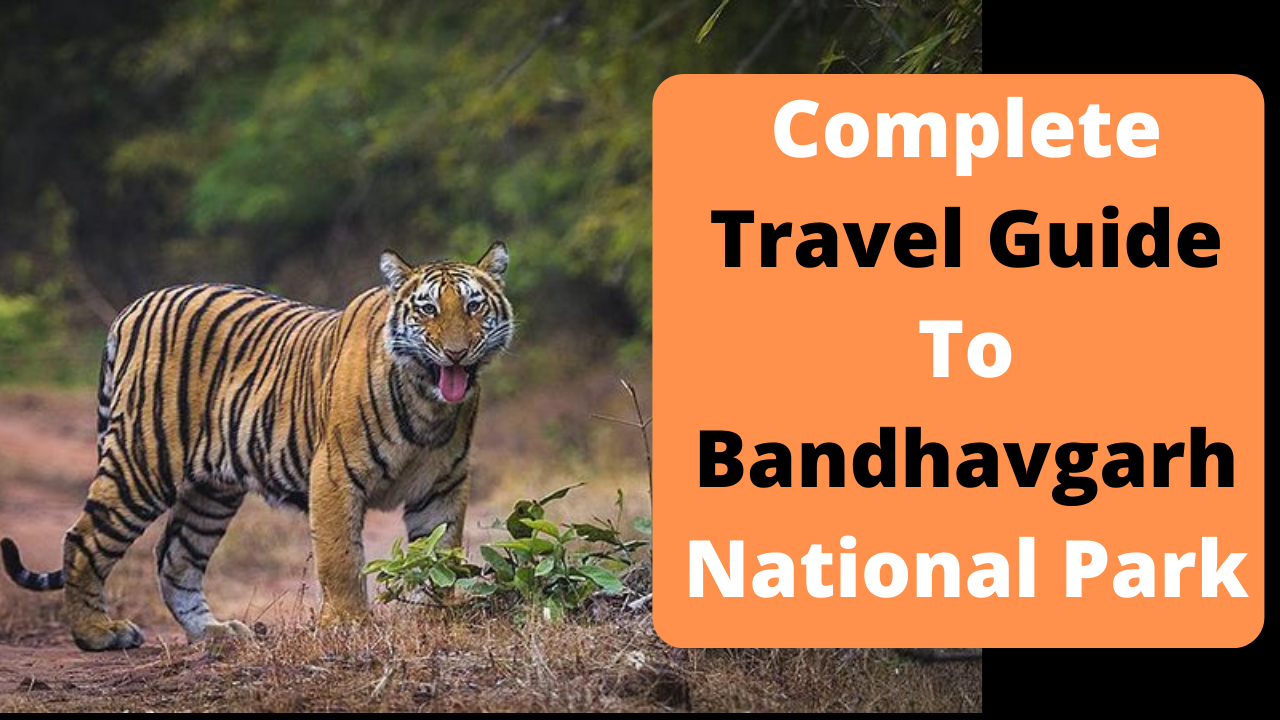 The heart of India, Madhya Pradesh has a lot to offer for the tourists who visit here. The Vindhya mountains that acts as crown to the state has exotic sceneries. Visiting them would be a lifetime experience. Bandhavgarh National Park is one such national park that is located near the mountains. Located in Umaria district, Bandhavgarh is a place for wildlife enthusiasts to explore. Here, we come up with the complete travel plan to your holiday to Bandhavgarh National Park.
History Of Bandhavgarh 
The name 'Bandhav-garh' here translates to brother's fort. As per Ramayana, it is believed that lord Rama gifted this place to his brother Lakshmana, after conquering Lanka. It is from then; the place gained popularity. However, the forest reserve got the national park status in 1968.
Flora and Fauna Of Bandhavgarh National Park
The Park covers 716 square kilometers of core area to explore for. The woods are sighted with Sal, Dhaora, Tendu, Amla, Palas, Salai, Mango. Jamun, Kadam, Khajur, Bamboo, Boswelia. A lot of bushes and grasses are seen that serve as food for the herbivores in the jungle.
White tiger and Royal Bengal tiger are tourist's treasure while on the adventure. Leopards, Sambar, Barking Deer, Nilgai, Wild Boar, Gaur,   and Chinkara, the Asiatic jackal, Bengal fox, sloth bear, ratel, grey mongoose, striped hyena and jungle cat are other wildlife mammals you can find while in the jungle. You can even spot reptiles like cobra, krait, viper, ratsnake, python, turtle and a number of lizard varieties, including varanus.
You can find a wide variety of birds across the forest. Red-throated Flycatcher, White-browed Blue Flycatcher, Tickell's Blue Flycatcher, Verditer Flycatcher, Grey-headed Flycatcher, White-browed Fantail Flycatcher, Paradise Flycatcher, Black-napped Flycatcher, Zitting Cist cola, Grey-breasted Prinia, Jungle Prina, Common Tailorbird, Clamorous Reed Warbler, Blyth's Reed Warbler, Lesser Whitethroat, Common Chiffchaff, Tickell's Leaf Warbler, Sulphur-bellied Warbler, Dusky Leaf Warbler, Yellow browed Leaf Warbler, Open bill stork, Wooly necked stork, Black stork, Lesser Adjutant Stork, Black-headed Ibis, Black Ibis, Bar headed Goose, Lesser whistling duck, Ruddy Shel duck, Northern Pintail, Common Teal, Common Pochard, Cotton Teal, Comb Duck, Black shoulder Kite, Oriental honey Buzzard, Black Kite, Shikra, Little Grebe, Great cormoarant, Darter, Gray Heron, Purple Heron, Pond Heron, Cattle Egret, Large Egret, Intermediate Egret, Little Egret, Black bittern, Eurasian Sparrow hawk, Northern Goshawk, White-eyed Buzzard, Changeable Hawk Eagle, Bonelli's Eagle, Steppe Eagle, Lesser Spotted Eagle, Grey-headed Fish Eagle, Red-headed Vulture, India long-billed Vulture, White rumped Vulture, Egyptian Vulture, Hen harrier, Pied Harrier, Eurasian Marsh Harrier, Short-toed Snake Eagle, Crested Serpent Eagle, Osprey, Peregrine Falcon, Eurasian Hobby, Common Kestrel, Painted Francolin, Grey Francolin, Jungle Bush Quail, Painted Spur fowl, Red Jungle fowl, Indian peafowl, Barred button Common Bustard, Quail, Sarus Crane, White-breasted Water hen, Common Moorhen, Bronze winged Jacana, Greater Painted Snipe, Black-winged Stilt, Eurasian Thick knee, Great Stone Plover, Red wattled Lapwing, Spur winged Lapwing, Yellow-wattled Lapwing, Little Ringed Plover, Lesser Sand Plover, Common Greenshank, Spotted Redshank, Green Sandpiper, Wood Sandpiper, Common Sand piper, Pintail Snipe, Temminck's Stint, Little Stint, River Tern, Black-bellied Tern, Painted Sand grouse, Yellow-footed Green Pigeon, Rock Pigeon, Oriental Turtle Dove, Eurasian Collared Dove, Red Collared Dove, Spotted Dove, Laughing Dove, Emerald Dove, Alexandrine Parakeet, Rose-ringed Parakeet, Plum-headed Parakeet, Pied Cuckoo, Common Hawk Cuckoo, Indian Cuckoo, Eurasian Cuckoo, Grey-bellied Cuckoo, Drongo Cuckoo, Asian Koel, Sirkeer Cuckoo, Crow – pheasant, Collared Scopes Owl, Brown Fish Owl, Jungle Owlet, Brown Hawk Owl, Spotted Owlet, Mottled Wood Owl, Grey Nightjar, India Nightjar, Savanna Nightjar, White rumped Spine tail, House Swift, Crested Tree Swift, Pied Kingfisher, Common Kingfisher, Stork-billed Kingfisher, White-throated Kingfisher, Green Bee-eater, Puff Throat Warbler, Dull Green Leaf Warbler, Blyth's Leaf Warbler, Ruby throat, Blue throat, Oriental Magpie Robin, Black Redstart, Common Stonechat, Pied Bush chat, Gray Bush chat, Indian Robin, Blue capped Rock Thrush, Blue Rock Thrush, Orange-headed ground Thrush, Plain-backed Thrush, Scaly Thrush, Tickell's Thrush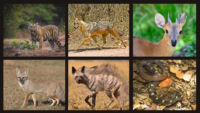 Zones And Gates Of Bandhavgarh National Park :
Bandhavgarh forest reserve has 3 core zones and 3 buffer zones to explore for-
Core zones
Tala zone

Maghadi zone (Also known as gate 2)

Khitauli zone (Also known as gate 3)
Buffer Zones
Dhamokhar zone

Johila (Kalwa) zone

Panpatha (Pachpedi) zone
Get more information about the zones in Bandhavgarh and which zone to choose for safari as per the recent sighting data.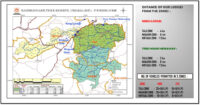 Different Types of Safaris At Bandhavgarh National Park
Jeep Safari : 
2 options; Shared or exclusive to choose for. Further, exclusive option has 2 types; restricted(3 hours) to one particular zone and full day safari where you can explore the entire forest irrespective of the zone. A single jeep can accommodate up to 6 tourists.
Canter Safari :
A single canter can accommodate up to 20 tourists. This comes in the shared option and is the most economical option to explore the woods.
Elephant Back Safari: 
Elephant back safari is seasonal. Elephant back safari takes you to the places where you can not go by the gypsy.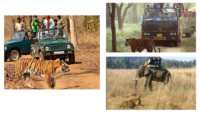 Safari Timings At Bandhavgarh 
Morning safari – 6 AM to 11 AM
Evening safari – 3 PM to 6 PM
Best Season To Visit Bandhavgarh National Park
The best time to visit Bandhavgarh for safari would be from October to June. July to September would not be a good time due to rains.
Weather from October to February is expected to be extreme cold, particularly during morning safari. It is strongly recommended to plan your attire accordingly.
The weather during March to June is expected to be dry and humid. Carrying water for drinking is of the top-most priority in the to-be-carried list.
How to reach Bandhavgarh?
By Road :
The nearest city is Jabalpur which is around 220 kilometers from Bandhavgarh. The roads are well connected from the major cites to reach here. Unfortunately there are no buses that ply towards here from the major cities.
By Flight : 
The nearest airports are Jabalpur and Khajurao and there are daily flights that ply here from Mumbai and Delhi.
By Rail :
The nearest railway station to check out for reaching Bandhavgarh National Park is Umaria Railway station. The forest gate is only 32 kilometers from here. There are private taxis and buses to reach Bandhavgarh.

Types Of Accommodations At Bandhavgarh
With 3 core zones and 3 buffer zones to the forest reserve, Bandhavgarh offers a wide range of accommodations near its entry gates. At WildTrails, we suggest you choose the gate first to explore the jungle, book them and then proceed with choosing the accommodations. More details on choosing the Best Resorts To Stay In Bandhavgarh
We at WildTrails have 3 types of accommodations namely, budget, mid-range, and luxury. The safari package cost varies depending on the type of accommodation you look out for. However, the properties listed on our portal are of top level, ensuring every buck you spend is worth it.
Budget Category :
It has all the basic-level facilities at the lodge and the prices are lower when compared to other types. The comfort level can be expected on the lower end.
Mid-Range Category :
It has little higher amenities when compared to the budget level lodges. While the budget level accommodation can be compared with features of a hatchback car, the services in mid-range accommodation can be compared with that of a sedan.
Luxury Category :
This Category consists of top-level facilities and amenities where the priority is given to the comfort level and top-notch quality of service. The services in the mid-range accommodation can be compared to commuting in a basic sedan car, while the services in the luxury type accommodation can be compared with commuting in a luxury car like Mercedes.
Nearby Attractions At Bandhavgarh National Park
Bandhavgarh caves :
The caves are near Tala zone and have a 2000-year-old history.
Bandhavgarh Fort
:
A one-hour trek at Bandhavgarh fort is a healthy way to explore. The fort is located in the Tala zone and is over 2000-year-old. A 35 feet tall statue of lord Vishnu is found here.
Tala Village
  :
A set of mud houses to look out for, defines the simple lifestyle of the villages here.
Bamera Dam
:
10 kilometers from Bandhavgarh National Park, Bamera dam is located in Panpatha sanctuary. Some amount of quality time spent here is indeed relaxing.
Jwalamukhi Temple :
A perfect attraction to the tourists and an opportunity to seek blessings of Lord Jwalamukhi. The temple is located 10 kilometers from the national park on the banks of river Charan Ganga.
Khajurao and Jabalpur
:
These places are over 200 kilometers from Bandhavgarh National Park. However, heading over here to explore the unique architecture of ancient temples and forts is worth it.
Get Your Customized Bandhavgarh Package
Flagship Species At Bandhavgarh :
Sighting of tigers and leopards is indeed challenging but worth exploring. You spot a white tiger, then your day goes well. Tigers are seen around the ponds during dry weather. The famous gaur, once considered endangered, was reintroduced here back in 2011. Since then, there are a reasonable amount of the species spotted here.

Reasons To Book Your Holiday With WildTrails–
1)  Dedicated platform for wildlife holiday.
2)  No travel agent commission involved. Direct price from the resorts, hence, the best price in the market.
3)  No middlemen, no additional commissions, no unnecessary markups, the best competitive rates you can ever get, and the best part is you connect directly with the Resorts/Hotels
To know more and to get a full list of jungle/nature resorts, please click https://wildtrails.in
Now you have the complete travel guide to explore Bandhavgarh National Park, head over to our website to book your trip and have the best itinerary and packages for your adventure.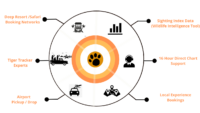 Total Page Visits: 572 - Today Page Visits: 1
---
---
Play with WildTrails Intelligence Tools
1. How many times tiger is seen per month?
2. What's going on in Indian Forests today?
3. Interested in playing more with Tiger sighting graphs? Click
here?
---
Buy Wildlife Fashion Accessories
Exclusive Online Store for wildlife products
Packages
Packages Loading...
Recent Posts