Tiger Sighting Zones in Bandhavgarh National Park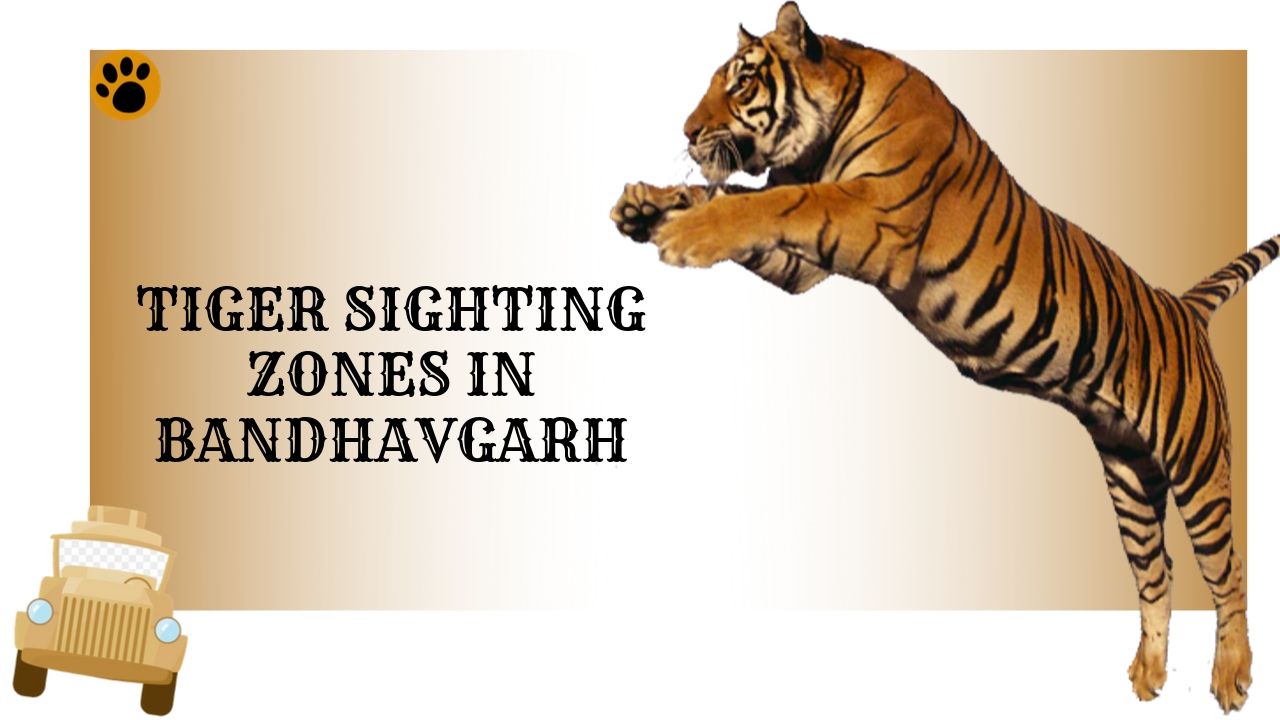 Bandhavgarh National Park: Known as the land of tigers and also very famous for the Tiger population but are you aware of the tiger sighting zones in Bandhavgarh? With an area of 105 km², spread across 400 km² buffer area(approx) and 105 km² core zone, every widlifer has one doubt that: What is the best Tiger Sighting zone in Bandhavgarh? or Which zone to visit for the best Tiger Sightings in Bandhavgarh?
There are 3 known Tiger Sighting Zones in Bandhavgarh i.e Tala zone, Magadhi zone & Khitauli zone. These zones are considered to be the best in tiger sightings. These three safari zones are also divided into routes. For jungle safari, the customers are allotted two routes(one for going inside and the other one for the exit) for one safari round.

Best Zones for Tiger Sightings in Bandhavgarh
Tala Zone: One of the oldest and most beautiful safari zone, and most importantly one of the best zone for Tiger Sightings in Bandhavgarh. Some important places to see in Tala zones are Badi Gufa, Siddha Baba, Chakradhara, Ketkiha, Sita Mandap, & Three Cave Point.
Magadhi Zone: also known as Gate 2, Magadhi zone is a beautiful area with grassland and dense forest. The Magadhi zone is adjoining the Tala zone (in the southeast area). Like Tala zone, Magadhi is also known for the good Tiger Sightings. Tigers that have territories in the Tala zone also share the territories in the Magadhi zone.
Khitalui Zone: Khitauli (also known as Gate 3), it is the forest area of the western part of the Bandhavgarh Tiger Reserve. The forest area on the left side of yours will be Khitauli zone and on the right side will be Magadhi and Tala zone. Khitauli zone is also known for Birding & herbivores animal sighting.
RECENT SIGHTINGS

You can get all the recent (session to session, day to day, weekly) sighting information of Bandhavgarh and across all national parks & tiger reserves here(Click Here). We compile all these important data of all mammals, reptiles, birds and calculate what we call historic and predictive sighting index which helps the wildlife lovers to pick the park and zones based on the sightings.
Check the Recent Sightings Index before planning any wildlife safari
The tiger sightings keep changing from time to time. Sometimes the sighting is good in Magadhi and sometimes it's good in Tala or Khitauli. Before planning any wildlife trip it is very important to check the Sightings Index,
So, I would suggest you to plan a jungle safari based on the latest Sightings Data Index. You can check and compare the Sighting Index of Bandhavgarh or any other park  (Click Here).
[faq group=bandhavgarh]
Must read the below-given blogs before planning any wildlife trip to Bandhavgarh.
Total Page Visits: 3850 - Today Page Visits: 3
---
---
Play with WildTrails Intelligence Tools
1. How many times tiger is seen per month?
2. What's going on in Indian Forests today?
3. Interested in playing more with Tiger sighting graphs? Click
here?
---
Buy Wildlife Fashion Accessories
Exclusive Online Store for wildlife products
Packages
Packages Loading...
Recent Posts