Best Places To Stay Around Chandrapur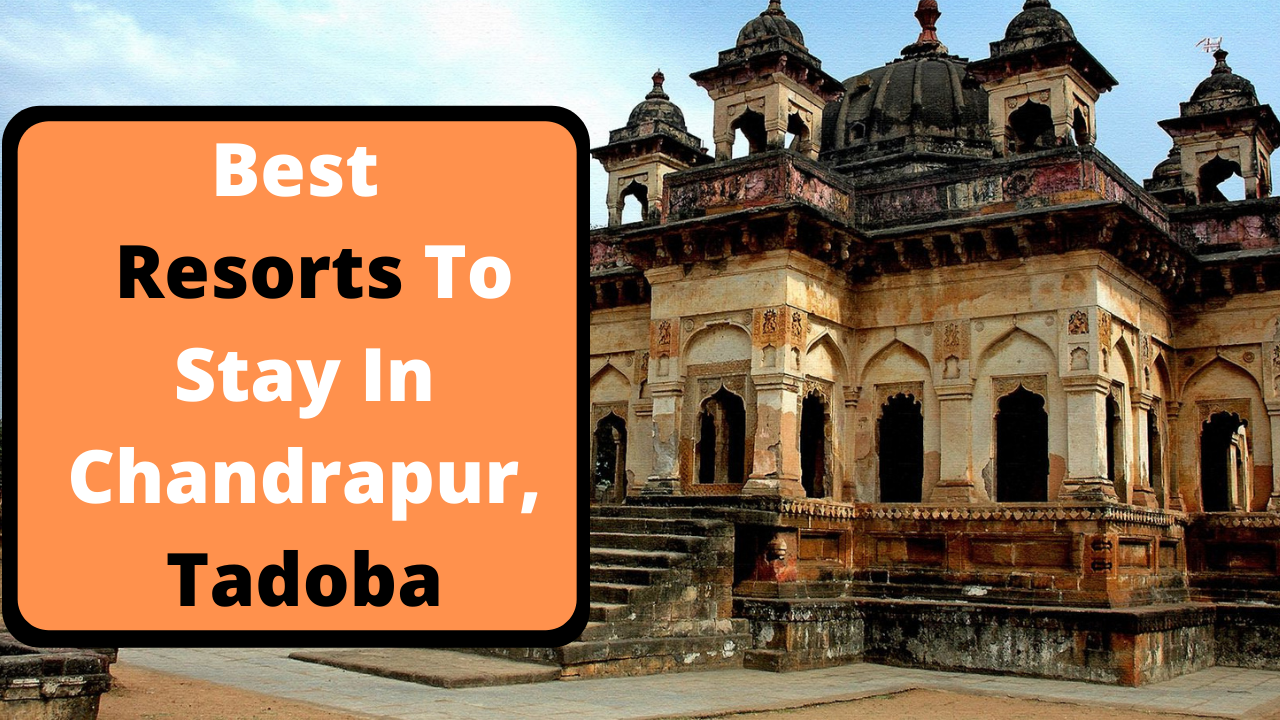 About Chandrapur :

The eastern side of Maharashtra is often less sounding. It might be because of less urbanisation in this zone of the state. However, people who know about Chandrapur tend to travel here now and then. Hence, we come up with the best places to stay in and around Chandrapur.
Chandrapur was named Chanda till 1964, and is known as fort city. It was founded by Khandkya Ballal Sah, a Gond king of the 13th century. The area around the city is rich in coal seams, hence it is also known as 'black gold city.'
Here are few lodges that are recommended if you plan to visit Chandrapur-
Tiger King Resort :
Distance from Chandrapur – 113 km
The resort features a magnificent swimming pool, traditional garden, interactive kitchen and a Safari Shop. Accommodation types are dormitory, cottage and premium level rooms.
Vanya Vilas Wildlife Resort :
Distance from Chandrapur – 111 km
Welcom Heritage Tadoba Vanya Villas resort & spa is an elysian haven amidst the enchanting woodlands of Tadoba. One of the best place to stay if you wish to explore Tadoba Tiger Reserve, the property has cottage type accommodations. The cottages are of 2 types – Premium and Luxury.
The Pugmark Jungle Lodge :
Distance from Chandrapur – 30 km
A great option for travellers looking out for homestay in Moharli. It is located in Bhamdeli Raiyyatwar, around 30 km from Chandrapur.
Tigers Empire :
Distance from Chandrapur – 107 km
Tigers Empires welcomes you to their world of luxury. They have 3 different type of suites – Royal, Executive and Presidential suite.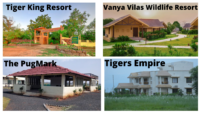 7 Tigers Resort :
Distance from Chandrapur – 102 km
7 Tigers Resort is in located in Masol village, Chimur district of Maharashtra. The nearest gate to enter Tadoba Tiger Reserve is just 3 kilometres from the property. They have luxury rooms and suite with bed and breakfast option.
Chimur Tiger :
Another resort located in Masol village; Chimur Tiger resort is preferred for the tourists planning to explore Tadoba Tiger Reserve.
Chava Resort :
Distance from Chandrapur – 110 km
Experience the greatness at Chava Resort. The hospitality and food is the highlight here.
Jungle Meadows :
Distance from Chandrapur – 110 km
A homely getaway for wildlife lovers, Jungle Meadows come up with double bed cottages and family rooms. They prefer to stick to sustainable living, by less usage of plastic and growing fruits and vegetables on their own.
Svasara :
Distance from Chandrapur – 110 km
The goal is to establish a chain of eco-friendly jungle lodges across many of India's bio-diverse jungles. They aim at providing truly special and memorable wildlife holiday.
Sylvan Woods Resort :
Distance from Chandrapur – 110 km
Sylvan Woods is exquisitely designed keeping in mind the modern lifestyle. Although the property is located close to one of the gates of Tadoba tiger reserve, it has a view of lush green bamboo trees that can be enjoyed from the comfort of your room.
Tigers Heaven :
Distance from Chandrapur – 110 km
The luxury of watching animals from resorts, Tiger's Heaven is indeed a peaceful heaven for visitors. They have unique accommodation types with shared terrace, cottage accommodations and deluxe type rooms.
Jharana Jungle Resort :
Jharana Jungle resorts welcome the guests post covid with more safety protocols and better memories to have. With amenities like gym, library, reataurant at their premises, a stay at Jharana is worth every moment.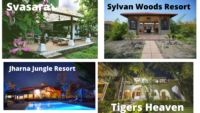 Below properties are rated by the customers who had chosen their stay while on a holiday-
Mahua Vann

Resort Saras

Tadoba Tigerland resort

Royal Tiger Resorts

Irai Safari Retreat

Jayshrea Meadows

Eco-Home

Tadoba Jungle Villa

Tadoba Tiger Valley resort

Tadoba Youth Hostel

Tadoba Tiger resort

MB Eagle Mountain Homestay

Tadoba Trails Natures Sprout…

The Sanctuary Tadoba

Red Earth Tadoba
Important places To Visit Near Chandrapur
Chandrapur fort :
Chandrapur fort is located between 2 rivers Erai and Zarpat, built by the founder himself, Khandkya Ballal. The walls of the fort are of 15-20 feet high and is a popular tourist attraction here.
Mahakali Mandir :
Built in around 16th century, Mahakali Mandir is the most frequently visited temple in Chandrapur. The temple premises also have idols of lord Ganesha and lord Hanuman, and Tuesday being a significant day to visit here.
Anchaleshwar Mandir :
Located on the banks of Zarpat river, Anchaleshwar Mandir celebrates a form of lord Shiva.
Deekshabhoomi :
A transplanted branch of the Bodhi Tree is growing at Deekshabhoomi. It is believed that Dr B. R. Ambedkar (Babasaheb) gave the deeksha (the embracing of Buddhism) to many followers at a place near Chandrapur since known as Deekshabhoomi.
Tadoba Andheri Tiger Reserve is located around 30 kilometres from Chandrapur near the Erai dam. There are over 80 tigers in the reserve at present and hence it is a paradise for the wildlife enthusiasts. Tadoba National Park or Tadoba Tiger Reserve is the hub- Know Best Mid Ranged Resorts Of Tadoba
Reasons To Book Your Holiday With WildTrails–
Dedicated platform for wildlife holiday.
No travel agent commission involved. Direct price from the resorts, hence, the best price in the market.
No middlemen, no additional commissions, no unnecessary markups, the best competitive rates you can ever get, and the best part is you connect directly with the Resorts/Hotels
To know more and to get a full list of jungle/nature resorts, please click https://wildtrails.in
Next time you plan to visit Chandrapur for any reason, make sure you check out the best places to stay around Chandrapur.
Frequently asked Questions about Chandrapur-
How to reach Chandrapur?
By air
The nearest airport is Dr. Babasaheb Ambedkar International Airport, Nagpur.
By roads
There are public transport options from major cities of Maharashtra that plies to Chandrapur.
Why is Chandrapur famous?
Chandrapur is famous for 2 things. The super power thermal power station with vast reserves of coal here. The reason is the accessibility to the famous National Parks like Tadoba and Pench.
How far are the national parks from Chandrapur
Tadoba National Park  – 35 km
Pench National Park – 233 km
Total Page Visits: 394 - Today Page Visits: 1
---
---
Play with WildTrails Intelligence Tools
1. How many times tiger is seen per month?
2. What's going on in Indian Forests today?
3. Interested in playing more with Tiger sighting graphs? Click
here?
---
Buy Wildlife Fashion Accessories
Exclusive Online Store for wildlife products
Packages
Packages Loading...
Recent Posts