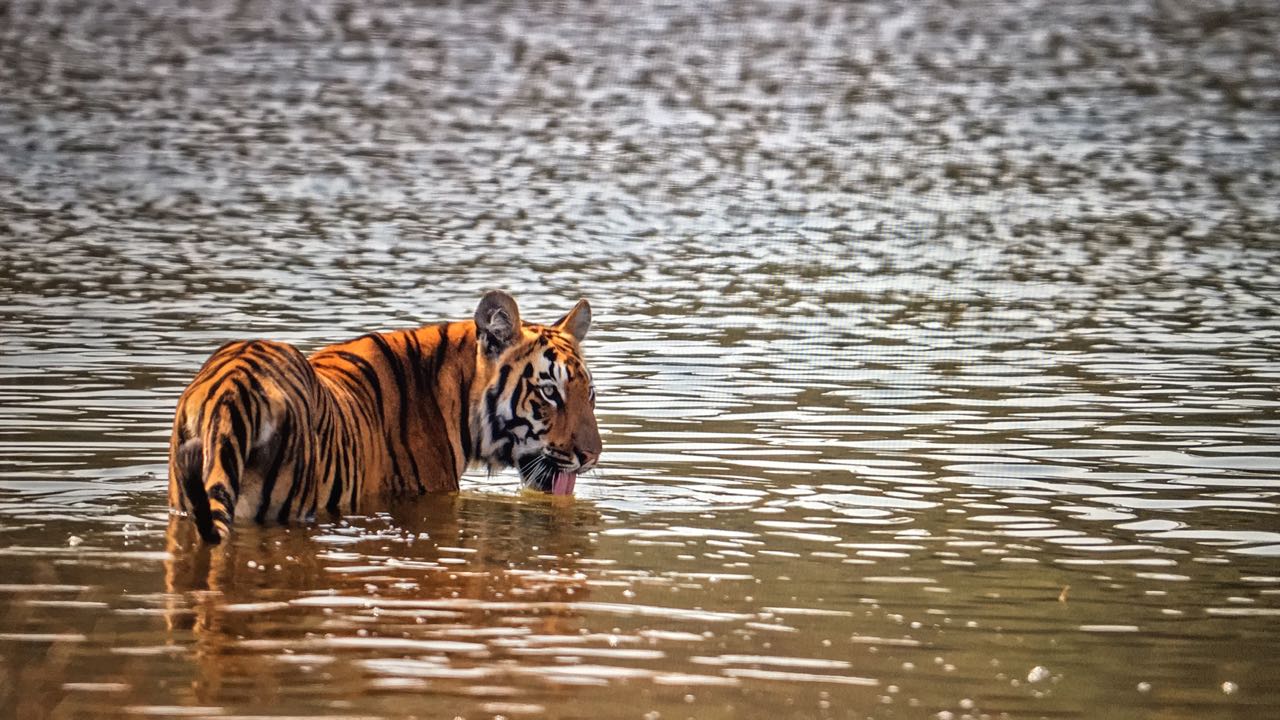 Tadoba National Park |Tadoba Tiger Sightings
Tadoba National Park is located in Chandrapur district of Maharashtra state in central India. Tadoba is notable as Maharashtra's oldest and largest national park. Tadoba Tiger Sightings is one of the major reasons for tourists to visit this tiger reserve. It is one of India's 43 "Project Tiger" – tiger reserves.
Tadoba is one of the largest and oldest national park, which has endless treasure of large number of species of trees & plants and wildlife like Panthers, Tigers, Hyenas, Sloth Bears, Wild Dogs, Jackals, Barking Deer, Bison, Sambar, Herd of Deer to name a few. The most popular species of trees you can find in Tadoba forest. is Teak and bamboo
The Gond kings once ruled these forests in the vicinity of the Chimur hills. Hunting was completely banned in 1935. Two decades later, in 1955, 116.54 km2 (45.00 sq mi) was declared a National Park. Andhari Wildlife Sanctuary was created on the adjacent forests in 1986, and in 1995, both the park and the sanctuary were merged to establish the present tiger reserve.
Tadoba Andhari Reserve is the largest national park in Maharashtra. Total area of the reserve is 1727 km2. This includes Tadoba National Park, created in 1955. There are more than 80 tigers (as of Dec 2015) in the reserve,one of the highest in India.
Core Gates of Tadoba Andhari Tiger Reserve:
Moharli
Khutwanda
Navegaon
Kolara
Kolsa – Zari
Pangdi
Buffer gates of Tadoba where Safari starts are:
Alizanza Zone
Devada Adegaon
Agarzari
Junona
Kolara Buffer Gate
Ramdegi Buffer Gate
Recent Sightings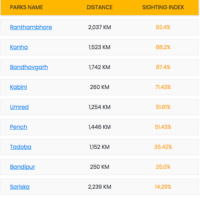 You can get complete session to session, day to day sightings info of Tadoba here and of course across all national parks & tiger reserves here. We compile these data of all mammals, birds, reptiles across all these parks and calculate what we call historic and predictive sighting index numbers (eg Tiger Sighting Index) which helps you to pick your park and your zone properly.
A good Video Introduction of Tadoba National Park
Checkout this video for a very good introduction of Tadoba National Park and Tiger Reserve – please do watch if you are new to Tadoba.
Mammals you get to see in Tadoba:
Tiger, Leopards, Sloth Bears, Gaur, Nilgai, Dhole, Striped Hyena, Small Indian Civet, Jungle Cats, Sambar, Spotted Deer, Barking Deer, Chital, Chausingha Honey Badger.
Birds you get to see in Tadoba:
Grey-headed fish eagle, The Crested Serpent Eagle, Changeable Hawk-Eagle, Orange-Headed Thrush, Indian Pitta, Crested Treeswift, Stone curlew, Crested Honey Buzzard, Paradise Flycatcher, Bronze-Winged Jacana, Lesser Golden-Backed Woodpecker, Warblers, Black-naped blue Flycatcher, Peacock
How do I get there:
By Air: International airport is located in Nagpur. It is the nearest airport to the park. Many flights connect Delhi, Mumbai, Chennai and other important states with Nagpur.
By Rail: The nearest railway station to the park is Chandrapur railway station. It is located 45 km away from the park.
By Road: Buses and cars from all surrounding cities connect with the park.
Tadoba related Videos:
Further Info:
For further info or booking assist please don't hesitate to contact us at tadoba@wildtrails.in or Call us at or WhatsApp us at +919901175444. You also get complete & detailed info on WildTrails India app.
Tadoba National Park Related Useful Blogs:
Complete list of all Resorts Moharli Gate Tadoba Tiger Reserve
How to plan a Quick Tadoba Getaway just under 24 hours
Popular Wildlife Getaways ex-Nagpur
Top 5 Luxury Resorts of Tadoba
How to plan a weekend trip to Tadoba?
What is the difference between Tadoba Core and Tadoba Buffer Safari zones?
How to book a safari in Tadoba?
Interview highlights with GP Garad, Field Director, CCF Tadoba Tiger Reserve
Interview highlights with GP Garad, Field Director, CCF Tadoba Tiger Reserve
Complete list of all Resorts of Tadoba Tiger Reserve
The RIGHT & ONLY way to book Jungle Resorts and the Safari!!
Total Page Visits: 3274 - Today Page Visits: 4
Buy Wildlife Fashion Accessories
Exclusive Online Store for wildlife products