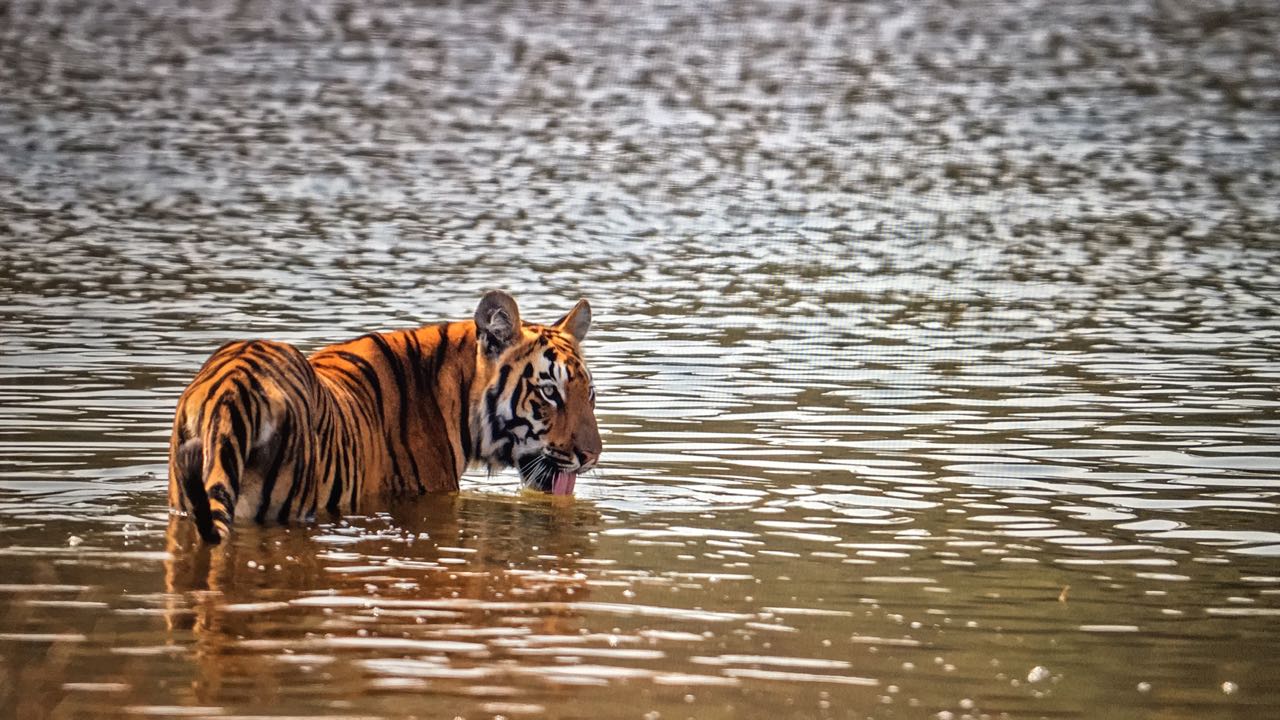 Tadoba National Park & Tiger Reserve
Tadoba National Park
Everything you should know about Tadoba National Park & Tiger Reserve
State: Maharashtra 
Sanctuary Type: Wildlife Sanctuary, National Park & Tiger Reserve
Nearest Airport: Nagpur (100 to 140 Kms)
Nearest Railway Station: Nagpur, Chandrapur, Balharshah
Overview
Tadoba National Park & Tiger Reserve is a tiger reserve in Chandrapur district of Maharashtra state in central India. It is notable as Maharashtra's oldest and largest national park. It is one of India's 43 "Project Tiger" – tiger reserves.
The name 'Tadoba' is the name of the God "Tadoba" or "Taru", praised by the tribal people who live in the dense forests of the Tadoba and Andhari region, while the Andhari River that meanders through the forest. gives the 'Andhari' name.
Legend holds that Taru was a village chief who was killed in a mythological encounter with a tiger. A shrine dedicated to the God Taru now exists beneath a huge tree, on the banks of the Tadoba Lake. The temple is frequented by adivasis, especially during the fair held every year in the Hindu month of Pausha, between December and January.
The Gond kings once ruled these forests in the vicinity of the Chimur hills. Hunting was completely banned in 1935. Two decades later, in 1955, 116.54 km2 (45.00 sq mi) was declared a National Park. Andhari Wildlife Sanctuary was created on the adjacent forests in 1986, and in 1995, both the park and the sanctuary were merged to establish the present tiger reserve.
Tadoba Andhari Reserve is the largest national park in Maharashtra. Total area of the reserve is 1727 km2. This includes Tadoba National Park, created in 1955. There are more than 80 tigers (as of Dec 2015) in the reserve,one of the highest in India.
A good Video Introduction of Tadoba National Park
This video is a very good introduction to Tadoba National Park and Tiger Reserve – please do watch if you are new to Tadoba.
Safari Details: WildTrails App has a way to book hassle-free tadoba packages for Tadoba National Park and Tiger Reserve and also complete step by step procedure on how to book safari online, and also shows complete details on how many safari gates, how many gypsies are available for a given gate and a given date and a way to book them. Please Download WildTrails India App available on Playstore & iOS.
Booking a Safari Package for Tadoba National Park: WildTrails India can easily book a hassle-free "absolutely nothing to worry" Tadoba Safari Package for you easily. All you have to do is to fly into Nagpur or take a Train to Nagpur/Chandrapur and leave the rest to us!!
Gates & Zones: Gates info & Zone Info along with the exact location so that you can navigate is on WildTrails India App. This app also tells which is the best gate to choose based on Tiger Sightings for that period using a metric called TSI (Tiger Sighting Index) (tm)
Wildlife sighting details:  Complete wildlife sightings Gate-wise, Session-wise, Date-wise is on WildTrails India App
Local Guides: List of Safari local guides/drivers on WildTrails India App
Best Season: October to May
Accommodations: Easily find resorts attached to gates & book on WildTrails India App 
Mammals you get to see in Tadoba:
         "tiger",
        "leopards",
        "sloth bears",
        "gaur",
        "nilgai",
        "dhole",
        "striped hyena",
        "small indian civet",
        "jungle cats",
        "sambar",
        "spotted deer",
        "barking deer",
        "chital",
        "chausingha honey badger"
Birds you get to see in Tadoba:
  "grey-headed fish eagle",
        "the crested serpent eagle",
        "changeable hawk-eagle",
        "orange-headed thrush",
        "indian pitta",
        "crested treeswift",
        "stone curlew",
        "crested honey buzzard",
        "paradise flycatcher",
        "bronze-winged jacana",
        "lesser goldenbacked woodpecker",
        "warblers",
        "black-naped blue flycatcher",
        "peacock"
Tadoba related Videos:
Further Info:
For further info or booking assist please don't hesitate to contact us at tadoba@wildtrails.in or Call us at or WhatsApp us at +919901175444. You also get complete & detailed info on WildTrails India app.
Tadoba National Park Related Useful Blogs:
Complete list of all Resorts Moharli Gate Tadoba Tiger Reserve
How to plan a Quick Tadoba Getaway just under 24 hours
Popular Wildlife Getaways ex-Nagpur
Top 5 Luxury Resorts of Tadoba
How to plan a weekend trip to Tadoba?
What is the difference between Tadoba Core and Tadoba Buffer Safari zones?
How to book a safari in Tadoba?
Interview highlights with GP Garad, Field Director, CCF Tadoba Tiger Reserve
Interview highlights with GP Garad, Field Director, CCF Tadoba Tiger Reserve
Complete list of all Resorts of Tadoba Tiger Reserve
The RIGHT & ONLY way to book Jungle Resorts and the Safari!!