Best Resorts To Stay In Jim Corbett National Park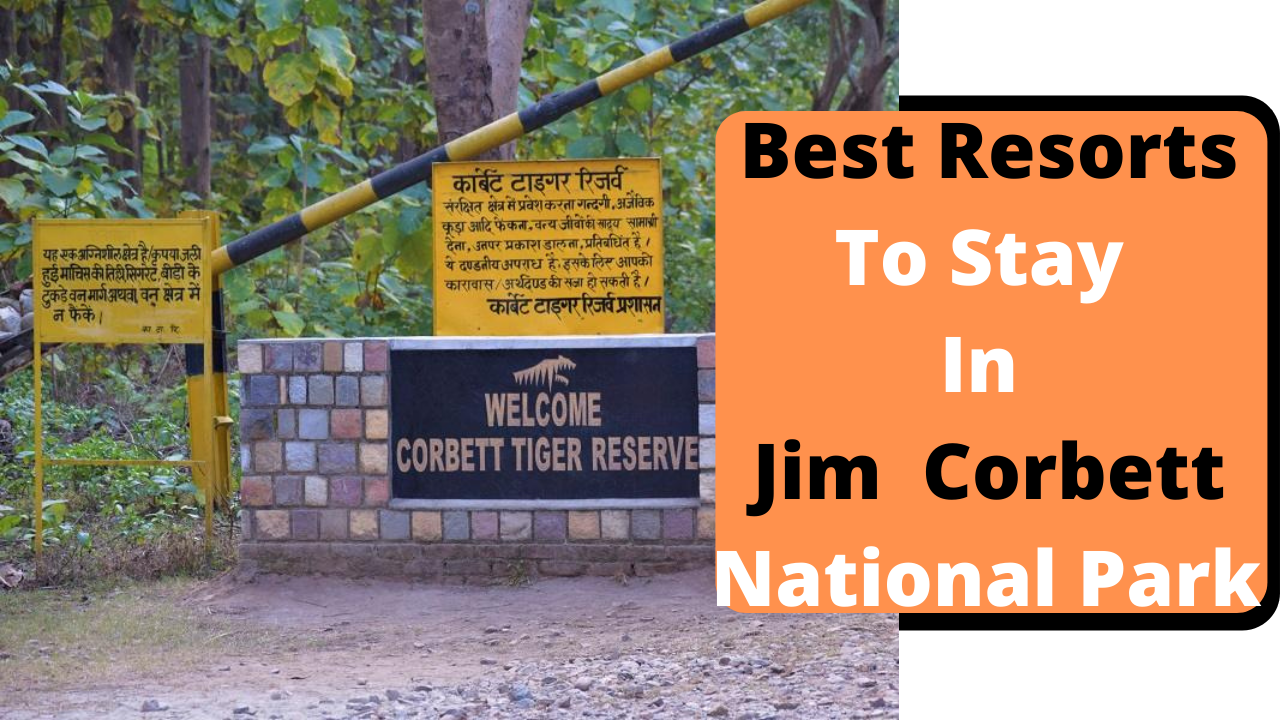 The oldest national park in India has got a lot to offer for the wildlife enthusiasts. There exists a lot of properties, each offering unique experience of stay while on your wildlife venture. We at Wildtrails have only the reliable properties, having regular checks of the service quality they strive to offer. Hence, we list out the best resorts to stay while you plan your trip to Jim Corbett National Park.
Located in Uttarakhand, the state with high altitude mountains and valleys to explore for. This explains Jim Corbett Is one of the few national parks located at such a high altitude from sea level. The unique and the best part at Jim Corbett is that it is the only national park where the properties are within the jungle. However, planning a safari in Jim Corbett looks simple but not easy. We at WildTrails have come across a lot of queries and feedback from the clients.
Flora and Fauna Of Jim Corbett
Over 488 different flora species have been recorded in Jim Corbett. Over 500 different species of flora and fauna can be found throughout the area. Common sightings are Langurs, sloth bears, Asiatic black bears, Indian grey mongooses, jungle cats, elephants, wild boars, spotted deer, barking deer, and Indian antelope. Reptiles and amphibians include different types of snakes (including cobras and pythons) and species of crocodiles (notably gavials and muggers).
Bird watching is one not to be missed here as the park receives many species of migratory birds.
Ther 6 major zones in Jim Corbett are-
Core zones

Dhikala zone

Bijrani zone

Dhela zone

Buffer zones

Jhirna zone

Durga Devi zone

Sitabani zone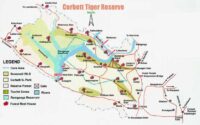 Here are the best resorts we have shortlisted to make your stay a moment to remember-
The Golden Tusk
Spread across 8 acres of greenery and tranquility and on the banks of the serene, soothing monsoon river Dhelais. The Golden Tusk Resort in Ramnagaris situated in the peaceful countryside about Ramnagar. The resort resides on the edge of the forest reserve and is just a 5-minute drive from Jim Corbett National Park.
Corbett Maulik Mansion
At Maulik Mansion, you will be amazed to find the latest amenities in a remote place that is so far away from modernity. An occasional roar of a lonely Bengal tiger may shake you out of your reverie.
Lemon Tree Premier
On the banks of River Kosi, hidden amongst dense Sal trees rests Lemon Tree Premier, Corbett, a stunning resort set in the lap of wilderness.
Strategically located just minutes from one of the main gates of Jim Corbett National Park, this 5-acre landscaped retreat offers alluring views of the Shivallik foothills of the Himalayan sub-belt and the verdant forest around it.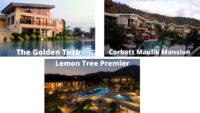 Six Seasons Grand Resort
Six Seasons Resort offers Luxurious accommodation with state-of-the-art facilities. Hotel offers 24 rooms with modern amenities, mountain view, lawn Gym, swimming pool, banquet hall, bonfire area, restaurant, parking, activity rooms, and enough open area for the activities. Resort is spread-out and offers huge space for the games and activities. Resort is located very near to the famous tourism zone.
Lebua Corbett
Take a walk on the wild side with Lebua Corbett, luxurious jungle resort that promises a rare and up-close encounter with nature at its most spectacular. Spread over 9 acres of lush green forest, the resort is perfect place to explore the jungle either by vehicle or on foot.
Book Your Jim Corbett Safari In Online
Paatlidun Safari Lodge
The 5-star property is all about a variety of cottages. Luxury and premium luxury cottages are what they offer for the tourists to have a hassle free vacation.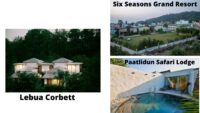 Winsome Resort and Spa
The new normal, thanks to the pandemic have made Winsome Resort and Spa to level up the safety. They have premium level rooms to villa type of accommodation within their property.
Brys caves
Designed on the theme of caves and is the most preferable resort for adventurous / romantic getaway. Every cave they have classified has all the luxury facilities from king size bed to bathtub and internet.
Clarissa Resort
Combining lushness of the Jim Corbett Jungle with all modern facilities is what we take pride in. Cottage type accommodation, outdoor activities, multi cuisine restaurant are few of the many attractions here at Clarissa Resort.
Corbett Machaan Resort
Luxury cottages and villas are the major highlight of Corbett Machaan, designed to provide rustic feel, blending with surroundings without compromising on luxuries you need for a comfortable stay.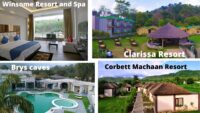 Few other lodges that offer great accommodations-
La Tigree Resort

Clarks Exotica

Solluna Resort

Aahana Resort

Resort De Coracao

Namah Resort

Sterling Corbett

Acorn Hideaway

The Den Corbett

The Riverview Retreat

Woodcastle Spa and Resort

Corbett Treat Resort

Corbett Woods Resort

Iris Resort

Le Roi Corbett Resort

Corbett the Baagh Spa and Resort

The Corbett View Resort

The Darien Resort

The Roar resort

Infinity Resort
Reasons to book your holiday with Wildtrails–
1)  Dedicated platform for wildlife holiday.
2)  No travel agent commission involved. Direct price from the resorts, hence, the best price in the market.
3)  No middlemen, no additional commissions, no unnecessary markups, the best competitive rates you can ever get, and the best part is you connect directly with the Resorts/Hotels
Wildtrails tip – Book the zone first and then proceed to choose the accommodation corresponding to the selected zone. Now that you have a better idea about the best resorts to in Jim Corbett, head over to https://www.wildtrails.in to book your next adventure.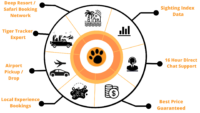 Total Page Visits: 723 - Today Page Visits: 1
---
---
Play with WildTrails Intelligence Tools
1. How many times tiger is seen per month?
2. What's going on in Indian Forests today?
3. Interested in playing more with Tiger sighting graphs? Click
here?
---
Buy Wildlife Fashion Accessories
Exclusive Online Store for wildlife products
Packages
Packages Loading...
Recent Posts