Best Resorts To Stay In Nagarhole in 2021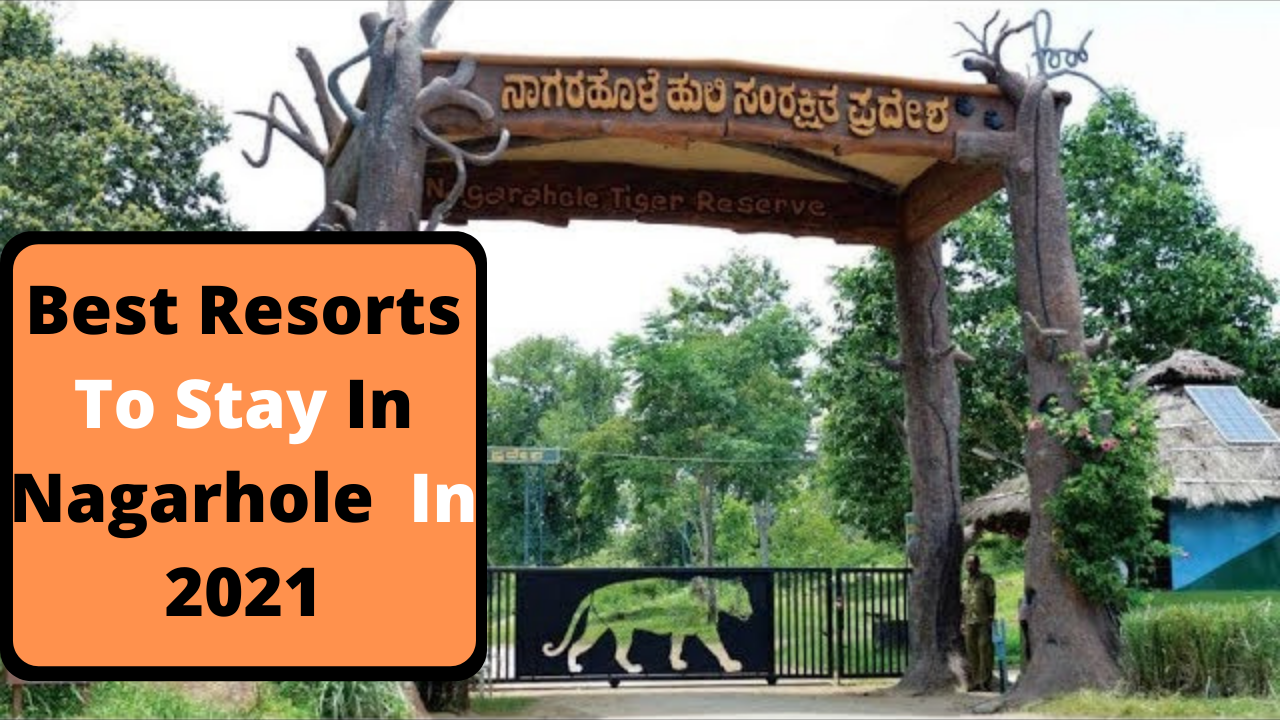 Nagarhole National Park belongs to the famous Nilgiri Biosphere Reserve project, being one of the 3 major national parks. Bandipur National Park and Mudumalai National Park being the other 2, is one of the biggest protected forest areas in India. A safari drive through the woods is a pleasure. Hence there are a lot of resorts and properties around the forest area. Hence, we at WildTrails are here to help you sort out the best resorts to stay in Nagarhole if you are planning a safari here in 2021.
The name is from the local language, Kannada. Nagara means cobra and Hole means river. The name refers to the river that flows eastwards from the centre. Established in 1955 as a wildlife sanctuary, the forest reserve is also known as Rajiv Gandhi National Park. The Park was once a hunting ground for the kings of the famous Wodeyar dynasty of Mysore. It was in 1988, It was termed as National Park spread across over 643 square kilometres area.
Flora and Fauna Of Nagarhole National Park
The forest reserve is a part of the Western ghats. Hence more of dry deciduous trees are seen in the southern part of the forest. Teakwood and rosewood are most found in this region. The teak forests of Nagarhole are known for some of the oldest plantations in the country.
Tigers, Serpent eagle, Elephants, Leopard, dhole, sloth bear, chital, sambar deer, barking deer, four-horned antelope, gaur, and wild boar are the other common sightings here.
Birds chirping is common and a treat to your ears. Bird watchers get their best views while at Nagarhole. The blue-bearded bee-eater, Malabar trogon, Malabar whistling thrush, crested serpent-eagle, crested hawk-eagle, Malabar pied-hornbill, Common Hawk Cuckoo, Changeable Hawk Eagle are few of the sighted birds here. Besides, Indian Roller, Indian reed, Woodpeckers, Warblers, Grey jungle fowl, waterfowl, scarlet minivet, ospreys, ducks, herons, red vented bulbul, ring dove, common babbler, scinaitar babbler, loriekeet, red whiskered bulbul, biyth's myna can also be spotted.
Know When Is The Best Season To Visit Nagarhole National Park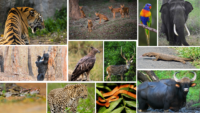 Best Resorts To Stay In Nagarhole in 2021 That Make Your Stay Memorable While You Are there-
Kaav Safari Lodge :
Kaav Safari Lodge is located along the edge of the Nagarhole wildlife sanctuary. A luxury safari lodge steeped in the indulgent solitude of Kabini's forest. Ensconced in the care of our luxury resort, nature and its myriad facets beckon you into the thriving jungle.
They have luxury rooms with private balconies to witness the glimpse of the jungle. Luxury tent accommodation is another option that comes with a private deck with an open bathtub, redefining luxury.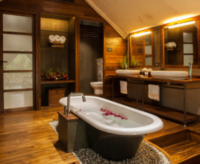 Orange County Resort :
Orange County Resort is a property of Evolve Back resort. Accommodation types here are unique, with pool-sided huts, safari view huts, and pool reserved huts.
They have quite mind-blowing amenity services within their property. Infinity pool for gazing at the sunset, family pool to laze in, reading lounge, and ayurvedic spa to make sure that it is more than just a stay
Courtyard rooms, riverfront rooms, and river view suites as their accommodation categories. A royal swimming pool to relieve your mind and body within their property. A lot of indoor sports activities and children's play areas on their property make your stay pleasant.

Kabini Springs Resort :
Kabini Springs Resort is a franchise of the popular resort chain Royal Orchids. Royal Orchids, being India's fastest-growing hospitality brand has redefined luxury here.
Courtyard rooms, riverfront rooms, and river view suites as their accommodation categories. A royal swimming pool to relieve your mind and body within their property. A lot of indoor sports activities and children's play areas on their property make your stay pleasant.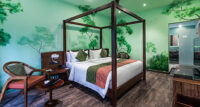 King's Sanctuary :
King's Sanctuary is a part of JLR owned and organised by the tourism department of Karnataka. The resort is set in the 40 acres of mango orchards and lush lawns and various other Indian and exotic fruit bearing plants and trees.
Kings Sanctuary has 24 air-conditioned luxury suites and cottages with imported handmade furniture from Thailand and Indonesia. Further a swimming pool, conference hall and a wide range of activities for a pleasant stay at the property. The Kings Sanctuary is an ideal resort for family vacations and corporate getaways.
Machaan Nagarhole :
Bagging Tripadvisor's travellers' choice award for 2021, Machaan is termed as the best wildlife resort in Nagarhole. They define the stay here as natural, rustic, and refreshing.
They have 2 types of accommodations. Twin cottages with rustic interior and modern bathroom to provide a typical jungle stay ambience. The other category is the cabin rooms that are multilevel with separate entrances and sit outs, offering great views of the abundant Flora and Fauna of the estate.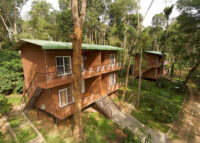 The Peepal Tree :
A homestay located on the banks of river Kabini. TV, tea/coffee maker, microwave, refrigerator, hot/cold water and bathroom toiletries are seen in the spacious well-maintained cottages here.
Modern facilities and efficient services like swimming pool, bonfire, mini library, power backup, outdoor games are within the property. Other recreational activities like boat rides, bird watching, nature walk, trekking, joy fishing, cycling and meditating in the calm and well laid out tracks on the banks.
Reasons to book your holiday with WildTrails–
Dedicated platform for wildlife holiday.

No travel agent commission involved. Direct price from the resorts, hence, the best price in the market.

No middlemen, no additional commissions, no unnecessary markups, the best competitive rates you can ever get, and the best part is you connect directly with the Resorts/Hotels

To know more and to get a full list of jungle/nature resorts, please click https://wildtrails.in
The resorts in Nagarhole are abundant, however the number of reliable resorts are limited. Hence, we help you sort out the best resorts to choose for your stay while you plan for a trip to Nagarhole in 2021.
Key Tips For First Time Visitors
Frequently Asked Questions about Nagarhole National Park :
Why should you visit Nagarhole National Park?
Savour the taste of wildlife and adventure around Nagarhole with the Brahmagiri Mountains, which welcomes its tourists in the heart of nature; go trekking amidst the dense jungles to witness the wildlife, or even go on a safari to experience the park at its fullest.
What are the timings to enter Nagarhole National Park?
6:00 AM – 9:00 AM
4:00 PM – 6:30 PM
How to reach Nagarhole National Park?
Nagarhole is extremely well connected and is just a flight away. The nearest airports are Bangalore, Mysore, and Kozhikode (Calicut). Kabini is also easily accessible by road from these airports. The distances are as follows:
Bangalore Airport to Kabini – 290 km
Mysore Airport to Kabini – 90 km
Kozhikode Airport to Kabini – 160 km
Total Page Visits: 709 - Today Page Visits: 1
---
---
Play with WildTrails Intelligence Tools
1. How many times tiger is seen per month?
2. What's going on in Indian Forests today?
3. Interested in playing more with Tiger sighting graphs? Click
here?
---
Buy Wildlife Fashion Accessories
Exclusive Online Store for wildlife products
Packages
Packages Loading...
Recent Posts