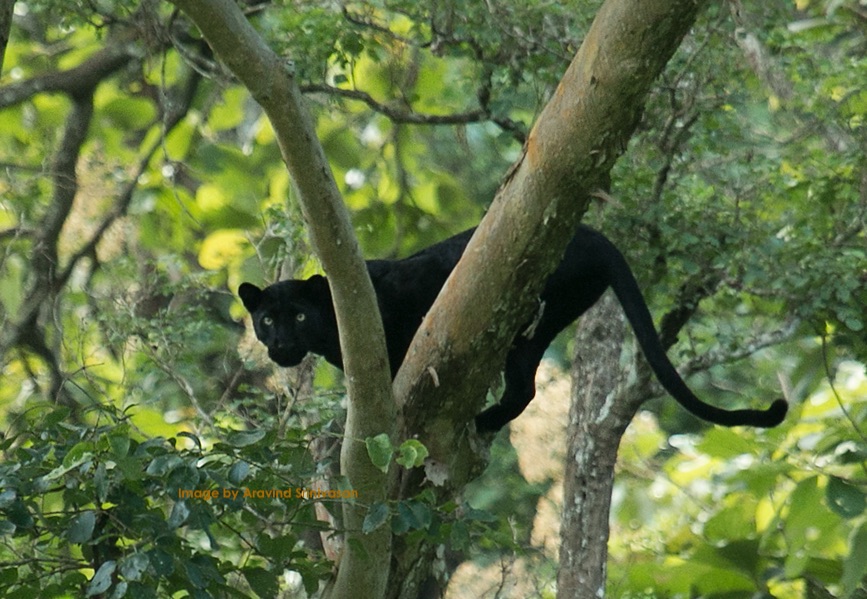 How to plan a Kabini Trip – Tips & Tricks
This article "The best way to plan a Kabini Trip – Tips & Tricks" talks about the best way to plan one and the tips and tricks,  from someone who has been visiting Kabini for last 2 decades. The article not to miss if you are planning a Kabini trip in the near future as planning a Kabini trip is the hardest of all [and I will explain why it is hard].
[I am assuming here that you want to do a Kabini trip so that you can do a safari in the Jungles, and safari is one of the main reasons why you are doing this Kabini Trip. If my assumption is wrong, please skip reading this blog and go ahead and book what is the best & the cheapest you feel for Kabini]
[Image Courtesy Aravind Srinivasan, Suresh Basavaraju]
Why all the fuss about Kabini?
Kabini is, as I said before, the southern part of Nagarhole on the banks of river Kapila/Kabini which is approx. 70 kms south of Mysore and approx. 210 kms south of Bangalore. Kabini is extremely popular in the wildlife circles and for various reasons. Kabini is rich in wildlife, the diversity of wild animals is amazing, it's open around the year (most parks in India close for approx 3 months during monsoon), it's wildlife photograp[hers heaven for the kind of shots you get there, and of course rich in sightings for the big cats – Tigers and Leopards and guess what for Black Panther – only park in the entire world may be where you get black panther (aka black or melanistic leopard) sightings so often!! of course lot more like elephants, deer, sambar, dholes, mongoose etc and plethora of birds. Hence people are crazy for a safari in Kabini and you are never a complete wildlifer without a visit to Kabini!!
Why most fall into a Trap when planning a Kabini Trip?
When you search for Kabini in google, you get a plethora of resorts with amazing images and price range starting from Rs. 2000 to 20,000 and that too with all meals, and some of the resorts are so amazing and so inexpensive, why do you want to book elsewhere? The problem starts after you book as most don't have the license to take you on a safari and many depend on Forest Dept Safari which has very limited seats and buying a ticket is a challenge there [very confusing process] and also the safari there can be canceled with no notice. So my advice to all those who are looking forward to a quality Kabini stay cum safari option, please read the entire blog and try to understand the options available and choose one that suits you and don't fall for low prices and regret later.
Why Planning a Kabini is the Hardest?
Kabini unlike most other jungles/forests in the country is more complex to enjoy a quality safari unless you know your options. There are multiple safari options, multiple kinds of resorts and multiple modes of safari [Jeep, Van & Boat] and Kabini is not even the name of a jungle but it is Nagarhole National Park and Kabini is the Southern Part of Nagarhole National Park that lies on the banks of River Kapila/Kabini and has its own mark on the map as well as Safari setup including Resorts. Anyways, don't despair, will soon untangle the mystery of Kabini
What is this about different kinds of Resorts in Kabini?
Let me first start with the resorts. No, I am not talking about Luxury, Deluxe, Budget kinds, that's a passe in Kabini. There are different kinds of resorts here which are very specific to Kabini. There are resorts which are managed by the tourism dept, there are resorts associated with the Tourism Dept and then there are resorts near the fringes of Kabini and are NOT associated with the tourism dept and then there are resorts which are further away from Kabini, NOT associated with the Tourism Dept nor even close to the forest. So there are four kinds of resorts per say and now you probably got a faint idea why some resorts cost so low and some are very expensive but the mystery is still yet to unravel but we will visit this soon. [BTW I will not name the Resorts of which belongs to which category as most of the owners are who I know them and I meet them often and don't want to get into their bad books but at least this blog will help wildlifers understand what they choose]

What are the different kinds of Safaris and Modes of Safaris for Kabini?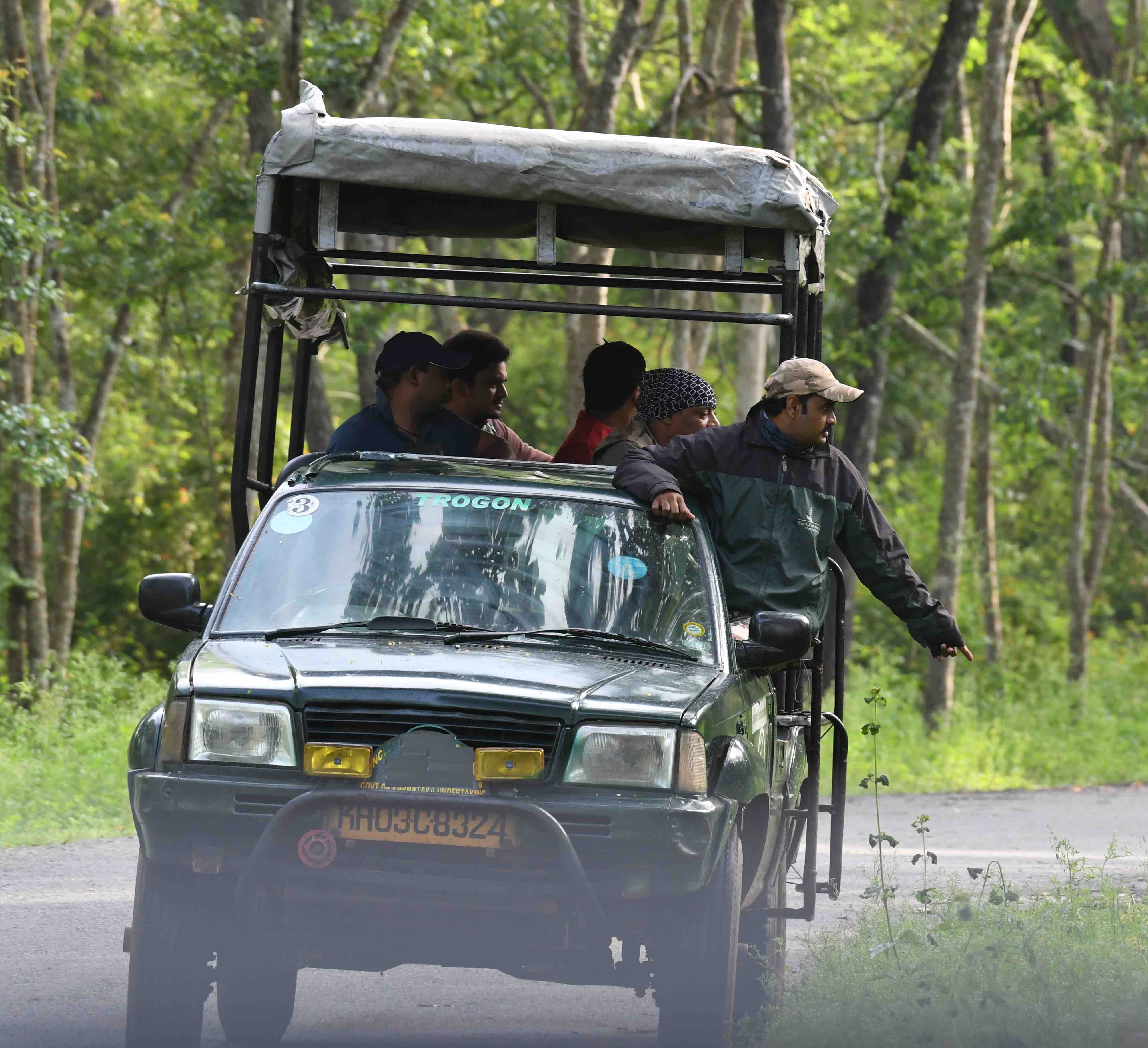 Let's now move to safari. To complicate matters, safari is offered in the same forest and in the same region by two departments of Karnataka State Govt. – one is from the Forest Dept and the other is from the Tourism Dept. If that is not enough, you can never book a tourism dept safari without a stay in their lodges or in the tourism dep associated lodges but you can book the forest dept one without a stay. BTW there is on online or over the phone reservation. The only way to book forest dept. safari is to go in the morning by 10 am to book for the evening safari and go by 4 pm to book for the next day morning safari and also there are very limited seats and it cannot cater to all and also many resorts as I mentioned earlier, those which are not associated with tourism dept. safari depends on this safari and you can imagine why I said, getting a safari from those (3rd & 4th category resorts) resorts is a tough call. Also, note you will never get a boat safari via Forest Dept but only with Tourism dept. Also, note that the safari with Forest Dept. is via what you call a Canter / Mini Bus /Van and not an Open Jeep [I will come soon on the modes of Safari and the complications]. Also, note that the duration of the forest dept. safari is just 60 to 80 minutes while the duration of Tourism dept. is approx 2.5 hours. Also, note that open jeep safari is possible only if you stay in the tourism dept. lodges and NOT even if you stay in the tourism dept affiliated lodges, here you get only in the Canter. To add more complexity to this, I will add one more. A safari is guaranteed if you stay in the tourism dept, lodges but if you are staying in the tourism dept. affiliated lodges, your safari is not guaranteed as they all have a maximum quota and if the number of guests is more than that quota, you know what happens!! So did I confuse with yet with all options there? Now, let's visit the Modes & duration of the Safaris.
Modes & Duration of Safari
Let me touch upon something simple – forest dept. safaris are always in Canter!! No Jeep, No boat, and just the canter. Also, the duration is fixed, 60 to 80 minutes. Now, let's move to Tourism dept. Safaris [you can call them stay-cum-safaris]. They can be either in Open Jeep or the Boat or the Canter. Tourism dept guests get a mix of the Open Jeep and the Boat and the Canter as the case may be. But guests of tourism dept affiliated guests get either Canter or the Boat and No jeep. But the Safaris of tourism dept is usually 2.5 hours.
Also if this confusion is not enough, let me add one more. Just because you stay in the tourism dept. lodges as they are the only one who runs jeep safari, you are not guaranteed one. Alas!! Because there is a restriction on the number of Jeeps that can go inside the forest and usually the number of guests are always more than that number and you know what happens. Guests are usually divided between the jeep safari and the boat safari and during long weekends and festival holidays, the number of guests exceeds even the limit of the boat and the jeep and that's when the canter comes into play. But usually for a night stay, you are allowed two safaris and one will be in Jeep and the other is always in the boat.!!
Did I confuse you all or did I give enough info to make a judicious choice? I hope it's the latter.

Plan your Camera and Lens too!!
You need a good DSLR and preferably with a good focal length lens say 200mm to 500mm  is ideal lens focus for Kabini for birds and also in Kabini mostly leopards are always resting on a far-off tree branch and hence good focal length helps. I am not a big camera/lens expert but this is minimum but please note that the fees for DSLR and high focal length lens has high entry fee charged by the forest dept. and lens more than 500mm attracts a steep fee 🙁 BTW there are camera/lens rental agencies in Mysore and also in Kabini – in case you are planning not to carry them but rent them out!!
Costing!!
So you know why Costing varies from so low to so high and adding all constituent parts, Kabini is a very expensive affair and especially in Kabini, if you got an amazing deal too good to be true, it is too good to be true, unfortunately. So when planning and if you are serious about Safari and the quality of Sightings, even if it is expensive, choose the tourism dept. or the affiliated one but if you are a photographer and love your images, pick the jeep safari which means you need to stay in the tourism dept. lodges. I would ignore the 3rd and the 4th category resorts completely unless, as I said earlier, you want to come & stay there because you are close to nature and the resorts are amazing and safari is not a must. BTW costing for category 1 starts from approx 24,000 per night per couple while in affiliated one might start from approx. 17,000 (assuming both of you will do both the safaris).
Finally… hope I was able to decipher the Kabini riddle. Please make your choice judiciously and be aware of what you have picked and don't regret after going there. Always be doubtful of cheaper rates for Kabini (the ones you see on some of the top online marketplaces of Hotels) as most probably these resorts belong to the 3rd and 4th category as explained above.
Any questions, please drop me an email at Manju (at) wildtrails (dot) co and will be happy to help.
Hope this helped and if it did, just forward this link on your social media with a "thumbs up" symbol and with "#wildtrails" tag 🙂 than you. Have fun @ Kabini and happy sightings.
Further Read:
Let's go Tiger Spotting this February in Kabini Nagarhole and here is why
---
WildTrails, the Sightings based Platform –  company that uses recent sightings data to enhance your wildlife experience. A one-stop destination for all your wildlife travel needs.
PS: Please be a responsible wildlife tourist; No littering, No sounds, No feeding, no getting down from the safari jeep (when on safari), No phone calls. Remember that we are visiting their home and when we are there, let's follow their rules.
[The WildTrails  App is the best way to get all the details about Indian wildlife sanctuaries (best travel times, safari details, animal sightings, forest accommodations pairing, wildlife-related activities, prices, etc). Learn more about WildTrails a here. ios App is here. Android is here, and Web is here. Please do like us on our facebook page here.]