The Perfect Jim Corbett itinerary: All Must See And Do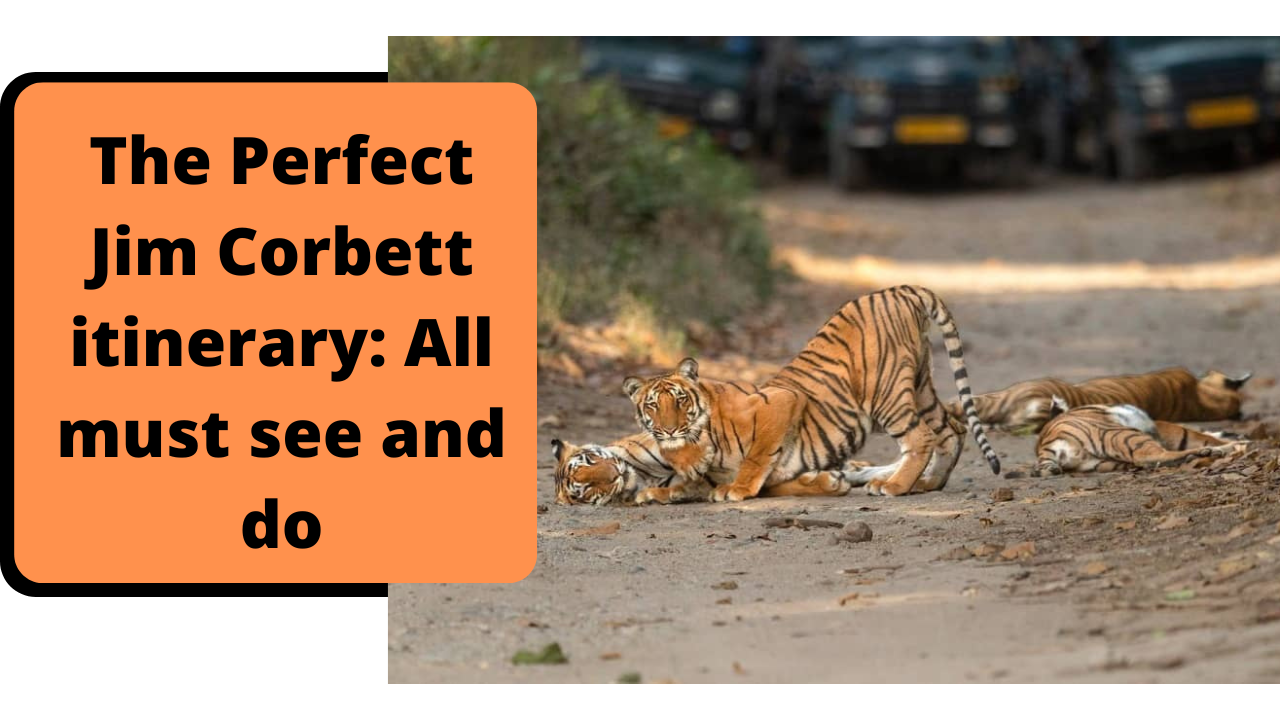 The oldest national park and one of the highest forest reserves in the country, Jim Corbett has a lot to offer apart from the safari drives. The 520 square kilometers throw out some unique options that you can have for your next holiday vacation. Besides, an itinerary that can include all that you need, perhaps for a perfect weekend.
Jim Corbett National Park is home to a wide variety of wildlife, including tigers, elephants, leopards, sloth bears, deer, wild boars, and many species of birds. It is particularly famous for its population of Bengal tigers, which are among the largest and most ferocious predators in the world.
The best time to visit Jim Corbett National Park is from November to February when the weather is pleasant, and the chances of spotting wildlife are high. During the summer months from March to June, the weather can be hot and humid, with temperatures ranging from 25°C to 40°C. However, this is a good time to see the flora in full bloom.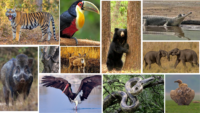 Choosing the Right Zone For Your Safari
There is 5 zone to explore in Jim Corbett National Park.
Dhikala Zone

Bijrani Zone

Jhirna Zone

Durgadevi Zone

Sitabani Zone
Every Zone is unique in fauna and flora. However, it is good to plan as which zone you would love to explore for your safari. Reach out to our experts to know more of the zones.
Why Jim Corbett National Park For Your Next Safari?
Diverse wildlife – Home to a lot of fauna – Be it mammals, reptiles, or even birds. Jim Corbett has a lot of them.
Beautiful landscapes – The wildlife reserve is located at the foothills of Himalayas and hence it provides the portrait of the nature in the best possible way.
Rich history and culture – The parks founding, and conservation efforts have helped a lot in preserving the forest area for decades.
Sustainable tourism – Visitors can be assured that their visit to the park is contributing to the conservation efforts and local communities.
Easy accessibility – There are excellent roads and rail connectivity from the nearest metropolitan cities to reach here.
Safari Types In Jim Corbett National Park
Exclusive Jeep safari  –
A high-powered 4×4 Gypsy that can creep into the woods is the choice of most of the visitors. It can get into every aperture of the woods. You are in complete control of the safari ride and is a major advantage. You can start a little late, get back a little early if you wish to do so, decide for how long you would like to stay at a particular spot (you never know, you might get the best glimpse of sighting and would want to spend more time there)
With Wildtrails, you get a skilled driver who can drive through the toughest terrains for amazing sightings. Not to forget the expert tiger tracker who knows the right time and zone for the sighting you are craving for. We pick you up from the hotel for the safari and drop back.
Shared Jeep safari –
Shared jeep safari might be less compromising in this era. No doubt, it is a great bang for the buck! You need to be ready to share the cost with others. You will be booking one of the 6 seats and bear the cost for the same, while the remaining seats shall be occupied by the other visitors.
Check out the best stays in and around Jim Corbett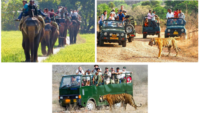 Canter safari –
A bus that can seat up to 20 persons, Canter safari is preferred more by solo travellers.The budget friendly safari option here. There are exclusive and shared options for canter. If you are a bigger group, with family or colleagues, then canter option is the best.
The height of the canter is a major advantage for better sightings. The budget-friendly category is another advantage.
Elephant safari
A unique way to explore the woods to Jim Corbett is being on an elephant. The major pro for this type of safari would be getting into the places where the jeep or canter cannot make it through. Moreover, the safari drive would be calm and composed, so better sightings.
Day 1:
Arrive at Jim Corbett National Park and check-in at your chosen accommodation.

After lunch, head out on an afternoon safari.

Return to your accommodation for some leisure activities before dinner.
Day 2:
Wake up early for a morning safari. Choose a different zone this time.

Return to your accommodation for breakfast and some leisure time to relax and enjoy the scenery.

Go for a nature walk, bird watching or visit a nearby village to experience the local culture and way of life, thus ending the day in a relaxing mode.

Return to your accommodation for dinner and overnight stay.
Day 3:
Wake up early for a final jeep safari in a zone that you haven't explored yet or repeat one of the zones you enjoyed the most.

Return to your accommodation for breakfast and check-out.

Check out with memories of an unforgettable wildlife experience in Jim Corbett National Park.
10 of the best glamping destinations in India for a luxury vacation in the wild
How To Reach Jim Corbett National Park?
Nearest airport – Indira Gandhi International Airport Delhi, Pantnagar airport(Domestic)

Nearest Railway Station – Ramnagar

By road – Jim Corbett is well connected by road and is easily accessible from Delhi via NH7 and MDR 65 W. There are taxi services and bus services, or you can even drive to Jim Corbett from here.
Booking your next safari is just a few steps-
Step 1: Head over to https://packages.wildtrails.in/
Step 2: Select your favorite National Park. Fill in the Check-in and Checkout dates along with your group size.

Step 3: Choose the type of accommodation. It can be anything as per your budget. Click on 'Details'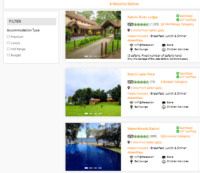 Step 4: Select the number of safari drives and the type of safari you wish to choose.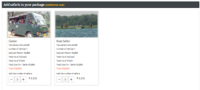 Step 5: Select add-on options if you wish to have them to your itinerary. Click on Send Enquiry.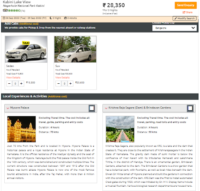 Step 6: Fill out the form-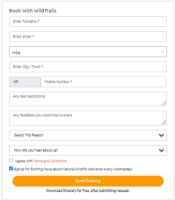 Reasons to book your holiday with WildTrails–
1)  Dedicated platform for a wildlife holiday.
2)  No travel agent commission is involved. Direct price from the resorts, hence, the best price in the market.
3)  No middlemen, no additional commissions, no unnecessary markups, the best competitive rates you can ever get, and the best part is you connect directly with the Resorts/Hotels. Further, your booking amount shall benefit the locals and hence will help improve their economic condition which in a way is critical for better conservation of the flora and fauna in the park.
To know more and to get a full list of jungle/nature resorts, please click https://wildtrails.in
Why To Book With WildTrails
Wildlife experience is much more than just booking a hotel and a safari. You need a great tiger tracker else the whole thing might fall flat. You need also the person who knows where are the gate is and where the resort is and you need to make sure you enter on time and also the driver should be good enough to keep the vehicle in right angles so that photography is best on those angles. Also he should be smart enough to move fast as soon as the news of the tiger sighting comes or as soon as the alarm calls are heard. All these has to be stitched very well to get an amazing  experience and that's where wildtrails excels the best. You can read out reviews on google to see why we are the best in this business.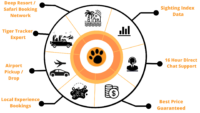 Jim Corbett National Park comes under the must-visit destination for wildlife enthusiasts, adventure lovers, nature groovers and someone who loves to explore different cultures.
Total Page Visits: 417 - Today Page Visits: 1
---
---
Play with WildTrails Intelligence Tools
1. How many times tiger is seen per month?
2. What's going on in Indian Forests today?
3. Interested in playing more with Tiger sighting graphs? Click
here?
---
Buy Wildlife Fashion Accessories
Exclusive Online Store for wildlife products
Packages
Packages Loading...
Recent Posts