Ranthambore is – Best Place For a Tiger Safari While You Visit Jaipur and Agra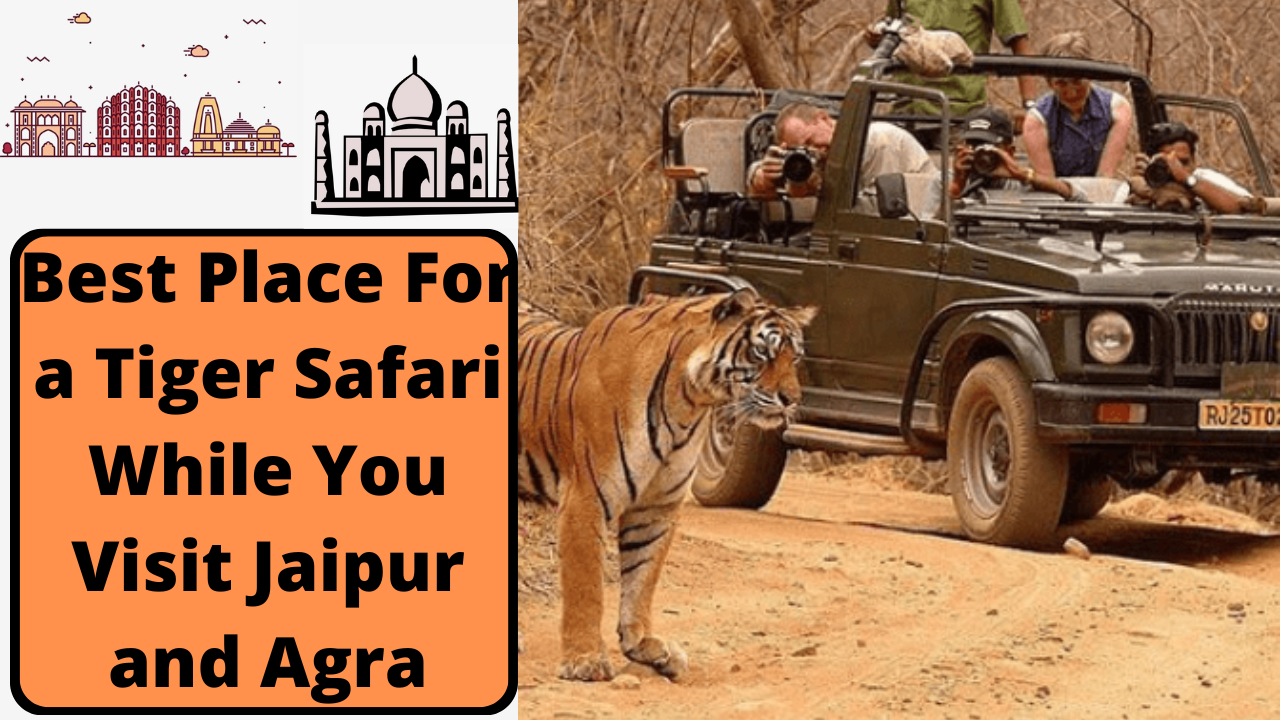 Forests were always a place for exploration. Few choose to visit the woods for the best shots of wildlife under the lenses, while some prefer to choose because of the ambiance it offers. The next category of wanderers is those who are in love with wildlife. Ranthambore National Park is one such place in India where the roar of its tigers echoes throughout the globe. Perhaps it is one such place that can be explored while you plan to visit Jaipur and Agra. We will tell you how to do so.
The days of travel and adventure are finally back on track. This time it is way bigger and better, thanks to the pandemic era where the world stopped exploring for a while. The era created more desperation for people to explore the world. Those who hardly use to travel craved to travel a little more, while the so-called often travelers wanted to travel more than usual. The jungles are ironically seen more of homo sapiens than the wildlife in recent days. Particularly, in Ranthambore – the verdure part of the state of Rajasthan is always a hub-spot for wildlife enthusiasts. Safari exploration here is indeed a great idea in case if you plan for a trip to Jaipur or Agra. The forest reserve is at a reasonable distance from both places that are known to have a lot of tourist attractions.
Some information about Ranthambore National Park
Ranthambore National Park was initially established as Sawai Madhopur National Park in the year 1955 which covered over 282 square kilometers. This movement was with the motive to stop the exploitation of forests and get rid of the practice of poaching. However, the number of big cats continued to diminish for a reason no one knew. It was then, that Project Tiger was enforced in 1973. By 1980, after moving a few villages out of the reserve and hence it got the status of a National Park.
History and know-about of Ranthambore National Park
The forest area was initially established as Sawai Madhopur National Park in the year 1955 and covered 282 square kilometers. This was with the motive to stop the exploitation of forests and get rid of the practice of poaching. However, the number of big cats continued to diminish for some strange reason. This is when Project Tiger was enforced in 1973. By 1980, after moving a few villages out of the reserve and hence it got the status of a National Park.
What do you sight in Ranthambore – Flora, and Fauna?
The Royal Bengal tiger is the most preferred big cat in the jungle and is scattered throughout the jungle. Indian leopard, nilgai, wild boar, sambar, striped hyena, sloth bear, southern plains gray langur, rhesus macaque, mugger crocodile chital, and many others to look out for through the woods. The jungle is home to a wide variety of trees, plants, birds, and reptiles.
There are water bodies available to support a variety of flora and fauna in the forest reserve. About 300 plant species in the Ranthambore National Park are discovered here. This region receives very scanty rainfalls and so the vegetation in the park mainly comprises of the dry deciduous type. Banyan trees and peepal trees are more common here.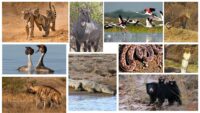 How to Reach Ranthambore National Park From Agra?
There are 2 roads that can be taken to reach Ranthambore from Agra. The best recommended is the Bikaner-Agra road which is a 300-km stretch and takes about 6 hours. The alternative road is via NH23 and MDR111 which also takes about 6 hours to reach Ranthambore.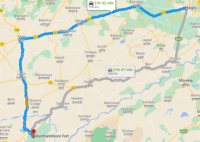 How to Reach Ranthambore National Park From From Jaipur
Jaipur is close to 190 km from Ranthambore. The best-recommended route is via Jaipur-Kota road and NH 552 which takes around 3.5 hours. You can also choose NH 21 between Jaipur and Ranthambore.
The most important thing to know. The best time to visit Ranthambore for a safari would be from October to June. July to September would not be a good time due to rain.
Weather from October to February is expected to be extremely cold, particularly during morning safari. It is strongly recommended to plan your attire accordingly.
The weather from March to June is expected to be dry and humid.
What are the things that need to be carried while on a safari in Ranthambore?
A lot of things are to be carried for the safari. The topmost thing to be carried out would be drinking water. The safari would either be in the morning or during the afternoon and you can expect the humidity to be high. Sunscreen lotion, hat, and sunglasses are the necessities. Never carry liquor or tobacco while on safari.
Never ever forget your camera because you don't want to miss out on the rarest sighting.
What to wear while on safari in Ranthambore?
Wear light-colored clothes while on safari. Carry rain jackets since the rains are unpredictable here. We recommend you carry gloves, sweaters, warm caps, and mufflers during winter.
How many Tigers are there in Ranthambore National Park?
The buffer and the core areas of Ranthambore National Park are estimated to have 65-70 according to the Forest reserve
Wildlife Sightings At Ranthambore National Park
How many safari drives are recommended?
A regular safari(Gypsy or Canter type) will last for around 3 hours. If you plan to arrive from either Jaipur or Agra, make sure that there is a lot of time involved in traveling. Further, a 3-hour adventure drive might be exhausting, however, 2-3 safari drives are recommended for effective sighting. Pro-tip: Choose the properties that are closer to the safari gates, and this saves a lot of travel time.
There are half-day and full-day safari options here at Ranthambore National Park. You can plan for these if you are more concerned about the sighting and in need of flexible start and end times. These safari options have better sighting chances compared to regular safari drives.
Booking your next safari at Ranthambore National Park is just a few steps-
Step 1: Head over to https://packages.wildtrails.in/
Step 2: Select Park Name as Ranthambore National Park. Fill in the Check-in and Check-out dates along with your group size.

Step 3: Choose the type of accommodation. It can be anything as per your budget. Click on 'Details'.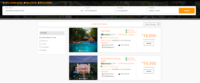 Step 4: Select the number of safaris drives and the type of safari you wish to choose.
Step 5: Select add-on options if you wish to have them to your itinerary. Click on Send Enquiry.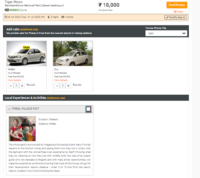 Step 6: Fill out the form-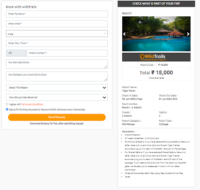 That's it. Your job is done. Now sit back and relax until our experts reach out to you.
Reasons to book your holiday with WildTrails–
1) Dedicated platform for a wildlife holiday.
2) No travel agent commission is involved. Direct price from the resorts, hence, the best price in the market.
3) No middlemen, no additional commissions, no unnecessary markups, the best competitive rates you can ever get, and the best part is you connect directly with the Resorts/Hotels. Further, your booking amount shall benefit the locals and hence will help improve their economic condition which in a way is critical for better conservation of the flora and fauna in the park.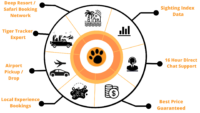 We have now made your job easier to plan and schedule the safari while you plan to visit Jaipur or Agra. Head over to our website for the best packages for Ranthambore.
FAQs‌ ‌About‌ ‌Ranthambore‌ ‌ National Park
Total Page Visits: 256 - Today Page Visits: 1
---
---
Play with WildTrails Intelligence Tools
1. How many times tiger is seen per month?
2. What's going on in Indian Forests today?
3. Interested in playing more with Tiger sighting graphs? Click
here?
---
Buy Wildlife Fashion Accessories
Exclusive Online Store for wildlife products
Packages
Packages Loading...
Recent Posts