Nine Tales Of Ranthambore – Part 2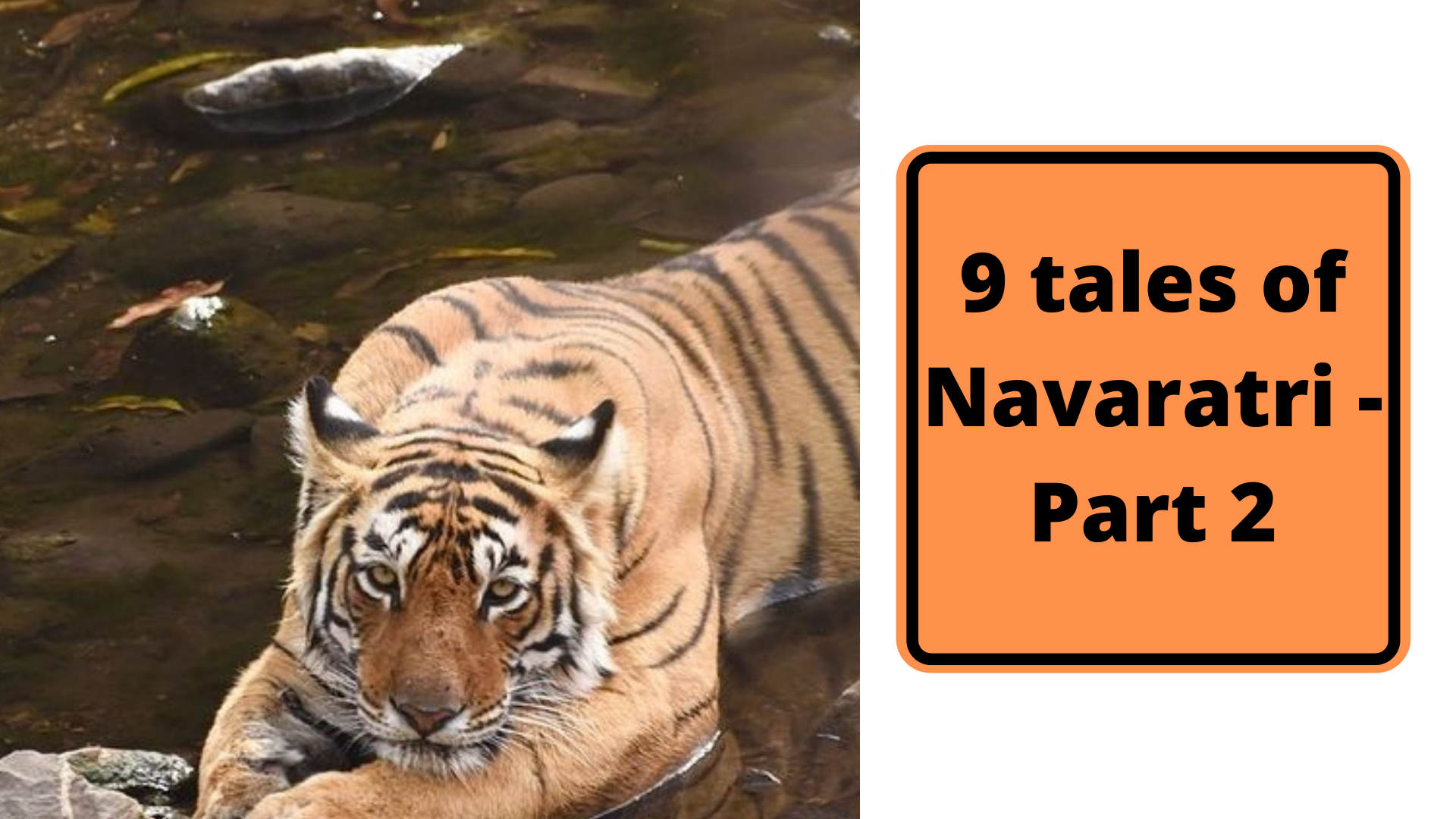 The first half of the tales session involved the survival of tigers. The venture taught us that the life of a tiger is indeed tougher than what we expect. 1 prey out of 20 attempts is a lesson for us, as humans not to give up in any circumstances. And so didn't we. The journey continues. 
Tale 5 – Grooming and Lazing. Featuring Noorie
Noorie is a beautiful and bold tigress, the daughter of famous Noor.
She was on a stroll of her territory in the morning, when as he set down for a few minutes where I got this shot. A couple of minutes later she started grooming herself, and we have to move on as we were nearing the exit time.
If cats are clean, then Tigers seemed to be the cleanest cats grooming themselves all the time.
They spend a considerable time grooming and cleaning themselves, taking care of themselves, pampering themselves. And if you are lucky so see siblings or mother n cubs, you may also witness them groom each other. That's their way of showing their warmth and affection.
In the afternoon we anticipated that Noorie might have moved to a water hole, and yes then once again we found the Bold National animal sitting under the National Tree Banyan tree and then moving in a water hole.
Know When Is The Best Time To Visit Ranthambore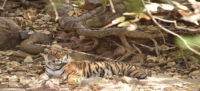 Tale 6 – In her belly. Featuring the siblings Neel, Tara and Nayan
Often in Hindu religion the vehicle (animal) represents positive aspects of the of the Deity that it carries. Riding a Tiger indicates that Amba possesses unlimited power and uses it to protect virtue and destroy evil. Symbolising the triumph of good over evil. Also symbolising Fearlessness.
Though tigers are fierce, they also have a certain amount of fear, particularly when they are young.
The siblings Neel, Nayan & Tara from zone 6 normally hang around in proximity. They are quite young, and under the care of their mother, but they do spend considerable amount of time on their own. On our Full day safari (Why a full-day safari matters most in Ranthambore?), just before noon we saw a group of spotted deer, and then we saw Neel who crossed the road and moved on. However, the calls did not stop, and we could feel the movement of one of the other siblings far behind.
We waited for a few minutes and drove back, and there we could see Tara, lying flat on its belly, next to a tree.
I can feel that Tara, had mixed emotions, may be a mix of anxiety and fear in her belly.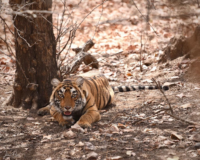 Tale 7 – Tiger Terrain. Featuring T 86
A young Male, not exactly shy but probably uncomfortable by the presence of safari vehicles. He usually maintains a distance or walks away from the Gypsy, probably telling us to move out of his territory, his forest.
You can see that T-86 has climbed up a mountain and sitting near a gum tree, maintaining a comfortable distance from the dirt tracks for safari. Ranthambore is a beautiful Tiger terrain, on rocky mountains, streams, gentle slopes and beautiful lakes with some lovely ruins of palace and fort. This one is just a record shot!
The Honourable Supreme Court in its verdicts, have limited the movement of the safari vehicles to only 20% of the forest, normally known as tourist zone while the other 80% is known as the Core of the forest is closed for the tourist. Also, most forests also have a buffer, which has active human / cattle movement in the forest.
Really speaking the Core defined by the forest department is literally not always the Core (the Centre) As you can understand that the forests are not geometrically shaped, so defining the core is definitely a challenge. The forest department generally declares the most sensitive, protected areas of the park as the core, thereby securing the forest al well as Honouring the Supreme Court guidelines.
All these wonderful sightings would not have been possible without our very dedicated and passionate Naturalist Nadeem Abbas. All credits to him for all the storytelling and more importantly reading the movements of the tiger, to get me such good shots.
Distance between Ranthambore Safari Zones & Gates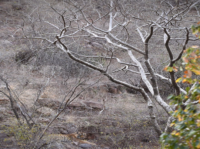 Tale 8 – Brothers in arms. Featuring Neel and Nayan
Contrary to popular belief that tigers of solitary animals, they definitely are quite social and affectionate to their immediate family. There are numerous instances of tiger sightings in group, sharing of kills, playing together, etc. I already mentioned couple of times that Neel, Nayan & Tara the 3 siblings usually hangout together.
I got to see them in beautiful settings of Zone 6, Sleeping and Walking on the retaining wall of the water body, quenching its thirst in the Water body. They were sleeping on the wall and the thirsty Sambar huddled got together and slowly and boldly come to the water body to quench their thirst.
We also got to see them in superb settings. In the ruins too.
These cubs, aged around 3 to 4 years, show a close, strong relationship. We were truly blessed to see their display of affection. Here we have the brothers in arms, literally, hugging each other.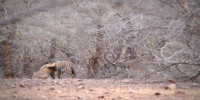 Tale 9 – Nothing much to do. Featuring Siddhi
Siddhi – the daughter of the famous Tigress Arrowhead, relaxing in a patch of green grass on a drying up water hole. We got so many "Relaxed" Tiger sightings, almost all by ourselves, that we did. Not wait here linger as there were almost 10 gypsy and one canter lined up to see Siddhi.
And we felt that Siddhi had nothing much to do, so we left her alone with the crowd.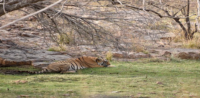 Total Page Visits: 929 - Today Page Visits: 1
---
---
Play with WildTrails Intelligence Tools
1. How many times tiger is seen per month?
2. What's going on in Indian Forests today?
3. Interested in playing more with Tiger sighting graphs? Click
here?
---
Buy Wildlife Fashion Accessories
Exclusive Online Store for wildlife products
Packages
Packages Loading...
Recent Posts