Tadoba's Unsung Heroes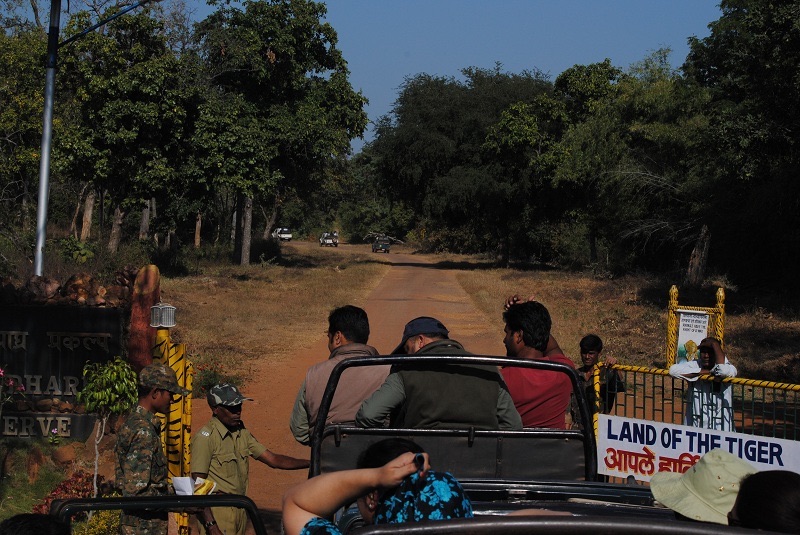 Yes people flock to Tadoba to get the glimpse of that majestic mammal, the amazing big cat, the tiger but there is a whole set of people behind making the whole Tadoba what it is today and these are Tadoba's unsung heroes who actually make your trip, your sightings and your overall safari into the jungle a pleasant one. Come let's meet some of the best guides and tiger trackers of  Tadoba, know the challenges they face as well as their aspirations.
[Tadoba has 12 safari gates and each has many guides/driver/tiger trackers attached. This is just the first of the series and I will bring to you some of the best from a few gates and in the next one I will bring the second set of amazing people here]
Tadoba's Unsung Heroes
Below are some of Tadoba's Unsung Heroes – the list is endless but this is the represenattion of the big chain of people who really make this happen!!
---
Sheikh Mubarak, Tadoba Tiger Reserve, Moharli Gate
Full Name: Sheikh Mubarak Sheikh Usman
Nick Name: Mubarak
Age: 28
Career Start Year: 2008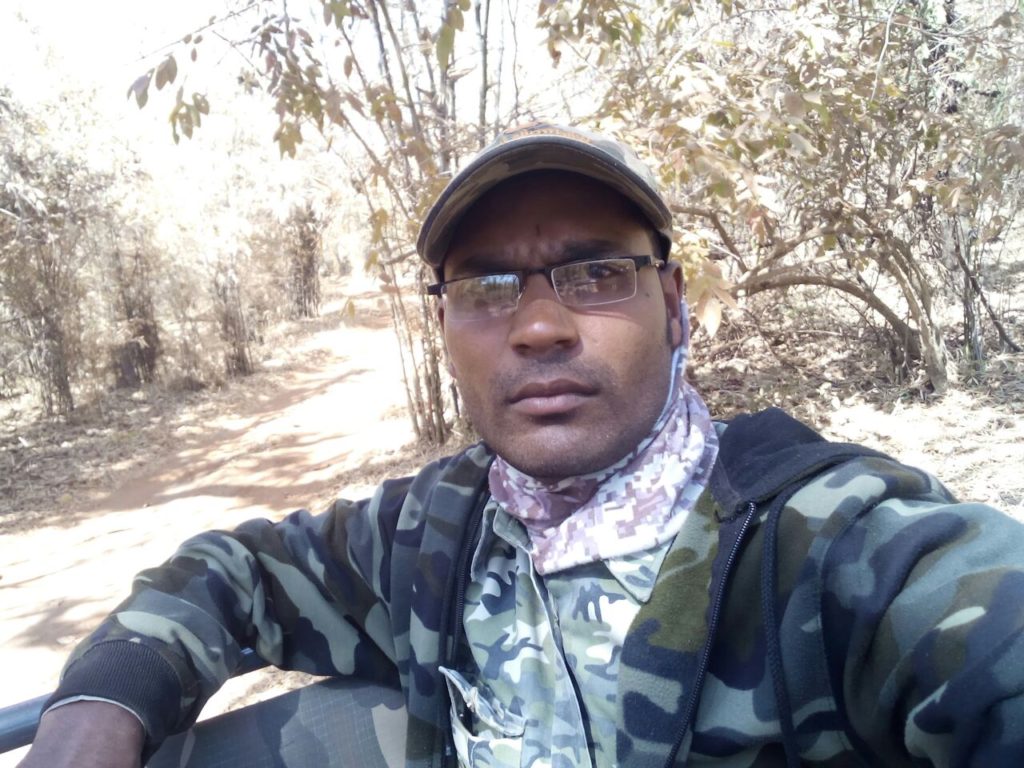 My first jungle safari was at the age of 17 and was very fascinated to see Tiger and was blown away when I saw it for the very first time. In fact I was with my customer & my job was to track tigers for my customer so he could photograph the big cat, but I myself had not seen one until that day and it so happened that, I tracked the tiger in my very first safari itself  & was amazed to see his beauty. My First ever Tiger sighting in the wild!
More than my customer, I was so excited to see him so close to me. It was just a few feet away!! My customer Kirti Dikshit realized my excitement for the Tiger and he had a smile on his face and of course he was also thrilled to see the majestic big cat!!
Ever since then, I fell in love with Tigers & actually I feel tigers love me too:-) Ever since then my chances of sighting a tiger in the wild have increased & usually when I take my customers I ask them to do atleast six safaris together and I have shown them a tiger 100% of times (so far) whenever they took 6 safaris with me. That's what I advise them, if you are serious about sighting a tiger in Tadoba, please make sure you do at least 6 safaris and that gives me enough time to plan to take across this vast jungle based on tiger movements and alarm calls and various tiger tracking tricks we use.
So far 70% of all my customers irrespective of how many safaris they have done with me, have seen the tiger in Tadoba!!  But people should note that whatever we try & do, sighting a tiger in the wild is a pure luck but we work hard to reduce the luck component as much as possible using our vast experience and tiger tracking skills.
Talking about challenges, we face many. People don't realize that they are coming to a jungle but expect us to show a tiger all the times they enter the jungle and if we don't they get mad and some throw aspersions on us 🙁 This is not a zoo and i wish people realize that. But whatever said and done, all customers I have seen follow rules and regulations which is not an issue at all.
I see two general kinds of visitors – general visitors and photographers. The challenge from the photographers is slightly high as they not just want to sight tigers but also in various angles which is a tough ask for us.
As far as foreign visitors are concerned, I am pretty happy about them as they enjoy the jungle as much as sighting a tiger and they just love to see any wild animals and not just tiger alone. But of course they go ecstatic when they see the tiger!!
Tadoba is my home, that's the place where I saw my first Tiger but my aspiration is to fly out of the country and visit national parks there and see how it works there.
I feel it is our duty for all of us in fact to safe guard our jungles. For our own human kind survival we need to save the forests. Save forests for our next generation.
---
Aneesh Shivram Nikode, Tadoba Tiger Reserve,  Moharli Gate
Full Name: Aneesh Shivram Nikode
Nick Name: Aneesh
Age: 22
Career Start Year: 2014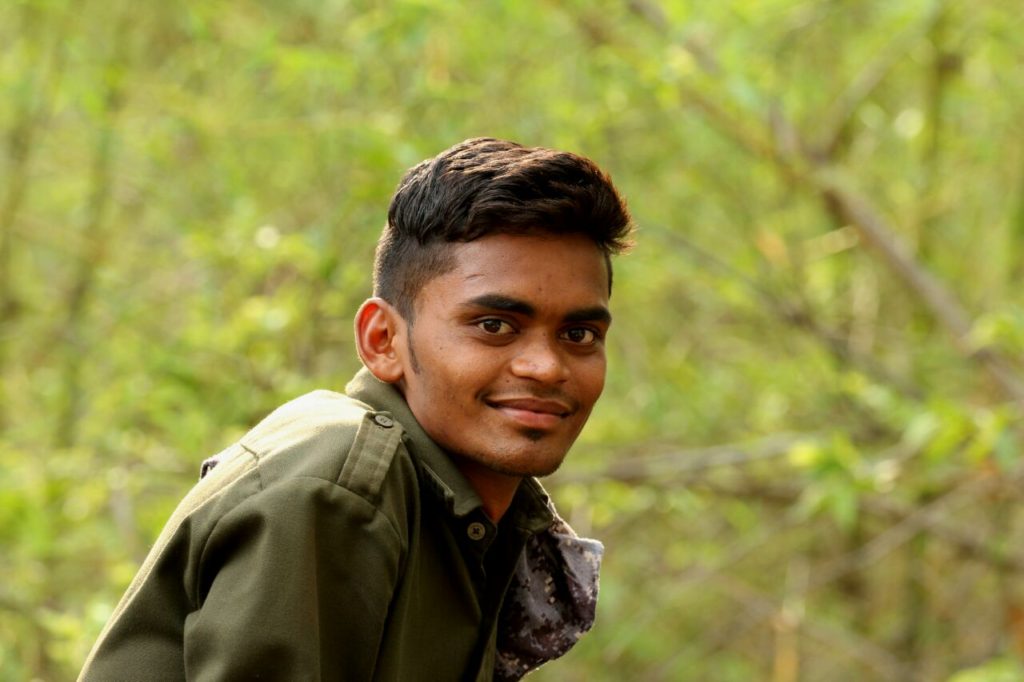 My record has been very good so far. If I take my customers in say 4 safaris, I would have shown them a tiger at least two times!! I am also very good in tracking other animals such as leopard, sloth bear, various birds & reptiles.
There are two kinds of customers for me, the general family type, the young & restless, and the photographers. Photographers are slightly demanding but I am ok with that.
Challenges are with a few locals & the youngster crowd.They are just behind tigers & nothing else. They they just come on one safari and expect to sight a tiger & when we can't show them and we say you have to do at least 4 to 6 safaris for better chances of sightings of a tiger, they don't understand and they get agitated and angry and start accusing us that you guys have taken a lot of money you better show us the tiger.Thankfully not all but a few of them. My only hope is that they understand how the jungle and how sighting a tiger is pure luck and we work hard to reduce the luck factor.
Tiger sightings in Monsoon: It is good in rainy season too and there are reasons and very interesting reasons. Tiger scents which they use for territory marking gets washed away due to rains and hence tiger comes out & sprays regularly so that it can mark its territory. Also grass grows very tall during rainy season many a times taller than tigers making it tough for the tigers to walk or rest with its cubs there and hence they come out to the open to walk, rest or play with cubs and also get that sunlight to feel warm.  Hence rainy season is also a great time to sight tigers and for photographers they get a amazing green background for their images. I summer of course it is easier to track them as you find them all near the waterholes.
Aspiration: I want to construct my own house & earn good money ethically. I want to run business by the books.
---
Aashish Jiotode, Tadoba Tiger Reserve, Kolara Gate
Full Name: Aashish Rajahasa Jiotode
Nick Name: Aashish
Age: 25
Started: 2014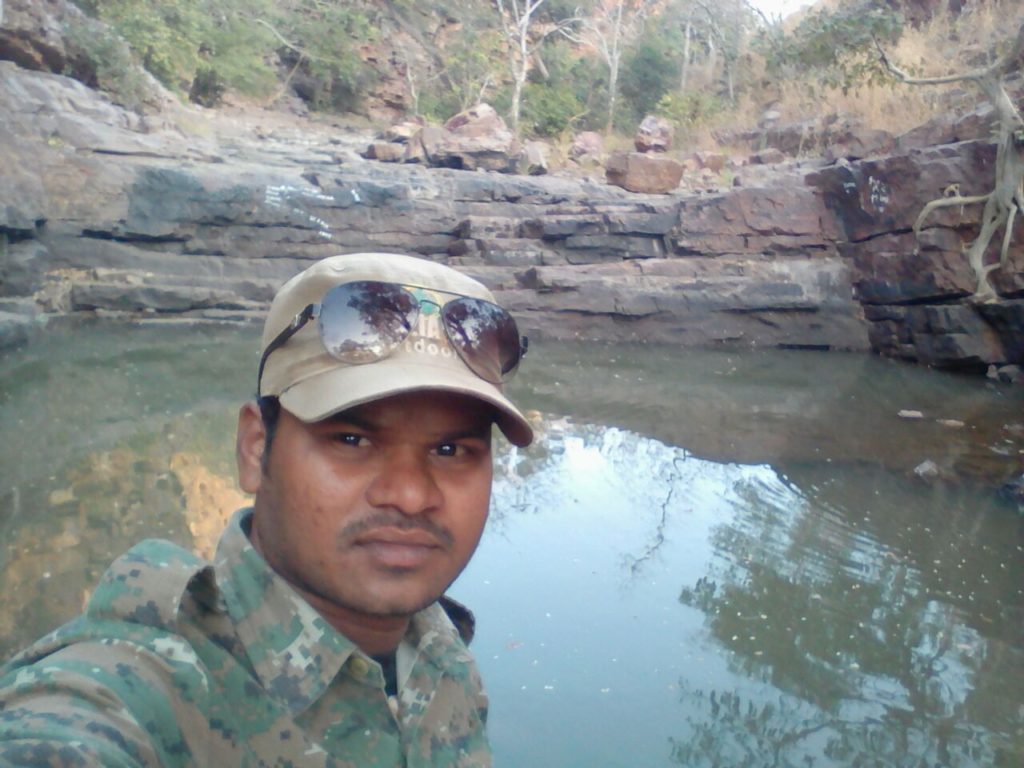 I do mainly the Kolara buffer but based on customer requests I do core also. Life is challenging for buffer guys because customers don't want to enter into buffer zone and whoever enters if they don't find a tiger they start abusing these guides. It's not true that buffer don't have tigers and in fact many buffer zones have 100% tiger sightings just that customers need to look at sightings for last few days and then pick the gate.
As far as my work is concerned, I am one of the top rated guides for tiger tracking but challenges are plenty. I get my rotation for hardly 10 times in a month & during monsoon buffer gets closed and we are all jobless.  It will be really great if forest department clubs guides from buffer & core together  & creates a combined rotation system. That way who gets core they go into core and who gets buffer they go into buffer. or at least allocate VIP gypsies for us that way we also can make some money. As is our life is vety challenging and lots of hardship.
My aspiration is to further my  studies. I was very good in studies and a graduate but I could not study because my family could not afford it. I wanted to learn computers so I could work in a cities like Pune and make a decent living. I am a hard working guide and once and if I start making money will save and invest that money into my studies.  There are many people like me who are in buffer and are highly qualified but are under various challenges and financial constraints.  
———————————————————————————————————————
Yadao Vaman Sidam, Tadoba Tiger Reserve,  Kutwanda Gate
Full Name: Yadao Vaman Sidam
Nick Name: Sidam
Started: 2002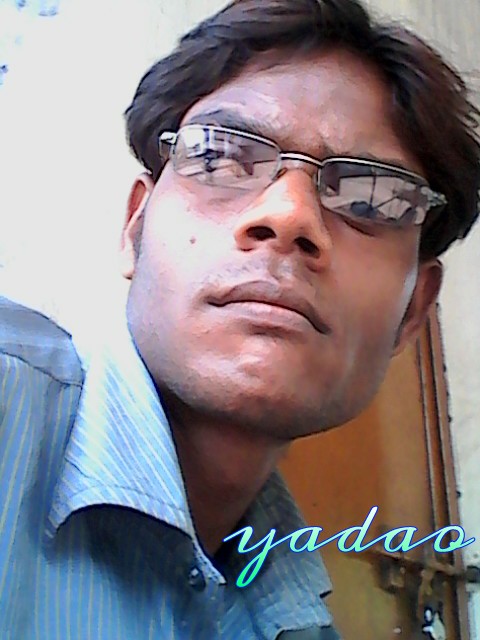 I have done gates from Moharli to Navegaon. Lot of people come to Tadoba during monsoon as not only they get tigers in a green lush forest but also lot of sightings of sloth bears & Wild dogs. Also New birds & waterfalls.
My tiger sighting records are very good, 80% of all my customers have gone back after sighting the tigers. I feel extremely good about that number. 
My challenges, we should educate customers before taking them into jungle & make them realize that tiger is a mere luck. We will try our level best to show you a tiger, reduce the luck factor as much as we can but we cannot guarantee and people should understand the fun of tracking the tiger. Come here, learn the tricks of tracking the tiger and together lets track it.  If we find it, we all will feel extremely happy, but if not, there is always next time. But many don't understand this and they start abusing us.
I have taken many foreign tourists into the jungle. They like tigers but they enjoy our forests and all wild animals. I feel they enjoy india, our culture & like to talk to us and engage us in many conversations and very inquisitive and want to learn and know everything.
Aspirations: All guides should travel to different forests to know and understand what is happening in other forests  else we will be like frogs in the well. Want to really see and experience other forests in India as well as international.
———————————————————————————————————————–
Ratan R Sonule, Tadoba Tiger Reserve,  Moharli Gate
Full Name: Ratan R Sonule
Nick Name: Ratan
Started: 2010
Age: 25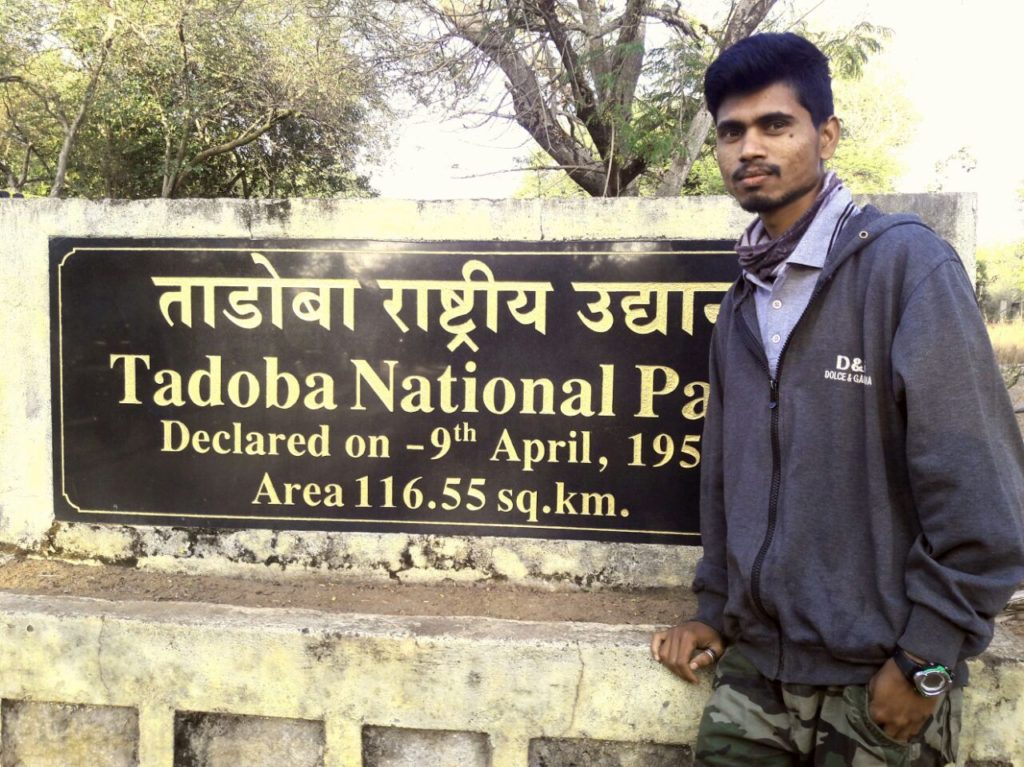 I mainly do the moharli gate. I know this forest and the tigers here like the back of my hand. I have taken many many safaris for the visitors here. My record is that in 5 safaris I do I would have seen for sure couple of times Tigers, a leopard and a sloth bear for sure. Sometime is luck but also I know their habitats so well, I can now start guessing where I can find them.
Challenges, not really and I am thoroughly enjoying my work. I just hope that all visitors understand that tiger sighting is a chance and not a surety and they should not abuse us if they don't see a tiger. They can always do multiple safaris and  come here multiple times and we are sure we will show many tigers, tigers with cubs etc.
Aspirations, I want to build my own house & I want to buy a new car.
---
Further Info:
If you need further info on Tadoba guides and expert tiger trackers, do install WildTrails India App and you will get all details there. If you need any help to plan a visit to Tadoba, and need further info or you want us to help you book safaris and/or stay with, contact us any time via an email to [email protected]  or call us any time on +918030178142 or WhatsApp us @ +919901175444. Also please do install WildTrails India App or read the below related blogs.
---
Related Useful Blogs:
Popular Wildlife Getaways ex-Nagpur
How to plan a weekend trip to Tadoba?
What is the difference between Tadoba Core and Tadoba Buffer Safari zones?
How to book a safari in Tadoba?
Interview highlights with GP Garad, Field Director, CCF Tadoba Tiger Reserve
The RIGHT & ONLY way to book Jungle Resorts and the Safari!!
---
WildTrails (Tm) India App – "Discover Indian Wildlife Like Never Before"
PS: Please be a responsible wildlife tourist; No littering, No sounds, No feeding, no getting down from the safari jeep (when on safari), No phone calls. Remember that we are visiting their home and when we are there, let's follow their rules.
[The WildTrails India App is the best way to get all the details about Indian wildlife sanctuaries (best travel times, safari details, animal sightings, forest accommodations pairing, wildlife related activities, prices, etc). Learn more about WildTrails of India here. ios App is here. Android is here, and Web is on the way. Please do like us on our facebook page here.]
Total Page Visits: 1507 - Today Page Visits: 1
---
---
Play with WildTrails Intelligence Tools
1. How many times tiger is seen per month?
2. What's going on in Indian Forests today?
3. Interested in playing more with Tiger sighting graphs? Click
here?
---
Buy Wildlife Fashion Accessories
Exclusive Online Store for wildlife products
Packages
Packages Loading...
Recent Posts