Top 10 Resorts of Tadoba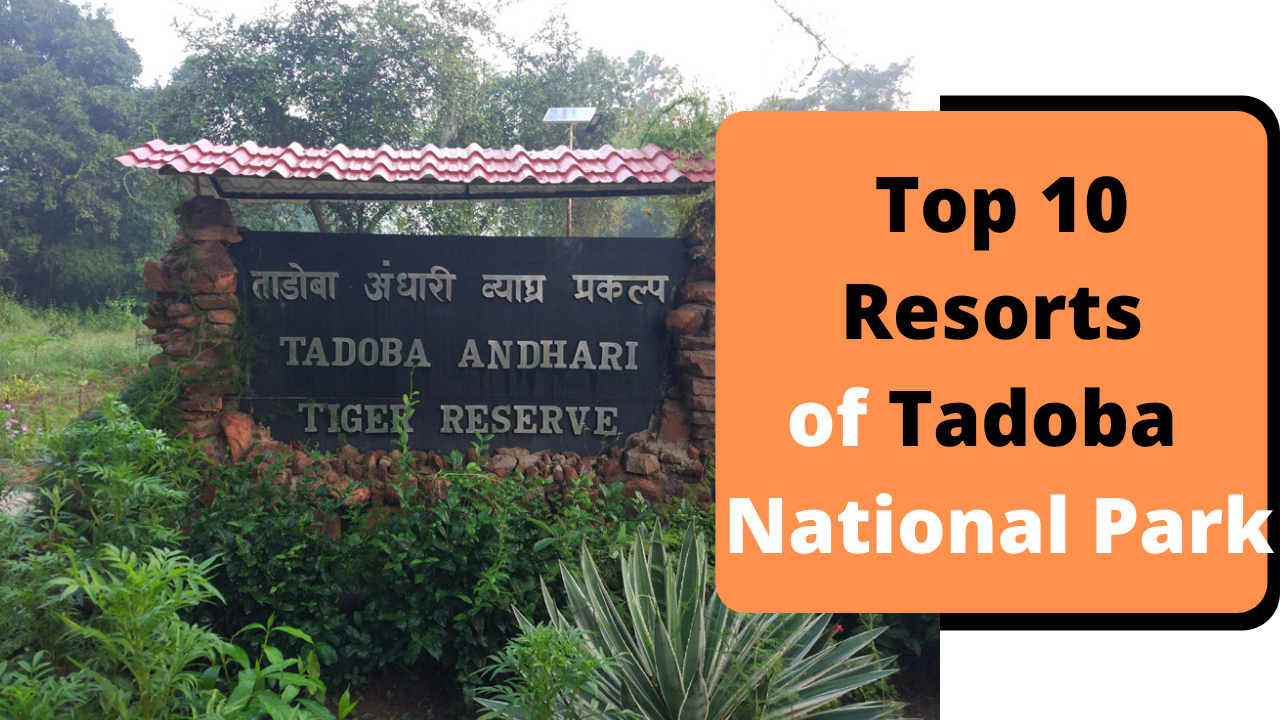 Nagpur is popularly known as the Tiger capital of India since it is close to the major Tiger reserves. Tadoba Andhari Tiger Reserve is one of them and is the biggest among all. This implies there are a lot of properties in and around Tadoba. However, the number of reliable accommodations is limited. Hence, we have the top 10 hotels in Tadoba.
Based on the sighting data we have, there are over 109 tigers alone in this reserve at present. One Park, many zones. There are over 6 gates to enter Tadoba Andhari Tiger Reserve with 12 zones (core and buffer zone combined). Wildlife sightings are the best If you choose the right zone when you plan for the safari. 
Abundant flora and fauna. There are lots to explore within the 645 square kilometre area and exploring through the woods indeed makes adventure worthwhile.
Flora And Fauna Of Tadoba National Park
The 645 square kilometres is abundant with fauna and flora. Teak, Bija, Hald, Salai, Semal, Tendu, Beheda, Hirda, Mahua, Bamboo, Bheria, Black Plum, Dhauda and many other species of trees are spread across the jungle.
The major attraction of Tadoba National Park is the Royal Bengal Tiger. Leopards, sloth bears, gaur, nilgai, dhole, striped hyena, small Indian civet, jungle cats, sambar, spotted deer, barking deer, chital, marsh crocodile, python, cobra, grey-headed fish, eagle, crested serpent eagle, peacock, jewel beetles, wolf spiders and many more are normally spotted here through the woods.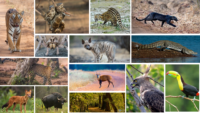 At WildTrails, there are 3 types of accommodations in Tadoba. Budget, mid-range, and luxury. The package cost varies depending on the type of accommodation you choose for the trip. However, at Wildtrails, we list out only the trusted accommodations in our portal, checking their quality of services on a scheduled basis.
Here are the top 10 accommodations in Tadoba that is worthy-
Jharna Jungle Lodge :
Jharana Jungle lodge is in the periphery of Tadoba National Park. Our jungle resort near Tadoba is located within 200 meters from one of the quietest park gates of Tadoba National Park. A Luxurious stay and pleasant cottage which is in accordance with the color of the jungle and dark antique furniture interior and red Kavelu tiled roof of the exterior gives you a relaxing feeling with amazing food variety by our expert chef.
Camp Serai Tiger :
Camp Serai Tiger is a 'Semi Tented Accommodation' designed to cater the needs of nature lovers, wild lifers and naturalists, located within the sprawling landscape of Tadoba Andhari Tiger Reserve.
7 Tigers Resort :
Spread over in 5 Acres of lush green forest area the 7 Tigers Resort with beautiful surroundings untouched by development and yet very close to civilization. The resort is located just 3 kilometers from one of the popular gates of Tadoba National Park. Luxury resorts To Stay In Tadoba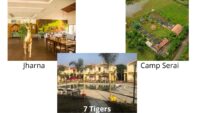 Tigers' Heaven Resort :
The buffer zone of Tadoba National Park has got quite a few resorts and Tigers' Heaven Resort is one of them. The resort's stylish accommodations offer world-class comforts amidst its setting.
Tigers Heaven Resort offers Traditionally styled and a luxuriously comfortable room with modern amenities to suit your royal taste. This makes you feel you are close to nature and the luxury amenities provided in the rooms, will remind you of your urban life.
MB Eagle Mountain Homestay :
M B Eagle Mountain homestay provides reasonable accommodation with free Wi-Fi and private parking. A vegetarian breakfast is available daily at the homestay and is the best bang for the buck.
Beyond Stay Mahua Tola Tadoba :
With wood interiors, large windows, and all modern amenities such as AC, mini bar, tea coffee maker, TV and daily housekeeping, the rooms are plush and comfortable, and are an ode to the wildlife the resort is in. Check out Best Mid Ranged Resorts In Tadoba
Tadoba Tiger King Resort :
Tadoba Tiger King Resort offers an oasis of Luxury surround with Nature, an experience of a Lifetime. Resort is established with a view to pay respect to the environment.
Tadoba Jungle Camp :
Twelve Elevated Luxury Cottages offer a real sense of safari escapade built with indigenous materials and decked out with native prints, wooden beds, organic toiletries, and insect repellent. The traditional dining room has you feasting on signature buffets and set menus for breakfast, lunch and dinner. Bonfires and special evening meals can be arranged under the stars in the bush or by candlelight at the poolside. There's plenty of space to cool off, whether you make the most of the huge pile of wildlife books in the lounge, take a refreshing dip in the outdoor pool or sneak off for a massage in the jungle.
Wild Home Stay 
A simple homestay with decent rooms and bathrooms at reasonable rates.
Irai Safari Retreat :
The journey began almost 10 years back with a couple of cottages and a small kitchen and later grew into the dream of a boutique jungle resort compromising of eight luxury tents and nine spacious and luxurious rooms. spread over 14 acres of land with a variation of trees, Irai Safari Retreat is one of a kind of resort in the  area.. Best Budget Ranged Resorts In Tadoab.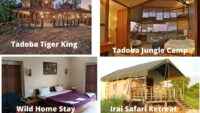 Frequently Asked Questions about Tadoba-
  How to reach Tadoba?
By Flight
Nearest airport to reach Tadoba is Dr. Babasaheb Ambedkar International Airport, Nagpur. There are flights that fly here from the major tier 1, tier 2 and tier 3 cities. Tadoba National Park is around 150 km from here and there are private taxi services from the airport.
By Road
The roads are well connected from all the major cities. There is public transport from cities like Nagpur, Chandrapur and Chimur.
By Train
The nearest railway station is Chandrapur which is around 45 km from the park.
The best time to visit Tadoba National Park is from March to May and the possibilities of tiger sighting in these months are maximum. Monsoon season starts from June and remains till September. During these months, the park remains closed.
  Which is the Best Gate in Tadoba?
There is no gate that is termed as the best. An expert tiger tracker along with you can help you better the chance of wildlife sightings. Check out more details of the gates How to pick the best safari gates.
  Which River flows in Tadoba National Park?
A river flows across the Andhari region and so this river is known as Andhari river.
The buffer and the core areas of Tadoba National Park is estimated to have 115 tigers and 151 leopards. This is as per the latest report on 'Status of Tigers, co-predators and prey in TATR'.
Reasons to book your holiday with WildTrails–
Dedicated platform for wildlife holiday.

No travel agent commission involved. Direct price from the resorts, hence, the best price in the market.

No middlemen, no additional commissions, no unnecessary markups, the best competitive rates you can ever get, and the best part is you connect directly with the Resorts/Hotels
That's all about the best 10 hotels in Tadoba to make your holiday merrier. Head over to website to get the best deals on stay in Tadoba.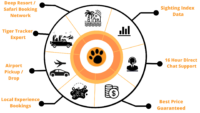 Total Page Visits: 708 - Today Page Visits: 1
---
---
Play with WildTrails Intelligence Tools
1. How many times tiger is seen per month?
2. What's going on in Indian Forests today?
3. Interested in playing more with Tiger sighting graphs? Click
here?
---
Buy Wildlife Fashion Accessories
Exclusive Online Store for wildlife products
Packages
Packages Loading...
Recent Posts