WHICH AFRICAN PLACES HAVE THE BEST WILDLIFE SAFARIS?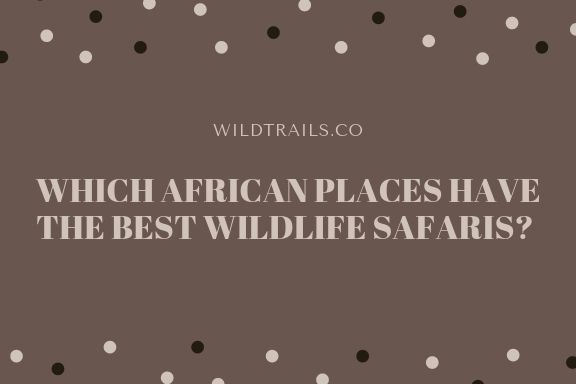 Whenever we talk about the best wildlife destinations, the one name that comes in everyone's mind is "Africa". Everyone wants to witness the amazing wildlife of Africa at least once in a lifetime and the one who has already visited Africa wants to visit again to witness the spectacular wildlife destinations. Africa has a lot of options when it comes to a wildlife safari. There is so much that you can do, this also depends on where you are going, how long you will stay and what you will be doing.
There are many top destinations for the best wildlife safaris but I would like to name some of the top National Park from my own experience.
Check-out some of the best places for wildlife safari :
SERENGETI NATIONAL PARK: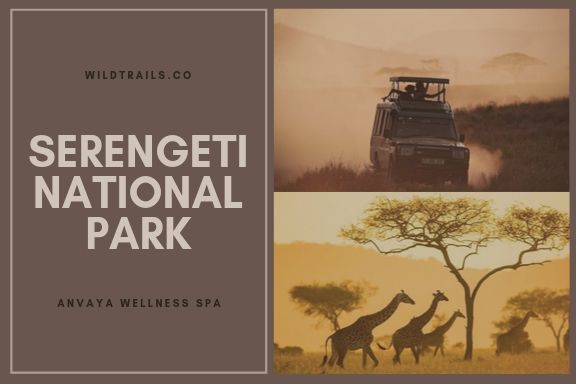 Serengeti National Park is one of the most famous parks in north-central Tanzania. It is also adjacent to the Kenya border and is northwest of the adjoining Ngorongoro Conservation Area.
Serengeti is also home to the spectacular wildebeest migration with the best wildlife viewing throughout the year. It is best known for its huge herds of plains animals (especially wildebeests, gazelles, and zebras). Serengeti offers some of the best wildlife viewings in Africa. All the major safari animals occur in great numbers. Cheetah and four of the Big 5 are easily seen, but rhino sightings are rare, and only black rhino is present. The Serengeti provides the best and spectacular wildlife sightings.
MASAI MARA

Masai Mara is a world known for its beautiful wildlife sightings of lions, cheetahs, leopards, zebra, Thomson's gazelle, and wildebeest moving to and from the Serengeti every year from July to October, which is also known as the Great Migration. The Mara River crossing is the most epic view that every tourist would love to witness once in a lifetime.
Masai Mara is not only famous for wildlife but also for its People and culture ( known as Maasai). You can also enjoy the wildlife of Masai Mara from hot air Masai Mara balloons. The long cool-dry season from July to October is considered by most to be the best time of year to visit Masai Mara but also costliest season too because this is the best time to witness one of the most amazing wonders i.e Wildebeest Migration.
KRUGER NATIONAL PARK
Kruger National Park is the biggest game reserve in South Africa, it is even larger than Israel. There are nearly 2 million hectares of land that are stretched for 352 km. With its vast landscape and magnificent African wildlife, Kruger National Park ranks best in Africa. Kruger gives the exceptionally good wildlife sightings which you will cherish your whole life.
Not only the wildlife but accommodation in Kruger is also one of the best things you can enjoy. From experiencing tented luxury camp to the exquisite romantic stay, Kruger is a perfect destination where you will enjoy the beautiful landscape with amazing wildlife sightings and that too with proper comfort. You can also enjoy nature by experiencing, walking on the African bush.
Things to see in Kruger: The Big 5, Wild Dog, Ground Hornbill, Fish Eagle. The Park is definitely a must-visit destination offering the best wildlife sightings at its best in Africa for every wildlife lovers.
While in Safari, don't forget to check the nearby hippo pool but please do remember to stay in your car outside the camp.
ETOSHA NATIONAL PARK
One of the most accessible National Park for wildlife safari in Namibia is Etosha National PARK. The country has a great mix of desert, semi-desert, and savannahs. There is one thing that you would love to know about Etosha, that you don't have to chase animals the whole day.
There are three private reserves on Etosha's borders: Onguma to the north-east, Ongava to the south-west and Mushara to the south-east.
AMBOSELI NATIONAL PARK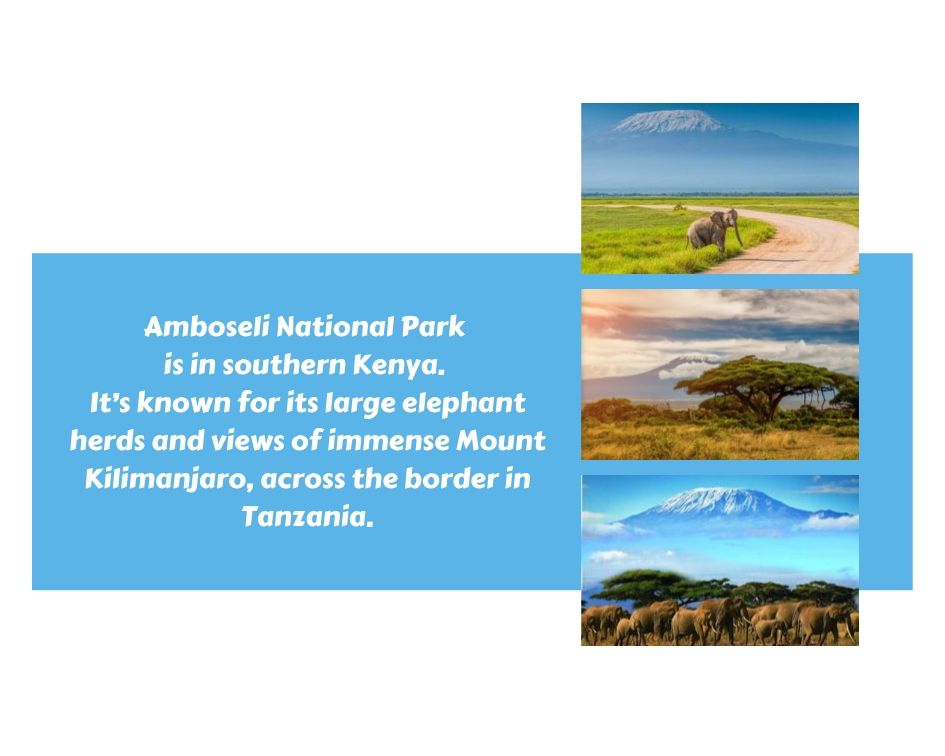 Crowned by Mount Kilimanjaro, Africa's highest peak, the Amboseli National Parks is Kenya's second most popular national park after the Masai Mara National Reserve, Amboseli was declared a UNESCO-Mab Biosphere Reserve in 1991.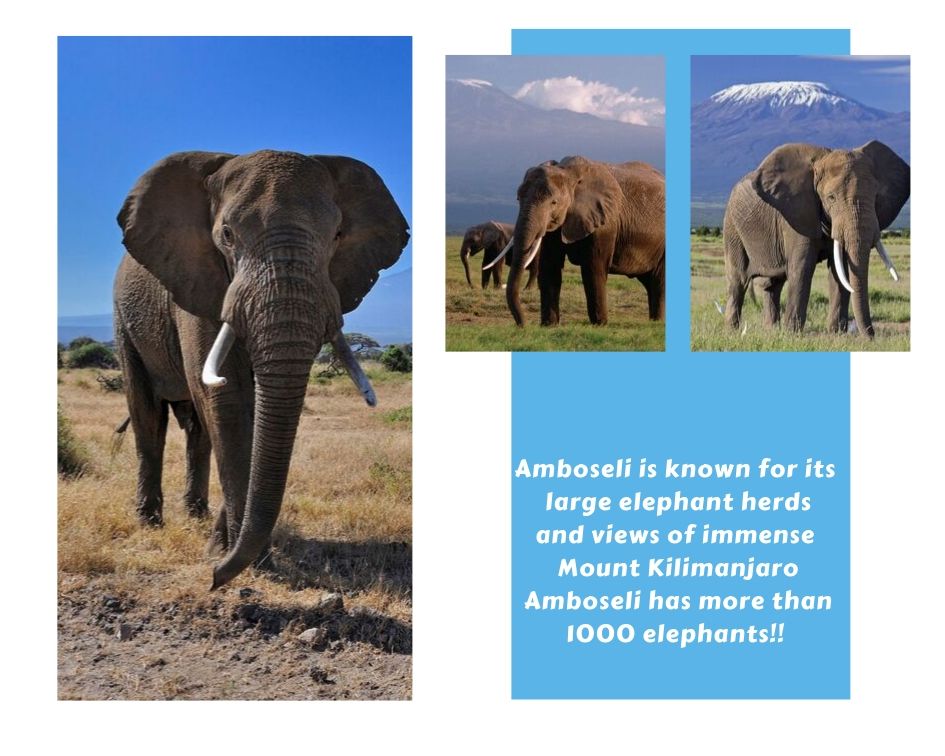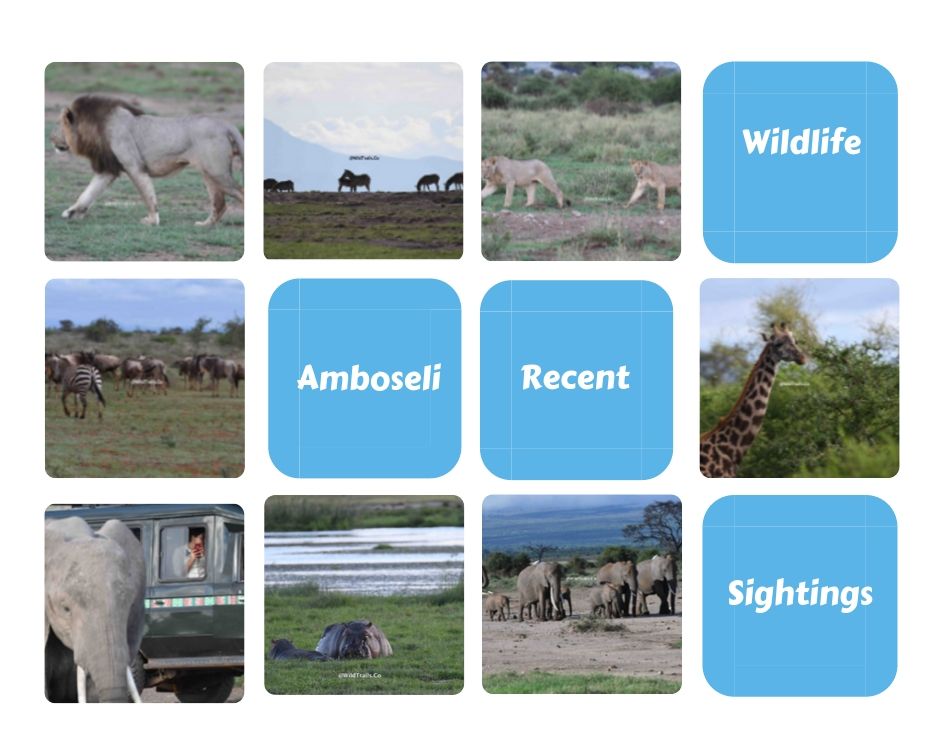 During heavy rains, the basin at the center of the park floods, attracting hordes of wildlife. The reserve is an excellent place to view the Big Five, as well as lesser-known and rarer wildlife species.
NGORONGORO NATIONAL PARK, TANZANIA
There are over 25,000 large animals in Ngorongoro, not including the almost two million that pass through during the migration. It is also famous for being the largest inactive and intact volcanic caldera in the whole world.
Ngorongoro is not just home to the wildlife: the iconic Maasai people choose to graze their cattle here too. This happy cohabitation of man and beast is what makes Ngorongoro unique in Tanzania. Ngorongoro has so many things to offer from the historic Oldupai Gorge to a chance to meet the local Maasai people. The area contains animals including black rhinoceros, wildebeests, zebras, eland and Grant's and Thomson's gazelles. The crater also has the densest known population of lions. Higher up, in the rainforests of the crater rim, are leopards, large elephants, mountain reedbuck, and buffalos, spotted hyenas, jackals, rare wild dogs, cheetahs, and other felines.
Read more :
Total Page Visits: 1359 - Today Page Visits: 1
---
---
Play with WildTrails Intelligence Tools
1. How many times tiger is seen per month?
2. What's going on in Indian Forests today?
3. Interested in playing more with Tiger sighting graphs? Click
here?
---
Buy Wildlife Fashion Accessories
Exclusive Online Store for wildlife products
Packages
Packages Loading...
Recent Posts